Cold rockin': J.Rocc on 21st Century Digital DJ's
To celebrate his debut album 'Some Cold Rock Stuf', J. Rocc sat down with Red Bull Music Academy correspondent Steve Yates at his favorite British culinary institution Nando's over a plate of Portuguese chicken, to talk about the record and the world of DJing in a digital age.
J. Rocc is one of those names you probably know without quite knowing why. As a founding member of the World Famous Beat Junkies, one of the core DJ crews of the '90s turntablist scene, he's won more battles than Napoleon and been tour DJ for the likes of Madlib and J Dilla. Unusually, he's long shown little interest in recording, knocking out the very occasional beat for KRS-One or the underground rap group, The Visionaries, but otherwise he's been making his living purely from DJing. Until now, of course.
'Some Cold Rock Stuf' is not just long overdue, it defies pretty much every preconception of what a battle-bred DJ's album should sound like by being almost entirely scratch-free and geek-unfriendly. Not coincidentally, it's also a whole load of fun, cutting up rap-free samples in the flowing party-starting style that is J. Rocc's DJ trademark.

Why are you only releasing your debut album now after all these years?
I never thought of it. I was just too busy DJing for different groups, doing radio and tours. I just didn't have the time, I was always home and then gone. It's kinda hard to get a vibe in a week and then leave next week.

The album is instrumental. Was that always your intention, or had you planned to make beats for MCs?
No, it was always like this. I didn't want my album to turn out 'featuring, featuring, featuring…', maybe two tracks just me and everything else a feature.
When you formed Beat Junkies back in '92, the idea of a DJ crew was pretty rare. DJs were falling behind the rappers in terms of profile, but it was still Eric B & Rakim, Jazzy Jeff & The Fresh Prince. Why not just team up with a great rapper?
We just wanted to do a crew. I was hanging out with those guys [DJ Babu, DJ Rhettmatic, etc] anyway and it made sense to combine into one big crew, it was a no-brainer. It wasn't really to do DJ battles, we didn't think about travelling, we were just local DJs.

When did the idea of the team become a turn in its own right, rather than just a collective of DJs?
We started doing that when the DJ battles, ITF battles, came in around '94/'95. Then it became a combination of showmanship and skill. You can't just be standing still looking bored.

You've described Hendrix and Coltrane as two of your biggest influences. Is improvisation a big thing for you?
Yes, definitely, everything off the cuff. I don't really practice my sets at home, I'm more about vibes. I should, but in the past I've set things up to play this after this, and then you get to the club and it's not that place, so you just have to throw that out the door.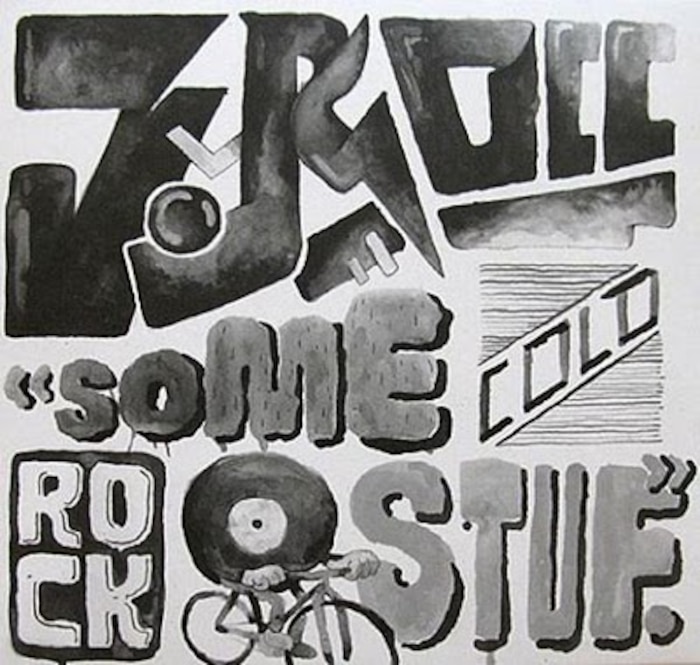 Your album feels that way too.
Oh definitely. I didn't plan anything. Of course I had a beat in mind or a sample I liked, but that would be it. Then I'd have to build off that, trial and error: 'That sucks with this song, I love those drums, I'm gonna fucking find something for these drums.' Working with rappers would definitely have just put me in that eight-bar, 16-bar realm.

It's very different from a standard turntablist album.
There's a bit of DJ stuff in there. But I didn't wanna do the normal turntablist thing where I cut this and that. I wanted it to be more of a musical thing.

Is there anything played on there?
There's a few background things, just played to accent. But it's mostly sample-based. Every track has about seven or eight samples on there.
I've already been called out on two or three of my samples. How the fuck do you know that? I can't even remember what I sampled.
Is sample clearance still an issue with a small label like Stones Throw?
It's an issue with any label. I know there's a chance that someone will come after me. But Madlib gets popped once in a while and he's still sampling up a storm. My buddy Alchemist says you're not a producer until someone tries to sue you.
Stones Throw have a good way of dealing with it. When they get popped for samples they establish a relationship with an artist. It's like: 'OK, don't sue us, I'll get that guy to remix all your stuff, then we can put that out.' There's a Jaylib track called 'The Red' they got sued for. Cris Williamson is the artist and she's a total feminist, a real woman-power type. In that song Madlib says "mostly shitty women". She said, 'I'm not having that, take it off the album.' But she's still letting them use the instrumental for licensing and so on. So even there they've worked something out.
But there's always trainspotters out there. I've already been called out on two or three of my samples. How the fuck do you know that? I can't even remember what I sampled. Someone spotted Van Der Graaf Generator; someone called out a Bollywood sample. Shit, how did you find this? Fans spotted it, no publishers or nothing. I don't think Van Der Graaf would like it.

I'll leave that bit out then.
Oh, it's on the mystery CD, so it's OK. There are little tricks, like if it's not the main part of the song, you can go 'I'll give you a little percentage of it.'
Did the turntablist scene get bogged down in technical stuff?
There's only so much scratching you can take in a club, there's only so much standing watching Q-Bert you can do. You know he's gonna cut it up, he's not gonna mix or anything. I think people just got tired of that whole standing-and-watching scene.

It must be frustrating for you as a DJ if all you can see in front of you is 50 boys – and it's always boys.
Sometimes they have their girlfriends with them.

But it's not what you got started as a DJ for, is it?
No, not even close. I didn't care for the crowd staring, I wanted people to dance and have a good time. When you're staring it's more like a show, they wanna see a bunch of turntable tricks.

Flying Lotus seems to blur the line between performance and DJing. He's certainly not playing other people's tracks one after the other. Can you imagine doing something like that with this album?
I do plan on doing that kind of stuff, using Ableton, playing stuff out and reworking it live. At the same time, I still like playing other people's music, and not everyone is familiar with mine. I feel kind of funny playing just my own stuff.

And the likes of FlyLo, they're all LA. Is your scene and his quite separate?
No, everybody's together, everybody's like two roads down. It's a big scene but at the same time it's really small. There's only a few people doing it who are respected, who are doing really dope shit. The Brainfeeder and Low End Theory crew are definitely doing dope shit.
How has Serato changed what you do, other than cutting down on backache?
It's good and bad. You now have so much music in front of you that it's hard to choose. It makes life easier, but it also sucks because it makes everyone else wanna be a DJ cos it's so easy to use and everyone has a computer and an iTunes library.

So all the things it took the young J. Rocc years to learn can now be picked up by anyone in half an hour.
People get Serato and an hour later, they're 'I'm a DJ now. Just got my first gig.' There are a lot of rappers and R&B singers that are DJs now. Macy Gray, Erykah Badu, Talib Kweli. They hear how easy it is. 'I just have to download this program? I'm a DJ!' You don't have to buy any records anymore, it's all there. A lot of people don't even have the hardware, they don't practice. They show up, plug in and then they're like, 'How do you use this thing again?'

How has it affected your record buying?
Nothing. I still buy lots. It's affected my downloading, makes me wanna download a lot of weird shit I can't find on record. Things like prog rock and no wave.

Has it expanded your taste in music? You don't have to listen to that whole shitty prog rock album to get to the one killer track.
It's definitely expanded my taste, though I still do listen to a thousand crappy prog rock songs to find the one track I like.

Has Serato reduced the number of trainspotters? It's affected that old preciousness about the records and of course they can't peer over to see what you're playing.
No, they can't, you'd have to be behind the computer to see what I'm playing. It's less about that trainspotter-y thing, more about entertainment – you have to please the crowd. The only thing it took away is the whole changing of records. You take one record off and put another on, that's physical, it's a fun thing to do.
Stones Throw is one of very few labels from that scene that's still around. What's the difference between them and others that's let them ride out the storm?
Different music. They've branched out, they don't just do hip hop. Wolf has a quirky ear, he doesn't mind taking a chance, even if it sucks to everyone else in the office. They have a good team that comes up with a lot of original gimmicks, like the mystery disc on my album or putting a real US dollar in the Aloe Blacc 12".

When did you start DJing?
I started about '81. I heard Malcolm McLaren 'Buffalo Gals', looked on the back of the cover and saw two turntables and was 'Wow, what is this? I gotta learn how to do this!' In LA in the day, there were lots of mix shows on the radio, things like Latin Rascals.

Around the time you formed Beat Junkies, LA rap had gone very gangsta. Was your scene very different from that?
They were all the same, everyone was playing N.W.A.

But what about when 'The Chronic' came out and was followed by all these imitations?
When that happened it was like, 'Yo, that's not just what we're about.' There was a lot of West Coast stuff: Pharcyde was coming out, Freestyle Fellowship, a lot of LA groups who weren't doing that sound. So there was definitely a division but it wasn't like the people listening to Pharcyde weren't listening to Dre, it was still everybody listening to everything. Now it's like, 'I listen to Drake, I don't listen to nothing else.'
Steve Yates is a contributing writer for Word and the Observer. J. Rocc's new album, 'Some Cold Rock Stuf' is now out on Stones Throw Records.