Review: Sónar 2011, Day 1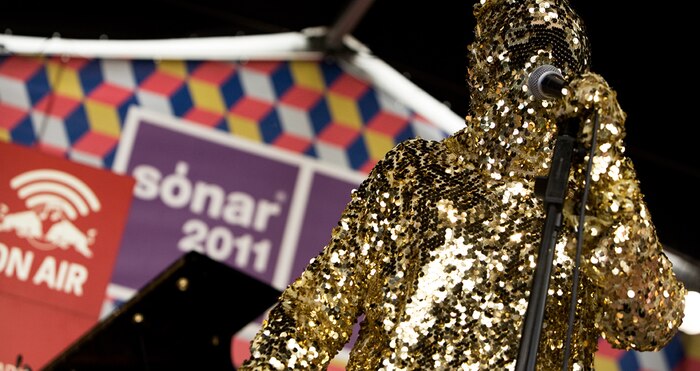 The first thing you notice when you walk in is the clean, bright green astroturf. The first thing you wonder is how the astroturf will look after all the beer is spilt on it. But, seemingly oblivious to our sanitary concerns, throngs of music lovers gather on the artificial lawn in groups, often sitting and soaking up the sun, and waiting patiently for the next act to take to the stage. It is a somewhat incongruous sight, a picture of serenity about to be disrupted by the spectacular music that is to follow.
Wading through early crowds on our way to the SonarDôme stage, we hear the bounce of Niño's live set. The Donky Pitch cohort clearly takes a page from the Ross Birchard songbook, just to fill it with his very own handwriting, piling layers and layers of angelic chords from his trusty KORG synth over pleasantly wonky beats. After Griffi's Pai Mei crew have cleared the stage, Japan's Hiroaki Oba drops a sophisticated set of lush techno to a thickening crowd under the steamy SonarDôme roof, perfectly matching the vibe of the afternoon and getting people properly primed for the madness to follow.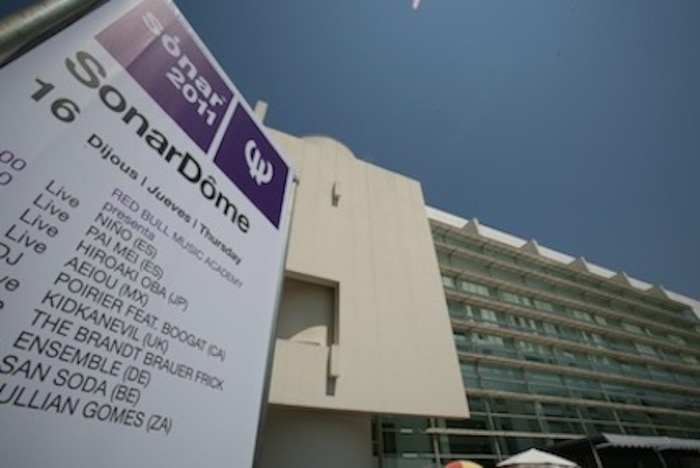 Meanwhile at SonarVillage, after a laid-back ambient and techno set spun by Half Nelson and Vidal Romero of Go Mag, South Carolina residents Toro Y Moi take to the stage. Their unique blend of dreamy pop melodies, phased funk basslines, and psychedelic noise immediately attracts what looks like thousands of punters to the stage. It kind of reminds us of that Janet Jackson song where she goes "like a moth to the flame, burned by the fire". Except in this case the only burning involved was massive sunburn on our necks. For a full hour, Toro Y Moi play tune after tune, dropping extended versions of songs from their 'Underneath The Pines' album. Indeed, by the half-hour point, there is a bona fide dance party erupting on the turf: a superb, well-arranged set.

The SonarDôme massive is soaking up every minute of the hyper-speed, bass-heavy, island-style digital soca and tropical rave set
Heading back to the Red Bull Music Academy stage through the ever-expanding mob, we hear the tropical sounds of Ninja Tune's Poirier, accompanied by MC Boogat. The tempos are through the roof, ranging around 140-180 bpm. Crowds of lesser constitution would no doubt walk away with tails between their legs, but the SonarDôme massive is soaking up every minute of the hyper-speed, bass-heavy, island-style digital soca and tropical rave set – topped off by Jamie xx's take on Adele's 'Rolling In The Deep' which, quite unsurprisingly, prompts a huge crowd response. Vibes.
While two of our favourite acts right now, Little Dragon and Floating Points, hold it down at SonarVillage, Nicolas Jaar – the young NYC producer currently gaining praise for bringing his slomo house rhythms to the big stage with a full live band, and even standing his ground on the microphone – seems to have the most anticipation building for his set at SonarHall. In fact, we can't even get in. But we hear it was good.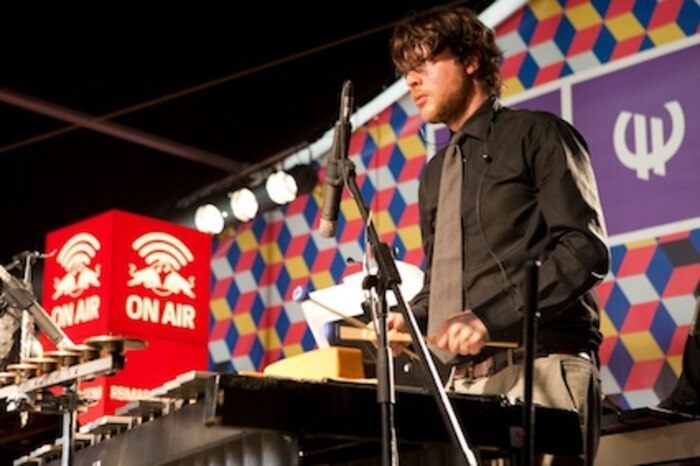 Back to the Dôme, we know we are in for something interesting when we see a cart pull up to the stage bearing timpanis, a tuba, trombones, vibes, marimba, cellos, violins, a Moog synthesizer, grand piano, and the largest harp we've ever seen. And our prediction proves correct. The Brandt Brauer Frick Ensemble descends in full force among the Sónar audience, bearing their multi-instrumental gifts of Detroit-influenced, orchestral house music. We never thought we would be hollering, shaking, and sweating like a stroke victim to harp-led sounds, tuba basslines, marimba hi-hats, and violin stabs. But it happens, despite the naturally noisy environment of an outdoor festival. As San Soda – big props, like big-big props for holding his own while fighting massive technical problems throughout the longest part of his set – and South Africa's Jullian Gomes aptly close out día uno with their respective takes on the 4/4 template, we're still not quite sure what we witnessed.
But whatever it was, we liked it.
BONUS: Download the Friday issue of Red Bull Music Academy's daily newspaper for Sónar festival, 'Daily Note'.