Review: Sónar 2011, Day 3
After performances from Academy alumni DZA, Mujuice and Katy B alongside Pearson Sound, Aphex Twin, Scuba, Schlachthofbronx and gazillions more at Friday's Sonar by Night edition, it was time for the third and final day of the Red Bull Music Academy showcase at Sonar by Day. Here's what happened.
As we approach the SonarDôme, the tent's canvas is already bulging out from a bold bass line courtesy of 00Genesis . The young Maryland producer is clearly one of the most interesting cats to emerge from post-Dilla land, and his live appearances are a rare rumpus. But today, he apparently has to pay for all our nights out: the stage is only half-filled as he pounds out beat after beat after beat. The sound is perfect though, sharp and forceful, and perfectly sets the stage for the following DJ set by class of Academy '10, Venice. The mustache he sported during the London Academy is gone, but his creativity has remained: his gentle guitar play and pleasantly odd track selection definitely strike a chord with the listeners, taking them deeper and deeper into Saturday afternoon bliss.
At 3.30pm, Sir David Rodigan takes to the stage with an opening speech including props to his predecessor as well as long-time pals Africa Hitech. He also waves a copy of our daily festival newspaper 'Daily Note' to the great delight of art director David Eckes' who clearly suffers from the aftermath of our, err, release party at SonarCab the night before. (Mujuice's set alone was totally worth it though.)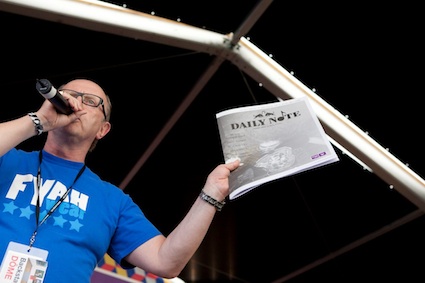 Back to Roddy who starts the music with Busy Signal's 'Jamaica Love', followed by some Alborosie and Jr. Gong. Africa Hitech's 'Out In The Streets' is a first highlight, and after about 20 minutes he delves right into his well-known King Tubby routine. Following up on his Top 5 dubs list in the aforementioned 'Daily Note', he plays some of the most treasured King Tubby tunes from his box, and breaks down the dub continuum to a rapidly growing crowd of ravers: "If you like drum & bass, if you like dubstep, you love King Tubby… give me some signal for the dub master!" Signal is given.
It's only when Rodigan starts his here-and-now segment that the dance really gets underway though. Shy FX's family collabo 'Raver', the bigger Major Lazer tunes, 'Incredible' by M-Beat and General Levy – not exactly heavily searched-for obscurities, but it's the Gentleman Rudebwoy's undisguised passion and how he has made these tunes his own over the years that never fail to impress. Rodigan plays Caspa's remix of Rusko's 'Jahova' – Sónar plays dubstep karaoke: "daaa-da-da-da-dada-da-da-da". SonarDôme has officially turned into David's Home Town HiFi by now.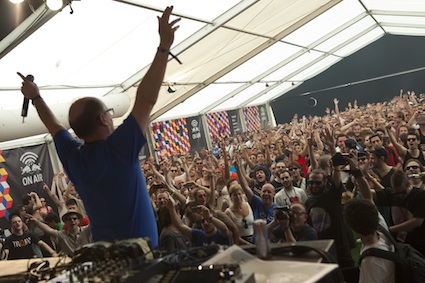 He even gets away with playing Riva Starr. Well, almost.
After a couple more Rodigan classics such as Desmond Dekker's "You Can Get It If You Really Want", it's time for Electric Wire Hustle to cast a different sort of spell. "We've come a long way to be here tonight," Mara TK says as the Kiwi cosmic soul troupe launch into their set. With his psychedelic guitar twangs layered on Taay's hovering key tones, and Myele's persistent boom-thwack morphing into energetic live drum workouts, their show wows everybody in attendance, including long-time supporters Gilles Peterson and Benji B.
Next up is Hoya:Hoya ringleader and Mancunian producer extraordinaire, Illum Sphere. We miss most of his live set in exchange for a 'Fireside Chat' interview with Magnetic Man on Rambla Catalunya. Bad timing – great interview at least: over lagers, laughs and YouTube vids off Skream's iPhone, the trio spill their guts about Hatcha, Horsepower, Big Apple Records, Rhythm & Sound and other game-changers from the early dubstep days.
As we're heading back to the Dôme, we keep hearing great things about Illum Sphere's show (we would be very, very surprised otherwise), and Cosmin TRG takes over the decks from him. He still may not have a Berlin haircut, but as evidenced by his set, he's definitely absorbed some of the after-dark spirit of his adopted city. About five records in, he pulls out Jeff Mills' 'The Bells', clearly one of the biggest Sónar records ever, and SonarDôme eats from the palm of his hand. Admittedly, there might be harder jobs for a DJ. But Cosmin truly does an amazing job in keeping the energy up with a superb selection of crispy, heartfelt techno with a sublime bass twist. If there's any justice on this planet beyond the DJ Mag Top 100, dude's sure to come up in the club world in months and years to come.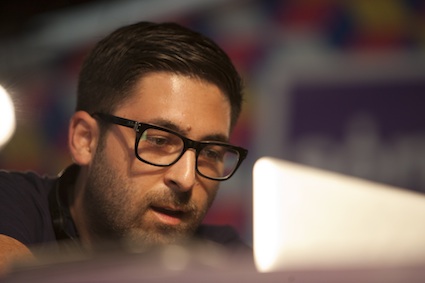 While all roads seem to lead to Berlin these days, the last act for this year's Red Bull Music Academy showcase at Sónar, Tiger & Woods, clearly represent a different neck of the woods. Hunched over their laptops and samplers, donning black baseball caps and all-black tees, the not-even-that-mysterious disco duo from %&§#, ?*$&! run through a couple of edits as well as most of their forthcoming debut LP on Running Back – including not one but two slightly different renditions of their nod to Imagination, 'Gin Nation'.
Their set clocks in at just above an hour, which leaves their label boss, the Academy's very own Gerd Janson, with another 20 minutes to close out this year's Sónar by Day with a little surprise DJ set. Straight from the purgatory of intercontinental connection flights, Gerd arrives the very moment T&W have laid down their last kick-and-snare combo, jumps on stage and kicks off a clever cheesefest featuring Stardust, 'Bizarre Love Triangle' and Crystal Waters, amongst others. Unfortunately the stage manager pulls a German, and keeps Gerd from playing his last (Fleetwood Mac) record at 9.59pm. But it's all-out vibes, chants, hugs, and free team pizza nonetheless. Double cheese, of course, as becomes.
BONUS:
Daily Note – The Sónar Edition: Issues #1-3
(Right-click and download .zip file)
Thanks to everybody who came to play and visit. It truly meant a lot to us who have y'all there. Special shouts to Sónar Festival, Malgenio, Boiler Room, Pere Masramon, Scanner FM, NTS Live, Francesc Escuder, Go Mag, and Clubbing Spain. See you in October, on a dancefloor in a galaxy not so far away.