Magnetic Man On The Early Days Of UK Bass
Comprised of the bass triumvirate of Benga, Skream and Artwork, Magnetic Man has come a long way; from humble beginnings in the upstairs room of Croydon's infamous Big Apple record shop to rocking stadiums and stages worldwide, and a score of crossover chart hits fronted by one-time RBMA participant, and now Mercury Prize nominated chanteuse Katy B. The trio recently sat down with RBMA Radio for an exclusive chat about the early days of Big Apple, the roots of bass, and how the sound evolved. Listen to the full interview here. Below is one part of the story, told in their own words.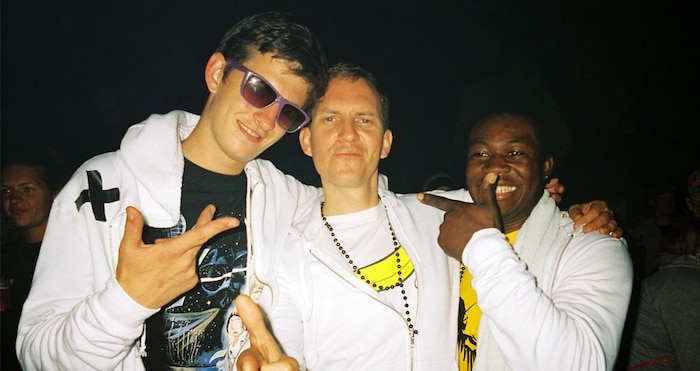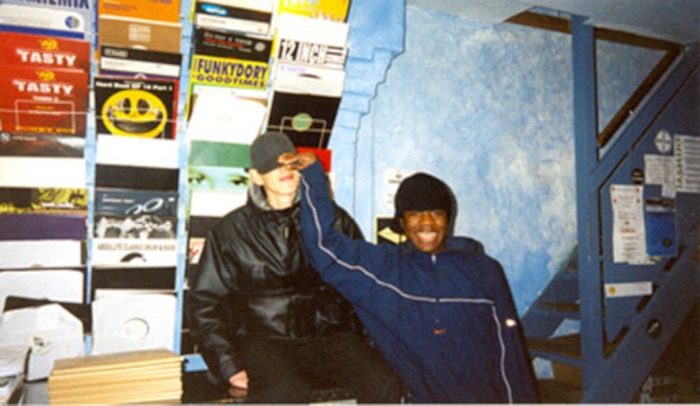 SKREAM: Our first equipment was varied. Mine was a Playstation.

ARTWORK: Mine was an Akai S950, with an Atari and a black and white screen.
BENGA: Broken Sword was the only thing I knew on the Atari at that time.
SKREAM: I used to play Pod, in which you used to tell a tomato what to do (laughs). Nah, eventually me and Benga got Fruity Loops, and began to mimic people's stuff. Mimic the bassline, mimic the leadlines…
BENGA: I guess that's the greatest learning we ever had, robbing people. Skank was my first ever record on Big Apple, it was around for about a year before it got released. I made it when I was 14 years old. When I listen to it now I think, 'oh my god'!


Benga's maiden voyage on Big Apple

ARTWORK: Benga brought [the song] "Skank" to the studio and I played it off a Minidisc. And he made it off a 50 pound computer with Fruity Loops! I put it on and was like, 'shit'!

SKREAM: A defining point for me, going from garage to dubstep, was Elephant Man's "Log On (Horsepower Remix)". I remember Benny Ill bringing it in, the first place it was played was the Big Apple Christmas party, which the start of where FWD>> came from, DJs all turning up to play dubs. That tune is just ridiculous, still now.
ARTWORK: Benny Ill used to come in my studio, he was making house-y, techno stuff at the time. I'd known him for years, he used to engineer some stuff of mine. And he said, "I want to make some of this 2-step!" So he went away and came back, he's also a big lover of this sound. He's a big fan of reggae, and he's gone and put the snare on the wrong beat! Cause all of our garage was standard, everything had to be the same. And he came and brought this stuff in, like "I've made some 2-step", and I was like "You've got all the snares on the wrong beats, but it's really good!" He changed stuff up because he just didn't care, he was just making music. And from there, Hatcha was brave enough to say, "I'm gonna play this record with all the snares on the wrong beat!" Much harder to mix. And everyone was smoking skunk at that time.

SKREAM: Benny Ill also brought that reggae mixdown. It wasn't like house style with the kickdrum up. It was reggae style with the bassline upfront.

ARTWORK: One of my favorites was the first release on Apple by DMZ, "Pathways". We'd known Mala for years, Mala and Coki and Loefah were all making tunes. And they brought this record in... And I remember them saying they were bringing something in for ages! It was late, they dropped off the CD, we put it on and all of a sudden, there was the scariest sound I'd ever heard.

BENGA: Gave us a reason to stay in our studios and not go anywhere!

ARTWORK: The changing point of that era was "Midnight Request Line".

SKREAM: If I was gonna talk about one of my records from that era, I would say "Cape Fear". But you wouldn't be able to find it, I don't even have it anymore.

ARTWORK: It does get talked about a lot, but "Midnight Request Line" was the changing point. The grime people picked it up straight away.


Late night gold

SKREAM: Thing is, I made music for Hatcha, but he didn't play it. And that devastated me, in my life. And then I gave it to Youngsta to play, and he smashed it.

ARTWORK: My perspective is, that was an incredibly brave record. These guys have made moves like that all their lives. Nowadays I listen to so-called dubstep music, and I have to ask, "Who is that?" And they say, "whoever". Thing is, it's so similar to that song, it's got a slightly different bassline, same drums, vocal on it, blah blah. Things move very very slowly. People think "oh that did well", cause there's so many people making it now.

SKREAM: It's got that mainstream mentality.

ARTWORK: That mentality of, "that worked, so let's make something similar but different". But that record was unique, it was a very brave record, like a shock. Like "wow". Nothing sounded like it.

SKREAM: Apparently, it was the chord change. From the C to the B. Apparently, someone said. Grime was really hot at the time, and I tried to make a grime record, but then I thought why am I doing that? And then put a load of sub in it, and a half-step, and funny little noises. Like the grime I was listening to, like Wiley's "Eskimo", that kind of devilish melody.

ARTWORK: Wiley would put out a record with just a bassline and a snare. And that was it. I was listening to a lot of classic techno, classic Chicago. I listen to everything, if you want to be making music you have to listen to everything. That was brought up with me, there's only two types of music, good and bad. There's great country and western, there's great gabba, there's great everything, and you should listen to it all, you'll pick up something off everything.

SKREAM: You had to listen to what the elders listened to, and that inspired us.

BENGA: Yeah, I can think of a lot of tunes I would not have made, if it wasn't for the tunes we were played back then.

Listen to the full interview with Magnetic Man on RBMA Radio.