The Legend Of Esplendor Geométrico
Spain's pioneering industrial and EBM outfit Esplendor Geométrico descend upon Matadero Nave 15 on November 1st to unleash a maelstrom of sound and fury. Widely recognized as kick-starting the industrial movement in Spain during their decades long career, the group has always experienced a wide cult-following, yet their recent inclusion on Stones Throw's 'The Minimal Wave Tapes Vol. 1' has added a brand new population segment to their fan-base. Felix Suarez delivers the story thus far...
The liner notes on "The Minimal Wave Tapes Volume One", a compilation by labels Stones Throw and Minimal Wave devoted to some of the most obscure DIY synth-pop gems uncovered by the latter, state that Esplendor Geométrico were formed in Madrid in 1980 and are known as industrial music pioneers. What these notes don't clarify is that they are also the only ones on that collection whose careers have extended into the present day, exercising a notorious influence on several generations of electronic music lovers over the course of three decades, as the constant re-releases of their work can prove – including two vinyl box sets on the exquisite Austrian label Vinyl On Demand, and three more on the Japanese imprint Captain Trip that recount the band's first decade on 13 CDs. And of course, we could talk about their impressive live shows being performed all over Europe and beyond. As a testimony to the international credit they gained right from the start, suffice it to say that the first song they ever officially released, "Moscú Está Helado"– which also represents them on "The Minimal Wave Tapes" – was originally issued on the "Fix Planet!" compilation from German label Ata Tak, where they were lined up next to Der Plan, Mark Mothersbaugh (Devo), Jad Fair (Half Japanese) and M.B., among others.
In fact, Esplendor Geométrico was conceived in Madrid in 1980 after splitting from El Aviador Dro y los Obreros Especializados, a vintage cross between Kraftwerk and Devo, whose leader Servando Carballar claims to have coined the term techno-pop years before (he did, indeed, organize the first techno symposium in Madrid in 1981 at a place called Marquee, where they played along with several similar bands). Unhappy with the increasingly bland pop direction Aviador Dro was taking, and after coming across the harsh sounds of the likes of Throbbing Gristle, Suicide, Whitehouse, SPK and Maurizio Bianchi (M.B.), the trio of Arturo Lanz (vocals), Gabriel Riaza (bass) and Juan Carlos Sastre (guitar) decided to switch their instruments for some Korg MS-20s and a 4-track recorder, and to begin using rhythm and noise, discarding any hint of melody. "Moscú Está Helado", "Motores" (a mere listing of types of motors) or "El Obrero Trabaja con Alegría", still share certain similarities with Aviador Dro: a futuristic aesthetic (both names were taken from Italian futurist pieces from the early 20th century), machine-like voices resembling public speeches, analog flogging, and rhythm boxes dragged out and filtered through pedal effects. But soon their sound became more industrial, as a result of their new listening habits, and they began to include atrocities which, so they claimed, were mere reflections of tabloid crime reports: sexual torture, paedophilia, the functioning gas chamber as a machine in full production. These shock tactics, they would eventually confess, were designed to set them apart from the colourfulness and cultural snobbery of the incipient Movida, when it was still known simply as the Madrid new wave. This determination to annoy could hardly be taken seriously despite their hieratical poses, and was easily mistaken at the time with the way in which other bands of the gothic persuasion also appropriated the Nazi aesthetic in quite a ludicrous manner, for instance Gabinete Caligari. Realizing that no one would ever be willing to publish such debauchery, and following the example of some of their favourite bands, EG were also pioneers in self-releasing their own work. In 1981, they issued the "Eg1" tape: 300 hand-made copies on extremely poor quality tapes along with xeroxed labels and covers that chronicle their most outrageous phase, which would be re-released a year later by the German fanzine/label Datenverarbeitung. This same year saw the appearance of the 7'' "Necrosis en la Poya", which along with its controversial b-side, "Negros Hambrientos", make for a pretty unpleasant listening experience, and closes what we may describe as their learning period.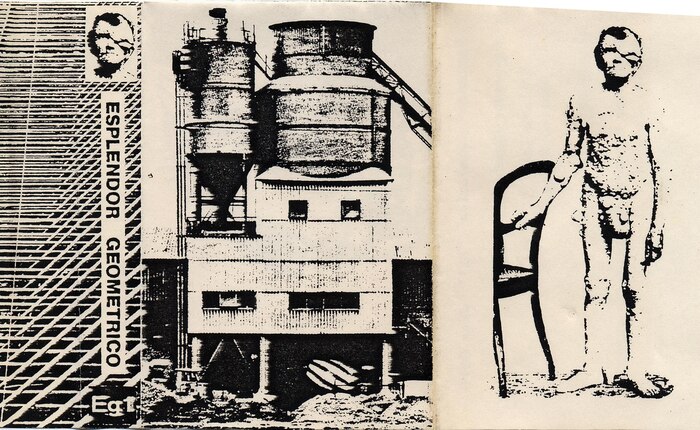 What could have remained nothing but a provocative, spur-of-the-moment boutade, would take a magnificent turn, a giant leap, when EG released their first proper album, 'El Acero del Partido/ Héroe del Trabajo' (1982). Despite containing only one title per vinyl side, each side contained seven differentiated sections of violent noise fashioned into unstoppable rhythms of hypnotic abruptness. There were layers of rust and unsettling shortwave transmissions, which went on to lay the grounds for a sound as untransferable as it is influential. By then, Juan Carlos Sastre has already left the band, but he would stay connected, designing most of the covers for them to the present day, and the groups decision to eliminate vocals proved crucial in allowing full focus on the rhythmic power. This first record contains the essence of Esplendor Geométrico, a definition of industrial music that fits perfectly with the words of New York producer Adam X: "When I think of the word 'industrial'… I think machines, gears, factories with tall smoke stacks, Esplendor Geometrico means exactly that to me. Hard minimal rhythmic machine music that grinds like a huge device, cutting metal girders for large buildings. Though most would quote bands like Throbbing Gristle, Einstürzende Neubauten, and Coil as being the truest form of industrial, the music of Esplendor by far best describes the word industrial when actually applied to music".
The geographical distance separating Arturo and Gabriel, as a consequence of their jobs, prevented their production in the 80s from becoming more abundant. After a three year hiatus, they started the label Discos Esplendor Geométrico in 1986 along with Andrés Noarbe, an early member of Aviador Dro and EG's manager ever since. Soon the output resumed, and record after record, blow after blow, incendiary speech to incendiary speech, they managed to refine their sound until they reached what is possibly their masterpiece, their fourth album 'Mekano Turbo' (1988). Here Arturo takes the megaphone once again and spits out words and screams in a sort of fascinating catharsis, which originates in a genuine industrial sound, metallic and distorted, and ends up finding rhythmic solutions that precede the darkest and most resounding forms of techno from labels like Downwards and producers like Surgeon, Regis or Scorn (Mick Harris' of Napalm Death's electronic project). "Ven a Jugar", "Rotor", "Who's that Señorita" or "Belew" still display an irresistible force, difficult to emulate.
After the Italian Saverio Evangelista (who had organized their first gig in Rome in 1986 and was also a video artist and member of techno-industrialists M.S.B.) joined the project, Gabriel left the band in 1995. Discos Esplendor Geométrico disappeared but Andrés Noarbe continued releasing their records on the Geometrik label. EG's conversion of analog instruments to the demands of new digital mediums resulted in a certain initial hesitation regarding recordings, but soon Arturo (now living in China), regained his creative driving force with great works such as 'Balearic Rhythms' (1996), 'Polyglophone' (1997), 'Compuesto de Hierro' (2002) or EG's latest album, 'Pulsión' (2010), which was also the source for the 10'' EP, "Re-Pulsión", which includes remixes by Atom TM (Atom Heart, Señor Coconut) and Frank Bretschneider (Raster-Noton).
"When I think of the word 'industrial'… I think machines, gears, factories with tall smoke stacks..."
During this time, rediscoveries and international retrospectives have taken place, like 'En-Co-D-Esplendor' (1998), issued on the Japanese label and fan club, Gift, and including remixes by legendary figures of industrial culture like Chris & Cosey, Coil, Muslimgauze or Numb. "Moscú Está Helado" was also revered once again through a collection of remixes from 2004 featuring techno-masters like The Hacker, Gerhard Potuznik or Max Durante, among others.
In the past years, Arturo and Saverio have rediscovered the pleasure of playing live, with Arturo transformed into a real showman that interacts with the audience in his quest for collective ecstasy. Their continued relevance is best explained by the regimented sources of inspiration Arturo Lanz has confessed are the primary motors for his creative impulses. He doesn't recognize any musical influences, says he doesn't listen to music made by others excepting the classics from his youth. He only tries to extract from devices (as he calls them) the sounds, rhythm and volume he can't find anywhere else. With no speeches to deliver and no messages to pass on, the words are usually taken from books or newspaper headings that have a pleasing sound, and remain uncompromising. A physical yearning turned into a very peculiar and powerful sonic muscle that is now celebrating 30 years in top shape. "Ven a jugar / Te vas a enterar".