Rescued From The Fire: Egon
An ongoing series in which we ask artists the record they'd risk life and limb to save from a burning inferno
The buxom beauty Mae West once said, "A man can be short and dumpy and getting bald but if he has fire, women will like him." This may be fine, although it should be said that if he has an unitended fire in his own home, his record collection will hate him. That's why in this 24th edition of Rescued From Fire, the world's premiere purveyor of deep funk and psych from around the globe, Egon, explains which record he would rescue if the shit ever hit the fan. Hopefully, the rest of the collection can at least burn away with dignity.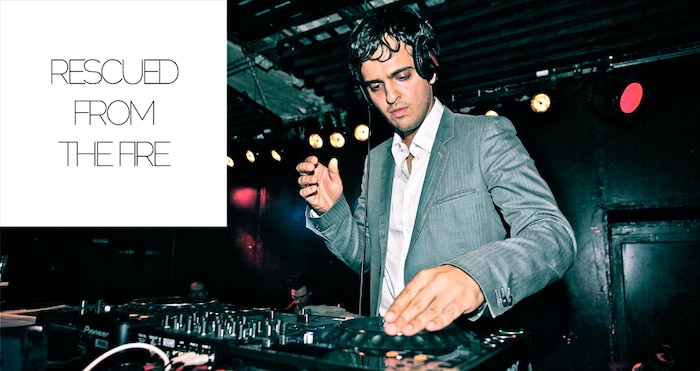 If, under pressure, I had to grab one record from my collection – well, I'd have a hard time. Depending on the severity of the situation, I might find myself letting the house burn down around me as I fretted about which special record to save. But an easy go-to would have to be 'Paêbirú' by the mythic Brazilian singer, songwriter, guitarist, artist and visionary Luis Augusto Martins Côrtes – better known as Lula Côrtes – and his then-partner Zé Ramalho – born José Ramalho Neto. Côrtes released a series of albums – many of which I own – but if I were to grab one, it would be this masterpiece.
'Paêbirú', recorded and released on Côrtes's self-funded Solar label in 1975, is a white whale in the annals of global psychedelic rock: a double LP dedicated to four earthly elements that contains an entire book within its gatefold cover. The album is stunning and timeless from start to finish, and it took Brazilian psychedelic rock to its zenith.
Legend says that most copies were destroyed in a flood at the pressing plant. I'm not sure if that's true, but, like all records Côrtes self-released, it's damn rare. From the Satwa's duelling guitars to Marconi Notaro's groundbreaking 'No Sub Reino dos Metazoários' to his own 'Rosa de Sangue', Côrtes exuded a revolutionary bent, creating music of striking originality during Brazil's military dictatorship, a feat made more remarkable when one recalls that many of Tropicália's stars were harassed, imprisoned or exiled.
In 2008, the photographer B+ put me in touch with Côrtes, and, while I was able to purchase some of his original artwork and strike up a conversation with him about 'Paêbirú' and his artistic trajectory, a copy of the actual album wasn't among his possessions. I eventually did find a copy – clean, a rarity for Brazilian records – and, while I couldn't afford the $1,500 price of admission, a well-heeled collector buddy could. I don't really miss the early Connecticut rap record I swapped with him for it. And I listen to 'Paêbirú' constantly.
Côrtes, who died earlier this year, was a humble, spiritual and perplexing man. In one of our exchanges, he wrote: "Acho que o objetivo primordial de todo artista é fazer com que sua obra fale por si mesma, dessa forma a pessoa que existe em cada um transparece e se dá a conhecer." I speak broken Portuguese, but, luckily, my wife is from Lisbon, and she translated his words: "I think that the primordial objective of every artist is to make it so that his work speaks for itself, so that the person that exists within him transpires to come out so that we know him.