Smiley Culture: The Symbiotic Relationship Between Acid And The Smiley Face
Prominent early-rave figurehead, musician, promoter and artist Chris Sullivan explains the connection between acid house and that damn smiley-face.
In 1980, concerned individuals began returning from the US with tales of all-night, alcohol-free clubs such as New York's Paradise Garage, a new brand of disco, and pocketfuls of a mad-arsed powder called MDA. By about '86, certain types were growing their hair and dressing in a somewhat hippy fashion. DJs such as Hector Heathcote and Morris Watson showcased cassettes full of music by the likes of Juan Atkins and Frankie Knuckles that was not only minimal and electronic, but also fresher than a dozen daisies.
And so it went until May '87 when Kym Mazelle, Ce Ce Rogers and Marshall Jefferson played The Wag club in Soho. In that summer, DJs Eddie Richards and Colin Faver put on London's first official rave at Staples Corner, followed by Gary Haisman (later the singer of We Call It Acieed! by D. Mob) and Paul Oakenfold's seminal event in a car park on Marble Arch playing full-on Chicago acid, including an appearance from Knuckles and his protégé, Jamie Principle, who sang their influential "Baby Wants to Ride". And so the goose was cooked. In acid.
Yet it took a little while for the bird to reach the table. After a trip to Ibiza (where curiously little house music was played) DJs Danny Rampling, Oakenfold and Nicky Holloway came back with a mission. In November '87, Rampling started Shoom in Bermondsey; weeks later, Oakie opened Future in Heaven, Charing Cross, while yours truly started Afters in Clink Street – all of which played house in its gloriously mind-melting acid incarnation. Of course, the appearance of said fowl on the London party animal's menu had been facilitated by the arrival of a HUGE batch of ecstasy that, in tablet form, had doves stamped on them, were outrageously potent and sold for a massive £20 a pop.
Suddenly everyone was E'd off their trolley and, hand-in-hand with the music and the Doves, came the attitude and the garb. Punters began growing their hair into ponytails, sporting dungarees and Kickers, garments that allowed them to move freely and, if truth were told, sweat their bollocks off. But the one signature garment was the Smiley t-shirt.
The first version of the Smiley face we now know was designed by the freelance artist Harvey Ball (who earned $45 for the job) in 1963. He created it for the State Life Assurance Company, who used it as a badge to boost the morale of their workforce. By 1971, more than 50 million Smiley badges had been sold in the US, while in the UK it was adopted by the Windsor Free Rock Festival in 1972.
Second-time round, the first person I saw with a Smiley t-shirt was Barnzley Armitage, now co-designer of A Child Of The Jago label with Vivienne Westwood's son, Joe Corre, who wore it as an ironic nod to the Summer of Love in '67. "I was into all this 70s rare groove stuff [in about '86]," recalls Barnzley, "so I thought I'd do something 70s American and printed up all these Smiley t-shirts that me and Tim Simenon used to wear. Next thing I know, Danny Rampling nicked it and used it as the logo for his club, Shoom."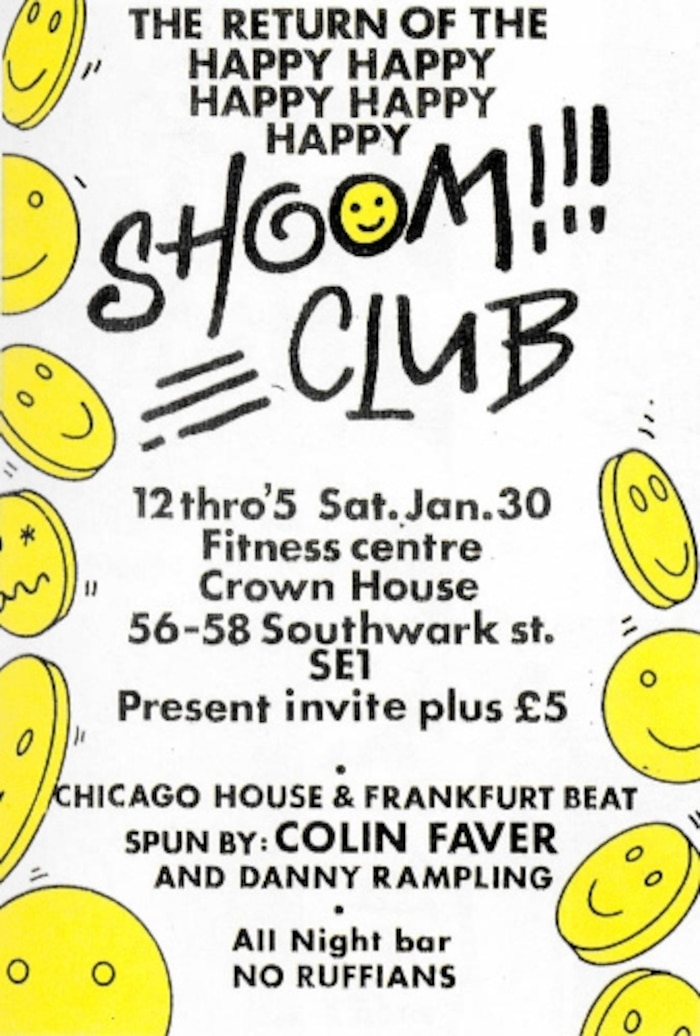 Shoom's graphics designer, George Georgiou, explains: "Danny insisted I use the Smiley-face symbol, which I wasn't that keen on. So I made the Smileys tumble down the page either side of the text. Of course they looked like pills, which people picked up on."
Consequently, Simenon, of Bomb The Bass, put it on the sleeve of his record Beat Dis, i-D magazine put it on their cover and, suddenly, the t-shirt became the uniform for millions of ravers. "When you saw someone in a Smiley t-shirt you knew exactly what you were getting," recalls DJ/producer/writer Terry Farley. "It signified acid house and everything that went with it."
What else should a gurning, loved-up, sweaty, spaced-out club monster wear other than a t-shirt with a big smiling face on it? In short, it said it all.
[Ed. note - This article was originally published during the 2010 Academy in London as part of the Daily Note newspaper. Also, interesting to note that the Smiley played a prominent role in recent times as the de-facto character in Wal-Mart commercials. Weird.]