Everything You Always Wanted To Know About Vogue and Ballroom
Vivian Host explores the inimitable musical scenes
It's a windy Tuesday night in midtown Manhattan; Times Square glimmers in the distance, darkened office buildings sulk, and a few fluorescently lit pizza places hawk grim $1 cheese slices. Inside a club called Escuelita on 39th Street, DJ MikeQ is behind a pair of CDJs looking out over a crowd of 100 or more performers who've come here to compete for $50 or $100 prizes in categories like "Beauty Queen Sex Siren" or "Soft and Cunt". Performers new and old show off moves that are glamorous, dramatic, gymnastic, and occasionally death-defying: all whip-sharp wrists, split-second drops to the floor, and pirouettes that would make Baryshnikov cry. On the mic, Kevin JZ Prodigy makes this non-touching cat-fight reach fever pitch with demanding, high-energy chants and take-no-prisoners commentary.
Originally created by Jack Mizrahi and Luna Khan as a place where young voguers could hone their craft, Vogue Knights has become something of an underground mecca for anyone wanting to taste the real essence of ballroom. And with MikeQ releasing on the taste-making Night Slugs and Fade to Mind labels, Divoli S'vere remixing San Francisco's bass dude Reilly Steel, and Boddika & Joy Orbison reworking Robbie Tronco's vogue classic "Walk 4 Me," the number of heads suddenly interested in this gay subculture is at an all-time high.


CRASH COURSE

Technically, ballroom refers to all the music played at vogue balls, from house and disco classics like MFSB's "Love is the Message," Todd Terry's "Bango," and Ellis Dee's "Dub Break" to hard house staples like Junior Vasquez "X" and Kevin Aviance's 1995 anthem "Cunty" [whose incendiary title happens to be the highest form of praise in the ballroom scene]. It's a mix of these – plus the influences of hip hop, R&B, deep house, and the more aggressive sounds of Baltimore and Jersey club – that have spawned the first wave of dedicated "ballroom" producers: names like Vjuan Allure, Angel X, MikeQ, Divoli S'vere, Kevin JZ Prodigy, B.Ames, and DJ Chip Chop. And like almost every true underground dance scene, proper releases are almost non-existent, with the producers mostly releasing tracks via homemade CDs or file-share links.
Until recently, new ballroom was married to a limited palette of sounds, most of them sampled from pieces of Masters at Work's 1991 classic, "The Ha Dance". Basically, "The Ha Dance" is to ballroom what "Sing Sing" is to Baltimore club or "Pulse X" is to UK grime: a song that's been hacked to pieces and turned inside out by thousands of versions and bootleg remixes. Ballroom is most in love with the song's metallic, demanding, industrial-sounding crash, often used every fourth beat to punctuate dancers dramatically dipping to the floor. Second in importance is the "ha" itself, a sample from the movie Trading Places that MAW morphed into a sound byte so saucy and dismissive it should come with a flick of the wrist. There is now a "Ha" for nearly every occasion and popular culture reference: A "Ha" sampling Rihanna and Britney, Scooby Doo and Super Mario Brothers… even a "Resident Evil Ha".
"Just about all of the tracks I've made are 'Ha's', maybe 90% of them," says MikeQ, on the phone from New Jersey. But he's not the only one – Vjuan Allure, the scene legend Mike credits as his "favourite producer," estimates he's made "at least 350 to 400 'Ha's'" over the last years. Vjuan was the first to remix "The Ha Dance" for the ballroom in 2000; he floated that track (later dubbed "The Allure Ha") and other remixes to scene legend DJ Sedrick, who popularized them. Unbeknownst to Vjuan, his tracks would usher in a new era of ballroom that was significantly more stripped-down, aggressive, raw, and cunt than ever before.
"In [vogue] balls, they tend to use songs that come along that adjust to certain categories and then they keep them," explains Vjuan. "By the time the 90s came around, it had kind of become a formula and it was kind of boring. But when we got ahold of the music, we could do whatever we wanted. There was no formula where you had to go from verse to verse to break. If you wanted action for four minutes nonstop, that's what you'd do."
Even by 2004, when MikeQ got his first copy of the Fruity Loops software (a version he's still using), there weren't very many new ballroom tracks to play. "Back then, they would play 'The Ha Dance' and 'Din Daa Daa'… there was only like three tracks the kids got to vogue to. I just wanted to hear a lot of ballroom, so that's what led me to start to make it myself."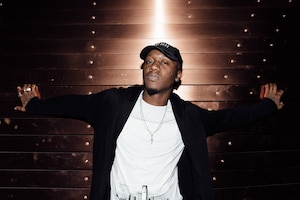 STORM THE RUNWAY

Ballroom is about transmitting raw energy above production values – it's about having a constantly new, fresh, and fierce soundtrack to a battle where you have to be more agile, more stylish, more on point, and more seductive than your opponent(s). It's impossible to make the music without knowing how a vogue ball works, says Vjuan, who knows the scene better than anyone. An NYC native, he started going to clubs at age 11 (in the late 80s) and began performing with the House of Allure in his teens.
"Having a crash on a record doesn't mean it's a ballroom song, and a ballroom song doesn't have to have the crash," he instructs. "A ballroom beat has to have energy. When you play it, there's a feeling that you're ready to go out and battle. You're ready to go out and walk. You're ready to go out and storm a runway. I am thinking about dancing when I'm creating a song. I'm envisioning a dancer being more dramatic, doing crazier moves. My favourite kind of track is rowdy. When I get in my mode I just want to make people fall out!"
Voguers have always loved a bitchy and dirty vocal track – scene classics include E.G. Fullalove's "Divas To The Dancefloor," Sweet Pussy Pauline's "Work This Pussy", and Moi Renee's "Miss Honey". This is a world where "soft and cunt" is a compliment of the highest degree, and pussy is an adjective. "Pussy to us is not really what everyone else thinks it is. Pussy is a feeling, how you feel when you vogue," explains Atlanta-based producer Divoli S'vere.
Whereas vogue balls of the 90s depended on using existing deep house and disco songs to make statements, ballroom producers now just record themselves saying whatever they think will make the floor go crazy and crazier, from "Taste My Pussy" to "Tuna Fish Cunt". Whereas ballroom used to not have enough songs, it now has tracks for every occasion. Vjuan has expanded the genre by designing soundtracks to different vogue performance categories ("Runway Diva," "American Runway," "Queen of Face"). Mike Q is showcasing the voices of notorious ball commentators on his newer tracks, working with Gregg Evisu and Selvin Khan for his Qween Beat imprint.
But perhaps no one is better at translating the personality of the vogue scene to record than Philadelphia's Kevin JourdanZion Prodigy. Kevin is a vogue performer and legendary ball commentator who appears over tracks by DJ VJ, Vjuan Allure, Jay R Revlon, and MikeQ as well as his own beats. Kevin JZ numbers like "Who Is Ya Favorite Femm Queen" or "This is Wat I Wanna See" contain pounds of raw, wild, skittering beats topped by yelling, purring, Grace Jones-style growling, and his signature chants like "Kitty kitty kat k-kat-kat," "Bam-Bam-Shawam!" or the "Hummingbird" hook, a sort of speaking-in-tongues voodoo that launched him into the limelight in 2005. Yet other tracks of his are dedicated specifically to star vogue performers like Leiomy Mizrahi, Niambi Prodigy, and Pork Chop Milan, and feature friends like Aamina Prodigy and Tocara Tsunami – it's basically a history lesson in who's who of the modern vogue scene.
"With certain people I just love what they do," says Kevin. "When I see them they just give me this big, black, long energy that I just gotta do something with. I did a track called "If I Throw My Pussy in the Air". I was watching one of my favourite movies, Harlem Nights, and I heard Della Reese say that and I was stuck! I had to do something with it and I wanted to see how strong my voice could go. Or sometimes I look for some pain or something so I can channel it through music. You know, I just tune out and go into a place and I just say what I feel. I put my feeling into it so people can feel me."


GETTING HARDER
It seems like ballroom's beats and chants are getting ever harder, faster, and more forceful – and it's difficult to imagine there was once a time when runways only walked to disco. This is just the way young Divoli S'vere likes it. "I love fast-paced stuff! I just can't help it," he says. At the age of 23, he's only been making music for two years, but has been known to kick out two or three beats a day, often at 140 bpm (his favourite tempo). "I got introduced to vogue through the dance and then the music captured me, but I'm not in the scene," he explains. "I don't necessarily make my music for a person to dance to at a ball, although if you know how to dance you can catch the beat."
Divoli's tracks show the slapdash sound of the Google generation, influenced by dance charts and dubstep, Jersey club DJs like Tim Dolla and Jayhood, and of course the holy trinity: Beyonce, Britney, and Rihanna. And let's not forget videogames and Family Guy and South Park (Cartman is his favourite character). "I try to keep it current," he says of his sampling tastes. "Vjuan and the older producers and DJs have more of a house sound, but our generation now is very clubby and hard. I know my stuff sounds really aggressive, and a lot of fans tell me my sound is really dark. It's got a lot of kicks and a lot of sampling."
Much of Divoli's stuff is bootleg and available for free download online, either through his Soundcloud or via Mediafire links on YouTube; starting in March, he'll be giving out a free beat every week. It's a totally different marketing strategy than Vjuan Allure, who keeps most of his tracks so exclusive you can only get them by buying one of the nearly 50 CDs he has for sale on his website ($10 each, y'all). The CD game has been good to Vjuan; Mike Q, for instance, estimates he has "35 of Vjuan's CD's from 2003 until now." But even Mike, who has released about 25 compilations himself, has gone mostly digital, selling mp3s through his website and Beatport.


THE BLOW UP
Ballroom producers aren't concerned with keeping their music underground – actually, they want to blow up as big as possible. After all, pop and R&B stars like Madonna and Beyonce are some of this scene's biggest idols; when they've taken from vogue, it's mostly been perceived as flattering rather than stealing. "I could see somebody like Missy Elliott sampling the sound," imagines Divoli. "I believe that if we keep doing our thing it'll become major."
"I have to play everywhere to everybody," concurs Vjuan, who splits his time between playing vogue balls in the U.S. and big-room house clubs in Italy, his second home. "The ballroom scene is great, I love them to death, but I want other people to hear the music and to hear what I can do."
Header image © Drew Gurian/Red Bull Content Pool