Rescued From The Fire: Roman Flügel on The B-52's
An ongoing series in which we ask artists the record they'd risk life and limb to save from a burning inferno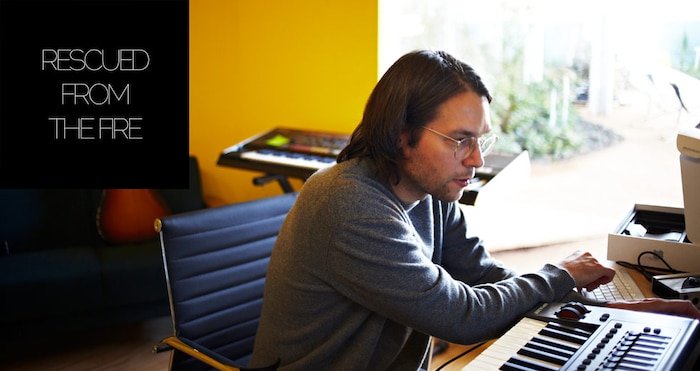 Roman Flügel has deep crates. After all, you have to in order to be such a musical chameleon. You might get his ambient or folky side as Sensorama one day, his subterranean house as Roman IV the next, and his quirky big-room anthems as Alter Ego the following week. And when he feels like it you get his visionary dance music as Roman Flügel himself. His 2011 Fatty Folders LP was consistenly rated as one of the most essential electronic albums of the year, so it carries great weight when the Frankfurt-based DJ, producer and Academy teammate decides to pick a single piece of music to rescue from the smoldering embers of a catastrophic house fire.
The B-52's - Party Mix! (1981, Warner Bros.)
Sometimes it is good to remember a German quote by the famous football trainer Sepp Herberger saying, "vor dem Spiel ist nach dem Spiel". In English you could say' "after the game is before the game". Looking at my job, I keep on saying to myself' "after one party is before the next party".
If a fire would rage in my flat, I'd try to save one record - 1981's 'Party Mix' by the B-52's. It reminds me of different wonderful things that happened in my life. Such as meeting a French girl at Club Med in Sicily. I had seen the B-52's playing a live show on the German TV program 'Rockpalast' around 1983 and was totally blown away by the intensity of their obscure presence that converted a rock audience into one big party monster.
Then, only three years later, I found myself lying in the soft, sandy dunes south of Sicily kissing a girl that was honest enough to tell me that she not only had one, but two boyfriends back in Paris - and that whatever happened in Club Med will stay in Club Med. What a wonderful culture shock for a stiff, pubescent 16-year-old German boy! Before we ended up in sandy territory, we listened to different cassette tapes and found out that we both adored the B52's. From there on out, everything just felt a lot easier, and I quickly learned that a certain taste for music is one of the very important qualities that leads to attractiveness.
I played "Dance This Mess Around" at a private New Years Eve party - and the place went absolutely berserk!
The so called mini-album format itself is a collection containing six songs from the B-52's first two albums. All of them are remixed, and I totally enjoy the heavy use of wild delay and harmonizer effects on most of the tracks that show an appreciation for the aesthetics of dub reggae. This is mainly because the band decided to have Steven Stanley working behind the mixing desk, a Jamaican keyboard player and record producer who is also famous for his work with the Talking Heads or the Tom Tom Club.
Just recently, about 25 years after I bought the original vinyl, I played "Dance This Mess Around" at a private New Years' Eve party - and the place went absolutely berserk!
Going back to where I have started, I have to say that even if my flat would have burned down to its foundation walls 'Party Mix' would be the perfect record to inaugurate my next apartment. Not only to have another party, but to celebrate life itself.