Interview + Video Premiere: Venice
Coinciding with a brand new song and video collaboration with fellow Italian psych-disco outfit, Dumbo Gets Mad, we talk musical metaphysics with the Rome-based Academy class of 2010 participant Venice.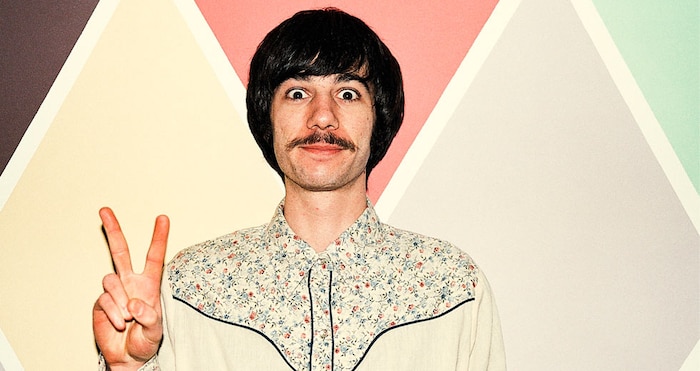 Without even listening to a single piece of recorded music from Venice, you can just tell that he's on some metaphorical Mediterranean "other shit". Worn Italian leather boots, paisley shirts, mustache, the whole nine yards. And when you throw his sounds into the picture, things start to get really wild. His 'Animals, Stars and Other Psychedelic Creatures' concept EP released free last year on the Bad Panda label served up the aural equivalent of evolution - from protoplasm to higher consciousness in like four songs. Samples culled from British library composers like Brian Bennett intermingled with fuzz guitar, tribal drums, and cosmic synth lines. It was a pretty vicious stew. His new project is a start-up of sorts, a 50/50 collaboration with fellow Italian deep-crate, psych-disco purveyor Dumbo Gets Mad. We're not exactly sure where it's headed, but wherever it is, you're going to want to bring incense. Read our interview with Venice below and check the video premiere of 'Viaje Astral' at the bottom.
To start, we just need to clear something up. Your name is Venice, but you're from Viterbo and live in Rome. What kind of operation are you running here?
Haha! When I chose the name, I never thought it would end up so tricky. I just liked the sound of the word along with the city itself. It's really magical, mystical, romantic - and it sounds good.
And un-Google-able. Ha. Regarding your sound though, it's extremely varied and seems to have not-so-subtle references to the influences of psych, disco, ambient, library, cosmic stuff and beats among other genres. What exactly do you want listeners to take away from it as far as what Venice's specific sound actually is?
Well, a long time ago, I was really concerned about completely changing my music style so it would sound like nothing else, but then I realized it's just music. You know? I see ourselves as infinite open lines. When the time comes you get the right shape for that precise moment. I like to be inspired by every kind of music so I'm always in search of a new shape.
I mostly listen to old music, so doing that in this day and age I think is totally futuristic.
Italy had a pretty solid psych scene in the 70s though, didn't it... How much of that is an influence on you? What are some of your other influences?
Right now my iTunes is playing "London Transport" by Giuliano Sorgini. Does that answer it? Haha. Some of my all-time favourites are Spacemen3, Syd Barrett, Brian Eno, George Harrison, Neil Young, Curtis Mayfield, Dave Bixby, Bruce Haack, and Piero Umilani. So many others...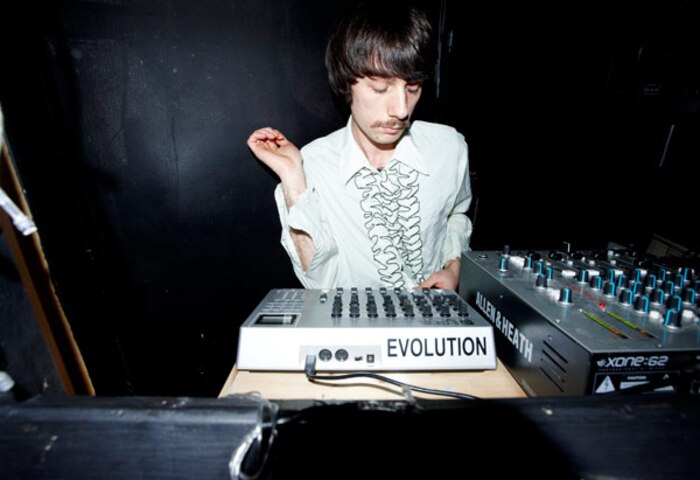 How do you balance retro influences without sounding dated?
Well, I mostly listen to old music, so doing that in this day and age I think is totally futuristic.
Let's step back to old music then. Tell us how you got your start.
I really can't remember to be honest. I have to thank my dad, as he has always drawn me towards music ever since I was a kid. He's a great guitarist and sweet mandolin and harmonica player. He introduced me to piano and guitar when I was little, although I played it very seldom. He made me listen to real classic rock, blues stuff and classical music - and now I think he can't properly understand what I'm doing but when we're together we enjoy covering Neil Young songs a lot.
So with this upbringing, when did you start shifting towards the dark side, i.e. - "Electronic Music"?
Ha! I remember it started very naturally. Maybe listening to late J-Dilla stuff and pushing the BPM of the songs, adding more than just samples, and discovering so many great electronic instruments. You know, the usual.
Explain how you hooked up with the Gomma Dance Tracks label and Cécile.
I totally hooked up with Gomma 100% because of Cécile! It was pretty natural, they just liked it and we released "Rimmel" with them. Oh man, I remember doing "Rimmel" with Cécile... That was pretty crazy!
And you've got a new project and video with Dumbo Gets Mad, can you talk about that and how and why you hooked up with him?
Well, I met Dumbo about one year ago. I don't remember how exactly. I bumped into his channel and listened to "Plumy Tale" and - BOOM - I fell in love with it! Then I discovered he was Italian too, so we connected through the internet. We spoke so much about music and life. Later, I played the organ for his live show here in Rome. We've gotten on very well lately, so we ended doing this song "Viaje Astral" about two weeks ago. It speaks about wondering - wondering what surrounds us every day. And asking. It's all about asking, man... Man, I can't say how much I love Dumbo Gets Mad. It's terrific.
If you had only one instrument or synth to make an album with, what would it be and why?
Damn. Such a good question... It's hard to say, but I would go with the guitar. I mean the song would be starting with the guitar, but not necessarily end there. But definitely start.
What songs are you feeling this month?
"Indian Food" by Dumbo Gets Mad and stuff from Skip Spence, Syd Barrett, The Red Krayola and Orchestral Manoeuvres in the Dark!
What are the plans for 2012? Touring? Vacation? Recording?
Doing an album, playing music, playing music, playing music, visiting India and going to sea.
What predictions can you make for what life will look like in 2050?
I think we'll all look like dinosaurs, vegan dinosaurs! Or something like fish-creatures, eating sea-fruits and living in the sub-ocean. Oh wait you said 2050, I thought it was 2500. Man... I don't know...