Hip Hop Pit Stop: Houston's Killa Kyleon & Coppertone Conspiracy
Houston was never exactly slept-on as far as local rap scenes go. J. Prince's Rap-A-Lot and their Geto Boys set its stake in the Houston rap scene early and basically dominated for the three decades to follow. But the shade of that empire never stopped lesser known rap entrepreneurs from planting their seeds. Throughout the late 1980s and early 90s, dozens of other indie labels and underground acts were setting out on their own, feeling out the industry, trying to figure out their way in. The group Coppertone Conspiracy is one of the most interesting – and least heralded – to come out of Houston.
Like so many rap groups then and now, Coppertone Conspiracy has its origins in the halls of a high school. A Langham Creek High School freshman, who would soon go by the rap name POP (The Prince Of Poetry), had been making bedroom beats on a borrowed Yamaha RX-7 and cutting hair on the side. It was through the latter hobby that he met his soon-to-be rhyme partner Mark S. He played him those RX-7 demos, performed his accompanying raps and the two clicked.
"I went [away] for the summer, came back three months later and I get a knock on the door," says POP. "Mark S came to my house and he got three other dudes with him. 'We got a group now.'"
Friends KC and Jay P rounded out the group and CAP – Chiefs Amongst Poets or Comrades Achieving Peace – was born. Their day-to-day activities were pretty typical for an amateurish high school rap crew: banging beats out on Radio Shack Casios, battling rival crews and even performing raps as part of the drunk driving prevention program Safe Rides. It was this last one that landed the crew a ten minute news segment on the local Fox programme City Under Siege and they, in turn recorded their first single, also called "City Under Siege". It was a simplistic but very refined 'woes of the world' tag team rap song, lamenting the rising crack cocaine trade. With the help of their DJ's father, the tenth graders pressed 100 copies of the record in 1989, split the pressing four ways and managed to sell out every last copy to other students alone. (Coincidentally, the Geto Boys would also name a record after the series a year later.)
From there the group got down to producing hand to hand cassette demos – primitive mixtapes, really – and eventually hooked up with a local hustler named Poopie, who signed them to his Evolution imprint.
"He was just a few years older than us, probably about 24 or 25," says POP. "But we're not spending our parents money no more, we're spending his money. He's spending the big dollars on us. He's sitting on a big studio, a nice studio over there on the south side of Houston."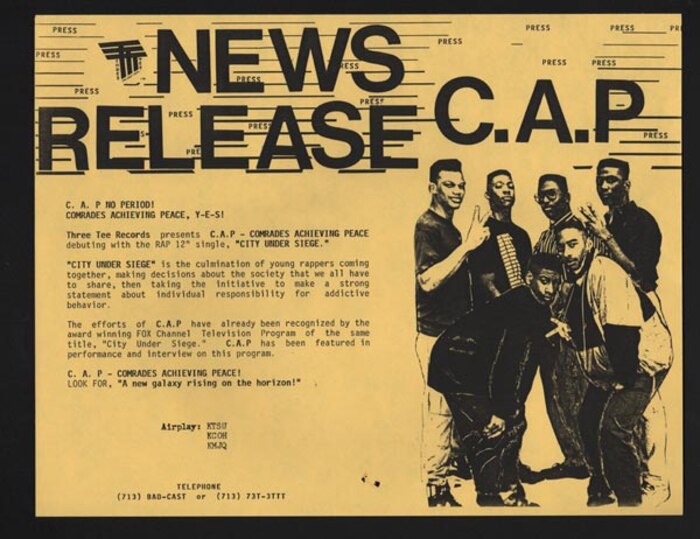 By this time they had outgrown the CAP moniker and rechristened themselves Coppertone Conspiracy.
"Mark S came up with that name," remembers POP. "It was [a reference to] the Coppertone suntan lotion. Copper tone – we were black, we were Asiatic, we understood our ethnicity and all of that. So we claimed it.
"And we were a conspiracy," he continues. "We were a group of guys who were conspiring to inform our people of the snares that are out there to keep us separated and divided and to keep us from loving ourselves. There was a conspiracy to keep us from not growing as a people. We felt as if we were a conspiracy to do just the opposite."
Released in 1992, on LP and cassette only, Funky Overthrow was conceptually and sonically quite ambitious, particularly for a project that was effectively put together by teens on an indie label. They combined the radical politics of Public Enemy and the less specific, but no less aggrieved, anxiety that Rap-A-Lot was trading in around the same time. KC and Mark S took turns delivering wordy stop-and-go shout flows while POP counterbalanced with a brash and nasal delivery, like a more rhythmically conscious Eazy E. ("They thought i sounded like Eazy E," he laments today. "I didn't never like Eazy E, I felt like he was off beat!") Mark and POP split the production duties and that, too, seemed loosely indebted to Public Enemy wall of sound bombast but the beats managed to swing to a bluesier, more Southern step.
The album closed with the standout "Southern Hospitality", a breakbeat and harmonica-driven banger that prefigured Goodie Mob's "Dirty South" in its unapologetic down south pride: "Half of us are felons/but people from the North think we all about chitlins and watermelons". The track became a local radio hit but the album never really found its way outside the city, in part because the politics of the business were in full effect.
"We had our own sound but we had to compromise for the sake of the record company," says POP. "[Poopie would say] 'we need some dance music.' and that used to kill me, man, because we always had a dark vibe. I don't like all that happy ass music, but that's what he wanted."
Couple that friction with Poopie's "violent temper", as POP puts it, and internal problems amongst the group and the entire relationship dissolved just as it was taking off. Coppertone Conspiracy's debut album would prove to be its last.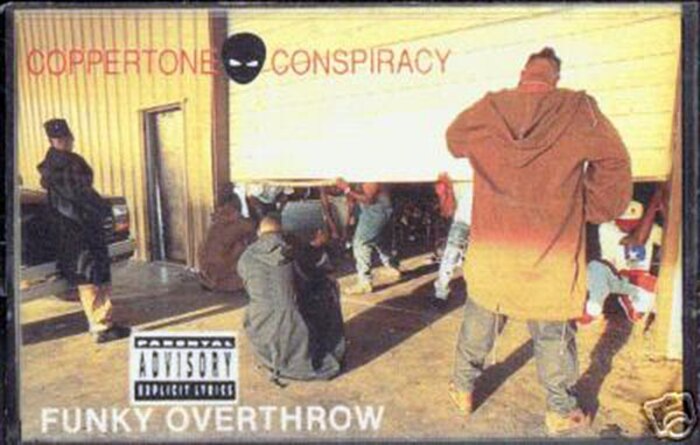 "We got to a point where me and Mark S. felt like KC and Jay-P were expendable. That's how young men think at certain points," he explains. "[We thought] KC wasn't flowing as hard as us, he's coming with some weak verses, so he don't need to be in the group. And Jay-P wasn't really a rapper, he was more of a hype man with information. I love all of them cats to this day, I'm just telling you how it went down then."
Still Funky Overthrow made significant waves with those in the know. In a 2007 interview with Fader Magazine, the late Port Arthur legend Pimp C of UGK mentioned Coppertone alongside contemporaries like the Convicts and Street Military, noting that the difference of legacy between these underrated H-Town rappers and their more visible counterparts like UGK and the Geto Boys was defined mostly by the presence – or lack – of major label backing.
The tape also caught the ear of the Southside Houston duo Ruckus, who POP began providing beats for. At the suggestion of another hustler-turned-manager, Ruckus merged with what was left of Coppertone to create the new quartet Redrum. When that manager found himself in trouble with the law, the newly formed quartet moved to Los Angeles to chase that major label assistance. They landed a demo deal with Warner Brothers but the subsequent recordings were deemed too aggressive to release in the wake of "Cop Killer" hysteria. POP did manage to shop beats to Death Row's RBX and Tech N9ne's Nnutthowze crew in the time, though neither ever saw a release.
They returned to Houston disappointed, but not dejected, and while Coppertone and Redrum were effectively dissolved, their principles stayed on their music grind. POP adopted the moniker Muhammed 2G and found success producing for Whitney Houston and the Rap-A-Lot camp and both he and Mark S (now Marcus Mud) have continued to kick around the H-Town underground as solo artists, while still representing Coppertone Conspiracy in spirit.
The Houston rap scene, of course, saw no shortage of successes during and well after the era of Coppertone Conspiracy. The Geto Boys shocked the world, DJ Screw slowly revolutionised popular music with his codeine infused crawl aesthetic (though he didn't live long enough to see it happen) and the early '00s saw the Houston underground dominate mainstream rap, if only for a brief spell, by way of short term crossovers like Lil Flip, Mike Jones, Chamillionaire and Paul Wall.
Currently though, its underground seems more diffuse than ever. The second wave post-Screw rappers are still skulking around the scene, some proving more productive than others. Their descendants, if often talented, mostly ring as post-regional. Killa Kyleon is one of these – he's clearly studied the battle heavy impulses of 90s New York – but he draws on that influence without completely abandoning his hometown heritage, inheriting the pain of the Scarfaces and Z-Ros as well.
Kyleon came up under the tutelage of Screw Up Click member Big Pokey and first cut his teeth as part of Slim Thug's Boss Hawg Outlawz. And if his pedigree doesn't speak to his talents, his raps do. He's a lyricist in the purest (and purist's) definition of the word, spitting punchlines through clenched teeth with a classical word lust and is highly adaptable, as comfortable on hard edged UGK style Country Rap funk as he is on smoked out contemporary quiet storm rap. He landed a scene stealing cameo on Wiz Khalifa's breakthrough future classic Kush & Orange Juice. He's just rapping about weed (because it is a Wiz Khalifa tape, after all), but he's doing it with a clever swagger and a crooked grin – "Irish Spring green/make 'em blow it like a bagpipe". The words don't hit the page as well as they do the tape, but his conviction sells them.
Kyleon's own Candy Paint & Texas Plates 2 mixtape from last year stands as the best display of this range and probably his most complete effort to date. Though the title could be interchangeable with any number of the hundreds of undergrounds that Houston has produced in the past fifteen years, it's a strikingly broader selection than most of those. Riotous trap rap trunk rattlers rub edges with smoothed out Marvin Gaye samples; scratch loaded boom bap tracks occupy the same space as the aggro rap rock inspired (and Bun B assisted) "Bodies Hit The Floor". And all the while Kyleon maintains a uniform intensity, a single pitch focus on kicking rhymes and busting heads.
Though Kyleon might not remember Coppertone Conspiracy directly, his rhymes often feel more closely tied to their generation than to the syrup sipping era that emerged in the decades since. He's informed by his immediate predecessors, naturally, but he also brings a heavier weight to it. It's a rap style seemingly fueled by an unspoken frustration. Sometimes southern drawls are meant to be shouted. Or at least seethed.
Listen to the most recent radio show from Andrew 'Noz' Nosnitsky on RBMA Radio.