Computer Rise: The Rise of Technology in Jamaican Music
Jamaican music scholar Frederick R Dannaway charts the rise of technology and machines – and the changing role of the producer – from roots reggae through dub to digital dancehall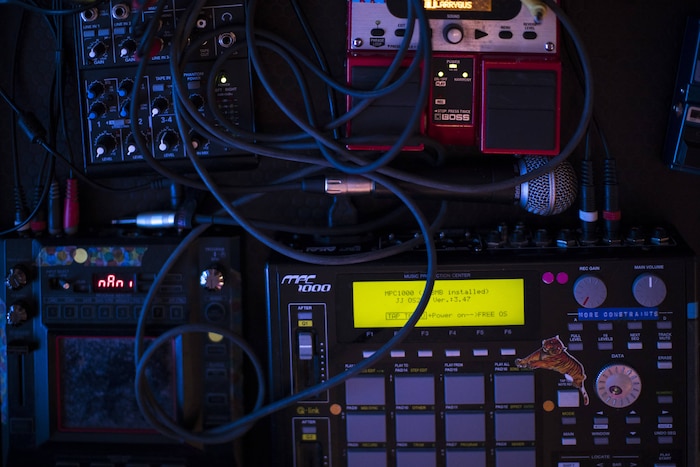 "Computer world, we in a computer world" – Lee Van Cliff ("Computer World")

Rhizomatic Riddims

The roots of reggae stretch deep to African soils, re-emerging as digital filaments and radicles in the creation of dub, dancehall and digital reggae. The revolving complexity of instruments filtered through various types of mixers and special effects has changed the very conception of music. From bedroom to cutting-edge professional studios, digital hardware is ever birthing new combinations. Dub as the mystical shadow of vocal versions has always had a touch of magic in its echoing translations of one drop riddims. Producers are the 'scientists' and 'professors', 'organisers', 'doctors' or 'chemists' in their recipes of audio potions that vibrate from their studio laboratories.
All music that is not enjoyed live and in person is subjected to the interlopers of recording devices and studio equipment of microphones and amplifiers. Yet some of the vintage studio equipment seemed to transmute the recordings uniquely – modern producers try to re-invoke the signature sounds. Musical periods, and therefore the studio outputs, are defined by the unique tonal ambiance of the recording equipment. Certain equipment is legendary, such as the Ampex 351, the holy grail of the recording arts. Abroad, the Ampex was recording Elvis and The Beatles, marking the era by its characteristic sound. In Jamaica it was immortalising such acts as The Wailing Wailers with Bob Marley at Studio One.
Studios constantly updated their equipment, enticing different sounds from instruments and singers, allowing a separate channel for each component and effect. Custom mixing boards and mass-produced consumer/professional electronics alike combined in reggae and dub, giving mixes a roughness that enhanced the process rather than detracting from the overall precision. Channel One studios graduated to a killer Ampex MM1200 16 track in the 80s from the $38,000 API console Hoo Kim bought to start the studio in 1972. The studio's first offering, "Can I Change My Mind" by Delroy Wilson was a chart topping hit, and a landmark change in the island sound, extending the domain of Channel One into the next era.
The logical extension of this is that the mixing board itself becomes an instrument, transmuting certain tones to ghostly echoes, reverb and delays that envelope the music in a warm, almost supernatural aural glow. The mixing board's magic allowed for the overdubbing of instruments, as exemplified by Freddie McGregor on many Studio One classics – including most of Sugar Minott's output for Coxsone – that reinvigorated old riddims. The classic mixing desk used at Channel One, the API 1604, is a technological masterpiece and a work of art that rivals the finest wood instruments in aesthetics and charm – even, or especially, if it conjures up science-fiction movie rocketship controls.

One can just visualise the magic unleashed upon the massive in 1968 when King Tubby and the Hometown HiFi strategically placed speaker boxes based on their frequency to unveil his serendipitous manipulation of versions that birthed the genre of dub. This was a milestone moment in music that elevated the producer to artist, and the studio equipment – such as Tubby's gorgeous modified MCI mixing board – to instruments that remix and reinterpret the song in a profound way. The 12 track, and later 16 track and beyond, mixing boards – as Tubby and Jammy used – allowed the distinct layers of the music to be dissected (and sometimes mixed down to four tracks), allowing bass and percussion to linger and smoulder in an intense minimalism, fathering the reductionist digital reggae of the late 80s on through the 90s. Deejays chatting over minimalist dub versions was rap music before there was hip hop. The ramifications of roots music into the versioned instrumentals created dub as its own genre. The dub aesthetic of Jamaica in the 1970s expanded into electronica, house and dubstep. This avant-garde music played with sound, texture, pitch and scale like a painter attempting to capture light with shadows and chromatic contrasts, forever altering the evolution of music.
Deejays chatting over dub versions was rap music before there was hip hop. The dub aesthetic of Jamaica in the 1970s expanded into electronica, house and dubstep.
Dubwise and Otherwise

An analogue signal is variable, compared to a digital signal – born of 'computer' circuit technology dating back to the early 20th century – which is constant and usually takes two levels. Electro-acoustic instrumentation dates back to the mid-18th century, and futurist, avant-garde offerings from Russolo's The Art Of Noises to Zinovieff's unattended computer recitals in the 1960s, which in some ways are precursors to many of the dub and digital music explorations. Contemporary with this same technology are the vacuum tube analogue synthesizers of the 1920s, such as the trautonium, which used the same technology that would later be so coveted in amplifiers and keyboards, like the Hammond B3.
Lloyd 'Matador' Daley was not only the owner of one of the first soundsystems, he also created and modified some of the most powerful KT88 Amplifiers for soundsystems in the late 1970s, like Jack Ruby's HiFi and Joe Chin. His equipment defined and drove clash culture and quenched the thirst for clear, deep and crisp bass while retaining the integrity of the mid and high signals. The prominence of drums and bass was a nascent form of digital music in the stark production. Laced with exotic noises and laser beams drenched in echo and reverb, it was pioneered by producers like King Tubby, Lee 'Scratch' Perry, Joe Gibbs and Michael Campbell.
The psychedelia of certain rock and soul influences from abroad are found quite early in Jamaican music, such as in pioneer Derrick Harriot & The Chosen Few's "Psychedelic Train" in 1970. Derrick Harriot & The Crystalites, with producer Errol Thompson, recorded effects-laden tunes like "Bombshell," incorporating various sampled sounds into the composition, though on the album Harriot is credited with the sound effects. Valve mics – like the AKG C-12 spotted in some Channel One pics – absorb and relay sound with a thickness and purity which is lost in even the most cutting-edge microphones of today, where the focus on clarity limits the sound to certain pitches, sacrificing signal subtlety.
Blackboard Jungle Dub, released by Scratch Perry in 1973, combined obeah-voodoo acoustics with the modern day technologies to capture and create sounds that used earthen pits of water through phasers and flangers. He was creating inter-cosmic soundscapes dripping with modulated, oscillating filtered resonance that revolutionised music the world over. False starts, rewinds, test-tones and vocal commands to the band were all seamlessly integrated into the final recording, rendering the production almost holographic as the intros rewind blends with the second take. Sirens, synth shot lasers, analogue effects, and later Atari 8-bit digital – such as those made famous by Jack Ruby – were used to transition a tune while the record was being flipped in certain dances, eventually finding their way into the music.
A pioneer of this in the UK was Jah Shaka, whose use of Synare 3 syndrums and NJD SE-1 sirens played through echo machines comfortably invaded acoustic steppers riddims as well as Shaka's and others' digital steppers tunes – which still remain earth-rooted and organic. Sirens and effects became prominent instruments on many of Shaka's albums and most certainly in his live sessions.
The 80s and 90s saw mixing boards with built-in effects beside the mentioned test-tones and sine wave oscillators, and soundsystems availed themselves to separate units that housed these effects, known as lickshot machines. These machines allowed one to exploit a chosen signal through different effects, speeds and tones.
The dub embellishments of laser beams and sound effects from synthesizers eventually became the tonal focal point of the evolving roots sound to the rub-a-dub of the early 80s that was incorporating syndrums, test tones and synthesizers. The classic Studio One cut "Rub A Dub Style" by Michigan & Smiley accentuates the vintage "Vanity" acoustic riddim with digital synth sounds that pop and bubble while the deejays chat. The proto-digital sound effects ride on top of the riddim and then become the central focus on the landmark 1979 instrumental dub version. Another milestone in this sound had to be Jimmy Riley's "Love And Devotion" from 1981 with the embryonic digital pop featured likewise in the dub by Massive Dread. Producers like Tubby, Errol Thompson and Lee Perry's manipulation of dub, which is like a photograph negative of the finished track, was fed through various machines such as the Echoplex, Tubby's self-customised Fisher reverb, as well as Mutron's Bi-Phase and Roland's Space Echo.
Computer Say Dat

Many times I have heard older Jamaicans, such as Audley Coxsone in Studio One's Philadelphia store, lament the demise of roots music when digital music "changed everything." In some sense, the acoustic vs analogue vs digital debates might be likened to herbs vs synthetic drugs or natural light vs halogen bulbs: their processes are somewhat artificial or virtual in essence, still organic (to quote Jah Shaka, meaning, "of the earth") but in a domain that transcends or transforms nature. The use of drum machines draws criticism from some purists, but so did the invention of the metronome in the 19th century. Augustus Pablo used to map out his beats on a drum machine to have the patterns matched by drummer Noel Alphonso on Simmons electric drums. And so with early digital riddims, in that twilight (or dawn as the case may be) between producer and programmer, the digi patterns were played, not looped, retaining a distinctly human component to the music. But when the programmer is a master musician, such as Sly Dunbar or Clevie, their skills on drums and drum machines translate to software to produce music that is warm, complex and organic whereas other, less competent programmers might create over-polished, anemic sounds without any texture. Digital cuts, such as remakes of Dawn Penn's "No No No", to the hauntingly updated (and to my tastes, superior version) of Carlton & The Shoes' "Forever And Always" (both produced and performed by Cartlon Manning, he remixed his own song) provide examples of classics re-imagined through the filter of technology.
Almost every book or article on digital reggae will cite the "Sleng Teng" riddim as the first digital riddim. But tunes such as Horace Ferguson's "Sensi Addict" (1984), and Paul Blake & The Blood Fire Posse's "Get Flat" were essentially digital tunes, although they were not paradigm shattering like Wayne Smith's Casio-born riddim. The evolving technologies of oscillators, combined with voltage-controlled, filtered frequencies that birthed the slow, synthetic fluctuations of "Sleng Teng" trace back to the very first moog-infused reggae songs. The Jamaica Gleaner's resident reggae scholar/poet Mel Cooke has an article that has Redrose claiming his and Tubby's "Tempo" predated the King Jammy-released "Sleng Teng", offering, "We was the first man sing on a computerise." Redrose continues, "It was like him have one of the Fruit of the Loop box..."
"The ability to precisely ride a fully programmed, automated riddim defined the future..."
No matter who was first, the evolution (or demise) was on, and Jamaican music would never be the same. Almost overnight songs with 'computer' in the title flooded out, with singers boasting who could ride computer and who couldn't – the implications being that those who synched with the new technology would cross over into a new era of dancehall while luddite vocalists would be reconciled to the throwback, 'remember when' dances. The ability to precisely ride a fully programmed, automated riddim defined the future, and producers like Jammy, Gussie Clark, Robert 'Bobby Digital' Dixon and Fattis Burrel ushered in a new era. Tunes by Nicodemus, Early B, Yellowman and Uglyman ushered in the topic and implications of a world gone 'computerise'. As Early B ponders, "more computer, less manpower, these are the words of every leader." He goes on to ask, "What them a go do with Sly ten finger?" Of course, outside the dancehall – where the singing and toasting was done over vinyl versions – the digital riddims would get orchestral treatment with a live band, and it is magic to watch a melody like the "Punani" riddim played one-handed by a master keyboardist at a state-show.
Digital We Digital

As mutating technologies reached the island, the reversing sharp attacks and natural decays of notes yielded to the same programmed precision of military hardware. The way to the computerised sound had been a hard drive, from musicians planning and playing drum machines to entire songs programmed on software. Enter the domain of sine waves, square waves concocted from pure tone, and saw-toothed forms completely unknown in 'natural' music. The leap from tape to computer and MIDI memory, and the dubbing of recorded, layered tracks allowed for almost infinite combinations and remixes. Sampling and looping allowed hip hop such innovative techniques to recycle and reinvent the soul and R&B of their parents, cut-up'd, scratched and mixed together over TR 808 drum machines. Such an innovation was as evolutionary in the history of music as notation was for classical music, where improvisations can be recorded, prioritised and preserved – and now all at a fingertip with computer programmes that instantly perform tasks that would have taken hours before. The large bands and studios that were required to produce roots reggae became redundant. The new technology democratised music production, through tiny bedroom studios with minimal equipment that changed the sound, such as the minimalism of Mad House's Dave Kelly. The soloist can become orchestral with technology, and anyone can produce, mix, market, promote and sell a song all from the same laptop.
The laptop, 8-bit, lo-fi chiptune reggae in many ways continues a musical evolution that appropriates technologies in search of unique frequencies and sounds. These can be from Atari games and Commodore 64's MOS Technology SID that produced the video game soundtracks, from which effects are used to punctuate a tune in a live session. The vocoder and Auto-Tune softwares may have peaked as a fad in hip hop, though it lingers on in a more subtle fashion in dancehall; African hybrid hip-life ragga music is saturated with this production effect. While at its worst it creates and inflicts some crimes against music, in the hands of a few artists – like Gappy Ranks, Busy Signal or the Fokn Bois and Popcaan – it can embellish their existing talents rather than relying on it entirely to stay in key.
It is a common refrain on internet forums and in reggae magazines that the best digital reggae is coming out of Europe – which is true, as the producers there immerse themselves in the equipment of the golden age of digital reggae for their own productions. The fresh digital reggae from groups like Mungo's Hi Fi and the Bush Chemists (which includes Brother Culture's "Digital Rock") induces the same cerebral ecstasy that the first computerised songs must have invoked in the mid-80s dancehall massive in Jamaica. Virtual dances are prophesised by Mungo's Hi Fi ft. Mr Williamz on "Computer Age," envisioning a new age where the massive can link to simulcast sessions from Scotland to Tibet complete with antiviral firewalls.
The digital roots and wires of the new generation of producers have continually updated dancehall. If some of the lyrics alienate audiences outside of Jamaica, the riddims from producers like Freddie McGregor's son Stephen 'di Genius' embrace a universality that creates hits from Brooklyn to Berlin. With other producers like Seanizzle, Notnice and Don Corleon at the controls, the sound of digital dancehall will keep expanding its futuristic influence 'outernationally.' Foreign producers like Russian and Dre Skull bring their unique riddims to the island hybridising genres and keeping the vibes updated and ever fresh. The digital reggae scene has exploded in Europe, proving the whole world 'gone computer.' And as Brother Culture chats on the updated Riddim Tuffa "Digital Rock 2012," "Computerised riddim haffi make the crowd rock..."