Interview: TNGHT
Clare Considine talks to Hudson Mohawke and Lunice about their new partnership as TNGHT and true bromance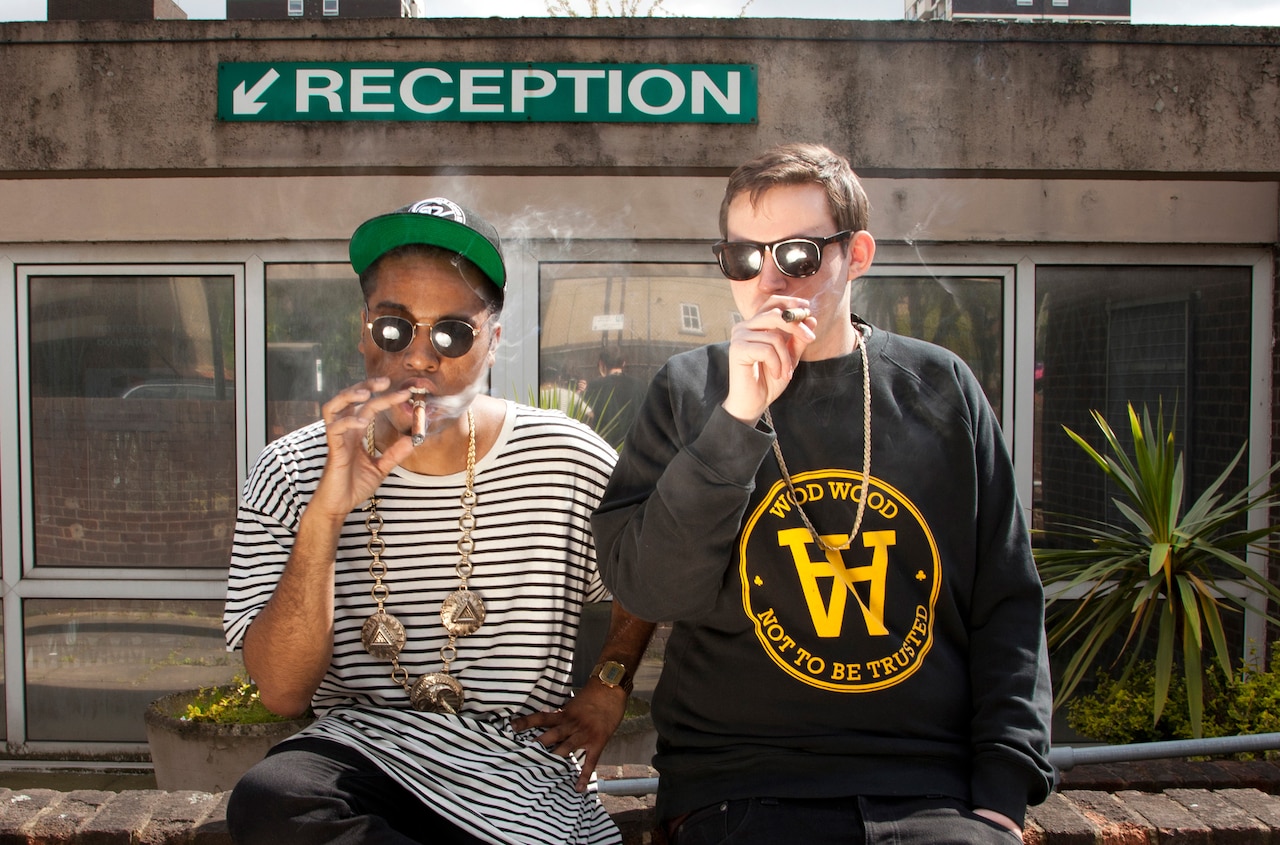 TNGHT's first ever EP is set for release today, July 23rd. You'd be forgiven for thinking it had been out for months. A ubiquitous snippet of first single "Bugg'n", recorded at SXSW, has been doing the rounds on the music blogosphere since its debut at the festival in March. The electronic music scene has eagerly gobbled up any small crumbs of audio clues thrown their way as to what the duo's sound is all about. EP samplers and a recent official video released for "Higher Ground" suggest that TNGHT's musical direction is characterised by neck-breakingly big tunes. Squelchy bloops are fused with marching drums, euphoric rave sounds, tinny synths and playground-silly samples.
Hudson Mohawke is Ross Birchard, the breakout star of the Glaswegian LuckyMe collective. He entered our consciousnesses back in 2006 with Hudson's Heeters and followed it up by doing gloriously inappropriate things to Tweet and Aaliyah tracks. Since then he has signed to Warp, releasing Butter in 2009 and the Satin Panthers EP last year. His unique brand of glitchy Scottish hip hop-influenced bedroom electronica has won him production credits with the likes of Chris Brown and Kanye West.
Lunice, AKA Lunice Fermin Pierre II, is a Montreal native whose swagged out moves and Dilla-tinged splinter beats found a spiritual home at LuckyMe back in 2008. His Stacker Upper EP was released in 2010, wooing Diplo and the rest of the scene with its fearless turbo crunk. Since then he has released One Hunned, worked with Azealia Banks and bagged himself an upcoming EP on Mad Decent.
I meet the pair mid-recording session at the Red Bull Music Academy studios in London – they're both Academy alums – and if they're feeling the weight of expectation they're not showing it. There's a bright breeziness to them that suggests a quiet confidence in their creation and an ease resulting from the partnership. The hype surrounding TNGHT has seen them receive reams of press and a headline slot at a sold-out Belgian festival – all before a single track has even been officially released.
The two have been label mates at LuckyMe since 2008 but only decided to work together after Lunice heard HudMo's remix of "Party Animal" on Sinden's Gucci Mane mixtape and spotted a similarity in direction. They discovered a rare studio chemistry that can result from late-night, whiskey-fuelled Fruityloops sessions. "The initial idea was, as two like-minded people, to experiment with some kind of sound," says Lunice. "We tried it out, put together a bunch of songs, and the whole response was great."
The pair both speak effusively on the organic confidence that grew from their partnership. This was less a yin and yang pairing – they see their sounds as overlapping – and more a freeing holiday bromance that gave them the confidence to take a 'devil may care' approach to their output. "With this particular project, because it's quite an intentionally simple thing, we stopped each other from getting too caught up in spending like a week working on one track," HudMo explains. "We would take two to three hours and then say, 'That's done, that's finished.' We stopped each other from getting too bogged down in stuff. We're not attempting to make big, all-encompassing opuses. We want it to be very hard-hitting and very straightforward." The result was something refreshingly uncomplicated.
We started thinking that this could be for rappers. We got to a point where we thought that we should actually just push it directly to those guys.
As the project's direction began to take shape, the pair's focus became clear: the tracks emerging sounded like blank canvasses, ripe for big braggadocio vocals. This was their opportunity to do some posturing to the American mainstream, and show them what they'd been missing. "We started thinking that this could be for rappers," says Lunice. "We got to a point where we thought that we should actually just push it directly to those guys."
They were acutely aware of their underdog status when dealing with the major label powerhouses and saw the strength that could be drawn from joining forces. "I feel like it's hard for a solo producer to break into the whole mainstream rap thing," Lunice continues. "I always feel like there's a huge team working on them. So, to be two producers, it feels like there's a bigger force in terms of making projects for certain vocalists."
As yet, TNGHT are steadfastly secretive about whether their self-styled audio-audition has done the trick, but a twinkle in their eye suggests that things are going to plan. "We're just not saying anything yet. Not til everything's out. That's the thing about rappers. Even if you've got paperwork and everything it can still just disappear," explains Lunice.
But if all goes well, the unassuming duo could turn out to be the poster boys for a new democracy in the world of hip hop production. They are releasing the EP on an independent label collaboration – Warp and LuckyMe – with a quiet confidence that the big boys are watching. "Major labels are struggling in terms of trying to find that sound," says Lunice. "It opens up the chance for a new generation to really experiment and push it to those people. I feel like right now it's a time when they're actually listening. When they're saying 'OK, let's hear what you have to say'."
The pair credit social media with bringing about a new egalitarian approach in the music industry. "The start of the whole formula was when people started to get famous off of MySpace. MySpace just made people discover different talents," Lunice explains. "Now the major labels are trying to figure out how to gain control of the whole situation again. So, it's just a free for all right now." They are gleeful in their realisation that big hip hop stars need the edgy allure of the underground just as much as the underground needs a good injection of mainstream cash and clout. "People who you might think are at the absolute pinnacle of commercial-ness are, when it boils down to it, not that different to the people who are at the pinnacle of the underground scene," says HudMo. "There's a lot of back and forth. Everybody's listening to similar stuff and exchanging stuff."
Masterplans aside, at the very heart of what TNGHT are doing is a sense that they are having more fun than ever before. As a labour of love, the duo have decided to only play a handful of dates that really float their boat – they will be playing seven or eight over the summer, ending on a second big London gig at the end of the year. They're just back from the Dour festival in Belgium and riding high: "That was the first big show that we've done as this project," says HudMo. "We were like the headliners of the night – everybody was on that stage. DOOM was on that stage. And it was totally amazing, and we were totally chilled."
Aside from the roof-off live shows, complete zen seems to be the overriding atmosphere for TNGHT when it comes to this new venture. Like the cool kid in the playground, the nonchalance emanating from the project gives it a magnetic appeal. Watch this space for a post-release reaction, but there's a chance that TNGHT could prove to be even more that the sum of its very impressive parts. And either way, both Lunice and HudMo have found themselves a new friend. "Because we have each other, we just think 'fuck it'," says HudMo.