Young Turk: An Interview With Illum Sphere
Having just released his new single via the Young Turks label, the wilfully uncategorisable producer, DJ and Academy grad Illum Sphere speaks with Mr Beatnick about the philosophies that drive his entire output.
Manchester's Illum Sphere, real name Ryan Hunn, has gradually built a reputation as an iconoclastic beatsmith and a DJ with a real disdain for convention. His sets straddle disparate genres and tempos: a collision of reference points taken from his hip hop heroes like Dabrye, Kutmah, Flying Lotus and the LA beat movement, filtered through electronic obscurities of yore, like Cortex, Celluloid, Das Ding and the revivalist cassette static of the 'minimal wave' movement. His critically acclaimed monthly residency Hoya:Hoya at the Roadhouse in Manchester is a night shared with fellow Manchurian like-minds and a rotating line-up of mystery guests, and has providing a jump-off point for clubs and festival stages worldwide, where he's supported the great and the good, from Plaid to Harmonic 313, from Benji B to Madlib and MF Doom. A similar path can be traced through his career on wax, and his productions have evolved steadily – from early beat experiments on Fat City records, to darker shades of post-dub for Pinch's Tectonic label and Martyn's 3024 records – through to a rousing endorsement from Radiohead's Thom Yorke and an edgy remix for that band under his belt to boot. With plaudits on that level raining down, it's unsurprising that his latest double A-side opus, the quirkily titled "Birthday"/"h808er", has found it's way onto the hip and happening Young Turks label, home to The xx, among others. We caught up with Illum on the eve of his star-studded launch party at the Manchester Art Gallery, for a quick chat about his DJ philosophy, the Hoya:Hoya mission statement and how to program a H808 while leaving out the heartbreak.
RBMA: How did the new EP start to come together?


ILLUM SPHERE: Initially I was putting some stuff together for an EP, and then I made "h808er" and "Birthday" within a few weeks of each other. They are probably the most straight-up things I've done, so far. Even though "Birthday", to some people, is quite a weird track, to me it does sound quite straight. Whereas with "h808er" I really wanted to have that change halfway through – the second part with the vocal, a really sharp contrast, quite heavy and melancholic.


RBMA: But that's one thing that's very striking about it, it's rare to have a track that changes pace, sound and form like that halfway through.


ILLUM SPHERE: I think it might just be something that's in-built to me. I quite enjoy shooting myself in the foot like that. Before this, the most straight-up thing I've done was "Promise A Secret" for Pinch's label, Tectonic, which was just a house thing, to my mind. I threw in an extra bar, or a half bar at the end of each pattern, so it wasn't so easy to mix. I quite like little things like that. I like making songs, I don't like making 'beats' or club tracks or whatever. The two halves didn't work to my mind without the other bit, they both had to be there, otherwise the point of the song was lost, it was invalid. They need each other.


"My idea of DJing is, if you want to hear a certain list of tunes, you can go and book a list of people who will play those. When I go and see people play, I want 
to see what they're about, I want to see what they are into."
RBMA: What inspired the sounds on "h808er", and what was the thinking behind the title?


ILLUM SPHERE: I always start with a blank canvas, I'm never too focused on a particular idea. It wasn't a conscious choice just to make this very straight thing. I just started messing around making an 808 style thing that was different to the way people have been using 808s recently. All the 808 stuff I like is really crunchy, and distorted, and really 
straight. It's not all intricate and neatly drawn in a program. It was made on the drum machine. It's just a personal thing, it's all purely selfish. The second part is all my vocals that you hear singing, its not samples. I laid that down and made more of a live breakdown element to it. In terms of the title, I guess I have my own thinking behind it, but people can decide what it means to them personally.


RBMA: I wonder if the change in that song is a bit like your DJ sets in a way? When I've seen you play you tend to mix it up a lot, take it different, contrasting places. You don't really play 'straight-up' beats do you?


ILLUM SPHERE: Hmmm. Well maybe, maybe not. Without trying to sound like an old cliché, I just like playing stuff that I like. Playing something brand new just because it's new? That's not my thing. My idea of DJing is, if you want to hear a certain list of tunes, you can go and book a list of people who will play those. When I go and see people play, I want 
to see what they're about, I want to see what they are into, even if they are producers who don't usually DJ. I'm not saying that I turn away from new stuff, I'm saying I'm not going to play something JUST because it's a new thing on a certain label. I think a lot of people fall into that trap quite a lot, especially growing up in an era like this 
where things are so accessible. I think I'm part of the lower end of the last generation that really had to seek out stuff.
RBMA: 

The last of the 'pre-internet' generation?


ILLUM SPHERE: Not so much 'pre-internet' because that was all starting to happen at that time. But the process of looking through piles and piles of records to find that one. I worked in a second hand record shop when I was younger, and Fat City records later on. I used to work in Vox Pop which was an amazing second hand shop in Manchester, with three older guys in their 40s, who were real 'diggers', into really crazy shit. I don't want to get into that 'digger' cliché, but it's true that if you understand that ideology, you search for things a bit more and you get more personal taste coming across in someone's DJ set. Jon K is another Hoya resident, someone I look up to a lot. Every time he plays I'm like "what's this? What the fuck is that?." I love that about him. I'd much rather go and see someone like that, who plays things I've never heard before, than someone where you feel like you know every track.


"The beauty of those individual pieces of music gets lost the more you surround them with similar sounding stuff. I prefer to mix it with two records that are totally different, but yet work together."
RBMA: Because that's a boring way to play out?


ILLUM SPHERE: Not necessarily, there's no right or wrong way. At the end of the day it's about honesty. If you're into what you're playing, that's what matters, fuck what other people think. I mean, that's why we started doing this right? I'd rather play something that means something to me, and therefore hopefully sharing that with the people listening. It might be three different genres in three different tracks, as the beauty of those individual pieces of music gets lost the more you surround them with similar sounding stuff, in my opinion. I prefer to mix it with two records that are totally different, but yet work together. This subconsciously applies to my production as well, whether you like "h808er" or not, it's not really like anything that is out there at the moment. I'd rather people loved it or hated it than them just having no opinion. I suppose that's why I ignored a lot of initial feedback about it 'sounding like two tunes.' I'd just ask people whether they thought "Paranoid Android" was one song or six.


RBMA: That DJ philosophy that you described earlier, do you think that summarises the mission statement of Hoya:Hoya as well?


ILLUM SPHERE: Yeah I guess, we started it so we could play what we liked in a club. And the great thing, to me, is that there's eight of us involved and we all cross over on so much music and our philosophy of it all. That approach of, you play what you want, when you want. That's what usually surprises people about Hoya, you get people dancing to the Clark Sisters or Salma Agha instead of the usual stuff you hear out.


RBMA: Usually people play trap music these days, don't they?


ILLUM SPHERE: I really like some of that stuff. I'm a big Triple 6 fan and it's just an evolution of that to me. But I think you gotta be careful jumping into a genre that's hot, cause it goes outta fashion as quick as it comes in fashion usually.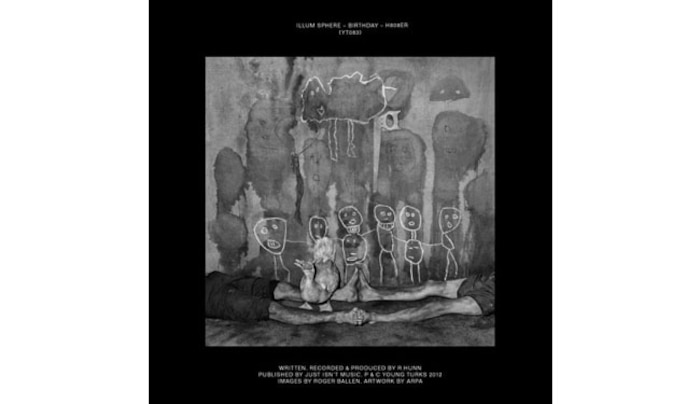 RBMA: 

The cover of the new record is pretty special, can you tell the story behind that?
ILLUM SPHERE: 

The cover's by one of my favourite photographers, Roger Ballen. I'd been to an exhibition of his, which was the first time I'd seen his work out of a book. I sat down with Young Turks a few days later to discuss the art and it was still fresh in my memory. I relate to his outlook on his art, one quote of his especially which said, "There's a shadow that runs through all of my work." It felt like he was speaking directly to me, it was weird. So, Caius [head of Young Turks] just told me to email him, and that was that. The rest of the sleeve was designed by ARPA who came up with the idea of the interchangeable print. They did a great job as it looks beautiful.