Let Go Of Your Heart: An Interview With Kwes
The missing link between The xx, Hot Chip, Rick James and grime, London-bred Kwesi Sey is Warp's latest talent to emerge from hip hop's left brain. A producer, multi-instrumentalist and pop culture almanac, his work with fellow genre-bending visioneer Mica Levi (Micachu & The Shapes) and their Kwesachu Vol. 1 mixtape led to their collaboration with Hot Chip's Joe Goddard, in turn making Dels's Big Dada debut Gob one of the strongest British rap releases in 2011. Also responsible for the edgy yet embracing beat sculptures on Speech Debelle's applauded second album Freedom Of Speech, Kwes's acclaimed solo efforts on XL/Young Turks have secured a decorated fan club, including the likes of Damon Albarn and Matthew Herbert. Steph Kretowicz meets the artist and producer helping to drive London's free pop family. Listen to his recent live set at Robert Johnson below.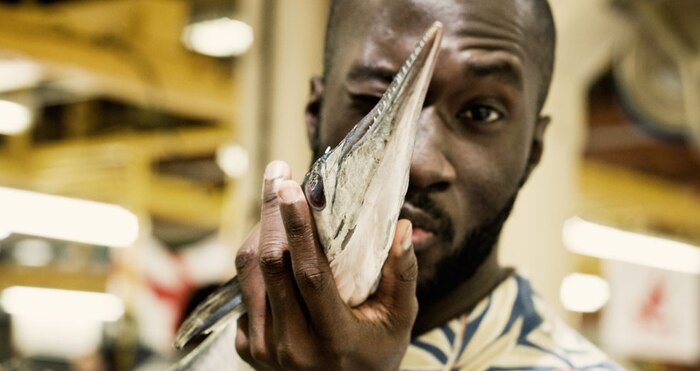 Kwesi Sey finds resonance in most everything. As the London-based producer and performer known as Kwes, his transcendent musical landscape is one shaped from his private stash of found sounds, recordings and ideas woven into cohesive compositions crossing pop and R&B, prog and dubstep. His most recent EP Meantime on Warp presents a handful of musical portraits drawn from a palette of infinite possibilities; where a meticulous attention to detail takes the chaos of life and immerses it in his deeply personal, elegant vignettes.
A sponge for his surroundings, Kwes's instinctive curiosity has seen him progress from his childhood days of devouring everything the radio Top 40 and a two-note polyphonic keyboard could offer, to some envious early career credits. At 25 years old, he's toured with Jack Peñate, Leftfield and Ebony Bones; worked with The xx and Damon Albarn (that latter on a trip to the Congo, no less); and produced some of the most promising local releases of the past couple of years. He can add albums by MCs DELS and Speech Debelle to his production credits, as well as a creative relationship and longtime friendship with fellow free pop purveyor Mica Levi (aka Micachu). But all this hasn't come easily. As a talented musician and visual artist, it has taken persistence and courage on Kwes's part to get to this point: sitting in his spacious studio conversion at London's Royal Docks with a cup of tea, talking about a future in music he couldn't possibly have dreamed of before.
"Everything I work on musically is all very personal to me. I can't help but put some of myself in. There's a fine line between imposing your feelings or your own sound and honing in on what makes the artist you're working with stand out."
"When I started out, it was difficult because it seems like an unattainable goal or career to pursue," he says, his computer screen open on to the audio software he's been working on since this morning. "There was always that element of skepticism. On top of that, with my parents especially… in their own way they cared about making sure I could live for myself and with the benefit of hindsight I totally see why they didn't want me to go down this route, or they were apprehensive about it. But they see me coping and getting on; they see me happy, so they're happy."
Initially compelled to pass up the opportunity of studying fine art for a relatively safe degree in philosophy, it took two years before Kwes would finally take the leap and drop out in favour of a career in music. "It just got to a point where it was like, 'I've got to start just taking charge of my own life. I know what I want to do, so I should just go and do it.'"
But the challenges don't end there. As someone accustomed to being behind the mixing desk and not in front of it, Kwes has been pushing himself well out of his comfort zone with his infrequent solo releases, numbering a double-single and two EPs in three years. But for anyone who's heard the wonky chatter of early instrumental track "Canary" or the lilting vocals of "Bashful", it's an endeavour well worth pursuing.
"It can be hard at times, especially when I'm writing. In that respect you're putting some of yourself into the music lyrically," Kwes says before digressing to his role as producer. "But then everything I work on musically is all very personal to me. I can't help but put some of myself in. There's a fine line between imposing your feelings or your own sound and honing in on what makes the artist you're working with stand out. It's a real balancing act. I'm a lot better at doing that now: giving the artists or band a platform to do what they do without imposing myself."
You can hear it in the production of Speech Debelle's Freedom Of Speech released this year. As two completely different personalities – Speech with her provocative lyrics and confrontational style; Kwes, a reserved, haltingly spoken presence – you can hear those two elements converge. A string ensemble sample on "Elephant" sees Kwes honing in on the sorrow at the source of Speech's lyrical attacks, while a swaggering guitar groove contains the violent call to arms of "Blaze Up A Fire". "I don't talk about politics at all. I feel it's something I don't read enough about," says Kwes about his relationship with Speech and her outspoken social commentary. "I know bits but not much. There's always that danger of becoming or sounding preachy when talking about that stuff, and it's not in my nature to talk at people. But Speech does that extremely well and it's a very endearing quality."
It's this appreciation for people's differences and using them to a creative advantage that is at the core of Kwes's drive. As part of a mutually supportive, collaborative network that he both populates and promotes, Kwes counts a diverse range of artists dotted along a map of East London as friends, and the Kwesachu mixtapes are an expression of that. Produced in collaboration with Micachu, they're not only an example of the two producers' mutually scrappy, off-kilter production aesthetic, they're also emblematic of the rising talent defining the vital post-grime community that surrounds them. With The Invisible, DELS and Ghostpoet all featuring on Vol. 1 in 2009, this year's Vol. 2 boasts newer names to watch, including Elan Tamara, Raisa K and reluctant, though brilliant, vocalist Tirzah: "She's just so talented. I think Mica's slowly trying to get her back into it. Maybe she's not. Maybe they're trying to have fun, but I think she could do really well without even trying."
In fact, Levi is going through some photos of Tirzah in her studio just two containers down. In contrast to Kwes's neat and well-appointed studio, hers is half the size and cluttered with books, modified instruments and most of Kwes's coffee mugs. Inviting us in after a tour of the picturesque docks – with its view of the Olympic stadium and the couch on the water's edge Kwes sometimes occupies to think – Levi unconsciously demonstrates the complementary dynamic she shares with her friend of six years. Doing most of the talking, she plays a mix through her phone, shows him some beats and talks about the etiquette of greetings, "I'm not a hugger. You're a hugger," she says, looking at Kwes.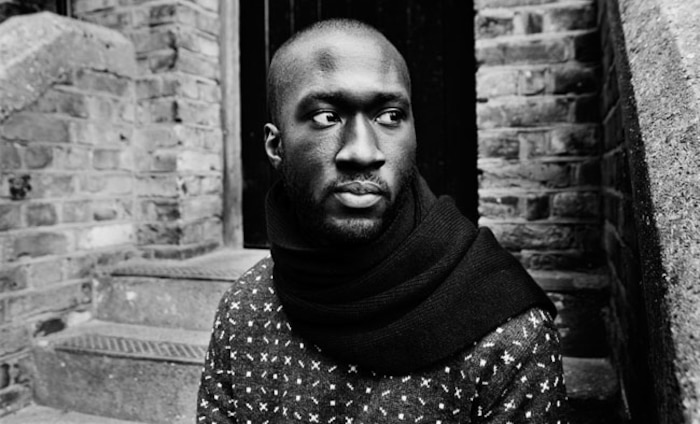 And indeed, an embrace is the first thing he offers me, a perfect stranger, on meeting that rainy morning. It might be difficult to comprehend in light of his famously shy disposition, but it quickly becomes apparent that, where Kwes might be economical with words, he more than makes up for it with feeling. Exuding a warmth uncommon in most first encounters, he embodies that vulnerability and generosity of spirit that Meantime track "lgoyh" (an acronym for 'let go of your heart') radiates through the fluttering melody and heartfelt lyrics: "I mean it when I say you're beautiful," sung in his typically unsteady vocal delivery.
"I think I've just got a lot of love to give," Kwes says without a hint of irony back in his studio, and one is inclined to believe him because, in his case, timidity should never be misconstrued as stoicism. "But then this next record is a complete…," he starts before pausing for thought, "there are still moments of that happiness in there, but it's very desolate in places. I was just thinking maybe I am a depressive and I don't know it," he chuckles. "I'm just kind of going all out. I'm really purging, I think."
That's where we find Kwes today, a prolific producer and hesitant performer who is by no means lacking in ideas and inspiration. It's just a matter of finding the right way of expressing them. "It's not me trying to just throw things at the wall and seeing what happens, but it's something I've been deliberating over for three or four years," he says about his long-awaited debut album, now in the final stages of production. "There are one or two songs, which I wrote a few years back but have ended up on this record. There's a really long period of not doing anything practical. I'm just thinking and thinking, and then I'd record ideas to myself on my phone. Literally just talking about a particular song. That can go on for months and months, and it's really frustrating because I just want to get on with things. But I'm coming to terms with it being a necessary process when I'm doing my own stuff."
So, how does someone accustomed to working with so many artists and absorbing so much inspiration manage to collate these ideas into something worth hearing? "Well, that's why it's taken me so long to work on my record. I just don't make things easy for myself."