Benji B Counts Down Top Deviation Classics
In advance of the defining London club night's fifth anniversary party, resident DJ, BBC Radio 1 host and Academy team member Benji B recounts 15 classic Deviation anthems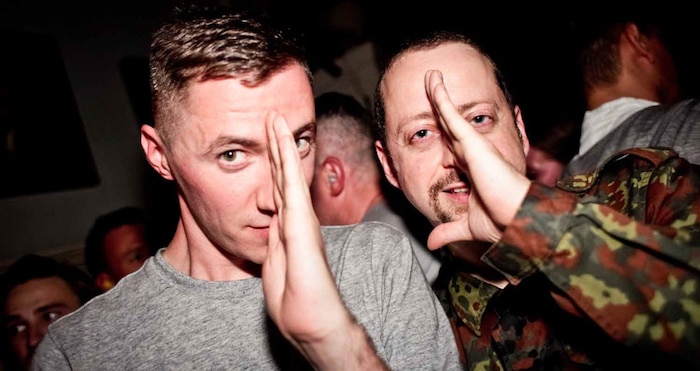 Raphael Saadiq "Skyy Dub (Deviation Edition)"

One of the most magical moments at Deviation is the last 45 minute section at the end of the night every month. So much so that I have a section in my record box called 'End of the Jam jams'. It would be so easy to do a whole playlist of just these songs, as we have so many end of night classics. Impossible to just pick one, but this tune has to go in this list. Made especially for me, this is a Deviation edition of the extended version of the "Skyy Dub".
Kanye West & Jay-Z "Ni**as In Paris"

This has to make the list, as it represents a memorable moment in the club. I had just landed on an overnight flight from seeing the show in LA and went straight to the club to do my annual five hour set. In a delirious state of mind, my MC Judah and me reloaded the tune at least seven times and the club went totally bonkers. It was the Christmas session. The atmosphere was unbelievable. I think we kept going until a friend came over and said, "Please don't rewind this tune again."
DâM-Funk "Killdatmuthafucka (Dub)"

DâM-Funk has a very special place in the hearts of all Deviation regulars. We were playing his remix of Baron Zen's "Burn Rubber" a lot around the time when the club first opened. We ended up bringing DâM over exclusively for his first ever UK show for our first birthday party, which still to this day goes down in London club folklore as one of the most amazing parties of all time. (Listen to some of it here.) It's hard to explain why that night was so magical, but it was very, very special. Also, around this time DâM was preparing tracks for his first LP and I was testing the dubplate of "Killdatmuthafucka". It became a massive tune down at the club – and when he played it he saw for himself. We have broken a lot of records at our night and this is one of them. A 10pm or 2am tune.
The story with Dorian Concept is Academy-related. When I was working on the 2007 edition in Toronto, a participant called The Clonious burnt a CD of beats for me to check out, and on the end of the CD there was a selection of beats by one of his mates. One track in particular stood out to me immediately, but it was only 50 seconds long. I loved it so much that I used to play it in my clubs sets by looping it for about 3 minutes on the CDJs. As I didn't take down the details properly on the CDR, as usual, all I knew was that it was from Vienna, so I used to called it "Viennese Shit track 8". People started coming up to me in clubs asking me to play "Viennese Shit", I guess based on my playlists. Turns out, of course, that the artist was Dorian Concept and the track was to become "The Fucking Formula" – and about two or three years later it finally came out. I played this a lot at Deviation in the early days, and when Oliver came to play one of our very first sessions with his Microkorg, most of the crowd had no idea who he was, or that he was the man behind that beat. Needless to say, he won them over by smashing the club to pieces.
LCD Soundsystem "45:33 (Theo Parrish's Space Cadet Remix)"
What is there to say, a stone cold Deviation classic, really. The only song I have ever known that a whole room sings along to without really knowing the words.
Alice Smith "Love Endeavour (Maurice Fulton Remix)"

I call Maurice Fulton one of the masters of the 110 BPM! This song is perfect for that gear change moment from when the dancefloor is bubbling to when it offically kicks off. It's a classic on white label record that never officially came out, the climax at the end never fails to get people moving. A perfect remix.
Floating Points "Love Me Like This (Dub)"

Another story of a tune that was born and broken at Deviation. The record is integral to the club and the club is integral to the record. When a young and quiet Sam Shepherd (Floating Points) came to the club at one of the very first sessions and handed me a CD, little did I know that it would have so many potential bangers on it. The original version of this was a 1:30 minute re-edit basically, but was so catchy and well done that I used to loop it up to play in the club (and on the radio) and make it longer. We broke it as a song in the club, it got an amazing reaction each time, and I told Sam he needed to extend it and make it into a full song. He did – and the rest is history...
Flying Lotus is an artist we have always supported at the club since day one. He performed at our second ever Deviation session in 2007 as one of his first ever UK gigs. It's amazing to think that in the timeline of the club's five year lifespan he has grown from playing with us in the basement with 200 people, to playing the Hollywood Bowl. Incredible.
This sums up an era of the club's history and is one of those tunes that has crossed so many different genres and is spun by so many different DJs. We played this tune so much in the club in 2009 and beyond, it's a big dancefloor tune but a deep one, too. When he finally came to play at the club and dropped it himself the reaction was incredible, and one of the moments that sums up that intensity you can only get from a packed basement session.
Zomby "Tarantula"

This came out as part of the Hyperdub 5 series and it became a big tune for us at the club for quite a while. It was one of my most useful tunes. My job in that room has always been to take it from zero to one hundred – from the very first person that walks in when it's mellow to when the room is packed and it's going off. You can't predict the flow of that, but you can influence it. The timing of when you choose to drop a tune like this is crucial. Too early and it's too much, too late and it's not enough – but if you catch the dancefloor in that important moment when it's about to take off... this is the perfect catalyst to change gears and set it off right.
D Malice "Gabryelle Refix"

This sums up a certain time at the club. Whenever I hear this, it immediately makes me think of the dancers and all our regulars down the front every month. This one is just a dancers' tune, simple but effective. They loved this. We put this one in the list to salute them!
Omar S "County Hill Cops Part Two"

This is a more recent addition that is fast becoming a Deviation classic. No description necessary, just one of my favourite house records of 2012.
TNGHT "Bugg'N"

To have two artists who we've supported from the beginning of the club come together and create something so exciting and smash it to the level that Hudson Mohawke and Lunice are doing is a very nice feeling for us. This tune simply represents the potential of all the great things to come from them.
Kode9 "You Don't Wash (Dub)"

We have to put a Kode9 track in here, as it's fair to say he is unofficially our official unofficial resident. We've booked Kode more times than any other guest at the club, and even if he is not playing he can be found at most sessions hiding by the speaker. True Deviation family.


Deviation takes place at a secret London warehouse location to be announced on Saturday, October 13th with Moodymann, DâM-Funk, Hudson Mohawke, Kode9, Alexander Nut and Benji B. Check our event listing here. For a peek at some of the Deviation parties over the years, check out their gallery here.