Hip Hop Pit Stop: Richmond Raps
In his ongoing series of regional rap, intrepid explorer and hip hop scholar Noz heads to Richmond in the greater West Coast Bay Area. His trail from Calvin T & Magic Mike, the grandfathers of Bay Area pimp rap, leads on to Iamsu and HBK.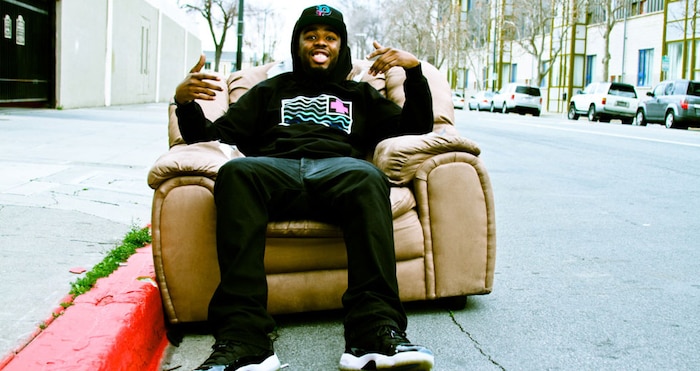 In the annals of California rap, there is perhaps no greater legend than that of Oakland icon Too $hort's early 80s out-the-trunk cassette tape trade. It's one of the great hip hop mythologies, carved into stone by historians and frequently retold on record by its subject in the 30 year career that followed. But while $hort and his rhyme partner Freddie B were slanging tapes and making history in Oakland, a pair of similarly influential and less heralded rappers were on a parallel grind just 12 miles north in the port city of Richmond. Calvin T and Magic Mike are the forgotten grandfathers of Bay Area pimp rap.
In 1997, Calvin told 'Murder Dog' how he would occasionally sell customers blank tapes just to get over.
The duo met in their early teens at a juvenile detention centre. Upon their release, they got to recording their raps. They didn't yet have a trunk to slang out of, but they hit the pavement none the less, pushing raps about hustling to local hustlers. Sometimes their tape trade itself was the hustle. In 1997, Calvin told Murder Dog how he would occasionally sell customers blank tapes just to get over. The tapes that did have music on them travelled far beyond the streets of Richmond: dubs and dubs of dubs were passed from homie to homie throughout the greater Bay Area. As they deteriorated in quality, they grew in influence – seemingly gaining the most traction in the city of Vallejo, where they landed in the hands of young would-be rap legends like E-40 and Mac Dre, who both have spoken reverently of the Richmond duo in interviews.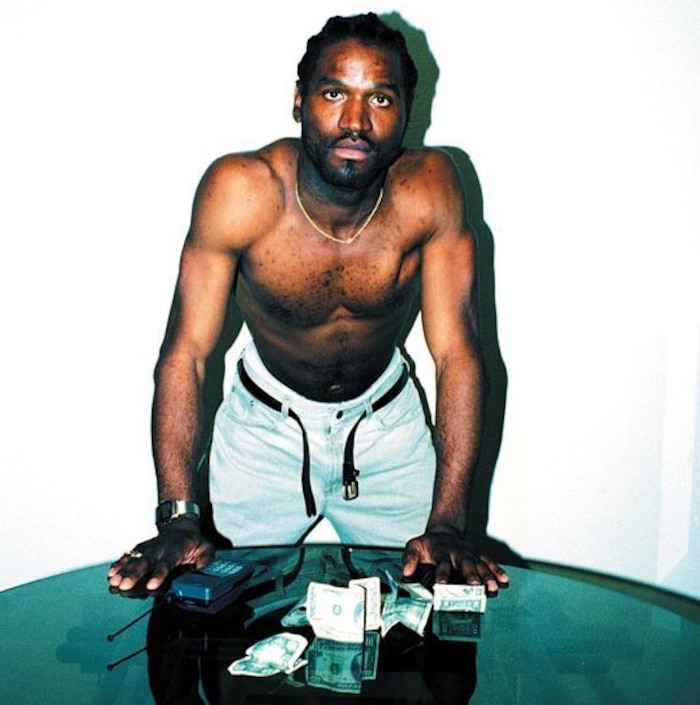 Like $hort and Freddie's now infamous Game and Special Request tapes, there is sadly almost no audio trail of Mike and Calvin's early dirty raps. The original dubs from the first half of the 80s have long since disappeared – or at least the folks who are still holding them aren't sharing. The closest existing documents of Calvin and Mike came later in the decade: an incredibly limited white label 12" from 1988, with one solo track from both rappers on each side, and a slightly less limited 1989 cassette-only EP from Magic Mike.
Still, these later recordings are revelatory, filling major gaps in the Bay Area rap timeline. Drawing on the limbless delivery of Jimmy Spicer's "(Adventures Of) Super Rhyme" and the post-blues/proto-rap of Johnny Guitar Watson, there's a looseness and warmth to Mike and Calvin's styles that separates it from the more rigid, slow flow that $hort, and the many Bay Area rappers who were borrowing from him, were rocking with in those days. It's easy to hear how Mac Dre would later adapt the more melodic aspects of their flows to his hyphy anthems, or how E-40 warped their style into his own tongue-bending stop and go.
The subject matter, also – particularly on Mike's tape – was ahead of its time, explicitly discussing pimping and the profits it brings in a way that very little rap of the era did. For artists like $hort and Ice-T, pimping was a metaphor for success, a vague layer on an enormous stack of boasts. They tended not to draw much of a distinction between being a player and being a pimp, between getting money while bedding girls and getting money from selling girls. On "Get With My Pimpin' Bitch", Mike takes the latter approach and makes pimping the narrative centrepiece in all of its gory details.
The duo has been awfully quiet in the two and a half decades since. Mike released the Old Game With A New Twist EP in 1996 and Calvin inked a deal with E-40's Sick Wid It Records around the same time, though he would only release one track, "About My Money", under the imprint. They've mostly spent the time since in and out of the proverbial wind and the literal penitentiary. It's not uncommon to see Calvin's name turn up on the guest list of hyper underground local rappers now and again, though Mike has been less present. In any case, their names echo throughout the ages in whispers, not raps.
---
Magic Mike and Calvin T weren't the last rappers to emerge from Richmond. Most notably, Richtown was where Master P and The Real Untouchables posse planted the seeds for their No Limit empire in the early 90s – prior to moving back to New Orleans and selling millions. But the Richmond of the time also produced a fair share of talents who stayed local. Filthy Phil is said to have coined the term 'player haters' in the early 90s, and the murderous mob styles of C.I.N. ruled the streets a few years later.
Loverance's "Up" featuring Iamsu & Skipper
Today the most visible Richmond representer is Iamsu! The 22 year-old appears on two of the biggest West Coast radio records of the year – E-40's "Function" and Loverance's "Up" (which he also produced and mans the hook for) – but this success seems like an afterthought to him. He's similarly indifferent to the prospect of a major deal, though he says there have been meetings. Right now, he seems more focused on his own work, generating as much music as possible on an independent level with the help of his crew HBK Gang (Heartbreak Gang). The group of high school friends is immeasurably deep socially but comprises roughly ten core members on the creative side. ("Up" rapper Loverance was once closely affiliated with the crew as well, though Su remains cordial but tight-lipped about the reason for their split. On the Interscope-sanctioned remix to "Up", Su's and fellow HBK member Skipper's verses were replaced by 50 Cent.)
Like so many Bay Area rappers in the space between, HBK inherited the grassroots instincts of Mike & Calvin and Short & Freddie, but to them music seems like less of a hustle than a hobby. (Su hasn't needed a job in a year, he states proudly, but he's still enrolled at Cal State East Bay, where he's working towards a degree in communications: "My mom would kill me if I dropped out." ) A few weeks back, a large chunk of the crew was holed up in HBK producer Chief's basement bedroom micro-studio in the neighbouring suburb of El Sobrante, one of many such home setups that the crew revolves around. It's a space that lends itself to the state of 'holed up'. The room is bare, containing only a well-weathered futon, a PC, a simple midi keyboard and a vocal booth converted from a claustrophobia-inducing walk-in closet.
Weed smoke fills the air as the crew comes and goes, shooting the shit casually as others take turns sitting at the computer, combing its files or making new ones. The process is communal, with many members serving as both rappers and beatmakers (in a production formation known as The Invasion). Su himself is unassuming initially – it would be hard to identify him as the breakout star in this circle of friends. But as Chief demos his tracks, Su begins to bounce around electrically on the futon, hoodie pulled tightly over his face. At first, it's just shoulder movement, but eventually it gives way to an open-armed rhythmic flop.
This sort of deceptive and slow building energy seems to define the crew in all aspects, from their aesthetic to their popular rise and even their productivity level. They're quietly prolific – especially Su, who has been filling up hard drives with unreleased material. At one point during the night, someone plays one of these many recent songs for the room. He doesn't recognise it. This year, he's already released solo full-length Kilt as well as a collaborative album with fellow HBK member Jay Ant. A third, $uzy 6$peed, is on the horizon.
The bulk of Su and HBK's output is loosely party-oriented, sonically. They have a single-minded and slap-focused palette, a more meticulous modernisation of the mid-noughties hyphy sound. It's slower and more traditionally melodic than that era of Bay music was, but still primarily propelled by that devastating low end that has ruled the scene for three decades. (Incidentally Chief's street address is 808.) In some ways, it feels like a formal answer to the Ratchet Music being produced by Los Angelenos and occasional HBK collaborators – like YG, Problem and DJ Mustard – which takes its cues more directly from hyphy; West Coast party music tends to eat itself. But sometimes, more organic, boom bap impulses creep into the HBK catalogue. Su & Jay's "Twenty One", for instance, tosses the Kool & The Gang/Kool G Rap "Truly Yours" break over blissed-out synths to surprisingly potent effect, and Chief's loop on Su's "2 Milli" is straight-up Madlib-esque in its purposeful sloppiness.
There's a similar divide happening thematically with HBK's output, for which Su's hushed rasp might be the best vehicle. Mostly, they stick to party-oriented narratives or initially vague boasts that are gradually stretched to rival 2 Chainz or Lil B at their most ignorant. Sometimes, they'll even reach Calvin and Mike levels of pimp shit, albeit with a more hauntingly cold delivery: think "Up"'s flatly affecting refrain of "I'll beat the pussy up". But then they'll also slip into a more thoughtful and uplifting stream that might even be mistaken for a mutated strain of conscious rap from a distance. And yet it's never pedantic. How could it be? This is fun music made for the sheer fun of it. HBK have redefined the grind.
$uzy 6$peed drops November 10th. Title image of Iamsu by Chris Simmons.