A Bronx Tale: The Story Of The Ghetto Brothers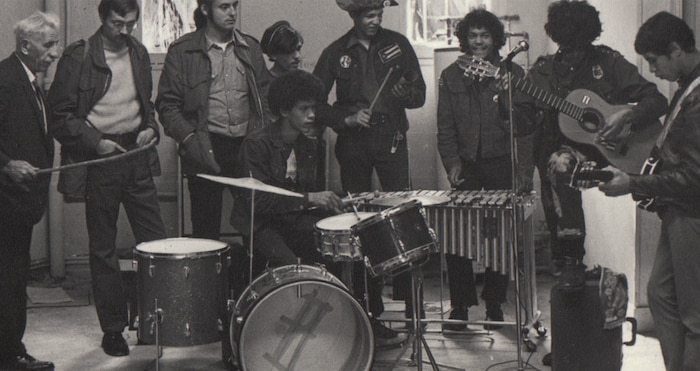 The South Bronx in the 60s and 70s was a racially diverse and occasionally tense place. But even its toughest residents couldn't resist The Beatles-led British Invasion. Phillip Mlynar reveals the true story of The Ghetto Brothers, the street gang turned community leaders turned band – whose out-of-print album, today reissued by Truth & Soul, occasionally fetched sums in the four figures.

Benjy Melendez bounds down a staircase at the entrance to the Prospect Avenue elevated subway station in the South Bronx, looks around at the buildings dotting the intersection and sweeps his left arm for emphasis as he declares, "This used to be paradise for The Ghetto Brothers!"
These days, the 60-year-old Melendez lives in Harlem, but as the 60s rolled over into the 70s, the South Bronx area he's revisiting became the setting for a drama that saw a member of Melendez's gang, The Ghetto Brothers, brutally bludgeoned and then stabbed to death – a loss that kick-started a peace-treaty between Bronx gangs and reinforced Melendez's conviction to reposition his crew as a force for local good, shunting drug dealers out of the area and organising food and clothing drives. This broad redemption story also happened to play out against a curious musical backdrop of intermingling local Latin rhythms and the British Invasion of 60s rock music. Somewhere out of all this tumult, the Melendez-fronted Ghetto Brothers also managed to tease out an eight-song album that was inspired by an adoration for The Beatles.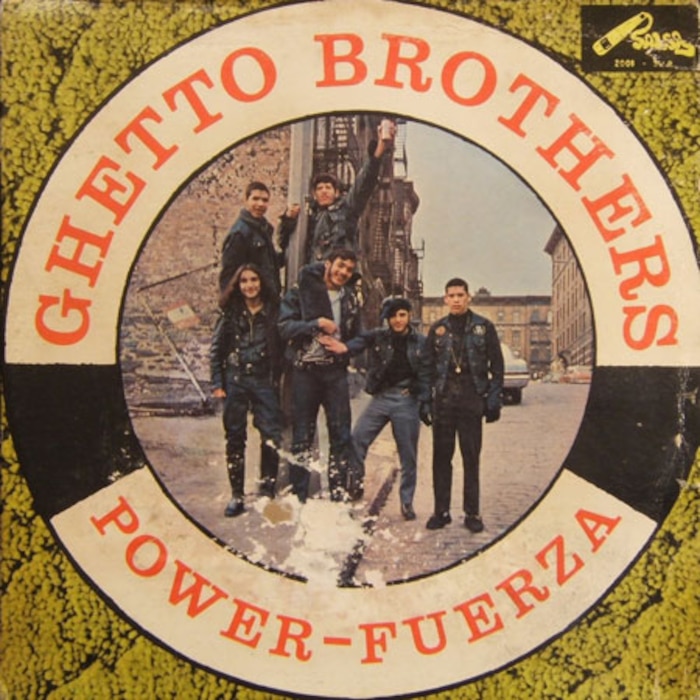 That record, Power-Fuerza, has been out of print since its 1972 release on Salsa Records. Melendez no longer owns a copy of the album himself; it's become a cherished item on the collectors' scene with copies having sold for over $1000, according to Leon Michels, a co-owner in the Brooklyn-based Truth & Soul label that is reissuing it this month. Power-Fuerza's scarcity is attributed to the album becoming a local hit that failed to travel out of its immediate environment due to what Melendez calls "a total lack of a good public relations guy." Listening to Power-Fuerza 40 years later, with Melendez fleshing out the social, political and musical context to the record, its joyful verve, harmonious lyrics and funk-propelled grooves make it seem like a precious ray of positivity seeping out from the top floor of a tenement window, sound-tracking one of New York City's most unruly eras with an enthused lilt.
As Melendez, dressed in a navy blue "NY" baseball cap and utility jacket, strides out across the intersection underneath the subway tracks, he begins to sketch in the character of his old neighbourhood. There were three thriving cinemas along Prospect Avenue itself; the ornate shell of one still remains, although whatever business last possessed the spot has fled. Melendez, who is of Puerto Rican descent, moved to the area with his family during the 50s and added to the colour of the constituency. "There were pockets of Eastern Europeans who still lived here," he says. "You had the Germans down here, the Jews up here, the Italians in certain places." Then he reminisces over a bakery run by elderly German ladies whose formula for cakes has him salivating to this day.
When The Beatles first came out they used to sell wigs there. The black kids in the community used to buy Beatles wigs there!
Walking through his former playground, two subjects come to define Melendez's patter: music and gangs. Local landmarks prompt memories and he maps out his old musical beat with glee. Along Prospect Avenue he points to a store that he recalls was once a Woolworths. With a gleam on his face he says, "See that right here? When The Beatles first came out they used to sell wigs there. The black kids in the community used to buy Beatles wigs there! When the British Invasion came, it was a big thing around here." He takes a pause, adding, "My father didn't mind us singing Beatles songs, he just didn't want us to have the long hair."
Along the next block, Melendez stops abruptly and gestures to the top floor of a three-story house. "We used to play Beatles songs up there," he explains. "People would look up and be like, "Yo, Junior Beatles, sing me that song "This Boy"! So, we started to sing on the roof and this kid, Theo, was crying 'cause it reminded him of his girlfriend." People lined up to shout-out requests, with "I Wanna Hold Your Hand", "She Loves You" and "Not A Second Time" demanded most often.
Melendez and his brothers embraced the idea of styling themselves as The Junior Beatles. They began as self-taught musicians and singers who studied vocal techniques from records by The Chipmunks and The Four Seasons, until they came across The Beatles – at which point they unlearned everything they knew and dedicated themselves to interpreting the music of Lennon and McCartney. At first Melendez's older brother Raymond was dismissive of the mop-topped lads from Liverpool when they appeared on The Ed Sullivan Show in 1964: "He walked in, saw them and said, 'There's a new group coming from England and they're a bunch of faggots.'" But after hearing "I Wanna Hold Your Hand" played on the jukebox at a nearby restaurant, they became smitten.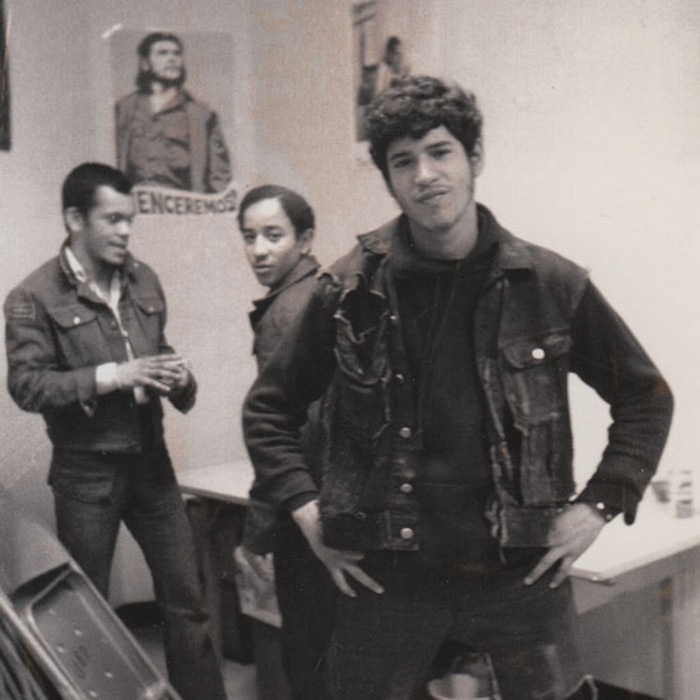 With a snazzy ability to underscore Beatles melodies with Latin percussion, The Junior Beatles jaunt hit a high point when they snagged a spot opening for Latin maestro Tito Puente at the Embassy Club in 1964 (Melendez was 11 years old at the time). Their ability to channel the music of The Beatles was apparently uncanny: Melendez says local girls would often tell him they went out and bought a Beatles record thinking they were buying a recording of him and his brothers; Michels testifies to this talent, saying, "To this day, Benjy can play on guitar and sing just about any Beatles song you ask him to." Melendez recalls these days with an animated glee and often breaks out into song mid-sentence. But as the 60s drew to an end, his neighbourhood memories began to take on a bleaker hue. Taking a sharp right turn down 162nd Street, Melendez says bluntly, "When the 70s rolled around, I saw the destruction of the South Bronx."
This part of the Bronx's history is a well-told tale: the local economy collapsed, buildings burned and the presence of gangs became a defining part of the fabric of daily life. Joining a gang was almost mandatory, says Melendez. So, with an interest in the Marxist-tinged principles of the Puerto Rican Socialist Party and the radicalism of the Black Panthers, Melendez decided it was preferable to start his own gang rather than sign up to someone else's regime of violence. This way his movement could embrace something of a political outlook, despite still having ties to the trappings of street life. He formed The Ghetto Brothers with his brothers Robert and Victor.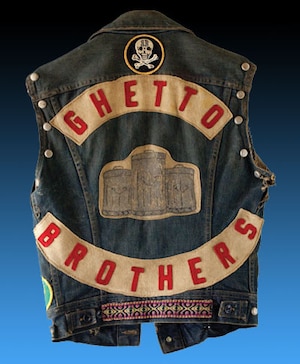 Halfway along a sloping stretch of 162nd Street, Melendez stops and motions towards a disbanded lot ruled by raggedy grass and bordered by a concrete wall at its highest perimeter that's sloshed with fading graffiti. "This is where The Ghetto Brothers used to have their headquarters," he explains. He then recounts the pivotal moment in the gang's fable.
He was walking towards them saying, "Peace, brothers." Then a guy goes boom and hits him with an iron.
Cornell Benjamin was a member of The Ghetto Brothers who went by the street name of 'Black Benjy'. (Melendez was known as 'Yellow Benjy', named so because his girlfriend and future wife was Chinese.) One day in 1971, Melendez says he was told by a scout that three gangs from the nearby Hunts Point area – The Mongols, The Black Spades and The Seven Immortals – were congregating towards The Ghetto Brothers' clubhouse. He sent Black Benjy out to intercept them and plead for peace. "He never made it," Melendez says. "They murdered him."
Melendez re-traces the steps Black Benjy would have taken, pointing out where each of the rival gangs marched in from. As he walks down a couple of small flights of concrete steps, he points out the corner where Black Benjy's life ended: "He was walking towards them saying, 'Peace, brothers.' Then a guy goes 'boom' and hits him with an iron. They beat the hell out of him. When he got to hospital his head was broken four ways and there were stab marks multiple times." Black Benjy was 25 years old.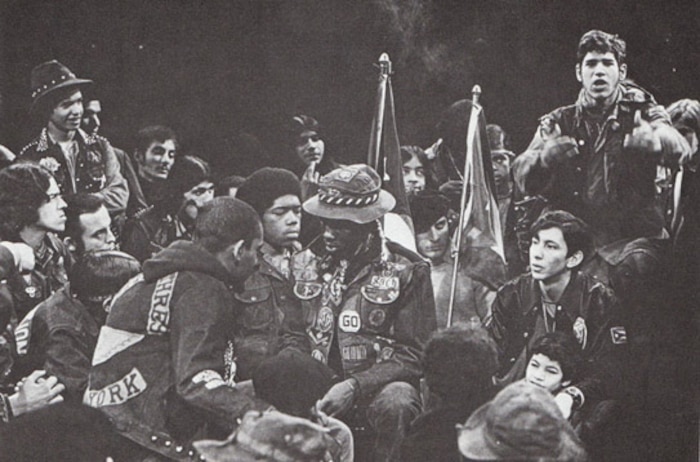 Without our peace treaty, a lot of the guys that started hip hop wouldn't have even been alive by then.
At the time, Melendez recalls he had made 'Karate Charlie' Suarez the president of The Ghetto Brothers. Suarez's first reaction to the murder was cold-blooded revenge. "He was on his way to 158th Street [where there was a division of the gang] to mobilise the rest of The Ghetto Brothers. But I told him, 'I sent Black Benjy out for peace, so if we start a war it would make everything I believed to be in vain.'" Instead, Melendez successfully brokered a peace treaty between South Bronx gangs at the 174th Street Madison Square Boy's Club. (It's known colloquially as the Hoe Avenue Boys Club meeting.) Among those present that day was Afrika Bambaataa, a member of The Black Spades gang, who would pull off a similar peace treaty five years later in a move widely credited with helping to instigate hip hop culture in the South Bronx. ("Without our peace treaty, a lot of the guys that started hip hop wouldn't have even been alive by then," reasons Melendez.)
The death of Black Benjy reinvigorated Melendez's political principles, not least the conviction that you should literally pick up the trash on your doorstep. So, clad in jackets displaying a logo based around three trash cans, he and his Ghetto Brothers began to instigate change in the first-hand world around them. "I'd walk up to big-time drug pushers and I'd have at least 20 Ghetto Brothers with me," Melendez recalls. "I'd tell them with diplomacy that we don't want no drug-pushers in our neighbourhood. They knew it made sense to get out." Prostitutes were encouraged to decamp to Hunts Points – "The Ghetto Brothers used to buy them hot chocolate in the winter and tell the pimps to take care of their ladies," he says – while the no-drugs policy of the gang saw members being forced to go cold turkey until they'd kicked their habit. Food and clothing drives were also put into effect.
I sent Black Benjy out for peace, so if we start a war it would make everything I believed to be in vain.
The photographer Joe Conzo, who snapped the first wave of hip hop artists and whose lens is behind the Born In The Bronx exhibition and book, grew up nearby. His grandmother owned a social services organisation; she soon invited Melendez to work there after noticing the way he was able to speak to the young people in his community. "The Ghetto Brothers were one of the more activist organisations in the community," remembers Conzo.
Melendez's political streak thrived during this era: He was invited to the United Nations to sit down with the ambassador to Cuba and the president of the Puerto Rican Socialist Society to discuss issues relating to Puerto Rico's independence, and he recalls the day when two FBI agents turned up at his house, ransacked through his books, then warned him to be on the look-out. "They gave me a sign when they left," he says as he makes a cross with two fingers. "They meant it as the sign of a cross-hair." Beyond the politics of the time though, music still pulsed through Melendez's life and his band The Ghetto Brothers gained an impressive reputation in the community as they cultivated an infectious sound through fervent jam sessions at the clubhouse.
News of The Ghetto Brothers band made its way to Ismael Maisonave, a local record store and label owner. He offered them $500 to cut an album, and The Ghetto Brothers were given a scant one day's access to Fine Tone Studios in Manhattan. Unprepared but talented, Melendez says they recorded the songs "on the spot," improvising riffs and rhythms into full-blown songs, and paying homage to their continuing obsession with The Beatles. Melendez himself carried lead vocal duties; his brothers Robert and Victor laid down rhythm guitar and bass respectively; the rest of the ensemble took in David Silva (lead guitar), Luis Bristo (drums) and Chiqui Conception, Franky Valentin and Angelo Garcia all on percussion. They emerged later that day with an eight-song album they titled Power-Fuerza.
The vibe of Power-Fuerza gives credence to the idea that The Ghetto Brothers successfully transplanted the fun and energy of a jam session into a studio set-up. Having completed his tour of The Ghetto Brothers' former precinct, Melendez settles down in a diner on Southern Boulevard and nurses a cup of coffee as he recounts stories about the project. He says the song "Got This Happy Feeling", which he wrote, was not supposed to be on the album. But having recorded seven songs, they were informed they needed another to balance out the first side of vinyl. "I didn't have any words!", he says with a laugh. "Bristo looked at me and told me to say anything. So, if you hear the record, it's more like a joke but some people like it." With a good-natured disbelief he says, "I don't understand why!"
This merriment turned into pranksterism on at least one occasion: "Mastica Chupa Y Jala" resembles a freestyled chant over a chugging funk groove. It was written by Victor Melendez. Asked about the lyrics – which involve the words "suck" and "pull" – Benjy Melendez admits he used to get asked that all the time. "I finally found out from Victor what he meant by that and it was smoke," he says, motioning to puff on a joint. "I wasn't into that at all and I didn't write that 'cause I never took drugs in my life."
Power-Fuerza was created against the backdrop of a dilapidated community, an atmosphere of fatal street violence and extreme politics. The album's intrigue comes from this context. Michels says, "The back-story is so interesting and such an important slice of New York history that the record becomes something so much more than just another rare funk LP." It charms as a beacon of hope, as testament to the lure of music in spite of a neighbourhood in turmoil. The project dips into political waters on occasion – "Viva Puerto Rico Libre" sounds like Melendez was writing a perky anthem for a Puerto Rican Socialist Society rally – but the abiding spirit of the record is a joyful one, promising fun times ahead if people bandy together. Tellingly, the back cover of the original pressing contains an inscription that's phrased as "a message to the world, from The Ghetto Brothers." It talks about the "gap that exists between society and minority groups" and claims music as "the common language of the world." Melendez wrote those words back in 1972. 40 years later, The Ghetto Brothers' music will ensure that his sentiment lives on.