Big Boi: Vicious Lies
As one half of Outkast, Big Boi has been making some of the most influential and enduring popular music, much less hip hop, of the past two decades. With his new solo album Vicious Lies And Dangerous Rumors – released tomorrow in the USA – the ATLien reveals another dimension to his work. Phillip Mlynar secures an audience with hip hop royalty for an insight into the Outkast dichotomy.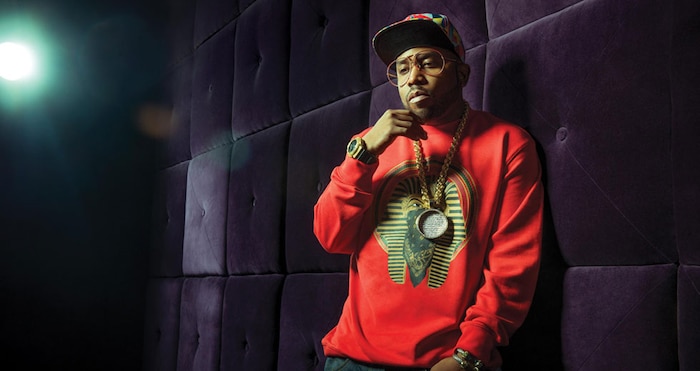 Andre 3000's house, last year: Big Boi is hanging out with his partner in Outkast and asks about the music he hears bumping in the background. Andre tells him that he's been submerging himself in Little Dragon's Ritual Union, an album by a Swedish electro-pop quartet whose leader singer, Yukimi Nagano, is possessed of a singing voice that's charmingly intimate and easy to become besotted with. Big Boi is taken by the sound.
A year later, Little Dragon appear as collaborators on a couple of songs on Big Boi's second solo album, Vicious Lies And Dangerous Rumors, and also recorded the original take of its first single, "Mama Told Me". The way the current chapter of the Outkast story is popularly parsed, this is par for the course: Andre, the creative eclectic in the flamboyant dress (sometimes literally) hips his pitbull-rearing, meat-and-potatoes rap pal Big Boi to a musical world that exists beyond hip hop's stoney walls. But it's a cliched way of boxing in the two artists' personalities, and it's one that misrepresents Big Boi's side of the story. With Vicious Lies And Dangerous Rumors, it's time to start re-thinking your take on the guy from Outkast who isn't Andre 3000.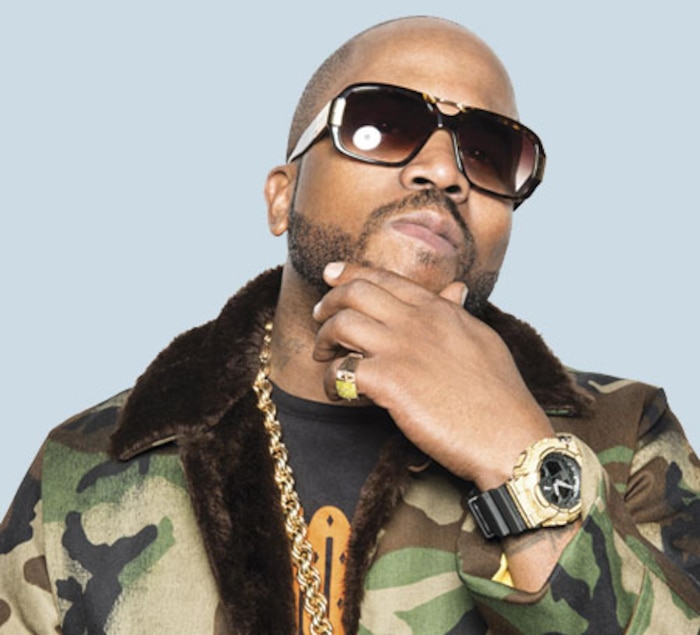 It's now 11 days before the release of Vicious Lies And Dangerous Rumors and the 37 year-old Big Boi is at his homebase in Atlanta beginning the day's promotional duties. He talks about the album with an excitable anticipation, saying the interim period between signing-off on the finished master of an album and experiencing its day of release is like being on a presidential campaign. Right now, all that's left for him to do is smile for the cameras, meet the people and hope the campaign has been sagely planned. Asked for a slogan for his cause, he laughs and says, "All killer, no filler!"
Beyond the playful sloganeering, the thrust of the Vicious Lies And Dangerous Rumors campaign involves the new demographics in Big Boi's camp. Scanning the credits to the album throws up an ensemble cast that includes not just the obligatory rap guests – here focussed around the cluster of hometown Atlanta champions T.I., Ludacris, Killer Mike and B.o.B., plus cocksure young Harlemite A$AP Rocky – but also a swathe of indie rock-leaning artists with Phantogram, Wavves and Little Dragon voicing their support. By the end of the album's listen, it's this second group who emerge as the project's defining fixtures.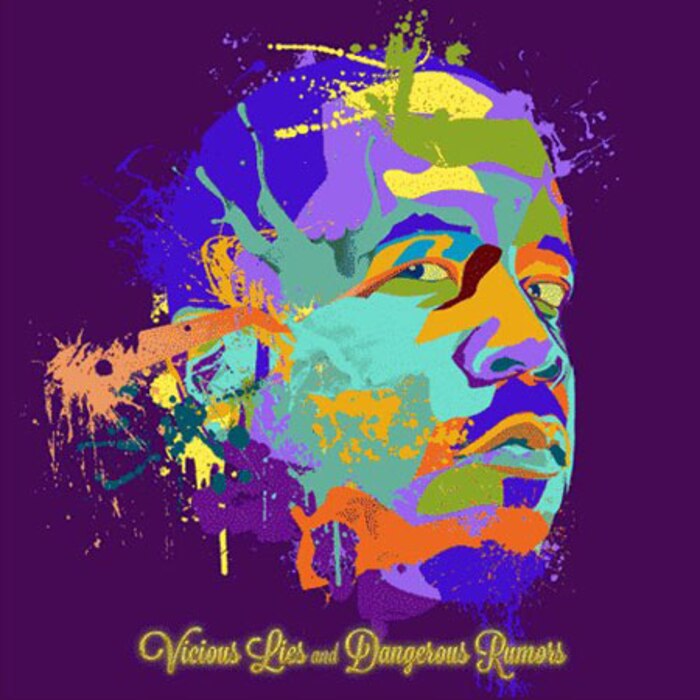 "I was attracted to the awkwardness of the melody in Little Dragon's music," says Big Boi when asked about his newly-acquired cohorts. "It's not the same sound you're used to hearing; it's off-the-cuff and there's a marriage of different styles in there." He says the opportunity to work with Little Dragon came about naturally after their paths kept crossing at music festivals around the world. Decamped in Atlanta at the rapper's Stankonia studio for a week, Little Dragon became something like adopted family to Big Boi: he says their rapport in the studio was instant, and that bond carried over into downtime where they'd go out bowling together and indulge in pastries and hot chocolate at a nearby cafe. When they departed, he laments, "It was like, damn, I wish they could stay in Atlanta, so we could keep the party going."
The fruits of Big Boi and Little Dragon's week in Stankonia appear twice on the album (plus a further track tacked on to the 'deluxe' version of the project). The songs are testament to Big Boi's assertion that they meshed as kindred musical spirits. He says that for him, making music is a constant commitment to experimentation that he reaches through a process of "trial and error in the studio." Little Dragon's presence during that week was like adding an alien element to the formula: there's the excitement that it could cause a combustion, but in this case the outcome startles only in how natural the combination sounds. On the album, "Tom Petite" is a mid-point highlight built on a swaggering electro-groove that quavers between melancholy and joy; against this, Big Boi and Nagano's vocals prove a smart foil for each other. "Descending", the closer, almost elevates Little Dragon to top billing status as Nagano's vocals furl around an acoustic guitar-laced production that brings the album to a tender conclusion. (At a preview session for the project in Manhattan back in July, Big Boi played a version of "Mama Told Me" that featured Nagano's vocals. After what's been pitched as a dispute between Little Dragon's old label, Peacefrog, and new backer Universal Republic, they were stripped out and replaced with Kelly Rowland's. Having heard both versions of the song, it's hard not to pine for the original chorus, penned by Nagano and totally in tandem with the production bedding it.)
When talking about his collaborations with artists from outside of the rap world, Big Boi convinces in his sincerity. He tells an anecdote about discovering the group Phantogram after hearing their music accompanying a pop-up ad on his computer. He used the app Shazam to find out who the group were. Now, he says, "Sarah [Barthel] is my new Sleepy Brown," referencing the Dungeon Family's traditional go-to hook-master. (Brown hasn't been completely displaced; he appears on the album's first cut, "The Thickets".) When rap songs feature a forced cameo from a pop or rock vocalist, the outcome can be depressing – the finished track often reeks of the awkward input of a fusty marketing department. But Vicious Lies And Dangerous Rumors enthralls because it takes its lead from Big Boi following his own whims. If late-era Outkast albums were pitched as being speakerboxxx busters, broadcasting with a fanfare as loud as its reach was wide, this one reveals itself as something more akin to Big Boi's personal playlist. There's an intimacy and closeness about the recordings; it's as if an interaction between the lyrics in his head and the songs on his iPod came to life. And if Big Boi's dreamy plans had panned out, it would have also featured the voice of his all-time favourite female artist.
"I got turned on to Kate Bush by my uncle when I was in sixth grade," he recalls. "He listened to a lot of different music, and when I heard her I dived into her music and really started to go through her catalogue. I love the production and her style of storytelling that she displays when she makes her music. I can't get over songs like "Egypt" and "The Man With The Child In His Eyes". Her shit is beautiful."
"I got turned on to Kate Bush by my uncle when I was in sixth grade. I love the production and her style of storytelling that she displays when she makes her music."
Big Boi's aural lusting for Kate Bush came close to consummation when he spoke to her on the phone during the making of Vicious Lies And Dangerous Rumors. She was earmarked to sing on two songs: "Tremendous Damage", which now features the vocals of Bosko Kante, and a song missing from the album that he refers to as "Green Grass". (Asked about the elusive "Green Grass", Big Boi's publicist couldn't confirm whether he was referring to an earlier incarnation of a song that did make the final tracklisting.)
Despite sending Kate Bush both of the productions, deadlines and geography conspired to keep her off the album. "Hopefully, next time we can get it crackin'," he says. Knowing that "Tremendous Damage" was written with Kate Bush in mind deflates the power of the take that made the cut. It veers towards the schmaltzy side, with Bosko's vocals coming across as too showy. Instead of empowering the rolling piano lines and Big Boi's introspective raps about seeing his father pass away, they serve to ham up the rendition. It's a song you suspect sounds emotive and vulnerable as played out in Big Boi's subconscious, and possibly conceived while immersing himself in Bush's Hounds Of Love.
The tale of the "Tremendous Damage" that wasn't is a rare downer on Vicious Lies And Dangerous Rumors, though. It's an album that satisfies mainstream and hip hop urges – without watering down either. So, when Big Boi lines up with T.I. and Ludacris for the firing "In The A", he musters up a fierce flow that lets you know his rap chops are still impeccable. It's just that his verbals are also capable of being repositioned to, say, pep up a poppy 80s love ditty like "CPU", complete with a cutesy hook courtesy of Sarah Barthel.
Cannily, Big Boi's solo enterprise on Vicious Lies And Dangerous Rumors starts to prompt thoughts about the perceived dynamic that catapulted Outkast to mainstream success. A new album from the duo might not appear any time soon, but for many Big Boi and Andre will always be snugly consigned to a curious relationship that has them indelibly tethered together while also being cast as moving in opposite musical directions. Big Boi and Dre were never conjoined at the hip though, and neither is Outkast's music a clean dividing split between Andre's airy flights of fancy and Big Boi's stoney rap roots. On their 1994 debut album, Southernplayalisticadillacmuzik, Andre could be found asserting his "ghetto rep" on "Player's Ball", and using the artillery in his car's trunk to brag how "many a nigga's falling fast and I continue blasting – quickly" on the title track. To this, Big Boi's raps were always shot through with an underappreciated spirituality. Since the group's hiatus, it's Big Boi who has provided the sort of music that continues the ideal of Outkast as expansive rap artists: he's now made two sterling solo albums that take from hip hop's storied building blocks of beats and raps but are unafraid to call on collaborations from a joyfully broad cast of characters and head in musically adventurous directions. Big Boi may never trill on a song like "Hey Ya!" but with Andre's output seemingly spluttering into the realms of the occasional guest verse artist, Big Boi's the one visibly maintaining the Outkast legacy.
Still cooped up at home and with the interview reaching an end point, I ask Big Boi if he thinks anything about Vicious Lies And Dangerous Rumors will surprise people. He deliberates for a moment, then pulls out a prime piece of campaign patter: "That it's how I keep evolving and keep things sounding fresh. Like all of my albums this record don't sound like nothing else I've done previously. I'm not trying to go back and relive those moments – I'm having fresh ones. The album's a trip, man, a psychedelic groove trip." If you're not on board the Big Boi express by now, it might have sped on by before you realise you've missed it.