PAN: An Interview With Bill Kouligas
Berlin-based PAN has been excavating experimental electronic attitudes since 2008. Label helmsman Bill Kouligas grew up in Athens on a steady dose of hardcore, post-punk and new wave, and had already got his hands deep in the European noise scene before arriving in Berlin. He initially started PAN to document the music of his friends, while also setting up a platform to explore his graphic interests, and the cross-section of ideas that lie in-between.
PAN shines a light on today's musicians as well as digging out seminal inspirations, joining the dots from electro-acoustic theorist Trevor Wishart to free-blowing sax man Evan Parker, via NHK's rave re-imaginations, Heatsick's casio marathons, and the immersive installation pieces of James Hoff. Bill and co are also responsible for all kinds of thought-provoking material, from reprints of the Great Bear pamphlets and lost avant-garde magazines, to special edition fanzines and their own resonant record sleeves. Bill's insistence on following his own path and passion has won acclaim from thinkers, collectors, and dancers alike, and puts PAN at the forefront of the electronic vanguard.
Let's talk about Keith Fullerton Whitman. It was the first record in a long time for him.
It was. I think he hadn't done a record for maybe five or six years until that came out. He did some split records and compilation tracks. That was the first full-length he did since a while. It's a very significant release for the label because it's one of the records that kind of stands out, more people got to know the label after that record. For some reason it got more people, I don't know why.
Well, I think he's a big name.
He's definitely an established name, yeah. But I think it was good timing for that release when it came out because it crossed different genres – like more electronic music/experimental music, this whole drone/synth revival that was happening at the moment and more weird concrete music, like let's say contemporary electronic stuff. And also it had a big impact to the dance scene somehow. A lot of DJs started playing that record and a lot of people from the beat-oriented scene started getting into this sort of stuff.
Were you surprised at the reaction?
I wasn't expecting it. Not because I didn't think it was good or appropriate, I just didn't think about it, you know? Which I think was good because I don't even think Keith thought about it. It's just kind of a natural thing. It happened naturally, which is pretty cool.
There's a quote from the website…
Florian Hecker. That's a reissue that originally came out in 2003 on Mego and it's a very, very important record for computer music that happened in the last decade or so. It is a really important release; not for me, for history. It was a reference point for a lot of people and they still refer to that record because it was really forward-thinking for the time.
Tell me when you first heard the record.
I think I bought Sun Pandämonium when it came out or maybe a little bit after, like 2003 or 2004. Mego at the time had a very strong impact in the experimental scene, there were a lot of great records coming out at the time and Florian was a key part of that scene. Yeah, that record blew me away completely. Getting to meet Florian years after that, and I started to work with him on shows and he asked me at some point if I would be interested in doing a reissue of that. I just immediately said yes, because it's a really great piece. It still sounds fresh somehow, despite that it's been ten years.
Let's talk about James Hoff.
I thought that would be interesting to mention actually. It's very different. James Hoff is an artist/curator and runs a publishing company in New York. He's not really a musician, that's an art piece he did. It was a sound installation he did in New York and it's basically a collage of field recordings from various riots, mostly recorded in Athens, where I come from, and different other places like South America and Europe.
Why is that something you wanted to release?
It's not a 'music' record, it's more like an art record. It was limited to 200 copies. It's more like a documentation of his installation. I'm trying with the label to document stuff like this because I think it's very important to somehow relate and link those recordings to some other music record that I did that are somehow influenced and refer to each other.
Do you think you lose something when you don't get the full experience?
Definitely. It wasn't made to be on a record. It was a piece that he did for a multi-speaker system that was in a gallery and yeah, the record is just an audio of all this. But I think it's an interesting piece to have on vinyl, too. It was very important for me that it came out while all this mess was happening in Greece. It had a different meaning for me, too.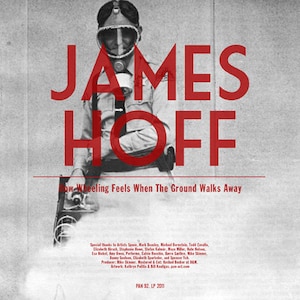 Is that the reason that you wanted to put it out?
No. Not that, but conceptually in my head it was a good time.
How did you get from Athens to London?
I was born and raised in Athens and moved to London a long time ago, like maybe nine years. I just studied in London; I'm a graphic designer and I just moved there to finish my master's in graphics and I just stayed there for a long time, and moved to Berlin after. I didn't see the exhibition but I've known James for quite some time and we've worked together quite a bit. Yeah, he explained me exactly the whole process and experience was and what the whole concept is about, basically, and I just agreed to do it.
Ghédalia Tazartès. What is this release, where did it come from?
Ghédalia Tazartès is, let's say, an avant-garde artist that lives and works in Paris. He's also an older artist that I got to meet in some festivals. I've been a fan of his work for a while, he did a lot of records in the 70s and 80s, and then he disappeared completely for quite a long time. That record is his first-ever recordings that he never put out – they were like backing tape that he used to use for his performances, like in the early 80s and late 70s maybe, actually. I think it was made in '78, '79. Yeah, I met Ghédalia a few times and I just asked him at some point if he would be interested in working with me to put out a record, and he just said, "Hey, I have those recordings that I never actually did anything with." And he just put them together and composed the whole thing from the beginning, and that's what the record is.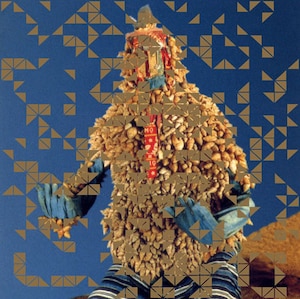 It seems like you worked with a lot of older artists.
I think I've worked with maybe four. Those were more significant releases for me, that's why. It's stuff that's heavily influenced me and they were artists that I really wanted to work with because I thought we could do something more than just another record. And it meant a lot to me because they were all very special people and releases somehow.
You seem to have a knack for unearthing some of these people that other people wouldn't really know.
I don't really know. It's kind of just like digging music and listening to stuff and you just run into someone at some point and you're like, "Woah, this stands out for me," and it means more than some other stuff. So, you just get to know the stuff better.
What makes Ghédalia's stuff so interesting to you?
What I really like with his work is that he has actually a very interesting past. As he calls himself, he is a nomad because his family lived in various different places. His music is heavily influenced by all this ethnological music from the East and of course Western Europe in general, so it's like a mix of all this stuff with also all of his friends' taste of the avant-garde scene of the 80s that he was involved with. So, it's kind of a unique collage again of different times and scenes in a way.
Those people found their own unique voices and they were completely outsiders. There was nothing involved in their process. There was no career involved, in that they had to follow a certain path or being part of a certain scene.
One of the things I really like about these releases in particular is that they're very timeless still, they're resonant.
For sure. And that's what I mean that those people found their own unique voices and they were completely outsiders. There was nothing involved in their process. Like you know there was no career involved, in that they had to follow a certain path or being part of a certain scene and stuff, they were just doing their own thing. Especially for Ghédalia. James's thing is something completely different. At least to me, he has a very unique signature and it has nothing to do with contemporary music or what happened in the past. It's just a very special thing that stands on its own and it's take it or leave it.
Speaking of unique signatures, Steven Warwick [Heatsick] – can you tell me what his sound is?
Steve is using a very primitive set-up which is basically just a Casio keyboard and a loop pedal or a delay or something. I always found it really great how much he can do out of such a simple set-up. I met Steve maybe seven years ago in London . We were both part of the noise music scene that was happening at the time. We were just both playing experimental noise music. He was in a band called Birds Of Delay and I was doing solo stuff. We just started touring together and played a lot of shows and became really close friends.
I think for him, he was the first time that I really took notice of your label and it's largely because he played in Panorama Bar. He somehow bridged a weird gap.
It was the first release that I put out that had actual beats and some sort of repetition that was dance-influenced or something more beat-driven. But, on the other hand, he's way more experimental and his background comes from where the older people I've been working with come from as well. What I mean is that in my head it was just exactly the same thing but, you know, all this stuff sounds different, there's not a unique or specific sound. I'm not trying to capture any 'sound'. They are just all very different examples that just refer or link with each other in a weird way, at least in my head.
What about Eli Keszler?
Eli Kezsler is a percussionist, he's a drummer that was based in Boston for a long time and now he lives in New York. He's another guy that I met through shows. We played a bunch of shows together in London and I saw him performing a lot and I really liked what he did. It was again another strange example of a drummer using the instruments to create something completely different. We just kept in touch throughout the years and he was just sending me recordings all the time. At some point I thought it would be great to work on something. Cold Pin is the first record that he put out that was documenting some of his sound installations that he started doing in Boston two years ago. Basically, he's using really long piano strings with some self-built motors that recreate these vibrating sounds. They're called 'sound sculptures', basically.
You said what he does with drums is that he uses the drum to make sounds that are different. What do you mean by that?
He is improvising with the actual instrument and he's using a lot of objects on the drum kit to just recreate something different than just the normal drum beat.
SND. Speaking of weird rhythmic stuff. I was looking at the wav form and it was so funny because it was like here's this bit of almost silence. How did you get in touch with SND?
SND is based in Sheffield in the UK. It's a duo of Mat Steel and Mark Fell, who also work as solo artists. I met Mat in Berlin a few years ago while he was living here and working on an art project. We just got along.
What about their music is so interesting to you? It doesn't seem like rhythm is necessarily that important to you. What rhythms really catch you?
Again, I thought it was really fascinating how they approached dance music, electronic music in general to create what they do.
What is your relationship to dance music? Do you go out dancing much?
I don't necessarily have a dance music background. In a way that some of the people that have put out stuff, they come from that scene. Like Lee Gamble, for example, he was a DJ. Or Mark Fell, he's been around for a long time in the dance scene as a producer and putting out stuff. I come more from post-punk, let's say. As a teenager, I grew up with that stuff and I was just playing drums in bands and then I started getting into experimental music and electronic music in general, so I discovered all that stuff much later than when it happened.
But you were listening to stuff like Mego.
Yeah, but that's not necessarily dance music, you know? That's what I like about SND. They use these elements that also refer to dance music, but they have a very different approach and attitude towards it. That's why I thought it would be interesting for me to work with a group like SND, because it's not a straight four to the floor record.
Who is Helm?
Helm is Luke Younger, who is a London-based artist. He's also a very old friend of mine who did Birds Of Delay with Steven Warwick, who does Heatsick. Both of them have been very close to me for many years, playing music and touring together. That's his solo project. Luke has done a few records in the past on different labels and it was very special to me to work with him because also of the relationship that we have. But I think [Impossible Symmetry] is a record that was very good for him to do. When I heard it, I really thought it was 100% who he is and what he wants to represent as an artist. So, I kind of forced him and pushed him to make it happen.
He used the same ideas in creating them, but to me, it's a much better record than the last one [Cryptography], somehow. So, I think it's really interesting that you say you really pushed him. So, Lee Gamble – there's a good story here.
Also, Lee, I've known for a very long time, again from London. Same as Luke and Steve, Helm and Heatsick, we were part of that experimental scene that was happening in London at the time. We organised and played loads of shows together. But Lee comes from a dance music background, and then throughout the years, he started doing computer noise music, and then he just went back to his roots, and kind of re-approached the whole thing all over again.
Can you just explain how the record was constructed?
Diversions is an EP that was basically just a very specific project that he did. Which was basically him compiling some of his old jungle mixtapes, and he used all these, let's say 'beatless' parts of these tracks, and he manipulated them and put them together. He got asked to make a piece for Resonance FM and he just emailed me the link, "Oh hey man, I just did this for Resonance, what do you think?" I was like [laughs], "Wow, that's awesome. We should do it on a record." I thought it was a very simple, but really great idea, and the sound was amazing, and the whole concept, I thought it was really right on. So, I just kind of forced him to finish it, because it was more a primitive, rough mix, what he sent to Resonance versus what came out.
And who or what is Jar Moff?
Jar Moff is an artist from Athens and we go way back. I've known him since he was 14 or 15 or something. We met in a hardcore punk record shop in Athens where we all used to hang out back in the day and we played a lot of shows with bands we had back then in the mid-90s or something. We just continued being friends, just exchanging music throughout the years. This is the first record that he's doing, first full-length. He did a digital release for Leaving Records, a US label, and he did some remixes for RVNG and stuff like that. But he's never put out a record and I'm really excited because he's a really awesome guy, and I really like what he does.
I'm interested in different time zones and how the past relates to the present. But not in a retro or nostalgic way. It's more like a rethinking of what's been done and how we can relate to that or how we can push it towards something else.
What does he do?
He, again, works in this whole collage kind of field, but in comparison to Joseph Hammer or Ghédalia Tazartès or even what Lee did – which is again like a collage of found sources – he was mainly influenced by this whole futuristic hip hop scene from LA. Again, what he did was a very abstract collage which fit with the label's aesthetics, but I think the sounds and the approach he had is a very different thing than Joseph Hammer or Lee, for example.
Do you think that's the approach? Like that's the through-line of the label that everyone sort of is kind of doing similar things, but taking from different places?
Well, I'm interested in different time zones and how the past relates to the present and how we think of that. But not in a retro or nostalgic way. It's just more like a rethinking of what's been done and how we can relate to that or how we can push it towards something else.
What are you pushing towards?
Well, this I don't know. It depends on the artist. I would have loved to talk more about this, but I have to think more about this. This is something that really interests me. I'm not ready to answer this now. I've been thinking about it a lot of course, I work on that, but it's hard to say it in words sometimes. Because I do that with the whole artwork, which is mostly found images and kind of giving birth to them, but having a different meaning. Combining them with other elements to show something different.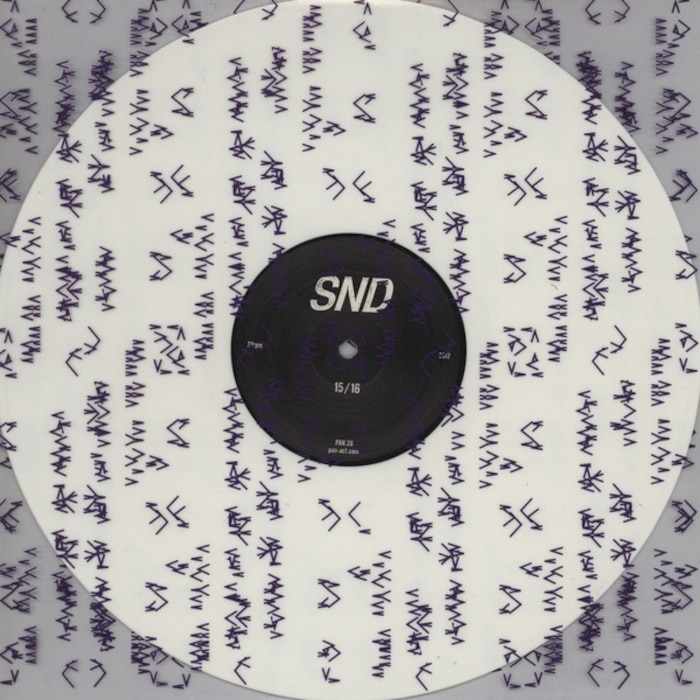 Could you maybe talk about one of the, maybe the SND record, what does the artwork look like for that one?
The SND record is just the design pattern on the plastic PVC sleeve. It comes with no cover because it's a 12" basically. And it's just a design we did listening to the music. I work with Kathryn Politis, who is also a visual artist, and we work together on all these design patterns.
You put a pattern on every PVC sleeve?
Most of the time. We work a lot on geometrical shapes and lines.
How did you come up with this aesthetic?
I have been just working on my own stuff, so at some point we just started combining all these elements. And that's actually one of the main reasons that the label started, in a way. We just thought it would be a good platform to combine all these designs and ideas we had, and just put it together in some music I was interested in at the time. It's a very important part of the label.