Butterz Is The Label. Elijah Tells The Story.
Grime has been declared dead a few times, but thanks to labels like Butterz the genre's fractured rhythms are as lively as ever. Rinse FM DJs and Butterz honchos Elijah & Skilliam first met at university in Hertfordshire, when being a grime head equalled some sort of outcast status; Elijah was fired from his first office job due to his bosses' disapproval of his pirate radio activities. Centered around their weekly radio show, the infamous Butterz blog became a full-blown grime, garage and UK bass imprint – with releases from Terror Danjah, DOK, Royal T, and Swindle to name a few. Get the history of Butterz below, straight from Elijah's mouth, or listen to the audio via RBMA Radio.
Butterz originally began as a blogspot. I was blogging about grime in 2007. It was at the same time I was at university. A lot of the other grime blogs that I used to read had really slowed down on their productivity; they'd basically all stopped blogging at the same time. So, I just used the opportunity to reach out to a lot of people that I liked that weren't getting coverage elsewhere. This was at the same time that I was meeting Skilliam at university and we were playing tunes; I was one of the few people at uni that had decks in my room.
We decided to do a show on the university radio and it kind of hopped along from there. We got the opportunity to do a pilot show on Rinse FM in November 2008. We were asking for feedback for weeks, we kept on doing cover shows. We were doing cover shows for about five months and then officially joined, just as I finished university in 2009.
At the same time, I was getting a lot of music from Swindle, Royal-T, Terror Danjah and there wasn't an outlet for it… yet. They were producing really good stuff and I thought, "Why don't we present it in the same way as the stuff that we're buying?" At the time, I was buying dubstep records, UK funky bits here and there, and they always had really strong presentation – labels like Hyperdub and Tempa. Grime didn't really have something like that at that time and I was like, "We need a grime version of that."
"Grime didn't really have something like that at that time and I was like, 'We need a grime version of that.'"
Originally we came up for the idea of the label, maybe in March of 2009. It was always in the back of our minds that we wanted to do it. I had a conversation with Terror Danjah, who seemed really enthusiastic that someone wanted to invest money into the music again and put out records. At the time, no one was really putting out grime on vinyl, which was really important to us. He said, "I'll be involved and I'll make you make you tunes for the label." The first two tunes, "Bipolar" and "Air Bubble", he made them both on the phone while I was talking to him. I didn't know him that well at the time, so I was like "Right, this is sick. This is a guy where I've been buying his records, and he's showing us the love to get our own label started." It actually came out in March 2010 and we got a lot of positive energy. We didn't have a press campaign or anything like that; we didn't think that through.
On the same release, I had the idea to get a remix of one "Air Bubble". I think I sent it to maybe four producers and started playing them on our Rinse show. People kept asking me for the parts to remix the tune. So, I asked Terror if I could put the parts on my blog and let anyone remix it. He was pretty apprehensive about doing it at the start but then he said, "If you think it's a good idea, let's roll with it and see what happens." Within a few weeks, we had over 150 remixes, and that was something that had never been seen before – in our area of music anyway. People were calling it an open-source label, and it just made us think about how we put out our music. It's not just about a record… or when you put out something, it doesn't mean it's finished. Every record is a project that could maybe go on forever, and in the most positive way possible.
In the first year or two we went to Ibiza and just before we went we had some change. Enough change to press a record, but not to give it a good push. So, we thought, "Who would be a good producer that's got a few tunes that we could maybe put out on a white label that we like?" It was such an odd thing that I wouldn't do now. It was really uncalculated, we just thought, "Let's try to put out a record before we go on holiday. Then by the time we come back it will be ready and we can just put it into the shops and see what happens." I was kind of going through tracks on my computer and this guy TRC, who is a bassline producer from the Midlands, he had three tracks and I thought, "Hmm. These would sit together alright on a white label."
Pressed it, came back, record came out, sold slowly but DJs picked up on it and it kind of stuck for a while. One of the tracks is called "Oo Aa Ee" and eventually it got remixed by another producer on the label called Royal-T and became what's now the "Boo You" vocal by P Money. And another instrumental called "Skipping Rope", which has a jazzy feeling, became "I Am" by Trim. Which is a really odd, rash decision to sign someone that we didn't know but two of the tracks off the three-track EP became much bigger than we could have imagined and enabled us to work with two people that we really wanted to work with from the start. So "Skipping Rope", the instrumental, a total vibe and we're still listening to it today.
Just as 2010 was finishing, Fabric asked us if we had contact with S-X, who made this tune called the "Woo Riddim", and it was the biggest track of the year out of the grime scene; it kind of crossed over way outside. House guys were playing it, everywhere we went that was getting the biggest reactions, all the MCs had done a version of it and it kind of bypassed us. It came out as an MP3, people were playing it; I thought it was cool, but I didn't really latch onto it until they said, "Do you have a contact for it?" because they were trying to license it for Ramadanman's FabricLive compilation. And I was like, "Yeah, I'll find him for you." It only occurred to me, I was like, "Why don't we put this on vinyl? Why not? It's been one of the biggest tunes." And he said "Yeah alright," didn't really give me much aggro.
The tune ended up getting licensed to Fabric for the CD in question and a few months later Ramadanman emailed me and said, "Do you want to put out my bootleg that I did of it called "Woo Glut"?" He said, "I don't even care about the money, just put it out. People have been asking for it." We put that out and that just sold like hot cakes. He said, "Just do a limited run and I'll never take any money off you for that." The Hessle Audio gang, Ramadanman and that lot, I've always showed love to them because he didn't need to do that, you know? It's weird being a corner of music, and you've got your crew and people think you don't interact with other people, but certain times those little gestures just go a long way.
Royal-T had been a producer that was sending us tracks from the beginning, like 2008. I always believed in his potential but not a lot of other people did. I don't think people gave him a chance, but I could see he had enthusiasm and drive to keep improving. He was really open to ideas and taking on influences that were different to everyone else in the grime scene. The way he makes music, he wants to be a stadium-type DJ, which is not typical of a grime producer. Like, he doesn't aim to work with MCs. At the time it was unheard of. Everyone wanted their tracks vocalled by the biggest act. He looked at it from a totally different angle, and I always rated that. I always wanted to put out something by him; the label was built with him in mind, like getting out new talent. The first track that we thought was really strong from him from the label was "Orangeade", and he originally made it for me as a birthday present. It was one late night on Rinse and P Money and Blacks turned up. It was the last tune I played and they just destroyed the track and I was like, "I think this one's gonna stay." We're still playing it today, and I still see myself playing it in years to come.
Swindle is another guy that takes in totally different influences to a lot of people in music. He's leaning on the jazz side of things and has maybe a drum & bass aesthetic to his music, which not a lot of people in our area have, and he can play keys. He released a track called "Airmiles" on Planet Mu, and a lot of the tracks that he made after that were kind of in that same kind of vein. I said, "If we're going to do a track on Butterz, I want it to be nothing like that." Even though I love "Airmiles" – I even named the tune. One day, he emailed me saying, "If this isn't the track, then I don't know what it's going to be." Basically, like, it's either this or nothing. We listened to it and I thought, "This is good." And if it's not getting love on the radio or in the clubs, we don't usually put it out. The releases are always formed off fan feedback and feeling between us as a crew, but with "Mood Swings" we put out the official version.
A few months later, I was listening to Kanye West's My Beautiful Twisted Dark Fantasy and he had "Runway," an eight-minute track, and I was like, "Well, what would an eight-minute Butterz track sound like?" And I was like, "Swindle, take "Mood Swings" out of the context of being a club tune, what would you do in eight minutes that you couldn't do in four?" He sent me something back and I was like, "Yeah, that's a vibe." We pressed up 200 and it was totally different to any other track that's been on Butterz. It's the longest track, it's very emotive and it's one of my favourite things that we've ever done.
Swindle and Silkie both have so many similarities in their music, but they've been pushed to different people for a long time. Silkie leans on the dubstep scene and Swindle's been with us on the grime side of things for ages. A lot of people always hit us up with dream collabs and requests that they want to see. Swindle and Silkie is one of the ones that always cropped up. I think they just linked up out of that. They didn't know each other before music but they said, "Look, everyone keeps saying that I need to do a tune with you," and the feeling was mutual. This track is their first ever studio session and they played it on the same day they made it on the radio, and people were feeling it. It took a few months to get out, but again when it came out, even to this day people are like, "I want another Swindle and Silkie record." But this kind of unwritten rule we've had with the label is to try not to do two releases by the same people. I hope there will be more Swindle and Silkie, but not on Butterz because we're trying to keep the variety poppin'.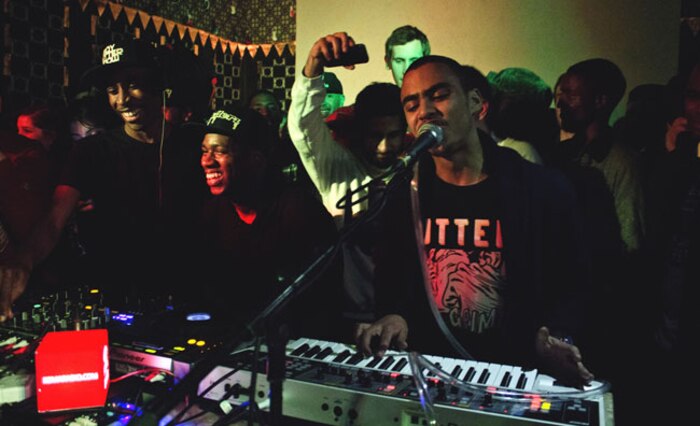 Throughout 2011 Terror Danjah had this track with a girl called Ruby Lee Ryder called "Full Attention", and it did really well on radio and kind of opened the doors for the rest of our music to be on the radio in the daytime and places that weren't really paying attention to what we were doing. He wanted to do another track with her and decided that it would be a good time to do it on Butterz because he was the first release and we were coming up to our tenth, so we said, "Alright. We'll have Terror Danjah every ten releases." But we had this rule of not having two solos. So, I said, "If you're going to do another release on Butterz, it has to be with someone else."
So, we have Ruby, who is a singer from North London and she's been in and out of the grime scene for a long time, so she's done tracks with loads of artists but never had solo shine. So, "Let Me Be The One" just came up out of that. It was trying to be soft on the vocals but really hard as nails on the instrumentation. We wanted to have a version that was playable for an MC to do a version of, and then playable for a normal person just to listen to. On one side of the record is the full vocal version and on the other side of the record is an extended instrumental, which is the first time we've done that, and she's the first singer to be on the label.
"Butterz in the next few years, I just want it to be something that people can't pin down."
Champion made his name in the funky scene in 2009 and 2010. We were hearing his tracks, but we didn't really know anything about him as a person. Terror Danjah reached out to him in the beginning of 2011 and he'd done a release with him; he came and played one of our parties and his set went down really well. We kept on having him as a fixture at our parties because he was so good on the decks. It got to a point that maybe five parties later it was like, "You're leaning on the grime end of the funky scene anyway, so why not do a record for Butterz?" We kind of went back and forth on the ideas for a bit and I was saying, "This is alright. Maybe I'll just come to you and we can put something together." I went to his house and his set up is so basic, it's funny. He just had a laptop and he was sitting on the floor with his monitors hooked up to it and going through ideas on Fruity Loops. As soon as I heard the sound of "Crystal Meth", it was just an idea. I think people group Butterz releases as really melodic and rich and that was so raw. I was like, "Yeah let's do that because it kind of dispels a myth that Butterz releases are really piano-heavy and this, that and the other." Just go crazy man.
Butterz in the next few years, I just want it to be something that people can't pin down. As we started, we were a blog and then it kind of developed into a record label and now a lot of people know it for parties. When we did a collaboration with Mishka from New York, we were known in the streetwear circuit. I think as long as we keep doing creative things, it's going to keep opening creative doors, in terms of where you're known and in terms of where the music can get heard. In terms of the artists on the label, they're all doing completely different things with what they want to do with their career, so Butterz is going to be known in loads of different circles for different reasons and that's how I want to keep it. I don't want it to easily be summed up in one sentence. It's going to be difficult for anyone to compete with, because we're not competing with anyone or we don't know what we're doing ourselves. We're kind of just doing things on feeling rather than trying to get somewhere.
Title photograph by Shaun Bloodworth. Left to right: Elijah and Skilliam.