Stretch & Bobbito Snap Back: The NYC Radio Legends Recall the Best of '90s Rap
The Stretch Armstrong & Bobbito Show, an independent late-night radio broadcast, hosted everyone who was anyone in rap throughout the '90s. It's gone but certainly not forgotten by a legion of online fans, who still trade tapes of legendary episodes. Chairman Mao sat down with Stretch (the DJ) and Bobbito (the MC) to talk about their legendary guests, their bizarre listeners and how they earned the title "the greatest hip hop radio show of all time."
In 1998, The Source magazine called the Stretch Armstrong & Bobbito radio show the greatest hip hop radio show of all time. How did that make you guys feel at the time?
STRETCH
If anyone remembers that issue of The Source, there was a photograph in it. Anyone remember my haircut? Everyone across the world saw that, and it was very embarrassing. But for me, some of my earliest hip hop experiences were listening to the radio in the 80s in New York. That was an essential part of my becoming a DJ in the first place. So, obviously, getting that kind of accolade was tremendous, but I took it with a grain of salt, 'cause to me what we were doing didn't measure up to what Marley Marl and Chuck Chillout and Red Alert were doing in the 80s.
BOBBITO
I remember being humbled by the award. Taking a step back, I did college and community and mix-show promotion for Def Jam from 1989 to 1993. So, it wasn't like I just listened to Marley Marl and Pete Rock and Kevvy Kev and Special K and Teddy Ted and the Dirty Dozen. They were friends of mine. It was a real community, and it was beyond that. Being nationwide is something that Stretch and I always aspired to… which we eventually wound up being, just by virtue of hand-to-hand cassette dubs and people bootlegging our tapes.
Worldwide, really.
BOBBITO
Yeah, that was worldwide. This was pre-internet. What all those people did in the 80s was great, but we took it a step... different. We just changed the face of rap radio. We had four hours of programming, commercial-free, which none of them had. Stretch would play a GG Allin record. And if you know GG Allin…
The things about the show that people always point to [were] the records being broken, the freestyles, the different acts that you premiered. But beyond all that is that the show represented a community and an era in New York. Your tone, your style, how you talked, how you snapped on one another, how you snapped on the callers: everything was so much a part of being a native New Yorker.
BOBBITO
A lot of people aspired to use college radio as a stepping stone to commercial radio. Stretch and I initially had no aspirations for that, we just wanted to do a fun show. We wouldn't even give a tracklisting of what we played. It would drive people crazy.
STRETCH
For about the first two months you would actually write down the songs. And then I think at one point, you just crumpled up the list, threw it, did a hook shot right into the garbage and it never happened again.
BOBBITO
I think the thing that endeared us to people is that we weren't trying to be anybody but ourselves, and just be goofy and nerdy, you know?
Flex was like, "Yo, your show is killing it, but you gotta talk more! People don't know who you are!"
STRETCH
On the first show, I'm DJing and I'm nervous as hell 'cause I know that potentially at least 15 people are listening. So, I'm getting into it and then Bob turns the fader up... Aaah! And turns the mic right back down. You just freaked out, remember?
BOBBITO
What I said was, "Wassup New York?!" And I was just so scared I just brought the mic back down. It was overwhelming. You're in New York. This is, like, the hip hop capital of the world. And I'm a nerd.
STRETCH
We had only known each other for weeks at that point, but it was obvious we were going to be really good friends just from our initial meeting. One of the reasons I wanted Bob to do the show with me was I didn't want to be on the radio talking. The reason I eventually became a blabbermouth was because when Funkmaster Flex and Nine Double M came up – when they were a group on Warlock Records and they had "F.A.L.L.I.N. (And You Can't Get Up)", and Flex was up in clubs uptown in the Bronx – Flex was like, "Yo, your show is killing it, but yo, you're the DJ! You gotta talk more! People don't know who you are!"
BOBBITO
I never knew that.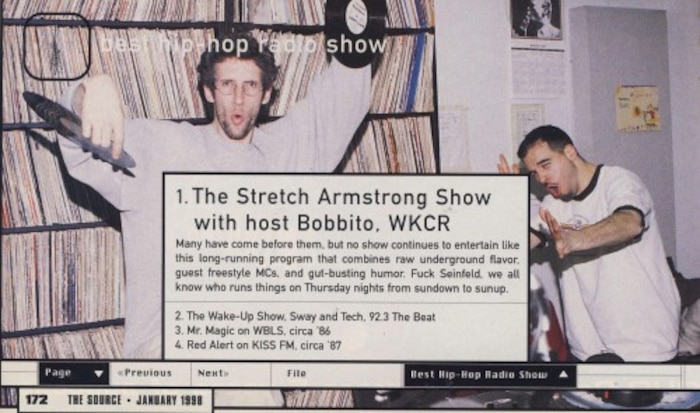 STRETCH
The whole time we did that show, there were no windows. [It] was just us and our friends in a room every Thursday night. It was like Cheers. I mean, if people were listening, cool, but we didn't need people to be listening. We loved the music we played. We had more fun laughing than I think I've ever had anywhere else. The accolades, the feedback from calls, all that was just sort of icing on the cake.
BOBBITO
Plus, you also had legitimate, credible artists coming up to the show from jump.
STRETCH
Yeah, for sure. Certainly, with Bob being at Def Jam, he had a lot of connections from there and I was downtown in the club scene.
BOBBITO
I saw Stretch before I knew anything. I went to [this club] Mars and he was in the basement DJing. When I walked in, he played Kool G Rap. And I was a huge G Rap fan, so I immediately was like, "I don't know who this kid is, but he's nasty." And the rest of the night he played Ultramagnetic, Uptown's "Dope On Plastic" and just on and on and on.
When did you guys realise that the show was actually starting to take off?
BOBBITO
Like Stretch said, his main thing was to play records and my thing was to produce the show as best possible. I would answer the phones and I would read the letters on-air. And the letters were the thing that validated us super-quickly. At first, I didn't know if I had a right to represent hip hop on radio in New York. I mean, it's New York! It's a history.
Our first audience was the incarcerated population of the Tri-State area. Within the second show we were getting letters from Rikers. People that would say, "Yo, you're making my bid easier 'cause I have something to look forward to every Thursday night." These are like dudes from Rahway Prison, life sentences. I would read their shout-outs and all of a sudden, their friends and their families could have a dialogue with their people inside. They were our first advocates. We were on from 1am to 5am on Thursday night, it was not the ideal time slot to make a world-renowned show. We were the against-the-odds type of crew. But it was really early on. But then in, like, the first three months, we had Serch, Def Jef, Busta Rhymes, Jungle Brothers, Bonz Malone. Large Professor wrote his rhyme for "Live At The Barbeque" in our studio.
STRETCH
I actually have video footage of him doing "Live At The Barbeque" on our show, reading the rhymes off the paper. It's not on YouTube. Don't even bother looking. You will not find it.
I think it's safe to say that if you were an artist in the '90s from the New York Tri-State area, you came through our show.
BOBBITO
Within three months it was no longer Stretch and me calling up cats like, "Yo, you wanna come to the show?" Now everybody was hittin' us up. We had 10,000 watts. We had listeners in Delaware, Pennsylvania, Connecticut, New York and New Jersey.
I wonder if you could speak a bit about the role of the show in, not only breaking acts, but really this community. A lot of important people became A&Rs, became the foundation for 90s hip hop in New York, through this circle that you guys were a part of.
BOBBITO
That's a deep question. I think we should state some of the artists that we were instrumental in helping out when they were unsigned – [it] would be like this roll call of the most seminal artists that changed the face of the industry for the 90s and beyond. That would include Jay-Z, who came up when he had a 12" deal, Nas as an unsigned rapper…
STRETCH
Unsigned, coming up by himself from Queensbridge in the middle of the night, as a 16 or 17 year-old, wearing shorts. Who wears shorts going to a hip hop show?
BOBBITO
We got Biggie Smalls, thanks to Matty C, who wrote the "Unsigned Hype" column at The Source and would funnel artists that he was finding out about to us. The first time anyone heard Biggie Smalls outside of Fort Greene/Bed-Stuy was on our radio show. Wu-Tang. Big Pun, when he was Big Dog The Punisher. Fat Joe. Matty C brought us up a group called Poetical Profits, who later became Mobb Deep. Big L brought up his Eight Is Enough crew, which included Killa Cam, who later became Cam'ron. Murda Mase. And then Simply II Positive MC's, who later became known as Organized Konfusion, who later broke up and Pharoahe Monch was a part of that. We also helped re-ignite some careers as well. Craig G, Kool Keith. Then there's the whole super-indie community of Company Flow and Juggaknots, all those cats that really stamped a movement from '95 on. We were blessed. We didn't know any of them were going to blow up the way they did. And when they did, people would look back at our show and be like, "Oh snap! Who's gonna come through their show next?" And it brought a lot more attention to us as those artists started to get big.
STRETCH
I think it's safe to say that if you were an artist in the 90s from the New York Tri-State area, you came through our show. What was incredible for me was to have the legends of the 80s wanna come through our show. And I would say that probably the only artist that did NOT come through (and he didn't need to) was LL.
BOBBITO
Rakim never came through. And when Canibus and LL had the beef, one of Wyclef's contentions with L was he never came to me and Stretch's show.
STRETCH
We had some legendary nights with G Rap. The first time that G came up…
BOBBITO
We were scared.
STRETCH
Not just the legendary status of his records but his persona. He's an intimidating guy. But he must've come by like 1:30 and he didn't leave until like 4:30 in the morning, then called up the show when he got home. And we proceeded to snap on each other on the phone! And I'm thinking, "Is this alright? Can I snap on G Rap? This is crazy!"
BOBBITO
We snapped on his mom like five minutes into being on-air.
STRETCH
He loved it. I think no one ever spoke to him like that. Like, "This is really refreshing."
BOBBITO
You know who else used to call up our radio show, too. God bless the dead. Old Dirty Bastard, when he was A Son Unique, and unsigned. He used to call up our show from Staten Island and freestyle and we'd be jubilant.
You guys gave a real hard time to most people who called up to try to freestyle, though.
STRETCH
Yeah, they loved it, though. Bunch of masochists.
BOBBITO
People would call up and talk to us and we'd be like, "Alright, cool. Peace." And they would get quiet and be like, "That's it? You're not gonna snap on me? Ya big hot dog face!" Then we would cook 'em. People wanted to get hung up on. It was the weirdest thing.
What were some of the regular masochists who would call up? Did you know them by name?
BOBBITO
We knew all of them by name. We had Paula Apanti. We used to call her Paula A-pantease. Anna from Woodside, Queens. People started trusting us. This dude shot somebody one night and called me up, like "Yo, what do I do?" Is this the suicide hotline? Call up 411! I don't know! I've never shot anybody! There was a dude named Devious that would call up…
STRETCH
This guy would call up for five years every week make animal sounds. Mostly donkeys, right?
BOBBITO
And then he got my home number at one point. My home number used to be 982-SUCK. 7825, Look it up. And I had to change my shit when Devious found my home number. There's a lot of ugly stuff happened back then, too, though. People would call up and give us death threats. There were a couple of times when artists waited for us outside the studio at 5am.
What happened?
STRETCH
We'd play shotput with my record crates. Whew!
BOBBITO
Unbelievable what adrenaline can do at 5am.
Based on what, though?
STRETCH
Usually it was not being allowed in the premises. Listen, we didn't have a staff. I was literally DJing and Bob was answering the door, answering the phone, co-hosting, making sure no one was violating the... I mean, there was plenty of violating going on – blunts, guns. Sounds like the title of a hip hop record, right? Blunts, guns and graffiti.
What stands out for now for each of you as your personal favourite or the most memorable experience?
STRETCH
When Prince Paul and Pharoahe Monch came up and we lost power at the station in the middle of them ripping it, that was some sort of supernatural 'This is too much!' moment. When Large Professor brought his SP up and he was there with KRS-One that was ridiculous.
Nas came up one night, and I had just made a beat with a Bobby Hutcherson loop with the Lonnie Liston Smith drums. It wasn't even mixed. I sort of triggered the drums live on a DAT. And this was still early in Nas's career, but he was that dude already. Nas, off of the one appearance on "Live At The Barbeque", was already this kind of semi-deity to me. It was really hard for me to deal with him on a business level because I was doing A&R for Big Beat, but this is when no one could trust an A&R person. Tribe Called Quest had records about record people being shady, and here I was in that position. So, I was trying to get Nas to like and trust us. So, Nas is up on the radio station for the third time, and I'm thinking, "I should play him this track that I just made cuz I'm kinda feeling it." I didn't tell him it was mine, but I put the headphones on and said, "Tell me if you're feeling this." And he spit the rhymes to "Represent" over this beat that I made. As a fan, that was a pretty big deal to hear Nas spit over a beat I made.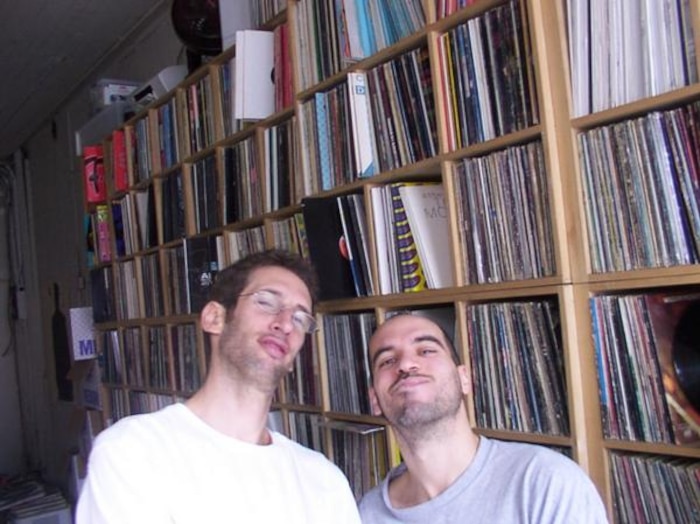 What happened at the end of the show? Why'd you call it quits?
STRETCH
Before I called it quits, we amicably agreed to alternate week-to-week. As a joke, the Thursday I was doing became Thug Thursdays. I'd play, like, machine gun sounds, sort of poking fun at where everything was going. More than anything, it was a reflection of how hip hop had grown and just splintered off into so many different directions. When we started the show in 90, there was no question what was dope and what was wack. As the years went on, Bob's tastes developed and went a certain way, and mine went a certain way. It got to a point where we just wanted the show to go different directions. And more than anything, we wanted to remain friends rather than let a professional thing get in the way of that.
Also, just from what you guys have said up to this point, it was a commitment. And if the enthusiasm's not there, then there's really no point in going on.
STRETCH
Well, initially it wasn't a commitment, it was an impulsive obsession. [laughs]
BOBBITO
And staying up until 5 AM was... For my hairline, it was hard.