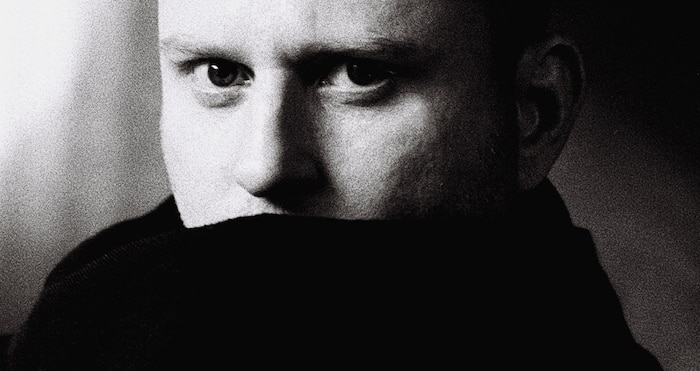 Dave Sumner is Function, a techno DJ/producer who found electronic music fame as part of the Sandwell District collective in the late '00s. The crew – which also counts Karl O'Connor (AKA Regis) and Juan Mendez (AKA Silent Servant) as members – put the music first at a moment when the genre was becoming more and more about celebrity. From their distinctive post-punk-inspired artwork to the refreshing lack of information surrounding who did what, it was the type of operation that would've built a cult following regardless of the quality of its output. Unsurprisingly given the talents involved, however, it was some of the most accomplished techno to come out of the past decade, with their sole full-length, 2010's Feed-Forward, being a particular highlight.
At the beginning of 2012, Sandwell District the label was put on permanent hiatus. Next month Function will release his new album, Incubation. It's the record that he's always dreamed of making – a love letter to the process of writing, recording, mixing and mastering that is rarely undertaken these days by techno producers. Mixed by Tobias Freund and mastered at Dubplates & Mastering, Incubation is very much a full-length statement of purpose. It's set to come out on Ostgut Ton, the label arm of Berlin nightclub institution Berghain / Panorama Bar, a venue that has housed Sandwell numerous times over the years. We caught up with Function earlier this month in the producer's Berlin apartment to talk about his relationship with Ostgut, his early DJing days at New York's Limelight club and what happened when Sandwell went on tour in Australia with Skrillex and Deadmau5.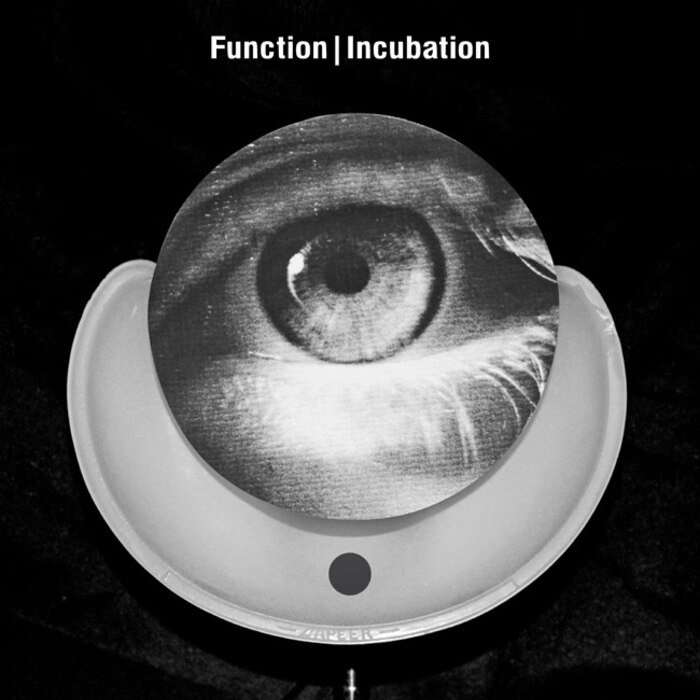 Ostgut certainly seems like an interesting choice for the album. I'm wondering if you thought about what that might mean for how this album is received.
Ostgut heard I was working on album and [label manager] Nick Höppner got in touch and said he wanted to hear it for possible release. At the time I didn't have a home for it. I was still working on it. I wasn't really thinking about where I wanted to put it out until I completed it. It worked out well this way, though, because I'm used to releasing music independently and I didn't even know how to approach it.
I've always felt like a part of that family. They've let us [Sandwell District] play there [Berghain] so many times and let us do whatever we want. When I first moved to Berlin that place was my refuge. I made it a point to not look for gigs. I was just writing music, and I would go there for inspiration and stay there for... [laughs] the longest amount of time I've ever stayed in a nightclub before.
I'm sure coming from New York at that particular moment in the late '00s, it must've felt like, "Oh, this is what it should be back where I came from. This is what it had been."
Yeah. It was the only thing that held a candle to the early days at Limelight. But even Limelight was done at 5 or 6 AM back then. That seemed like an eternity, staying out until 6 in the morning. [laughs]
When you get the chance to [work with] someone that engineered Milli Vanilli's "Girl You Know It's True"...
Did Nick say anything in particular that made you feel, "Yes, this is the right place for this record"?
When he got in touch about the record, I told him that part of the concept was that I wanted to work with a mixing engineer. I sent it to them and I said, "Okay, this is the album, but just accept it as a demo. Because I want to mix it." What's been nice is that we've had time. I submitted the demo in August, and it's going to come out in March. The mixing engineer, Tobias Freund, wasn't available for a while, but we had the time to get it right.
What was most surprising about how Tobias approached things?
The most surprising thing was how he made me act. He has this German engineering precision. Just in his body language, the way that he operates. It made me more punctual. I didn't want anything to get in his way. It gave me a lot of discipline. It was an all-around incredible experience. I felt closer to this than any piece of music that I've recorded. I wanted to go into it like a major label production would go. The writing process, the recording process, the mixing process, the mastering process.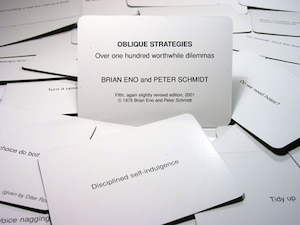 Traditionally that doesn't happen with a techno record. Why did you want to have that experience so badly?
I use these Brian Eno Oblique Strategies cards. They have it now so that you can just go on a website and click random cards. So whenever I'm in the studio... It's fun. It really helps. Anytime you have a dilemma, you're supposed to pick a card. I got a little insecure after a while. I thought I was making too big of a deal about it. Especially as we were going into the mixing process. But around that time I picked a card that said, "Disciplined self-indulgence." So that's why I did it.
It's something I've wanted to do since I was a kid. I grew up looking at labels of records and all the credits. Produced by so-and-so. Mixed and engineered. Producer. Co-producer. Techno doesn't work like that, but I do recommend it. I think it adds depth to a recording. I consider myself an all-around producer, but I write tunes. If I was a singer-songwriter with an acoustic guitar, I wouldn't be responsible for recording the album for a label. They'd put me in a studio. That's the way I was approaching it. Try this once, see how it goes. And, I mean, the thing is, when you get the chance to have someone that engineered Milli Vanilli's "Girl You Know It's True"... [laughs]
You mentioned Limelight earlier and I wanted to touch on that a bit. It's a club that is talked about a lot. You had a residency there, right?
In the early '90s when I was 18. It was on Thursdays, and was for a good solid ten or 12 months or so. And then I played there for a while after that... When you have a residency, it's challenging to develop an audience. It keeps you on your toes.
How do you end up with a residency at the age of 18 at a notorious club like Limelight?
There was a kid named George E... [laughs] That was his club kid name.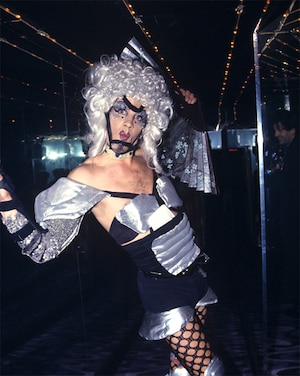 What was yours?
Overlord. [laughs] Anyway, Lord Michael did Fridays. Michael Alig did Wednesdays. We got in touch and we started doing some stuff in the back room, the Shampoo Room. There's a scene in [Abel Ferrara's] Bad Lieutenant that was filmed there. You had to go through ropes to get into Limelight. You had to get picked to get in. Then, once you were in, you had to get picked to get into the Shampoo Room. So it was super exclusive to get in. Then, once you got in, it was like Alice in Wonderland. There was another room, once you went through the Shampoo Room where you needed a password to get into. Back there, was a library.
A library?
Back then they were putting so much into the design of the club that every week it would look completely different. They would move walls around. It was this labyrinth of rooms and stairs. There was this garden through one of the rooms that was there for a single summer. That was what was so incredible about the club. They were always changing the décor. You never knew what it was going to look like. The first time I was there they had a psychedelic marionette show as you were walking out of the club.
I imagine as a maybe-not-even-18-year-old that it was...
Life-changing. When I was leaving, I just thought, "I want to be a part of this. This is my life." I have still yet to see anything that holds a candle to it. And that was the tail end of downtown nightlife. I didn't get to experience all the other stuff. Danceteria, Fun House. It was a different era where there were no restrictions.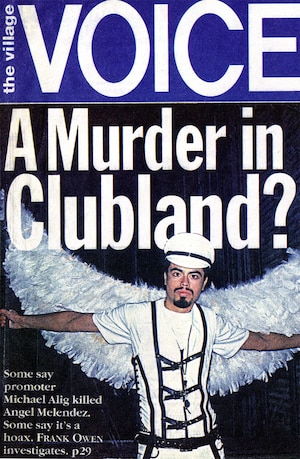 Are we romanticizing it too much? Or are we not romanticizing it enough?
I do think it was a time where people took more chances. It was more about art and creativity. Whereas today it's about commerce. It's funny to me that it feels a bit more sterile now than it did back then. But, also, in that era, the gay scene and the transvestite scene was integrated into the club scene. That was what always attracted me to it. You escaped from everyday life. There was this secret society of hidden parties. It wasn't just about Limelight. That was the thing that just exploded from it. Things weren't as expensive in Manhattan then. And then Giuliani came in and cracked down, and everything changed.
You met Karl O'Connor (AKA Regis) for the first time when he came to New York right before everything changed, if I have the story right.
Yeah. At that time I lived above Rogue Music, a music instrument store in New York where I worked. Downstairs there was this club called Downtime. The industrial night from Limelight had moved there around that time, so there were all these club kids basically hanging out in my basement. I remember when Michael Alig murdered Angel... He was so delusional by this point. On heroin. Ketamine. I remember Michael was out front of my building bragging about it. That was just the kind of guy he was. It was never a surprise to me, what happened to him. He was always out of line. All of those people were destructive. So many of them died.
What did Karl make of this? I imagine coming from Birmingham in the UK this was all very interesting to him.
I've since come to realize that, in England at that time, that they really worshipped New York. When Karl and I will talk about stuff, he'll talk about the Rum Runner in Birmingham. Which in the early '80s was the New Romantic scene, New Wave. They had this really famous night where Duran Duran was the house band. That's where they got started. If you go on YouTube and look it up, the videos were incredible. The costumes the people were wearing. And in interviews, they would say, "Yeah, we were just trying to recreate what we saw happening in New York."
So Karl grew up being into things like Soft Cell, whose album Non-Stop Erotic Cabaret had this whole New York red light district vibe. Which, at the time in the '80s was around 42nd Street. When he came to visit I was living on 30th, between 7th and 8th, and when you walked up to 42nd Street...
It was a Non-Stop Erotic Cabaret.
Exactly. [laughs] It was everything he was watching as a kid on TV, and it was right there. That was what sparked our friendship. I would go over to the UK and he would take me around to Wales and places like that. It was an exchange program. [laughs]
You've done projects of this size before, but do you think that the experience of Sandwell District helped put you in a position where you were ready to approach an album as Function?
Yeah. I mean, Karl is the center of all of this. He's really encouraging. When [his label] Downwards started it was a very exclusive thing. He was getting a lot of demos that he didn't want to release on there, but he was doing other things where he would give people a chance, helping them with P&D deals... It's something special that you normally don't come across. It's really selfless. He just does it to get people to express themselves.
Were you surprised at how big Sandwell got?
Did it get big?
Skrillex told us that we got him back into "acid breaks."
It got big enough to have some very interesting opportunities. You're working on a mix for Fabric right now. You traveled to Australia as part of a package tour with people like Deadmau5 and Skrillex.
When we were on that tour Skrillex actually told us that we got him back into "acid breaks." [laughs] He's a lovely kid, a sweetheart of a guy. I get why he's so big. A pop Aphex Twin. When Aphex first came out he was separate from everyone. There was house, there was techno. And there was Aphex. He has that same sort of appeal in the way that he's being perceived.
In the backstage of the Melbourne show, there were two signs. One was for "all artists" with an arrow pointing one way. The other said "Deadmau5" with an arrow pointing the other. [laughs] Even Skrillex had his own cubicle. It was like an office back there. It was towards the end of the night, and we're in the backstage area turning a corner just as Deadmau5 finishes, lifts his head off and goes off the stage. 15,000 people are going crazy. You couldn't have planned this better. As we're turning the corner, Karl just happens to singing the Mickey Mouse theme song. "M. O. U. S. Eeeeeeeeeee." Right into his face. All of a sudden his manager is there. The organizer of the festival. It got separated, but... [laughs]
I wanted to talk to you briefly about house music. You're obviously more known as a techno DJ, but I once went to see you in a club in Berlin and it was almost exclusively classic Chicago material. Where does that influence come from?
I once saw an issue of The Wire where they talked about the early '90s techno vs. house wars, and it's been the only time that I've really seen that mentioned recently in the press. In the early '90s there was a huge divide between house and techno. It was very much a war. When I first started DJing it was rooted in house and freestyle, but I also collected a lot of pop hits from the early '80s, Yazz, disco, stuff like that. I didn't really find out about the word techno until '91 with Limelight.
Were you aware of the wars?
Once I started playing out I noticed there was a huge separation. There were a few records that would cross over. I remember when Little Louie Vega would play "Spastik" and people would be like, "Woah. A techno record?" Some of the techno records that would get played in house sets that hit me were things like Renegade Soundwave's "The Phantom" or Sweet Exorcist's "Testfour." All of those Test records changed my life, especially "Testfour," because that's where the bass and bleeps and early Warp thing came from. It was very electronic and sounded like Kraftwerk, and wasn't this organic New York house. Then I started to hear Detroit records and everything changed.