Funk Archaeology: Johan Kugelberg's Cool Stuff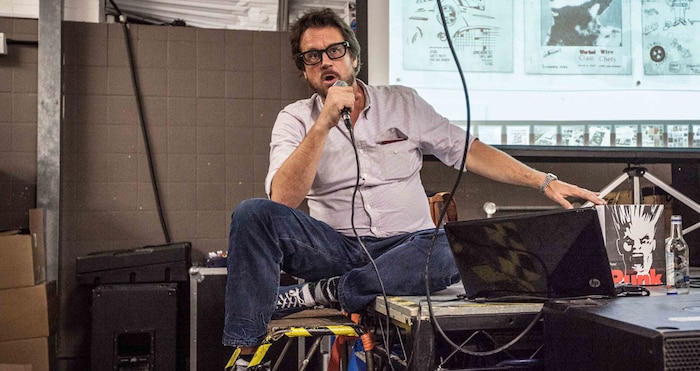 There are record collectors… and then there are people like Egon from Now-Again. Egon – who was the general manager of the Stones Throw label for 11 glorious years – is one of those rare creatures scouring the entire globe for the choicest bits of obscure wax, from Swedish psych to Nigerian soul. For this second edition of Funk Archaeology on RBMA, Egon visits one of his record collector buddies in New York for an epic listening session.


The time: this past summer. The situation: the wife and kid remained on in Lisbon after I boarded a States-bound flight. In LA, and feeling a bit lonely, I booked a last minute trip to New York to spend some time with my friend Johan Kugelberg. His family was out of town as well, so the timing was perfect. Well, there's a bit more to it than that: Johan and I have recently partnered in a publishing imprint, Sinecure. Our first book – a 512 page tome that chronicles the history of the American privately pressed album entitled Enjoy The Experience – was on the threshold of production, and there were quite a few kinks to iron out.
Then again, I was also feeling a yearning to be surrounded by cool stuff. And at the Tribeca abode that Johan shares with his family, cool stuff exists in great supply.
You see, Johan is the type of person you'd hear referred to as a curator, if that title wasn't so overused and borderline ridiculous these days. He does, in fact, curate exhibits in his Canal Street gallery Boo-Hooray. (Velvet Underground's first drummer Angus MacLise and European post-WWII avant-garde philosophers The Situationists are two subjects.) He also helped establish the hip hop archive at Cornell University.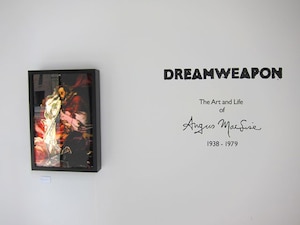 Perhaps more importantly, he's the kind of guy who is dedicated to saving the ephemera from various 20th century movements from the trash bin. The to-be-left-unnamed New York beat poet who passed away, leaving the bed-bug infested contents of his two bedroom apartment to be fumigated before the rarities could be moved to the Beineke Rare Book Library at Yale University? Johan and a small team of loyalists were there to preserve and catalog so that the material can be accessed for years to come.
Johan is also a record collector. He's not precious about most of them. They come and go – some as gifts, some as trades, some as fodder for his exhibits (or our books). To those who are nodded past the velvet rope, he's exceedingly generous with his collection. When, as a lead up to this piece, I asked him if he still had the Nigerian disco-psych-funk masterpiece by The Black Hippies – an album I'd first found buried amongst dozens of West African highlife albums five years prior – he, without missing a beat said, "Oh, you want that? It's yours."
Not that I was trying to glean the record from him in one of the protracted sets of swaps we've been involved in for years. I was trying to warn him that its value was now nose-bleedingly high, should any sniffer – Johan's term for the clammy-handed, Popsike-bookmarked-on-his-iPhone record collector – make it past the guard dog into this Luddite haven.
To those who are nodded past the velvet rope, Johan's exceedingly generous with his collection.
So: After perusing alternate-mix Velvet Underground acetates and binders full of old-school hip hop flyers, after noshing on the high/low pleasures of (American) Wagyu beef hamburgers piled atop starchy deli rolls and dolloped with Heinz chili sauce, we sat down in Johan's record room and he pulled from the stacks.
There were certainly different ways we could have approached a Funk Archaeology column: we could have pulled from dozens of disco-rap 7-inch oddities, stacks of Scandinavian psych or perhaps just looked through, well, nearly every Fela (and Fela-related) album. Or we could have investigated the plentiful-and-awesome dollar records Johan consistently buys to "play on the old gramophone." Some of those are quite good.
But it turns out that the best approach was just to play the records at hand and, when feeling the temporal lobe lose its composure and melt into the medulla, ask Johan for a bit of information on that liquefying platter in question.
The five best – all described in Johan's stream of consciousness flow – are collected here. If you don't catch every arcane reference, it's okay: neither do I.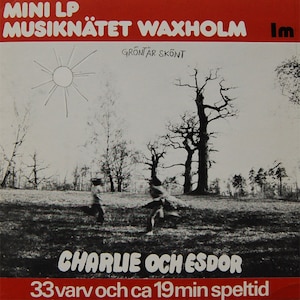 Charlie och Esdor - Grönt är Skönt
(MusikNatet Washolm mini-LP 45, Sweden, 1972)
Johan Kugelberg: Insane guitar-shred power-blaze by Swedish muso-hippies, here jamming ballistica ala High Tide's "Death Warmed Up" or the Wicked Lady LP. The lyrics are heartfelt ecological agro: they're all about nature being more awesome than city; green being all nice compared to gray. This heavy guitar-psych record – Popsike bupkis – is much hipper than some psychedelic fatso mega-rarity that exchanges hands for beaucoup loot every four days or so.
Hectic sitar plinka, crazed rhythm guitar plunka, speed freak drums and Greg Sage-esque ripping guitar leads: may this record arrive at your house in the coming weeks. I'd been aware of Grönt är Skönt since the early '90s, and at one point actually perused the MNW warehouse trying to wedge one out of oblivion. That didn't happen, and years later a noted Swedish heavyweight record dealer liberated the content of my wallet for a copy that hailed from a radio station archive. It was unplayed; it is most certainly no longer unplayed: in fact it has started to snap, crackle and pop (or Knisper, Knasper and Knusper as the Rice Krispies troika are known in Dutch), but what are you gonna do? Soundfiles ain't records, and records sound good and are packaged so, so good – which, come to think, might be part of the reason that this one is so difficult to obtain. This 7-inch 33 rpm four song EP is wrapped in an 8 ½ x 8 ½ sleeve.
Sand - Golem
(Delta-Acustic, Germany, 1974)
Johan Kugelberg: One of David Tibet's favorite albums, and that statement is a potent one, believe you me. Within the realm of our favorite British poet's cultural idiom, Tibet is always right and never wrong in his cultural assessments. Without David, most of us would not be aware of Shirley Collins, Comus, Bill Fay, Mahogany Brain and, on a more mainstream tip, our boy Antony and the Johnsons. Or Sand: David tracked the band down, reissued their impossibly rare single album masterpiece as an extended twin set on the popular compact disc format, and produced one of the tightest/best reissue packages I know.
Hearing the album for the first time is almost disorientating: It can't be easily shoe-horned as psych/kraut/weird/noise/how's your mom. It spans decades and genres effortlessly, but does not land in any specific place. Not unlike the best stuff by David's band Current 93 come to think. Golem is pastoral, creepy, elegant, floating into early music territory, sometimes vibing like The Silver Apples or those magnificent early Suicide demos, but all in an ur-voice. It feels like an old, old, very old form of musical expression at work here.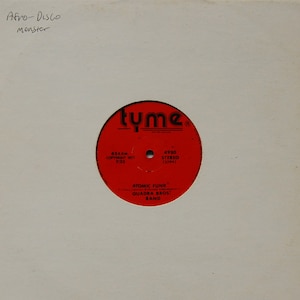 Quadra Bros. Band - Atomic Funk
(Tyme Records, America, 1977)
Johan Kugelberg: Our pal Jonny from Good Records in NYC unearthed this one and sold it to our dear friend Geoffrey Weiss. Whence, as my houseguest, Geoffrey placed said record on our 1200 all facades crumbled and the shiny red ass of the demon of want could be seen glimmering in the grooves. As Geoffrey is the kind of mensch who would be the biggest mensch in a room full of mensches, he handed the record over in exchange for something that, in a world of platonic ideals, was far less awesome.
This record scratches up to six different itches simultaneously:
Primitive garage disco a la Skip Jackson's yardstick "Microwave Boogie;"

Hard four on the floor boogie;

Propulsive Afrobeat along the lines of, say, "Super Feelings In Disco" by Afro;

Slashing acid-guitar set upon funky drums;

Nuffin' on the internet;

Nekkid Rekkid Gloat. (No! None of that!)
It is odd: When they show up, records of this magnitude are always crystal-clear, illuminating, visceral swirlies into the great toilet of human beauty; their micro-tribal belonging doesn't really matter. This is human music that provides a global emotional connect. Once at an Andrew W.K. show, a bunch of frat-luggers started chanting "USA-USA-USA" between songs, Andrew W.K. grabbed the mike and lead the audience in a counter-chant of "Planet Earth-Planet Earth-Planet Earth." This record makes me feel that way.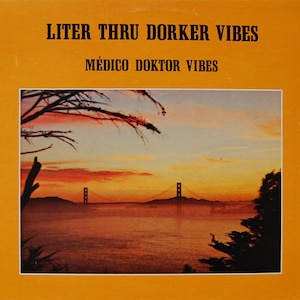 Medico Doktor Vibes - Liter Thru Dorker Vibes
(Bi Russel Records, America, 1979)
Johan Kugelberg: Another one that came to my house via Geoffrey's house via Will Louviere's house. This happens frighteningly often: Years ago, I knew the eBay aliases for Robert Crumb and two of his 78-collecting buddies. This was back in the day when you could still check the IDs on everyone bidding on an auction. Well, more often than not Crumb and his two cronies were the only bidders beating each other up over some rare jazz blues masterpiece. A cartoon legend in my buddy Mike's exemplary garage punk 'zine Ugly Things illustrating a room of three rekkid collectors read:
"This is one of only three known copies."

"Yeah! And me and Larry own the other two!"
So that kind of stuff goes down all the time. With Medico Doktor Vibes, what I am trying to illuminate is: sometimes records don't travel for financial gain, as is common in the world of high-end antiquarian books. This certainly happens, but in the (delighting and amusing) triangulating in play here, I'd like to think that there are some records that need to live at a buddy's house more than they need to live at mine, and vice versa.
There's a duality among dealers and collectors: Sniffers and Stylers. Stylers style you cool discs, and do it in style; Sniffers, on the other hand, sniff your records out, and sniff around until they've sniffed you out of them. Geoffrey and Will are both true Stylers. Will styled Geoffrey with this record, and Geoffrey styled me. I styled Geoffrey back with (I hope!) some amazing discs, and, as we've swapped records for close to a quarter of a century, it will even out sooner or later.
Liter Thru Dorker Vibes is one of the greatest records I've ever received from Geoffrey: it is a ludicrous headstand of outsider disco-dom, not sounding like anything but certainly spiritual kin to those two first private-press Cybotron singles, or the inside-out noise-disco of 23 Skidoo.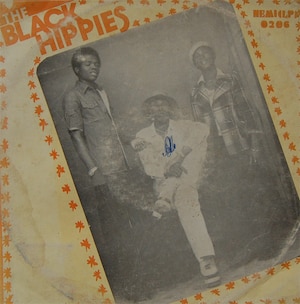 The Black Hippies - The Black Hippies
(EMI, Nigeria, 1977)
Johan Kugelberg: When I moved from Sweden to America in 1988, I sold quite a lot of my records and, like a schmuck, sold a lot of my Fela Kuti records as I, like a schmuck, thought that I could easily re-purchase them cheaply in New York City. You know what? That did NOT happen. It took years and it was sometimes brutally expensive, but I've gotten them all back. (With the notable exception of "Best of Volume Two Fela's Budget Special.")
This process, in turn, led me to some unbelievable experiences getting to know West-African guitar music in the days before everything was priced in the triple digits. I bought hoards of records from a kind and enthusiastic dealer named Osita, who'd let me come to his house and needle-drop on epic quantities of records. I rarely bought the funky ones, as my taste runs towards hard-swinging highlife/palm wine type stuff, but once in a while something would tickle the ol' record palate in genres other.
The Black Hippies is that kind of record, but it certainly reverberates inside Mr. Alapatt's cranium more than mine, so, when he leaves, he is taking it home with him. I am sure that something awesome will show up in the mail from him at some point. This is just how collectors who become pals roll.