Interview: Paul "Groucho" Smykle
Very much a behind the scenes figure, Paul 'Groucho' Smykle mixed some of the most intense dub works to be released during the '80s and '90s. As one of Island Records' in-house engineers, dubmaster Groucho etched his mark on prime works by Black Uhuru, Sly and Robbie and Ini Kamoze, and was probably the first mixer to subject African music to the extreme sonic textures of dub.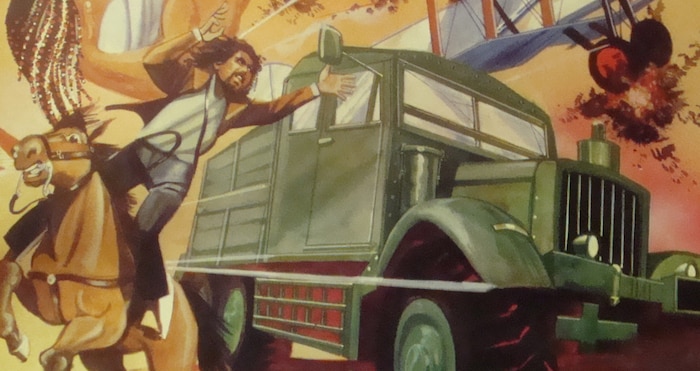 In his early days in the production sphere, Groucho also designed album covers, as well as stage backdrops for performers. A skilled audio engineer with an innate sense of adventurousness, Groucho's dubs are readily identifiable, earning him a high rank in the pantheon of dub originators active outside of Jamaica. Latterly a producer in his own right who has also scored film soundtracks, he continues to explore the limits of the form via current projects such as the forthcoming M Force.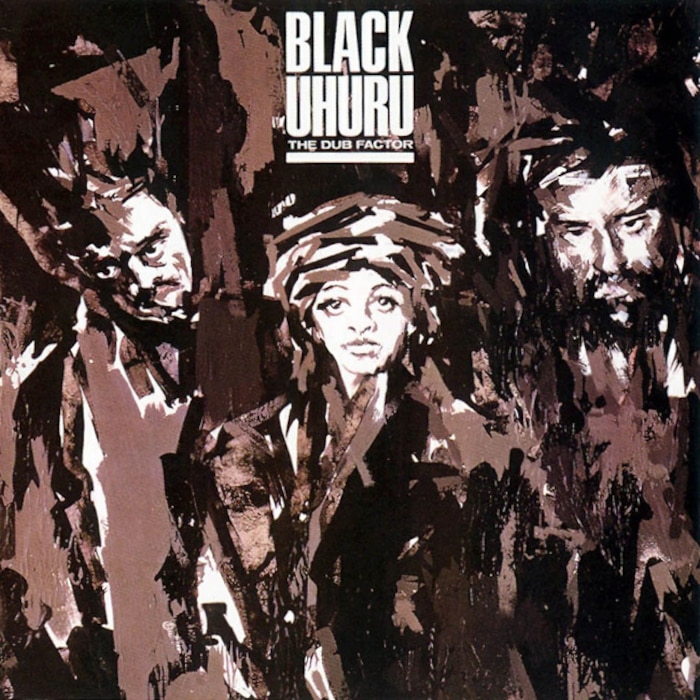 When did music become a significant part of your life?
I grew up in London, but every year I'd be in Jamaica with my folks; my parents came here in the '50s and my dad loved music, so Friday or Saturday nights, they would have a shebeen. My father used to play rock and roll, Blue Beat, and calypso, and one of my brothers was a big jazz head. My father can pretty much play any instrument, like guitar, piano, accordion, and my father had this thing that everybody's got to relate to some form of art, so he got a piano for my sisters, and I was starting to play it, but I was doing avant-garde stuff, and he didn't really like that. So we had a clash and I did art instead. What I like in art is really abstract, very surrealist, like Matta, Escher, Matisse, as well as Monet and guys from the 14th Century that do stuff inside those cathedrals in Florence.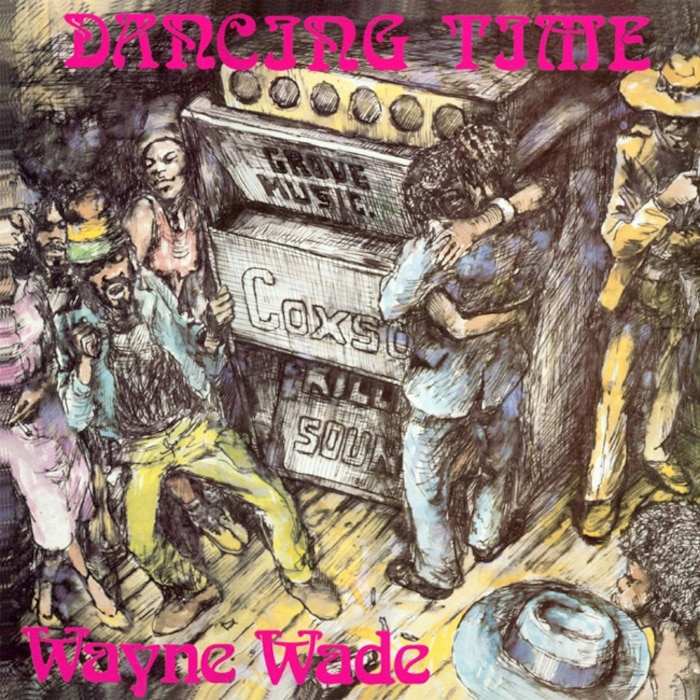 I have seen some early artwork credits, like the Wayne Wade Dancing Time cover from 1978.
The first artworks I did were backdrops for the stage for Rico Rodriguez, when I was working at Island.
How did you start working there?
Oh, that was just a skank – a lie. I was trying to get work doing artwork, and everywhere I went, they liked the artwork, but when they saw me, they said, "Sorry, there's no work." So one of my older brothers was saying "There's a record company down the road, they do artwork." So I come in and go, "I've come for the job, it was in the Labour Exchange." So they gave me a job somewhere, doing tape copies to begin with. One day (Island A&R man) Leslie Palmer saw that I was doodling, and he said, "Oh, can you do something for Rico?" I think it was a fist breaking through the ground, some kind of surrealist thing.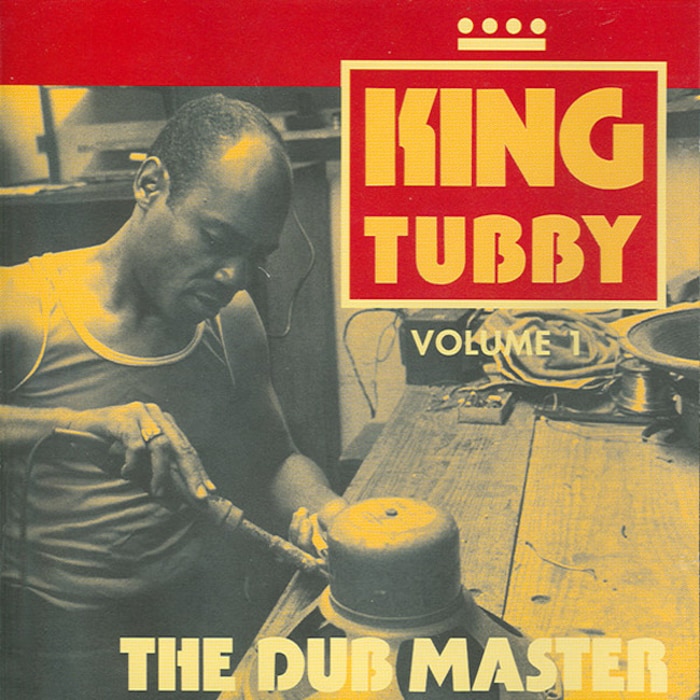 Your artwork's credited "Dubmaster Productions." Why?
Cause I'm a King Tubby's addict. One of my older brothers took me to see Tubby's sound in Jamaica, on Spanish Town Road, around 1975. It was wicked. Man come in pon them motorbike, horns up in the trees and music a thump. You hear it from miles before you get there. I might have been about 14. I used to like going to Gemini sound system, because it would have a lot of girls, but Tubby's had better music.
Did Island move you to the art department?
No, I kept doing tape copying. By that time, I was more interested in the studio. The first session I did was with Eric Clapton and Steve Winwood, but I didn't know who they were at the time. I remember the engineer, Terry Barham, being really scared. He was in awe of everybody.
You were the assistant engineer?
No, I was tea boy.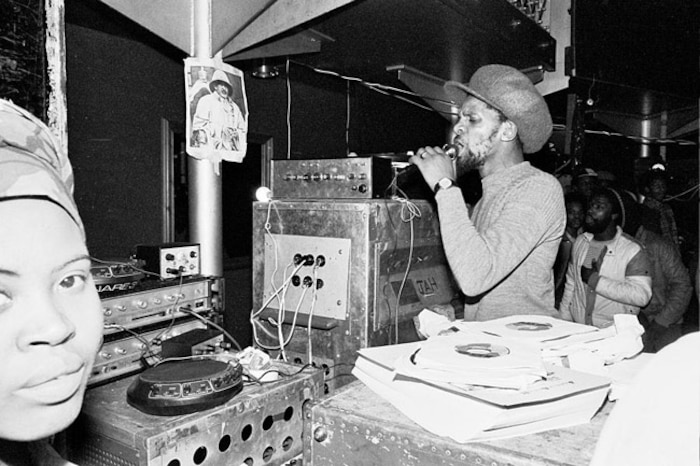 How long was your apprenticeship?
Oh, a good while. I worked with Alex Sadkin, who was doing African music, R&B, lots of different things. And Steve Lillywhite, I worked on lots of sessions with him with Ed Hollis, strictly rock & roll, and I did some with Karl Pitterson. But when the studio was free, I would go in and do experiments. I'd get Jimmy Haynes to play guitar, sometimes (bassist) Pino Palladino, just bring in people and do things.
I never really finished any of those, and the only person who would get some of it is Jah Shaka. And '79, '80, I'd also mix off dubs for Shaka, like he would bring in multi-track tapes with The Abyssinians, Johnny Clarke or Sugar Minott's stuff, and we'd mix off tunes overnight. I used to check Shaka's dances, but I got to know Shaka from the studio, and he's also a good friend of one of my good friends.
The first mixing credit I've seen comes on Rico's Take Five 12-inch, 1979.
Yeah, that's the first one that came out that I did, and it was an experiment, because I was just playing around with the tape, then (Island MD) Tim Clark heard it and said, "This is good. Put this out."
The Twinkle Brothers' Countrymen album, for Virgin, was another early work.
That came about because of what I was doing for the sound systems. When I was doing "Kunta Kinte" and all those tunes, everybody was going ballistic. Before that, I did a couple artworks for Virgin, like an I Roy LP, and (Virgin A&R man) Jumbo Vanrennen was aware of me, so he asked me if I would do the Twinkle Brothers' LP. I overdubbed bass, drums, whole heap of things.
Was your "Kunta Kinte" the same song Mad Professor released?
Mad Professor copied the original one that I did, cause it was the biggest thing going on the sound systems. The original was something from Jamaica by the group Creole, a Channel One group, called "Beware of Your Enemies," but I didn't use much of the vocal.
What about your approach to dub at that time? Raiders of the Lost Dub, [Sly & Robbie's] A Dub Experience and [Black Uhuru's] The Dub Factor are landmarks.
It was like a Tubby's vibe. The first thing is that dub is not far from jazz. Tubby was a jazz head, and most of those guys, including Lee Perry, they're jazz heads originally, and most of the musicians are jazz heads. So you got to get into jazz and I'm glad that my brother taught me about that.
Charlie Parker, Herbie Hancock, Courtney Pine, each generation comes with a new thing, and it's an attitude, so dub to me is almost like a technical form of jazz. That's how I look at Tubby's. He would express his interpretation of the music through dub, even though that wasn't the original concept. To me it was always like he was making jazz, even though it's dub, because he would use the equipment to make the textures, solos, breaks or whatever.
Were there specific pieces of equipment you were using?
I used to try and look for things that were unusual electronically. One phaser would have a different type of circuitry to another, and one may have double-transformer, and that would make for a smoother sound, or you might want something that was more abrasive that wouldn't have that part in the circuitry. I would get stuff from the rental companies, I'd phone them up and say, "What you got new?" and they would send me stuff, and I would just go through it. But people don't even use that technology any more.
Your King Sunny Ade remix is probably the first instance of African music being given the dub treatment.
I did a dub of "Ja Funmi" that everybody really liked, and I have some other dubs at home somewhere that I did for myself. With "Ja Funmi," I listened to the tune and liked the tune, and just tried to get a different vibe on it.
You remixed records by other African artists in the 1980s, including Wally Badarou from the Compass Point All Stars.
Oh yeah, "Chief Inspector." I did that like a go-go tune, cause I was in Washington DC for a while, working with Trouble Funk. I liked DC at that time, even though it was the murder capital of the world, because in the clubs, it's all live bands and no DJs: E.U., Trouble Funk, Chuck Brown, everybody's playing live music and there's people dancing to that. So I came back, heard Wally Badarou's tune, and they wanted a remix on it; a guy in New York said, "Groucho, do what you feel to do," so when I said I was going to do a go-go tune, the English people said, "No, we just want it straight, as it is, a nice mix." So I gave them their version, and then I did a go-go version, added percussions and everything, and when I sent it to New York, everybody knew: "This is the lick."
Did you ever work at Compass Point?
Yeah. I did some stuff with Larry Levan and Francois K in the '80s. Very nice studio.
In 2001 you did the Quantum Dub Force album. Would you describe QDF as a live dub band, or a band-based live dub album?
It was just a dub album, but made a little different. I was doing a different kind of music, with Smutley, a drummer who used to be at Fallout Shelter, and a friend of mine called Seaton, an English/Irish guitarist. Then Jumbo heard the vibe that was going on and said, "Why don't you do a dub LP?" That music I was doing is very different, but it couldn't really work at that time. I don't think people were ready for it then, as it was a little abstract. So I said, "OK, I'll do a dub LP," and I wrote most of the tracks for the Quantum Dub Force album.
You are preparing to release the material you were working on before Quantum Dub Force, which you recently reconfigured. What is the project called?
Everybody was asking me what I call this type of music, so I just call it M Score. In physics they have a thing called M Theory, where they're trying to relate everything to try to come up with a theory of everything, but they don't actually have that together yet. The more they find out, the more they realise they know nothing. So with this music, the more you look into it, the more you realise you don't know anything, cause music is always changing.
The D-Command console you have indicates a Pro Tools environment.

Technology has changed, and you have to move with the times. In the '90s, when I was working in Florida a lot, Pro Tools was just coming, and I remember Nine Inch Nails were doing some stuff on Pro Tools, and you couldn't really do it on any other system. The level of manipulation of sound that you can do on Pro Tools, you can't do on an analogue board. On a Pro Tools system, you have far more variables, so if you get this system and you get an analogue board, everything is quicker, because you can only go this far.
There was a time when Pro Tools just had 24 channels, and I thought the system was good, but not ready; when they went to 32 channels, then I said, "OK, I'll deal with it," because I always thought 32 channels was a good number to do any kind of music on – you just bounce it down and get it right – and you can mix in 32. And then after, they double it up to 64, and you have all the plug-in capabilities, and the DSP gave you more juice, so it became more interesting. By the time we got to 1998, I was already thinking, that's the future, fully.
Do you still mix on analogue sometimes?
Sometimes. I remember the last thing I did was with Manu Chao, "Politik Kills," and I did that at Beethoven Street. It was nice, but you did it and you realised that you couldn't go further. Once you get used to this system, there are so much things you can do. But it takes more time.
Is there a point where you went from being an engineer to becoming an actual producer?
That's a very interesting point, cause being a producer isn't really even about necessarily knowing about music. It's more like getting performances out of people, and a lot of people don't really understand that. I worked with Harvey Fuqua, he did "Sexual Healing" and used to be in Motown, and for me, he encompassed the fullness of being a total producer, in the sense that he could dive into the music.
I remember we were doing some music at Island, they were working on Sylvester in the '70s, and he said to this English composer, "I want you to make me some English strings," so the guy came back with the strings, came with the manuscripts for everybody, and Harvey looks at it and goes, "Boy, this is great. I tell you what, I'm going to change these cello parts here," and he changes all the cello parts, and he goes, "Those violin parts, we could do this with it," and then he said, "We'll change the harp, doing this thing here."
But at the same time as being able to dive into the music on a theoretical level, he would also inspire people; when people would be singing, he would say, "You can get it a little bit better," he would coax it out of them. It could take all day to get that line, but he got that line. Whereas nowadays, you don't get performances that when you hear them, you think that people are really sincere. You get a performance, but it's not crafted.
There's a tendency to copy and paste choruses.
Yeah, but the audience knows it. There's a project I've been doing with this Portuguese girl named Patrina Morris, and it's done really well in Japan. Her stuff, it's all live playing, and everybody, when they hear it they go, "Oh, we really like this." She sings all the choruses, and if she doesn't get it right, we do it over and over until gets it as best as she can get it. And people have an affinity to it.
Back in the day, you'd hear this drummer playing a tune, you'd say, "Oh, that's Sly. That's Santa. That's Steve Gadd. Billy Cobham." You could tell. Nowadays, even if they did play it, they'll most probably loop the eight bars, and you won't be able to truly tell. Once I was working with Stewart Levine, and when the musician thinks he did really well, Stewart would push him and push him until he got better than that performance that he thought he did really well.
Stewart was one of those people that wouldn't come with notation and all that kind of stuff, he would just come with the sense of well-being in the studio, so the people working always felt comfortable. And he was always interested, always focussed on what they were doing, and he also had opinions, cause you know, you have some producers, they don't have an opinion, and I don't classify them as producers.
60% of being a good producer is also being a good psychologist.
Like you have some English people I've been on sessions with, and the musicians come in, they play something and it's not played very well, but the musician goes, "Yeah, I think that's good," and the producer goes, "Yeah, that's all right," and then the musician comes back later, and goes, "That sounds terrible. It's not very good, is it?" and the guy says, "Yeah, it's not very good." But you should have told him that from the beginning, and you should have pushed him.
Stewart would have done it in a nice way, even if he thought it was crap, he would have made you felt comfortable and said, "You know, you can do better than that, cause I heard you do better than that the other day." He just had a way with words, making people feel comfortable, because 60% of being a good producer is also being a good psychologist.
So you've taken on board some of these techniques?
I try to, but I don't think I'm as good as Stewart yet.