From ESG to LCD, Ed Bahlman's punk-funk record label, 99, is one of the most influential New York imprints ever.
The nondescript exterior doesn't show it but musical history was made at 99 MacDougal Street in New York's Greenwich Village. The address currently houses a couple Indian fast-food joints, one specializing in a sort of Punjabi burrito, but three decades ago a different kind of cultural fusion was being cooked up. Downstairs, in what is now another faceless Village comedy club, was the headquarters of 99 Records, a record-store-turned-record-label vital to the evolution of New York dance music, post-punk and hip hop.
Despite only 15 releases in less than five years of existence, 99 was among the most influential independent labels of its era, and that influence still reverberates today. A quintessential New York City label, 99 (pronounced "nine-nine," not "ninety-nine") sits somewhere between an American answer to the British label Rough Trade and a punky precursor to DFA. The label's sound was both distinct and diverse, touching on post-punk, disco, dub reggae and even avant-classical, highlighted by the exhilarating experiments in dissonance, repetition and volume of guitarist/composer Glenn Branca; the mesmerizing minimalist art-funk of ESG; and the percolating, polyrhythmic grooves of Liquid Liquid.
Though basically a shoestring operation run out of the MacDougal Street record store, 99 was briefly the most successful indie label in New York.
Though basically a shoestring operation run out of the MacDougal Street record store, 99 sold a remarkable amount of records with only minuscule distribution, and was briefly the most successful indie label in New York. ESG songs like "Moody" and "UFO" became club hits and would eventually provide sample fodder for hip hop artists like Public Enemy, Big Daddy Kane and The Beastie Boys. Liquid Liquid songs like "Optimo" and "Cavern" (the latter boasting one of early hip hop's most recognizable basslines) would inspire a generation of musicians, producers and DJs making the uncharted transition from indie rock to dance music. The label's lasting legacy was underscored when LCD Soundsystem chose a reunited Liquid Liquid to open their Madison Square Garden farewell performance in 2011. "LCD Soundsystem started with James [Murphy] and myself, almost in homage to Liquid Liquid in particular," explains LCD drummer Pat Mahoney. "They are our heroes."
The man (and the mystery) at the center of the 99 saga is Ed Bahlman, now in his early 60s. Back in his mid-20s, the Brooklyn native was an occasional club DJ and soundman with an omnivorous taste for cutting-edge music. In a 1998 interview with the zine Tuba Frenzy, Bahlman's brother Bill (himself a top NYC DJ during the late '70s and early '80s) said of Ed, "He has a remarkable ear. I know when I listen to music with him, he picks things out that I think would pass by so many other people."
The label's seeds were planted in 1978 at 99 MacDougal, in a clothing boutique called 99 run by British expat Gina Franklyn, and offering London-style punk fashions. Franklyn and Bahlman began dating, and he started selling independent singles out of her store. Franklyn invited Bahlman along on her buying trips to England, where she introduced him to Geoff Travis of Rough Trade, the West London record shop that had recently launched its own label. Franklyn and Bahlman would cram their suitcases full of the newest releases, and 99 soon supplanted Bleecker Bob's as New York's hippest store to score the newest British imports, winning a regular clientele of music fanatics including Thurston Moore and Rick Rubin. ("I spent hours there every day," Rubin recalled in a 2011 book).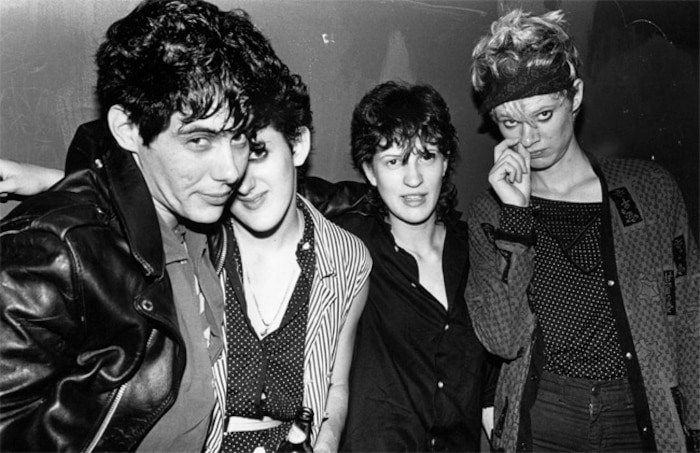 Another 99 store habitué was Branca, who brought in singles by his experimental rock bands Theoretical Girls and The Static to sell. Branca had recently begun composing what he called "19th-century classical music played by a rock band," and Bahlman was excited by the Branca live shows he'd seen. At Branca's urging, and inspired by a pep talk from Buzzcocks' manager Richard Boon, in March 1980 Bahlman issued 99 Records' inaugural release, Branca's Lesson No. 1. The 12-inch EP would sell a few thousand copies, and Bahlman soon released two 7-inch debut EPs by Bush Tetras (a jaggedly funky, predominantly female quartet featuring former Contortions guitarist Pat Place) and Y Pants (a performance-art-inspired all-female trio playing ukulele and toy piano, led by Branca's girlfriend, the artist Barbara Ess). The Bush Tetras' "Too Many Creeps" achieved local radio airplay and became a club hit that sold nearly 30,000 copies, touching off a "punk-funk" fever on both sides of the Atlantic. Thurston Moore would later write that, at the time, he thought the Bush Tetras were "probably the greatest band in the world."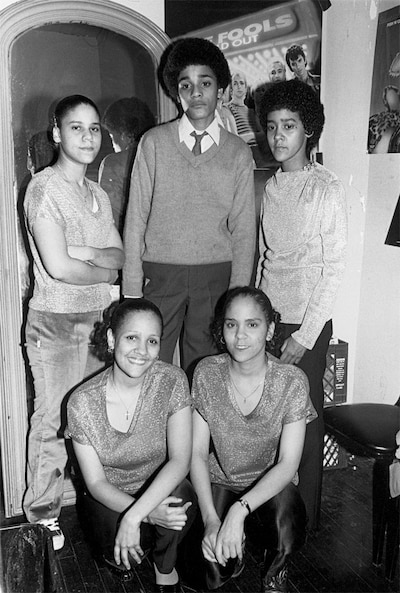 Funk aficionados would argue that that superlative is more accurately applied to the Scroggins sisters, AKA ESG (which stands for Emerald, Sapphire and Gold), four African-American teens from the E.R. Moore Houses in the South Bronx. Their mother had bought them instruments to keep them out of trouble: Renee on guitar, Marie on congas, Valerie on drums and Deborah on bass. As family bands go, the Scroggins girls were sort of a cross between The Isley Brothers and The Shaggs. Self-taught, they tried harnessing James Brown's soul power, but their brand-new bag proved more idiosyncratic, with a sparse, stark, DIY sound: echo-drenched vocals buried deep in the mix, jagged hen-scratch guitar, infectious basslines and reverberating layers of percussion.
Bahlman met the band at a talent contest; they came in last, but he was impressed enough to sign on as their soundman and manager; soon they were playing New York clubs like Hurrah. A gig opening up for the British band A Certain Ratio led to a meeting with Factory Records' Tony Wilson, who released their debut 7-inch single in England in early 1981 ("You're No Good"/ "Moody"/"UFO," produced impeccably by Martin Hannett), which Bahlman paired with three live cuts to fashion the ESG 12-inch EP on 99. Within a few years they'd play both the opening night of Factory's Haçienda club in Manchester and the closing night of New York's famed Paradise Garage, where "Moody" was listed as one of the all-time top 50 tracks.
The relentless batucada-like beats of "Optimo" possess the absolutely perfect amount of cowbell.
Equally cherished by DJs is the solid output of Liquid Liquid, a band of New Jersey émigrés who coalesced around bassist Richard McGuire (now a successful graphic artist whose work appears regularly in The New Yorker). The group regurgitated all the reggae, dub, Fela, Can, Clash, Slits and early hip hop they'd been digesting into powerfully tribal "body music" full of spellbinding rhythmic accents (the relentless batucada-like beats of "Optimo" possess the absolutely perfect amount of cowbell); singer Sal Principato's caterwauling, often unintelligible vocals were influenced by the Peruvian singer Yma Sumac. "I was into creating aural vistas that listeners could appreciate and immerse themselves in," says Principato. "I just wanted people to get an impression, an emotion that they could build upon and interpret."
"Both bands have a scarily minimalistic approach to songwriting, recording and performing," says LCD Soundsystem's Mahoney of ESG and Liquid Liquid. "It's like a Chinese painting – the empty space is just as important as the notes played and the whole is greater than the sum of its parts. That was a huge influence on LCD in our live shows up until the end."
On Bahlman's UK record-hunting trips he connected with other kindred spirits from whom he licensed an eclectic range of grooves, from deep roots reggae (The Congos and the Adrian Sherwood-produced Singers & Players) to dub-inflected post-punk (Vivien Goldman and Maximum Joy). "Ed was a very open-minded, interesting fellow," says On-U-Sound Records founder Sherwood, who became a friend of Bahlman's. "A bastion of good taste."
Goldman, now a music journalist and adjunct professor at NYU, concurs. "He was a bit of a musical adventurer, trying to go into previously uncharted territory," she says. "He wasn't just searching for the next big thing, he wanted to be exploring on the edges."
Bahlman not only carefully selected his artists, he also produced many of the records he released and even mixed sound at the performers' live shows. Unlike the abrasive, atonal downtown no wave bands, 99 artists were united by their body-moving abilities. Even Glenn Branca's thunderous, multiple-guitar-ensemble compositions like "The Spectacular Commodity" had a hypnotic, transcendent momentum.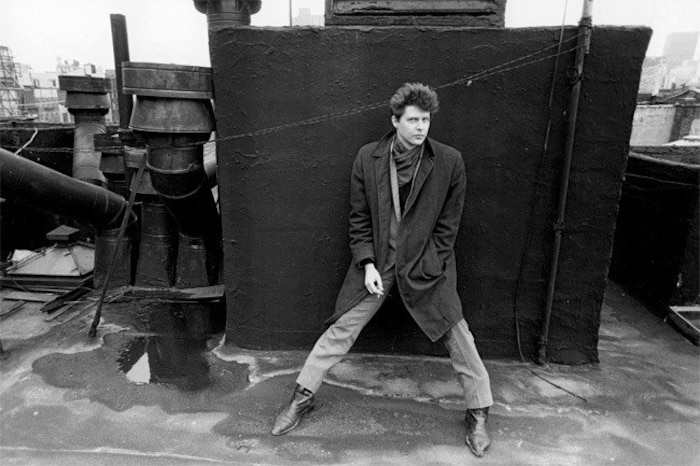 The label also had a profound influence on early hip hop. Bahlman mentored Rick Rubin and helped him distribute the initial Def Jam releases. More notably, ESG's work, especially "UFO," was sampled prolifically – and without permission.
In fact, the issue of uncredited appropriation led to 99's downfall. For six weeks in the fall of 1983, "Cavern," from Liquid Liquid's Optimo 12-inch EP, was a surprise hit on New York radio giant WBLS. The record sold 30,000 copies and then the airplay suddenly stopped, replaced by a track that sounded eerily similar: "White Lines (Don't Don't Do It)" by Grandmaster & Melle Mel. (Contrary to common misconception, the song actually has no connection to Grandmaster Flash, who had left Sugar Hill a year earlier in a dispute over unpaid royalties.) "White Lines" didn't sample "Cavern," but rather Sugar Hill house-band bassist Doug Wimbish played McGuire's bassline, while Principato's lyric "slip in and out of phenomena" was repurposed into the rap song's refrain, "something like a phenomenon."
Bahlman himself has been infamously impossible to reach, at least if the subject is music.
Bahlman filed suit against Sugar Hill, a label long reputed to have underworld connections. Though 99 eventually won (setting important legal precedent), Sugar Hill declared bankruptcy instead of paying up the $660,000 judgment, and the legal fees ultimately bankrupted 99 as well. Today Principato is reluctant to revisit the details, saying only, "It definitely was a learning experience."
The 15-month legal battle broke not just Bahlman's bank but his spirit as well. His relationships with Branca and ESG had soured, while McGuire's departure had destabilized Liquid Liquid. In late 1985, Bahlman decided to eighty-six 99. The 99 store had a clearance sale and Bahlman subsequently withdrew from the music world. Stories abound that Bahlman was "taken for a ride" and shaken down by the Mafia, that the mob repeatedly smashed the front windows and trashed the shop, that he suffered a breakdown, that he set fire to the 99 master tapes – but no one I spoke to could corroborate these reports. Bahlman himself has been infamously impossible to reach, at least if the subject is music. In response, several of the 99 artists have reissued their records without his permission – and thus without access to the master tapes – usually on British labels to exploit the legal gray area. Soul Jazz Records compiled ESG's work in 2000, for example, while Domino issued a UK-only Liquid Liquid collection, Slip In and Out of Phenomenon, in 2008.
Though 99's demise might have spelled the end of a unique period in New York's music scene, the label's reach stretched far beyond the city limits. In Detroit, a young Carl Craig first encountered ESG's "Moody" and Liquid Liquid's "Optimo" when he started going to the Music Institute in 1988. "My mind was blown because I hadn't heard anything like it since 'Shari Vari,'" says Craig, who would later sample Liquid Liquid for his Paperclip People project. "It was like discovering the Lost Ark! 'Moody' and 'Optimo' took James Brown's jungle music and made it more tribal. When I hear either today I still get excited."
"Optimo" and "Moody" proved to be leftfield favorites of groundbreaking disco DJs like house originators Larry Levan and Tony Humphries and Chicago house instigators Frankie Knuckles and Ron Hardy. House legends Chip E. ("Like This") and Murk ("Reach for Me") launched their careers with grooves based on "Moody." In Scotland, Optimo's JD Twitch and his partner Johnny Wilkes named both their DJing duo and their weekly Glasgow party after the Liquid Liquid song. "I was completely enchanted by that period in New York's cultural history, and Optimo the club night was my way of taking those influences and doing something contemporary with them," says Twitch, who also wrote a widely circulated history of 99 for Optimo's website in the early 2000s. "I think all the 99 releases had an impact on me in different ways. There isn't a dud amongst them."
Over the last decade, 99's innovations have impacted and inspired New York City's dance-music community. "99 repped a sound to me, within its very slim catalogue, that definitely helped define a certain distinct style of arrangements and songwriting," says Jonathan Galkin, a cofounder of DFA Records. "A direct 4/4 forward motion, a nod to the dancefloor, a nod to the avant-garde and a nod to some muse that only a few possessed at that time – Liquid Liquid definitely did, more than anyone. It was a big part of the equation when it came to the foundation of the DFA remixing too – those grooves and drums and cowbells could lock in and go on forever and build in a style like the best acid house."
Given his accomplishments, Bahlman's disappearance is one of music's more enduring enigmas. On tour in Japan, Optimo's JD Twitch even met an Osaka man wearing an "I Know Where Ed Bahlman Lives" button. I know where Ed Bahlman lives now too (in Brooklyn), but he still wouldn't talk to me for the purposes of this story, despite repeated email requests and a conversation I had with his partner. Yet it turns out Bahlman hasn't vanished completely. Over the last few years he's appeared frequently in neighborhood Brooklyn newspapers and even The New York Times, speaking out about wildlife and safety issues in Prospect Park. At the very same time I was trying in vain to track him down for this piece his picture appeared on the front cover of The Brooklyn Paper, accompanying a story on the dangers of rickety thin-ice rescue ladders.
People don't normally turn their back on their art side as completely as Ed.
So far nothing has tempted Bahlman to break his silence on the 99 years. "People don't normally turn their back on their art side as completely as Ed," says Goldman. "One is only left to wonder what traumatized or disillusioned him to such an extent that he cut himself off so completely."
One can only hope that some day Bahlman decides to come back in from the cold. Deserving of a new audience, the full 99 catalogue demands to be properly reissued and available domestically. In the words of DFA's Galkin, the label's legacy is "a treasure map or blueprint for future generations, drawn by some sort of happy accident."


A version of this article appeared in The Daily Note, a free daily newspaper distributed in New York during the 2013 Red Bull Music Academy. Photos courtesy of Laura Levine.

Header image © Red Bull Music Academy