Bugalu on Broadway: The Dawn of Salsa in New York City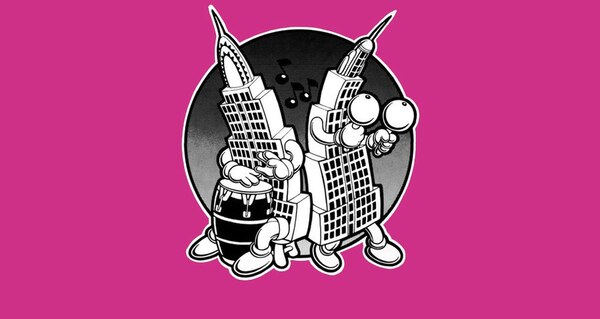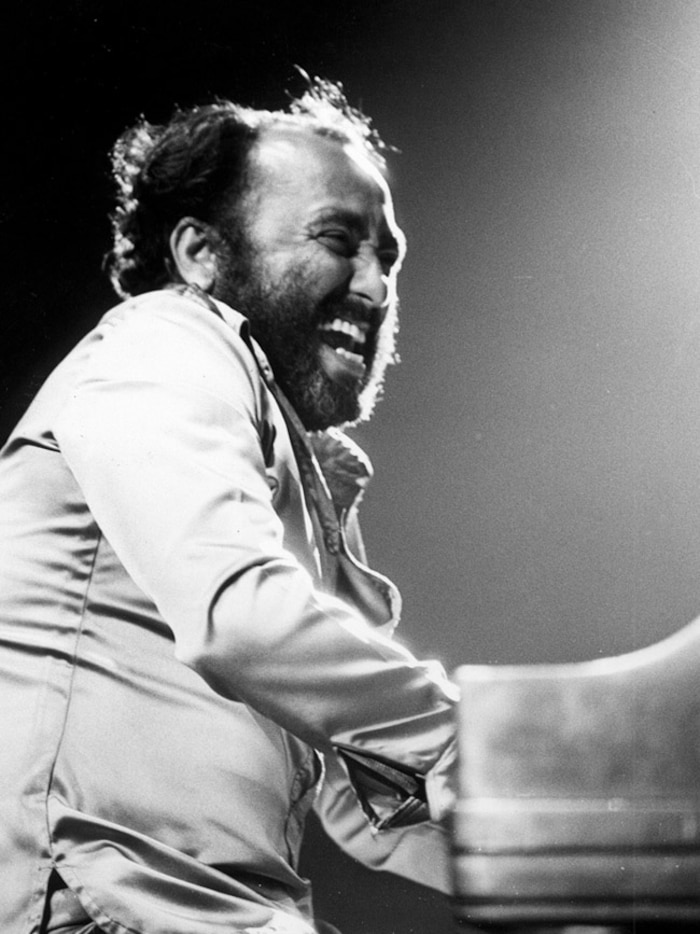 "There was the mambo," said Eddie Palmieri from his piano bench onstage at the Blue Note a few years ago, "and after that there was the cha-cha-cha. And after that there was the pachanga. And after that there was nothing." Palmieri was talking about the way new styles stopped coming into the US from the music capital of Havana after the Cuban Revolution of January 1, 1959. It was an ironic, or perhaps a modest thing for Palmieri to say, because what there was after the mambo, the cha-cha-cha, and the pachanga was... Eddie Palmieri.
Puerto Ricans became United States citizens in 1917, setting off a migration north that, by 1930 or so, made them the largest Latin group in New York. When the US clamped down on immigration during the Depression, it didn't touch Puerto Ricans like it did other Latinos. Operation Bootstrap in 1947, which aimed to industrialize Puerto Rico's agricultural economy, created an unemployment crisis that triggered a large wave of migration, mostly to New York, throughout the '50s. When jet travel became the norm in the '60s, Puerto Rico, a poor colonial backwater one-ninth the size of Cuba, entered into an open cultural circuit with the world's most connected city, while Cuba was closed off. By the time the US removed national quotas on immigration controls in 1965 and large numbers of people from other Antillean islands began arriving in New York City, the Puerto Rican community was already well established.
Most people in the US had never seen a Puerto Rican. The only mass-media image of them was as murderous, not-exactly-white delinquents in the feral, ballet-ridden streets of the 1962 film West Side Story (which was hated by many Puerto Ricans). Yet despite their small numbers nationally, Puerto Ricans had critical mass in New York. From there they had a disproportionate impact on the music of the world via the imperial reach of the city's media power – through their own recordings and, more broadly, through non-Latin pop and jazz records that borrowed heavily from Latin music.
Most people in the US had never seen a Puerto Rican. Yet despite their small numbers nationally, Puerto Ricans had critical mass in New York.
Puerto Ricans were playing jazz from its earliest days in New York, and they've been part of every black music movement in the city since, through hip hop and beyond. Some sang doo-wop on the street corners they shared with African-Americans. Those who played mambo at Catskills resorts knew all about shtick. The classic Puerto Rican plena records were made in New York, and Afro-Rican traditionalists played bomba – but most importantly for our story, Puerto Rican musicians played the Cuban forms, albeit with their own distinct feel.
Eddie Palmieri was born in Manhattan to Puerto Rican parents on December 15, 1936, and raised in the Bronx. As a kid he used to tag along to watch his brother Charlie play piano in Tito Puente's band in the early 1950s. Coming up, Eddie played with superstar big-band vocalist Tito Rodríguez among many others before starting his own group, La Perfecta, whose first album appeared in 1962.
Charlie called his brother's octet a trombanga: it had the wooden flute of the then-popular charanga orchestras, but it changed the format dramatically by replacing the typical two violins with two trombones, one of them played by the hard-blowing Barry Rogers, the principal figure in establishing the trombone as a sonic signature of New York Latin music. Driven by Palmieri's intense, percussive piano style, La Perfecta was popular with both Latin and African-American listeners, to say nothing of the broad demographic cross-section of the Palladium Ballroom's dancers. "Azucar Pa' Ti" (1965) was a radio hit in New York, even with a playing time of nine-and- a-half minutes.
Meanwhile, Latin soul was happening. With blues changes, a snaky horn glissando courtesy of arranger/trumpeter Marty Sheller, a cha-cha-cha rhythm, fat percussion and a two-word chorus in English, Cuban conguero (conga drummer) Mongo Santamaría's surprise-hit recording of the young Herbie Hancock's tune "Watermelon Man" reached number ten on the Billboard pop chart on April 27, 1963. It definitively established the tumbadora (the conga drum, introduced into jazz by Chano Pozo with Dizzy Gillespie in 1947) in African-American music, where the instrument subsequently became central to funk. In the wake of "Watermelon Man," Mongo worked six nights a week for largely African-American audiences while recording covers of soul hits for Columbia. When producer David Rubinson teamed him with trap drummer Bernard 'Pretty' Purdie, they created a Latin-funk fusion that would inspire the early days of disco.
But "Watermelon Man" didn't have much direct impact on Latinos in New York. They were feeling "El Watusi," a three-chord pachanga (uptempo Cuban dance style) with charanga violins and fat congas that pointed the way to a New York Latin soul style. Recorded by Nuyorican conguero Ray Barretto with his Charanga Moderna, it entered the charts the same week in 1963 that Mongo's record peaked. The name "El Watusi" was a nod both to the 1962 African-American dance fad and to Barretto's height; he was a giant of a man who made the congas look tiny.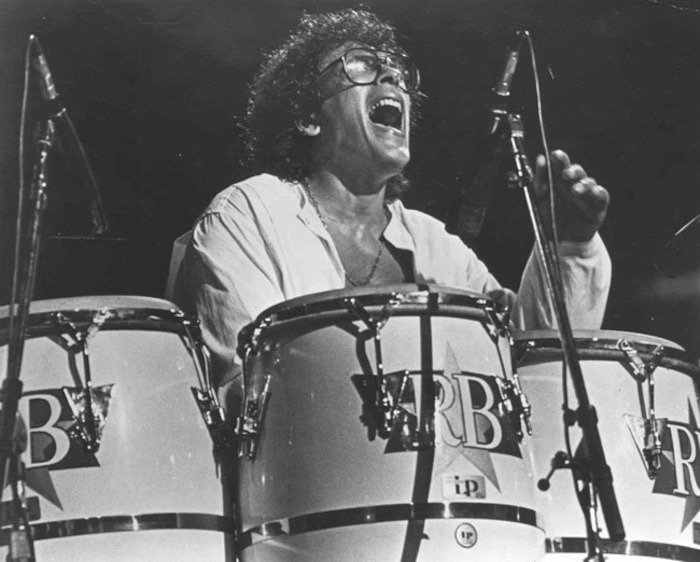 The mambo had lived its hottest moments at the Palladium Ballroom with Machito, Tito Puente, Tito Rodríguez and many more, but that legendary room, which opened in 1948, closed in 1966; La Perfecta was the last band to play there. As a generational shift took hold, with social dance in a post-twist crisis (because teenagers no longer knew the rudiments of partner dancing), a bubbling Latin-soul movement boiled over, aimed squarely at crossover radio play and branded with a trendy name appropri- ated from a string of African-American dance records that began in 1965 with Tom and Jerrio's "Boo-ga-loo."
Retroactively spelled bugalú, it was homegrown New York Latin music, most typically based on a simple Cuban-style tumbao (groove) with a handclapped R&B- type backbeat. (Though the Spanish spelling was not in common use, I use it in order to differentiate this style from the African-American boogaloo.) It was usually sung in English or bilingually, often in a style that imitated African-American soul singing, though not always convincingly.
The most irresistible bugalú record was probably Pete Rodriguez's "I Like It Like That" (1966), and its biggest national hit was the Joe Cuba Sextette's "Bang Bang," which reached #63 on the Billboard Hot 100 in November 1966 and went top ten on many R&B stations. (The "beep beep" hook of "Bang Bang" was recycled in 1979 by Giorgio Moroder on Donna Summer's "Bad Girls.") Despite his stage name of Joe Cuba, Gilberto Calderón was a New York-born Puerto Rican whose friends called him Sonny. When bugalú came along, his "Sextette" was already one of the most popular groups in town, with José 'Cheo' Feliciano, a fantastic singer from Ponce, Puerto Rico, up front.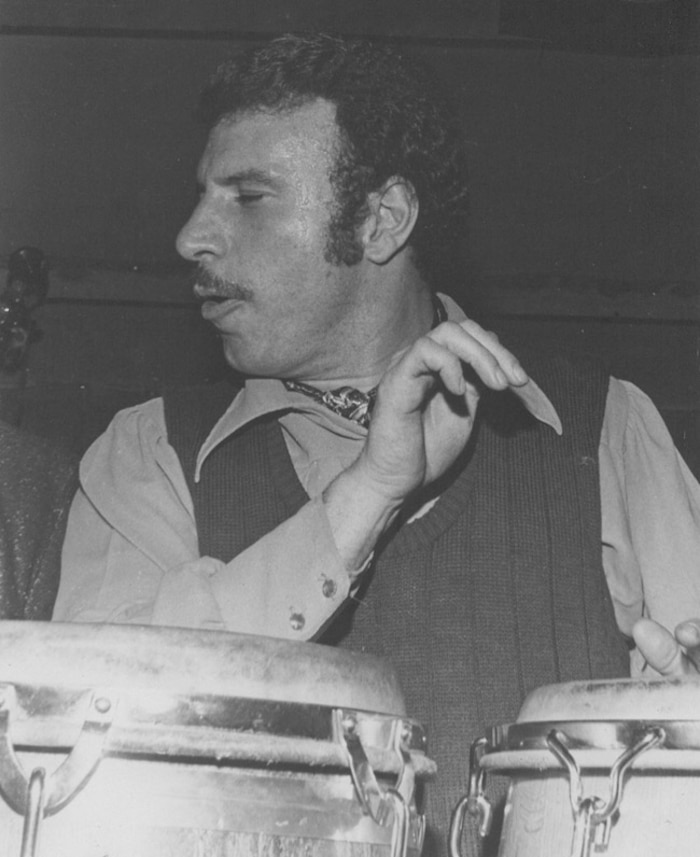 Bugalú caught on in Puerto Rico, where El Gran Combo, founded in 1962, released Boogaloos con El Gran Combo in 1967. South America was receptive, and bugalú tracks were recorded in Colombia, Venezuela, Ecuador and Perú. Older Latin musicians criticized it as lacking a strong sense of clave, the rhythmic key that allows musicians to fit different simultaneous rhythms together, but pretty much everyone recorded it: Machito's "Ahora Sí," Puente's "Shing a Ling," and Palmieri's "Ay Que Rico," all in '68, were killers.
But the Latin-soul wave crested and crashed. What followed was a back-to-the-roots movement of cultural pride that had been building all along, one that emphasized singing in Spanish for reasons of identity (as well as for marketing purposes) and with an emphasis more on albums than singles. This music looked to Afro-Cuba for inspiration, but it had become jazzier in New York, and the rhythm was more tightly locked.
While doing a radio interview in Caracas around 1965, the Puerto Rican timbalero and bandleader Willie Rosario was mystified to hear DJ Phidias Danilo introduce his record by saying, "Vamos a tocar otra salsa." We're going to play another... salsa?
There was more to salsa than Fania, but Fania was the boom.
Salsa was a flavor word that a singer might shout to animate the proceedings. Its use in music traces back at least to "Échale Salsita," the 1932 Cuban hit by Ignacio Piñeiro's Septeto Nacional. A 1962 album by New York-based Cuban charanga violinist Félix "Pupi" Legarreta was titled Salsa Nova (a play on "bossa nova"), and the word emerged in song titles like Joe Cuba's "Salsa y Bembé" (1962) and Ray Barretto's "Salsa y Dulzura" (1966). Danilo seems to have been the first person to use it consistently as a generic term in '64.
Salsa was not a specific rhythm. In the hands of Fania Records, which made the marketing push, it was a big-tent brandding idea for dance music mostly based on Cuban rhythms: son, guaracha, guajira, guaguancó, etc. Cuban critics complained that it was a way of avoiding saying "Cuba."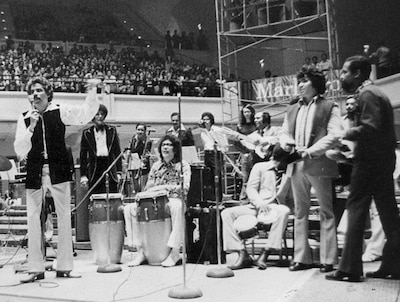 There was more to salsa than Fania, but Fania was the boom. Fania was founded in 1964 by Jerry Masucci, an Italian-American ex-cop who'd spent quality time in Havana, and Johnny Pacheco, who became the label's first artist and music director. A Dominican who arrived with his family in New York at the age of 11, Pacheco became known as a flute soloist in Charlie Palmieri's Charanga La Duboney during the pachanga craze that jumped out of Cuba in 1958. A dancer and visual comedian as well as a wisecracking bandleader, he was a marvelously engaging frontman. For Fania's debut release, Cañonazo, he recast the two-trumpet sound of Sonora Matancera, the most conservative of the big Cuban dance bands of the '40s and '50s, with the sublime vocals of the ponceño (from Ponce) Pete "Conde" Rodríguez (not to be confused with Pete Rodriguez of "I Like It Like That").
When the Fania All-Stars were founded in 1968 under Pacheco's direction, its heartbeat was Ray Barretto's congas. A veteran of the Puente band (he took over Mongo's chair in '57) and of many jazz dates, Barretto was a straight-arrow, hard-working, no-nonsense taskmaster who broke in numerous up-and-coming musicians. He hit his stride when he signed with Fania in 1967, breaking through with the Latin-jazz descarga (jam-session)"Acid" and moving from a charanga (with violins) to a conjunto (with trumpets).
The All-Stars' pianist was Brooklyn bandleader Larry Harlow (né Lawrence Ira Kahn), who teamed up with the young Lower East Side singer Ismael Miranda (and subsequently with Junior González) to lead a rootsy restatement of the style of Arsenio Rodríguez, the blind Afro-Cuban who created the prototype of the trumpet-driven salsa band with his conjunto in '40s Havana. Harlow also kicked off the resurrection of Celia Cruz's career by casting her in his high-concept Hommy (a takeoff on Tommy, The Who's rock opera) in 1973. Formerly a guarachera (a singer of guarachas, an uptempo, non-romantic Cuban style) with Sonora Matancera, Cruz had not been doing much in Mexico after leaving Cuba. Now she remained in New York where, recording with Pacheco and other bandleaders, she became a bigger star than she had ever been in Cuba. She was the only first-tier Cuban star of the New York salsa boom.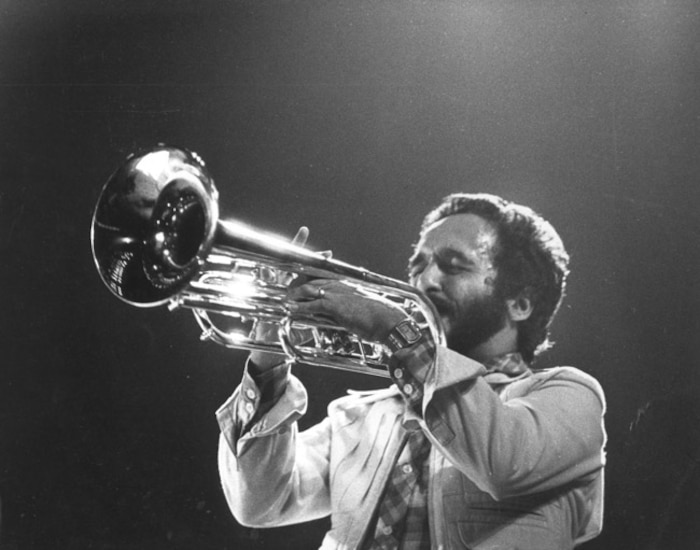 Pacheco signed the young Bronx trombonist Willie Colón to Fania when he was 15 – his mother had to be present at the signing – and teamed him up with a talented kid from Ponce: Héctor Pérez, professionally known as Héctor Lavoe. Colón's first album, El Malo (1967), had a punkish bugalú energy to it that horrified older listeners but was a big hit. Colón and Lavoe developed an international audience, receiving a rock-star reception in Panamá in 1972. Lavoe became notorious for his heroin addiction and his fragile emotional state (the two combined to lead him to an early death), but is still one of the most beloved Puerto Rican singers of all time.
Colón was a visionary producer, and was probably the Fania bandleader who worked the hardest to get away from the Cuban model. As his political consciousness developed along with his career, he delved into the musical heritage of Puerto Rico, adding the (mandolin-like) cuatro shredder Yomo Toro to the front line. As his collaboration with Lavoe was winding down, he entered into a new musical partnership with the Panamanian singer-songwriter Rubén Blades, who had formerly sung with Barretto. Their 1978 album Siembra, which looked from New York toward Latin America, was an artistic and commercial landmark, a hemisphere-wide success and the biggest-selling salsa album up to that point.
Except for the hairstyles and clothes on the album covers, the records of the New York salsa years haven't dated much. They still sound great today, and there are a lot of them.
Eddie Palmieri, meanwhile, always remained rooted in Cuban music, but he took a more experimental turn after he dissolved La Perfecta in 1968 – more complex compositions, more jazz influence, more extended jams (1974's "Un Día Bonito" clocked in at 14:49) and more political; check out Harlem River Drive, his edgy 1971 non-bugalú Latin/soul/jazz excursion with his brother Charlie on Hammond, or the following year's Live at Sing Sing. He didn't sign with Fania until 1981, for whom he recorded numbers that you'll hear at any old-school salsa dance today. But like Puente he disliked the word salsa – "disrespectful," he called it in a 2012 interview.
By and large these and the scads of other great musicians on the scene were not playing love songs. Salsa lyrics were cultural – educational, even. They spoke of dancing, drums, history, community, ethnic and national consciousness, food and street situations which the soneros (improvising singers) then commented on in improvisations, all while issuing a call to party.
Except for the hairstyles and clothes on the album covers, the records of the New York salsa years haven't dated much. They still sound great today, and there are a lot of them. Recorded in good studios with world-class engineers, these were time-is-money sessions that captured urgent performances by highly professional bands that made their living playing for dancers.
And then there was the movie.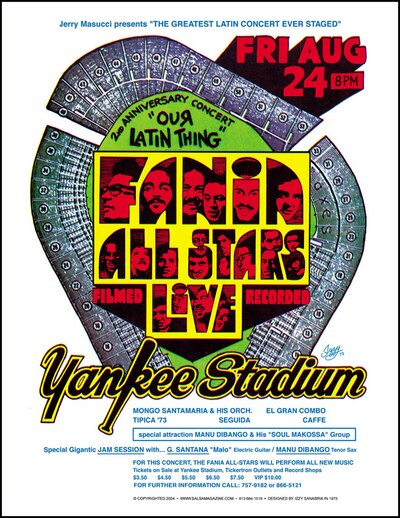 Years before spray-can taggers were considered artists, the opening titles of the film Nuestra Cosa Latina (Our Latin Thing) were done in graffiti, to the soundtrack of Ray Barretto's funky "Cocinando Suave." Centered on an all-star jam by the Fania All-Stars in August 29, 1971, at The Cheetah (at 53rd and Broadway, the same block where the Palladium once stood), and filled out with segments shot in the trash-ridden streets of the barrio, the movie was an expensive gamble on Masucci's part. Director Leon Gast hung 278 color-gelled lights in the club and brought in his own electricity. The music was shot live with five cameras in a packed house, capturing on film a cast of larger-than-life personalities at a peak of collective excitement.
Conspicuously absent from Our Latin Thing was the word salsa, which turned up in 1973 as the title of a local TV dance-party show hosted by Izzy Sanabria, and in 1974 as the title of a hit album by Larry Harlow. By then the term had stuck, and it was doing enough business in New York to be taken seriously: Brooklyn-born promoter Ralph Mercado was producing four-hour multi-artist salsa shows at Madison Square Garden.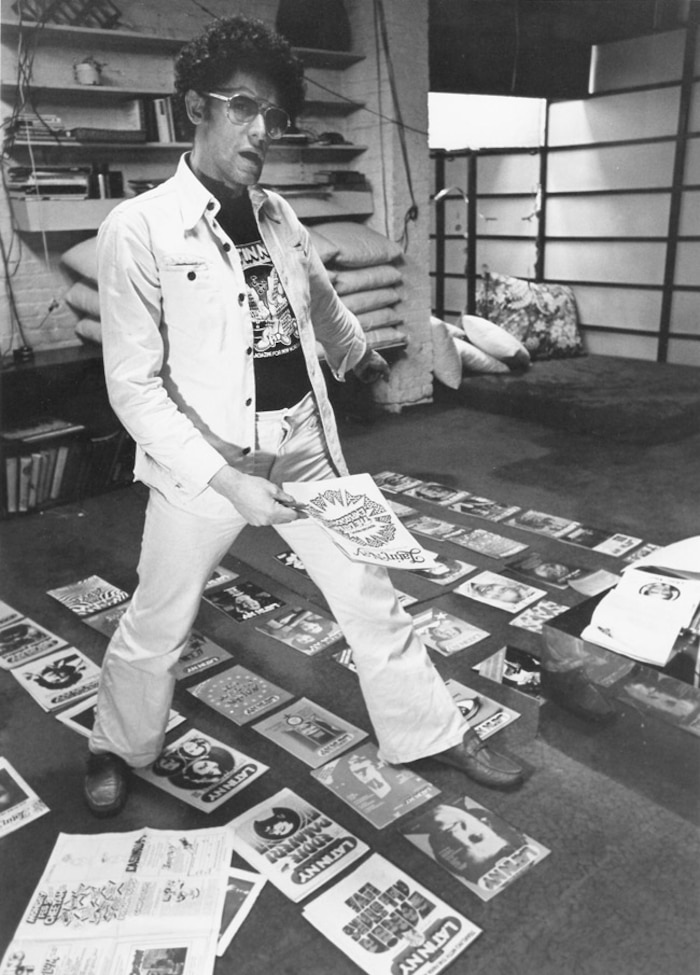 Puerto Rico embraced the term enthusiastically. El Gran Combo, already the island's most popular band, became its most popular salsa band. On the southern coast, Sonora Ponceña, founded in 1954, perhaps qualifies as Puerto Rico's oldest salsa band; founder Enrique 'Quique' Lucca recently turned 100. Meanwhile, dance bands all over Latin America were inspired by Cuban-style music in their own ways as salsa became a musical lingua franca. In Venezuela, the bass-playing lead singer of Dimensión Latina, Oscar d'León, went solo to become a hemispheric superstar, putting his own spin on the dance moves, phrasing and repertoire of 1950s Cuban idol Benny Moré. When d'León played in Cuba in 1983, he practically caused an earthquake there. In Barranquilla, Colombia, Fruko y sus Tesos lead singer Joe Arroyo went solo in 1981 to start his band La Verdad and become a national legend.
By the late 1980s, salsa had become the core of a radio format called "tropical." As corporate control of commercial radio consolidated, what radio programmers wanted was salsa romántica. As a formula, it was deadly, but something essential about salsa was lost in the transition to radio-driven love songs. As Willie Rosario put it in an interview with George Rivera, "the focus became the physical appearance of the vocalist, and not the music" – meaning that TV preferred to show skinny young white guys, even if they couldn't find the clave with a flashlight. The music was often tracked one instrument at a time to a machine-generated click, losing the sense of jamming that had pervaded Fania-era salsa. In the process, radio mostly stopped playing new records by members of the original salsa generation.
Salsa romántica dominated the salsa heard on radio in the '90s, even as it yielded airtime to merengue (the Dominican dance rhythm, distinct from salsa), and then bachata (also Dominican). Some soneros of high quality worked within the radio framework (notably Gilberto Santa Rosa and his protégé Víctor Manuelle), but hardcore salsa fans gave up listening to commercial Latin radio. Marc Anthony, a more compelling singer than his many imitators, became the biggest salsa star ever, but then transitioned over to English-language pop. He subsequently came back, though, and has a new salsa album coming out this year.
The Fania label hasn't been a force in more than 20 years, and its catalog has been sold and resold. The Monday-night Salsa Meets Jazz jams at the Village Gate stopped when the club closed in 1993. Ralph Mercado produced his 31st, and last, New York Salsa Festival at Madison Square Garden in 2006, and died in 2009.
Barretto's gone. Puente's gone. Pete 'Conde' and Celia are gone. But a lot of veterans are still out there playing. There's a salsa scene in New York, but you have to look harder to find it. Salsa's strongholds today are elsewhere: the Día Internacional de la Salsa in Puerto Rico this March drew 40,000 people. Perhaps the biggest salsa party anywhere is the Feria de Cali, Colombia, in which an entire city is given over to dancing for the last week of the year. Meanwhile, Cuba's doing something else entirely – they call it timba, and its major artists have been showing up to play in New York off and on since the mid-'90s.
At 76, with nine Grammys on his mantle, Eddie Palmieri's playing better than ever, and he heads up several different ensembles. He started a cutting-edge Latin jazz septet in the '90s; I saw them stun an outdoor crowd at Houston iFest in 2010. Sometimes he plays with a quartet. He goes out with La Perfecta II, who thrilled thousands of people the night I caught them at the Barranquijazz festival in Barranquilla, Colombia, in 2011, playing non-nostalgic reconstructions of his early '60s book, and he also leads the Eddie Palmieri Salsa Orchestra. Last year he played Hamburg, Bogotá, the Hollywood Bowl in Los Angeles, Tokyo, Melbourne, Johannesburg and many other places. This year he was named an NEA Jazz Master.
He lives in Las Vegas now. Sometimes he plays in New York. Go hear him.


Further...

Reading

Rondón, César Miguel. The Book of Salsa: A Chronicle of Urban Music from the Caribbean to New York City. Translated by Frances R. Aparicio with Jackie White, UNC Press, Chapel Hill.

Salazar, Max. Mambo Kingdom: Latin Music in New York. Schirmer, New York.

Streaming

Marian McPartland's Piano Jazz: Eddie Palmieri (1997).

Afropop Worldwide: "Bugalú," a one-hour radio documentary produced by Ned Sublette in 1993 featuring interviews with Joe Cuba, Tony Pabón, and Johnny Colón.

"History of Puerto Rican Salsa," 1995, featuring interviews with Rafael Ithier, Quique Lucca, and Willie Rosario.

Viewing

Fania All-Stars Live in Africa, Leon Gast's feature-length documentary of their 1974 performance in front of 80,000 people in Kinshasa, captures their "A" game.

Gigs

There's serious old-school dancing at the Salsa Wednesday's series, in the 4th-floor Crystal Ballroom of Taíno Towers, 123rd between 3rd and 2nd, enter where it says "Harlem Prep Charter School," 7-11 p.m. every Wednesday.

A version of this article appeared in The Daily Note, a free daily newspaper distributed in New York during the 2013 Red Bull Music Academy. Images courtesy of Izzy Sanabria.
Header image © Izzy Sanabria