Nightclubbing: Gay Clubbing in '70s London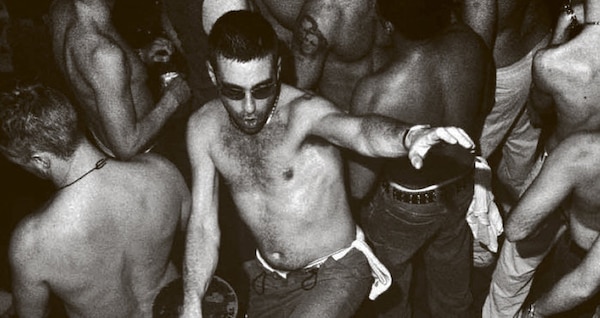 Before 1976, gay venues in London came in two categories. There were the members' clubs that provided dinner and dance, plus cabaret, for the stately-homo set. And there were the small dives with postage stamp-sized dancefloors where young queens would boogie their tits off to the latest 7-inch soul, funk and proto-disco imports provided by DJs such as Talullah, AKA Martin Allum, at Shanes in West Hampstead (where the DJ frequently doubled up as cloakroom attendant) and Chris Lucas at The Catacombs in Earls Court.
DJ Tricky Dicky was one of the first promoters to grasp the idea of the one-nighter – hiring out a pub or bar for the night, just to put on a gay night. His Dick's Inn Gay Disco operated out of straight venues as far afield
 as Croydon, Ilford, Bishopsgate and Euston, packing in a few hundred gay boys and girls at a time. With his pop and soul music reviews and disco chart in Gay News, Tricky Dicky received coverage from a gay press more interested in politics, cinema, theatre and opera than the commercial gay scene.
In 1975 Tricky Dicky held a one-nighter called Fangs underneath a hotel in Paddington and, much to his surprise, the place was full to capacity, with 600 dancing queens 
lapping up every minute.
 The night didn't last long
 due to interference from
 the venue's owners, who
 were none too happy about
 homos taking over their 
space. But Fangs, although
 not one of Tricky Dicky's 
longer-lasting nights,
 demonstrated that the 
scene had enough dance-hungry punters to fill even the bigger clubs.
1976 was a groundbreaking year for gay disco in London, thanks to the arrival of Bang, London's first gay superclub. Held at The Sundowner on Charing Cross Road every Monday night and subsequently opening on Thursdays as the night's popularity grew, Bang had a 1,000-plus capacity, a good, loud soundsystem, all the hot, new disco imports played by experienced DJs including Gary London, Talullah and Norman Scott. The venue also boasted its own lighting engineer, opening up the possibility of a string of dramatic lighting effects. That was also the year of the first commercially available 12-inch single, perfect timing for a night such as Bang, offering improved audio quality and extended track length for a bigger and better dancing environment.
[Bang] appealed to 
all sorts of queens – leather queens, clones, twirlers and trolley dollies... Bang was a major event on the scene.
Gary London, already resident at the Sundowner on straight nights, took his inspiration for Bang from the big gay clubs 
of New York, LA and San Francisco. For London's scenesters and discophiles, a trip to Bang in its early days, with its vastness and hedonistic disco energy, could be as liberating as going on a Gay Pride march (whose numbers in those days were scarcely bigger than a Bang crowd). Speaking at the time in Gay News, London proselytised for the newly overground clubs: "Discos create the right environment for gays. The right world where they feel secure and they can let their hair down (if they've any left) ... they like to dance to funky music – like Tina Charles, The Stylistics and Natalie Cole."
Legendary gay disco DJ Talullah, who
 up until his untimely death in 2008 was still DJing in London and abroad, had first-hand experience of New York disco at its height. "I'd moved to New York in 1977 for 18 months, where I worked at Studio 54," he recalled in 2006. "The first time I went there I fell over the velvet rope and landed at (co- owner) Steve Rubell's feet and when I stood up I asked him for a job. He put me behind the bar for a while and I stayed for three months and probably DJ'ed there about nine times until I got a summer season residency at The Sandpiper on Fire Island. When I came back from New York the disco scene was peaking and it was easy to get more work."
Talullah testified to Bang's unifying effect on the gay underground. "Everyone on the scene went there," he said. "It appealed to 
all sorts of queens – leather queens, clones, twirlers and trolley dollies, who'd come back from New York and tell us what the hot tracks were. Bang was a major event on the scene. We had a phone
 in the DJ booth that linked
 to the lighting desk and we'd call up the engineer and tell him to do a blackout at the next break, or use the strobe effects, or do a balloon drop. There was also a huge cinema screen at the back as the Sundowner was a converted cinema and we'd show Busby Berkley dance routines from all the old Hollywood musicals."
Bang took a leap out of the underground with its sheer size, but attracting that many punters inevitably led to a more commercial sound that wasn't always to everyone's taste. However, the number of smaller gay discos that thrived during this period proved that Bang certainly didn't have the monopoly on hedonism or disco. Plenty of venues retained their edginess, providing a more underground sound. El Sombrero – often known 
as Yours or Mine – on Kensington High Street was a more intimate, chi-chi affair, with a racially mixed crowd of Euro-queens, black soul boys, rich Arabs, pop stars, antique dealer-types, rent boys and their punters and the excitement of a flashing underlit dance floor. Rudy was an Italian DJ with a penchant for extending the disco breaks and playing lots of percussive tracks, with Timmy Thomas' "Why Can't We Live Together" and Michael Polnareff's "Lipstick" being two particular favourites. Make-up artist and webzine publisher Kenny Campbell remembers dancing at the Sombrero.
 "The first time I went there I took a blue [amphetamine] and me and my friend Black Michael danced the hustle – partnered disco dancing – so ferociously, that the whole dancefloor just stood round us and cheered. We were buzzing so much we walked all the way home to Tottenham!"
The first time I went to the Sombrero I took a blue [amphetamine] and me and my friend danced the hustle so ferociously, that the whole dancefloor just stood round us and cheered.
The Rainbow Disco, housed underneath the Rainbow Rooms in Manor House, was advertised in Gay News as playing all the best in American soul and funk, but also boasted disco music on the playlist. Chaguaramas on Neal Street – later to 
be The Roxy, a seminal live venue for the emerging punk scene – had a soul and disco music policy, with DJ Norman Scott at the helm. Louise's, a lesbian club on Wardour Street that served alcohol 'til 3 AM, had Diana Ross's "Love Hangover" as its unofficial theme tune and was later made famous following regular visits from The Sex Pistols and their coterie, The Bromley Contingent, who would troop over after gigs at The Roxy.
Meanwhile, Chris Hill DJ'ed at so-called "New York gay disco" nights such as West End Affair at Crackers in Soho and East End Affair at the Lacy Lady in Essex. DJ Tricky Dicky moved to up to the West End, finding a regular weekend home at Spats on Oxford Street. A more dressed-up, chic crowd could be found at Monkberrys, a cabaret and disco club in Mayfair where Grace Jones made her London debut appearance. Adams in Leicester Square was another West End gay club playing all the latest disco sounds. Talullah went from Bang to residencies at Napoleons in Bond Street and Scandals in Soho, which also featured a lit-up dancefloor and can be seen in the video for "Ant Music" by Adam And The Ants. "When I had the residency at Scandals (which meant playing six nights a week) they gave me a record allowance of £70 a week," he recalled. "It was a fortune in those days, so I could buy all the American and European imports I wanted."
Another key DJ on the scene was Chris Lucas from the Catacombs, who went on to play a night called Glades on Wednesday nights, upstairs at Global Village. As well as playing the best in contemporary disco, Glades had a very sexually charged atmosphere – one American visitor at the time who had hitherto found the London scene unfriendly and somewhat dated was delighted to note that men at Glades danced with their tops off. Lucas then went back to Earls Court to take his residency at the Copacabana, a much-needed large club for the area, then still the hub of London's gay scene, giving the regulars of The Colherne and Bromptons pubs some late-night action. The Copa was at the forefront of the emerging London clone scene.
But it took the arrival in 1978 of the Embassy Club in Bond Street to really bring an element of glamour to the gay disco scene. Jeremy Norman, chairman of historical high-society guide Burke's Peerage, was inspired to open The Embassy after numerous trips to New York clubs, where the openness and designer drug-fuelled lifestyle of the city's flourishing gay life contrasted with London's parochial feel (you could still get banned in some venues for sniffing poppers).
The Embassy was designed for an upmarket, mostly gay clientele who wanted something less provincial and claustrophobic. The space was meant for dancing, offering less seating and more floor, and the soundsystem and lights were state of the art. Bus-boys in shorts a la Studio 54 provided eye candy for the sophisticates and the club was briefly the place to be seen, with Sunday tea-dances legendary – just £4 for all you could eat and drink. The Embassy was immortalised in the video for Sylvester's "You Make Me Feel Mighty Real," but ultimately its popularity was its downfall, as the upmarket straight crowd outnumbered the gay element.
Norman was also behind the next major innovation – Heaven. At its time of opening, Heaven was the biggest gay club in Europe, marking Norman's attempt to extend his Embassy achievements while retaining a core gay crowd. Costing a staggering £300,000 to renovate, Heaven boasted 5,000 watts, overhead tweeters and bass horns built into the floor, plus a hi-tech light show complete with lasers, lightning-effect and planet-shaped neon spotlights and high-power floodlights. It was somewhere visiting Americans and Europeans would flock to, before returning home singing the praises of the London scene. It would also last much longer than the New York and LA discos it was trying so hard to emulate.
The key figure on the decks was Ian Levine, who as resident DJ at the Blackpool Mecca had been at the heart of the Northern Soul scene, broadening its remit to embrace disco after witnessing New York gay clubs on trips Stateside hunting rare soul. Levine was among the first on the gay scene to truly embrace mixing, keeping the tempo steady and putting paid to the Motown medleys commonplace at Bang, Copas or Scandals.
Leather and uniform were in, flamboyance – unless you counted the drag shows held out in the bar – was definitely out.
Heaven's attractions may have been its music and lights, but its prime purpose was for cruising and Norman was determined to prevent straight punters from taking over, enforcing a rigorous gay men-only door policy. His concerns were justified by the excitement Heaven's launch created. The London Evening Standard, reviewing Heaven's opening night, deliberated: "Heaven's biggest headache could be in deterring London's non-gay discophiles who could end up trying to pass for gay to get past the elegant bouncers at the disco's equivalent of the Pearly Gates."
Heaven's arrival coincided with new directions in disco. The beats got faster, mixing became essential and electronics replaced live instruments. Gay disco, Boystown or hi-energy (named after Evelyn Thomas's hit of the same name), became the soundtrack to the clone scene that took over Heaven and gay Earls Court. Adams in Leicester Square became Subway in 1981, claiming to offer London's first American-style cruise club. Musically, it offered a progressive mix provided by John Richards (the Hot Trax remix of Yoko Ono's "Walking on Thin Ice" being a favourite). With its strict over-21s, men-only policy, it also had a backroom for spunked-up clone-fests. Leather and uniform were in, flamboyance – unless you counted the drag shows held out in the bar – was definitely out.
By the 1980s, the commercial gay scene was taking off and disco fell out of favour as electronic, hi-energy sound took hold. Following the arrival of house, a whole new dance culture developed at places such as Trade, Queer Nation, Troll and DTPM.


A version of this article appeared in the 2010 edition of Red Bull Music Academy's Daily Note. Header image: Everynight Images / Debbie Bragg
Header image © Everynight Images / Debbie Bragg