London Calling: The Export of New York's '70s and '80s Underground
In the mid-'70s New York was a mythical place for the average Brit. It was referenced and reflected in mainstream UK pop, in monikers like Manhattan Transfer and in hits like Darts' "Boy from New York City" and Hello's "New York Groove." A steady stream of disco percolated through the British charts from the mid-'70s onwards, direct from Studio 54 and accompanied by grainy promotional films conveying a distant nightlife universe in which checkered cabs transported partygoers to velvet-roped Manhattan clubs, and where jet-set celebrities, sequins, sequencer rhythms and disco balls were a huge ocean and an impossible dream away. Even England's own megastars, from Bowie to Jagger, looked awestruck in the glow of its chromium gleam. Hell, the Rolling Stones went disco.
The hugely successful Saturday Night Fever would seal New York's status as the world's capital city of hedonism, spawning decades of bad imitations on British wedding-party dancefloors. From the success of the sitcom Taxi, set in a New York cab company (with its wistfully alluring theme tune), to Liza Minnelli starring alongside Robert De Niro in New York, New York, the groundwork was being laid for Manhattan as inspiration, a jumping-off point for future British popular culture. This was the Big Apple, a nickname not much used by actual New Yorkers, but a place that was fermenting in the British imagination – New York was cool and stylish, everything was bigger and better and hipper and the colors glowed that much stronger. To paraphrase Stevie Wonder from "Living for the City": New York, just like you pictured it, skyscrapers and everything.
The West Coast and Midwestern mainstays of '60s and '70s long-hair hippie/ country rock fell out of fashion after punk. New York, however, was a very different story.
The advent of punk rock in the UK in 1976 however, was huge. As the late John Peel said, it changed absolutely everything. In the US, Never Mind the Bollocks, Here's the Sex Pistols is nowadays regarded as a milestone in the classic rock continuum, somewhere between Springsteen's Born To Run and Nirvana's Nevermind. In Britain, however, it marked a transformation, one whose implications only became evident when the smoke of its impact began to clear. It was rock's postmodern moment, blasting traditional assumptions up in the air and allowing for a new way of music-making, in which ideas and attitude were more important than aptitude.
One of the most significant ideas of punk was to reject the old, craven relationship toward America as the authentic rock 'n' roll heartland. No more faux American accents, no more Rod Stewart and his Atlantic Crossing. The punk drawl was defiantly domestic and local in its accent, be it drawling Cockney or scathing Mancunian. It would sooner take inspiration from Europe than the States. The new anthem, as struck up by The Clash, was "I'm So Bored with the USA."
And yet it was never quite that simple. For sure, the West Coast and Midwestern mainstays of '60s and '70s long-hair hippie/ country rock fell out of fashion after punk. New York, however, was a very different story. New York – cosmopolitan, urbane, facing Europe-wards – was somehow exempt, not the "real" America. The city would duly enjoy its own special subcultural relationship with the UK. The Clash may have professed to be bored with the USA but they spent a great deal of time in the country, New York in particular (they can be seen capering about as extras in Martin Scorsese's 1983 film The King of Comedy). They also recorded "This Is Radio Clash," taking on board the rhythms and electricity of the city's burgeoning hiphop scene.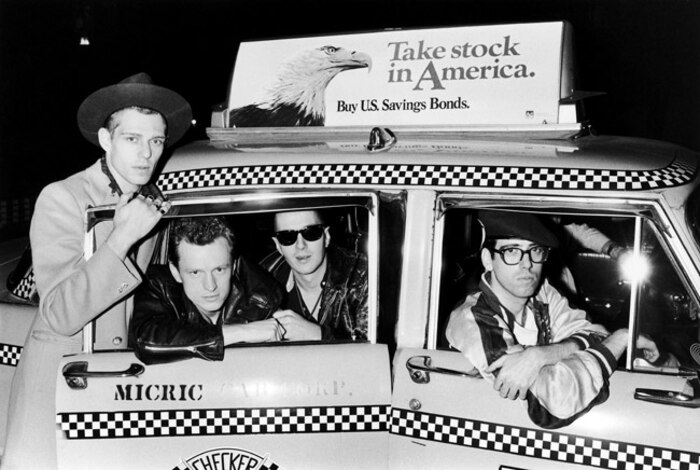 Moreover, traveling back and forth between London and New York was suddenly a realistic prospect in the late 1970s, thanks to British airline entrepreneur Freddie Laker and his transatlantic Skytrain, which slashed prices to £59 one way to NYC. The Police were among the bands that benefitted from this new deal, which enabled a two-way corridor of cultural exchange. In acknowledgement of the boost that Laker gave them in launching their career, the Police actually contributed to Laker's fund to revive the airline when it went bankrupt in 1982.
The New York/Brit punk connection was first forged in the mid-'70s. Prior to working with the Sex Pistols, Malcolm McLaren had managed The New York Dolls, having met the group at a fashion trade show in Manhattan in 1971. McLaren understood, well in advance of most everybody else, the potential revolutionary impact of sartorial presentation. When he was in New York, the sight of Richard Hell's ripped t-shirt gave him an idea.
Malcolm McLaren understood, well in advance of most everybody else, the potential revolutionary impact of sartorial presentation.
In the UK, punk was able to send its shockwaves the length and breadth of Britain, from Bristol to Glasgow. But in America it was largely confined to big city hangouts, which in New York meant the fetid vortex that was CBGB. It was here that The Ramones laid down the speed-driven, no-frills, minimalist framework for a more laconic, spat-out approach to rock music. The style was a touchstone for the UK new wave, providing a shot of adrenalin to the UK charts in 1977 via Elvis Costello, The Adverts and others.
CBGB was also the crucible for Patti Smith, Talking Heads and Blondie, who all hugely impacted the UK charts. Patti Smith was somewhat disdainful of chart success and disparaged Debbie Harry and Blondie for "going disco," but she herself reached number three in the UK in 1978 with "Because the Night."
It was Blondie who would score the greatest number of UK hit singles, having achieved success in Britain before hitting commercial superstardom in the US. But Blondie was always more than a sexy story of new wave platinum-blonde success, and the group used its status to engage with a whole gamut of influences, from rap to avant-garde music and fine art. Hanging out with such diverse characters as Andy Warhol (who added Harry to his pantheon of 20th-century icons), Robert Mapplethorpe (who photographed her), graffiti writer/ budding hip hop impresario Fab 5 Freddy (who appeared in the video for "Rapture") and beat novelist William Burroughs, Blondie avidly absorbed all that the city had to offer.
No song showcased this more effectively than the 1981 hit "Rapture." This rock/rap crossover was acknowledged by legendary Bronx DJ Grandmaster Flash, himself name-checked on the track, who in turn etched it into hip hop history by sampling it on his own 1981 single "The Adventures of Grandmaster Flash on the Wheels of Steel."
If an archaeologist were to examine the UK charts between 1980 and 1983, they might surmise that rap was a white innovation.
The New York rap scene began to impact the British charts back in 1979, with Sugarhill Gang's "Rapper's Delight" rising to number three. However, with the exception of Flash and the Furious Five's groundbreaking 1982 rap "The Message," the ensuing years weren't as fruitful for African-American rappers on the UK pop charts. If an archaeologist were to arrive from the year 3000 and examine evidence of the British charts between 1980 and 1983, they might surmise that rap was a white innovation. In addition to Blondie and Talking Heads offshoot Tom Tom Club (whose "Wordy Rappinghood" hit in July of 1981), Caucasian popsters who scored top ten "rap" hits in Britain included Adam and the Ants ("Ant Rap," January 1982); Wham! ("Wham! Rap," 1983) and Roland Rat, a rodent puppet who presented a morning television show ("Rat Rapping," 1983).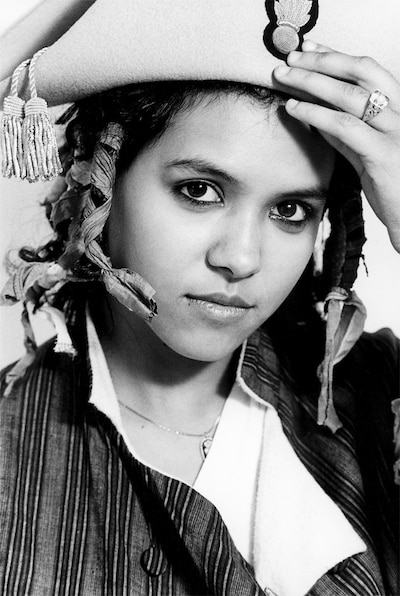 It was clear that bubbling beneath all of this was a captivation with New York's burgeoning hip hop scene. The attendant graffiti art and breakdancing culture was a source of fascination to McLaren, who once again trekked to America like a latter-day Dr. Livingstone in search of new discoveries. Looking for a support slot in New York for his latest protégés Bow Wow Wow, he chanced on a block party and encountered Afrika Bambaataa and the art of scratching. McLaren assembled The World Famous Supreme Team and, with the help of producer Trevor Horn, simulated the sort of scratch 'n' collage from "The Adventures of Grandmaster Flash on the Wheels of Steel." McLaren's "Buffalo Gals" was a UK hit in January 1983. Here the pre-sample-era effects were largely put together and orchestrated by Horn, co-star of the Buggles ("Video Killed the Radio Star"), whose production work with ABC and Frankie Goes To Hollywood would soon transform the sound of pop.
This appropriation went both ways. In 1982, Bambaataa had co-opted German electronic group Kraftwerk's song "Trans-Europe Express" for his own "Planet Rock," a track produced by Arthur Baker, a Boston DJ who had moved to New York the year before. The song was also the inaugural example of what came to be known as electro-funk, in which rap and synth pop melded seamlessly together.
The neon pulse of NYC's newly electrified club scene certainly affected the remaining members of Joy Division, who were newly reborn as New Order following the suicide of lead singer Ian Curtis. (Joy Division had never previously visited America, and Curtis had hung himself immediately prior to their debut tour of the country.) It was in New York that New Order met Baker, with whom they created their 1983 hit "Confusion," melding their own portentous, gothic sensibility with a triumphantly dance-friendly, electro-funk mix whose appeal has persisted for decades after the single's release.
Synth pop is commonly held to be a fancy, suspect Anglo-European invention, foisted on a reluctant US during the Great British Invasion of the early 1980s. That said, the influence and impact of New York on the British electro-pop scene shouldn't be underestimated. Performance artist Laurie Anderson recorded "O Superman" in New York in 1981 – it hit the top of the UK charts that same year. Its minimalist pulse and politically charged lyrics were in keeping with British pop sensibilities at the time. (British group The Flying Lizards had a smash with their deadpan, machine-like reworking of Barrett Strong's "Money" around the same time.) Even if its conceptual implications weren't fully understood by all who heard it, "O Superman" can be regarded not just as a novelty hit, but as one of the boldest-ever embraces of new music by English pop listeners, who were warming up to the cool, alien tones of a synth-dominated popscape.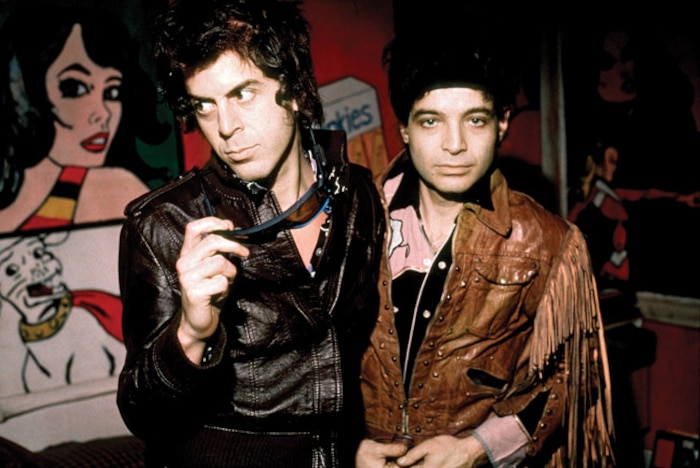 There was also Suicide, composed of vocalist Alan Vega and technician Martin Rev. The duo had formed in 1970 and even coined the phrase "punk music" on one of their flyers. They proved to be too punk for the punks; when they toured with groups such as The Clash, Suicide found themselves bottled off by disgruntled, lumpen audiences who felt that their one chord approach to music-making was two chords too few. Besides, where were the guitars?
In 1980, Suicide recorded a second, equally brilliant but much poppier album at NYC's Power Station Studios, produced by Ric Ocasek of The Cars. This would prove to be a template for subsequent British synth-poppers, most obviously the Pet Shop Boys and Soft Cell, the latter who followed the same vocalist/electronic template with instant success on "Tainted Love," a massive hit on both sides of the Atlantic. (In America it stayed in the Billboard charts for 43 consecutive weeks following its US release in 1982.)
Spiky, eclectic pop in which style, wit and appropriation took precedence over staid ideas of authenticity and content.
Suicide's second album was recorded for ZE Records, a distinctively diverse record company founded in 1978 in New York by Michael Zilkha and Michel Esteban. ZE's music was released under the banner of "mutant disco"; its artists included Was (Not Was), Material, James White and the Blacks, and Kid Creole and the Coconuts (which was led by the Bronx-born August Darnell, who had previously fronted Dr. Buzzard's Original Savannah Band).
ZE was fully embraced by the British music press. NME was particularly enthralled; the publication still enjoyed weekly sales of 230,000 in 1980, and was confident enough under the editorship of Neil Spencer to follow the more radical instincts of writers such as Paul Morley and Ian Penman. In parallel with The Face magazine, they championed a new and colorful breed of avant-pop with punk antecedents, abandoning the gray despondency of post-punk in favor of a spiky, eclectic pop in which style, wit and appropriation took precedence over staid ideas of authenticity and content. Indeed, "rockism" was now a dirty word, and the best new pop was sourced from elsewhere: Europe, funk, Bowie. To traditionalists it seemed like new hedonism, but it was actually a defiant response to the hard times of Thatcher's Britain – the music was most popular in the parts of the country hit hardest by the recession, such as the North of England and South Wales. The idea was to dress it up, not down.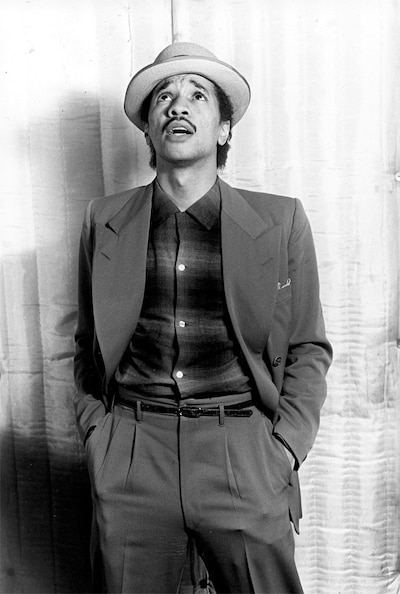 The exotic Stateside epitome of this new pop thinking was the impossibly dapper Kid Creole. Darnell's big-band music was a pointedly pre-rock 'n' roll throwback, an immaculately conceived, cartoon-retro cocktail that referenced Cab Calloway, Louis Jordan, Dizzy Gillespie, Carmen Miranda and Marlene Dietrich. Darnell had been conscious of The Clash; he had even briefly flirted with the idea of a "punk phase" before conceiving the Coconuts. He understood punk's postmodern rip-it-up-and-start-again ethos. He hung out in London with the New Romantics and Boy George and – with UK hits like "Me No Pop I," "Annie, I'm Not Your Daddy" and "Stool Pigeon" – he paid back all that he had absorbed with interest, achieving a level of success and recognition denied him in his home country.
The transatlantic cultural exchange of the late '70s and early '80s made for one of the most exciting and intelligent periods in pop history. It helped colorize punk as it made the transition to pop, helped expand its palette of reference and opened doors through which so much music and fashion subsequently flowed. By the mid-'80s however, new media channels such as MTV were accessories to a new global homogeneity in which image rather than ideas was the new currency. Blondie and Grace Jones did not thrive in the MTV era; Madonna and Sade did. This was a temporary displacement.
MTV is no longer a musical force. But the New York players of that era still burn bright as reference points, their coolness only intensified with time. Around the turn of the new century, a new generation of NYC bands – informed by the post-punk and radical dance ethos – erupted, among them The Strokes, LCD Soundsystem, Yeah Yeah Yeahs and The Rapture. All were evidence of the smoldering influence of those strange times between London and New York, when everything was up in the air and nothing could ever be the same again.


A version of this article appeared in The Daily Note, a free daily newspaper distributed in New York during the 2013 Red Bull Music Academy. Header image of Tina Weymouth and Grandmaster Flash dancing in front of a mural by Lee Quiñones: Laura Levine