New York Stories: Dave Tompkins
A tale of magical realism from an unusual Manhattan record store.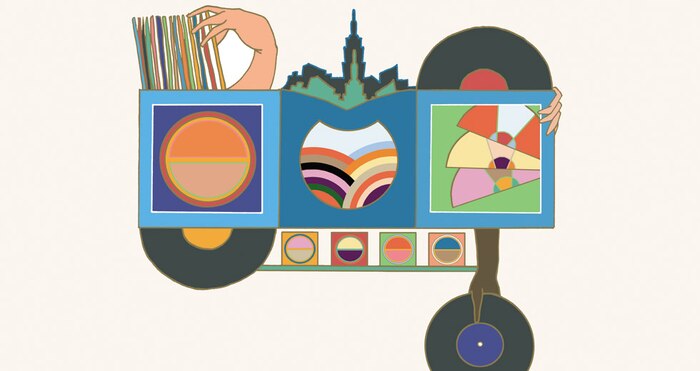 I once walked into a used record store troubled by a dream: Bushwick Bill had transformed into the mandrake-root creature from the film Pan's Labyrinth. It was an odd hybrid. Bill is the abbreviated rapper from the Geto Boys, a man who slept with one eye open after a self-inflicted gunshot wound. The squirmy nightshade root lived under a little girl's bed and/or in her imagination during the Spanish Civil War. Magical realism vs. "Mind Playin' Tricks on Me." Both possessed hallucinogenic properties.
I tried explaining the dream to Jared Race Boxx, proprietor of Big City Records, a tiny shop in the East Village. He paused from wiping down a Beatnuts 12-inch and assured me that the actual dream content was probably far more substantial than its waking memory: "You only awoke with the shadow of that dream." Mr. Boxx seemed not at all surprised to learn that Bushwick Bill had turned into a giant animatronic plant. Great production values, good night.
Since Bill was often predisposed to irreality (e.g., "Chuckwick," a song where he merges with a homicidal-doll franchise), I felt pressed to review some truths.
Bushwick Bill taught Snoop Dogg how to roll a blunt.


Bushwick Bill once saw a deer dancing in the snow in a forest outside Duluth.


Bushwick Bill lost a breakdance battle to a girl in Union Square.


Bushwick Bill threatened my friend with a dinner fork.

Bushwick Bill is from Bushwick.
Jared was accustomed to this sort of conversation, having shared an apartment with me for five years. When I played him my favorite New York electro record from 1983 – the dub version of Fantasy Three's "Biters in the City" – he described it as "a vacuum cleaner on the tarmac." This naturally evolved into "Chewbaccuum Cleaner." I knew then we'd get on just fine. We were often on different schedules, so the best way to catch up was at his shop on East 12th Street, between First Avenue and Avenue A. Though Jared often brought the store home with him, the records themselves – no matter how great – were never a substitute for being there.
The best record stores are conversations, serving the story and the legend as well as the customer.
The best record stores are conversations, serving the story and the legend as well as the customer. At Big City, I didn't want to spend too much time under headphones at the listening stations, preferring to eavesdrop on random exchanges from behind the counter. "I saw Super Lover Cee and Casanova Rud do a show at Ashford & Simpson's club Saturday night." Robert Mitchum's informant blues in The Friends of Eddie Coyle. A quote from Jack Johnson: "We eat cold eels, and think distant thoughts."
One day at the shop, Jared played an old clip taken from 102 Jams, a radio station out of Greensboro, North Carolina. Apparently their Jam Machine – an apparatus that played the intro of Guy's new jack swing hit "Teddy's Jam" for station IDs – had gone on the fritz. For 48 hours straight, listeners were barraged with "Oh jam! Oh jam!" The phones blinked in confusion. One caller suggested shooting the Jam Machine. Anyone who walked into Big City that week was treated to this malfunction of bygone hype technology. It became the sound of the day.
Big City didn't seem too bothered with present trends, unaware of its moment in a
 town that constantly had to be up on itself. Jared was more concerned with keeping 
up with his clientele – which was a microcosm of why we live in New York. On 
any given Friday you might bump into the
 guy who specialized in restoring ancient Egyptian wooden sarcophagi, or a used
 car dealer from Long Island who favored 
Herc from The Wire. A Japanese man from Pittsburgh with a pet ferret named after a Korean cracker stick covered with chocolate. 
A flea market icon (named Stinky Steve) who made frighteningly authentic bat calls while dancing to James Brown in ninja slippers. Q-Tip.
As is often the case in New York, dimensions can be misleading, an entire world in a block.
To my knowledge, Big City was the only place in
 New York where you could get your favorite member
 of A Tribe Called Quest to write your wedding proposal. 
My friend Allen, who once made a beat from the Family Ties theme, had Tip inscribe a copy of The Low End Theory to his girlfriend, customizing a line from her favorite Tribe song: "What is Allen without Nicole?" (She said yes). There are certain things that could only occur in New York, but this could only happen in Big City. This space, the width of a single grocery aisle, was more rarefied than the records on its walls. As is often the case in New York, dimensions can be misleading, an entire world in a block. Appropriately, Big City's bins were once organized according to the artist's home borough, keeping it as local as all get out.
Many times, the legend became the everyday. Producers and DJs who made records showcased on the wall were often customers, a transfer of analog format. Vinyl to flesh. The Texas transplant who produced all those Gang Starr albums would get that same giddy feeling as we did when entering the door. The four-eyed genius rifling through the cheap bins with weird gloves once made beats for Eric B & Rakim. I remember Lord Finesse appearing in the doorway after responding to a tip from Jared, utterly winded, as if he'd sprinted down from the Bronx. All perfectly normal – perfectly New York – finding your '90s rap heroes in a retail circumstance, trying to buy more time for their holdbags, their Sharpied names expanded by plastic stretch marks. You kind of never wanted to get over it.
I once brought director John Hughes to Big City so he could buy his favorite Jonzun Crew single, "Pack Jam," an electro-funk classic he played on the set of Sixteen Candles while shooting a deleted high school dance scene. A newly found film buff, Jared didn't realize who it was until the next day. ("Hey, wasn't that...?") You didn't have to leave with that expensive True Desire 45 that sounded like budget Nate Dogg. Sometimes it was just enough to see Danny Dan the Beatman toweling off his bald head in front of the cheap Latin bins.
On Big City's final day of business, over Labor Day weekend 2012, these apparitions were all in there sweating, paying tribute to a place that once blasted the most sub-frigid air conditioning in Manhattan. The counter was all donuts and beer and the walls were decorated with Jared's personal records. Lord Finesse roamed the aisle, eyes saucered. Behind him, people grabbed dividers bearing Jared's impeccable serial-killer penmanship.
Feigning a normal Friday, I found myself in a conversation about a late '80s rapper named Lawnmower Def. We marveled at the name. Lawnmower Def. What was he thinking? What were we thinking, thinking what he was thinking? Outside, a graffiti-tagged register was passed around to sign. I misspelled vacuum twice. The attorney who proposed to his fiancee via Q-Tip proceeded to tell me his clients included one of Chubb Rock's dancers.
I was reminded of a condition known as the "gripsweats," an exudation of nerves caused by wanting a record you can't have.
Back inside, Jared started gifting us pieces from his collection. As much as I like touting that it was never really about the records, I was reminded of a condition known as the "gripsweats," an exudation of nerves caused by wanting a record you can't have. Jared then passed me a 45 of a soul-crushing ballad by Reuben Bell ("It's Not That Easy") and an orange Mantronix beer hugger. "Grip it on that other level," as Bushwick Bill might say.
I walked out and sat on the bench outside the store, next to a tree that trilled with invisible birds in the summer. Across the street was Jubb's Longevity, a health store that specialized in colon cleansers and witchy tinctures. I wondered if Jubb's sold mandrake roots. At 10:30pm, the shop remained packed, as if everyone figured that Jared couldn't close as long as they stood in there cheering. All day, I'd been anticipating how it would all end. Would it simply go down with the gate? Launch into space? Maybe Lord Finesse would just saunter off with Big City itself folded up in his holdbag.
I finally gave up and decided to leave things open-ended, framed in that shoebox of orange light. I knew I wouldn't return to that block, not out of maudlin loyalty, but in that way how certain parts of our New York past, actual streets, vanish from neglect. As with Big City, as with the block. So it goes.


A version of this article appeared in The Daily Note, a free daily newspaper distributed in New York during the 2013 Red Bull Music Academy. Header illustration: Jess Rotter