Soft Cell: Non-Stop Cabaret
In today's Daily Note, David Stubbs wrote about the flow of ideas between London and New York throughout the late '70s and '80s. One of the most interesting groups of the time was Soft Cell, a duo whose biggest hit – "Tainted Love" – sometimes overshadows their wonderful music and strange aesthetic. (Singer Marc Almond gained notoriety early on for smearing cat food over himself onstage at gigs.) Alfred Soto reassesses the group's legacy.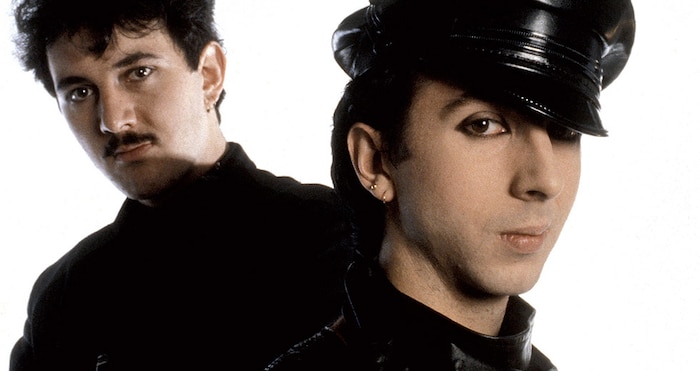 Their first top ten was an oily smudge on the chart. It dared the audience to reject an electro-groove this hypnotic, a voice so histrionic and unhinged – so British. The cryptic lyrics hinted at unspoken pleasures; they flaunted their perversity. Surrounded by long-haired men playing guitars, the act sounded out of time. No question: American teens remember the day they first heard Depeche Mode's "Enjoy the Silence."
But I meant Soft Cell's "Tainted Love" too.
A narrative in which the departure of Depeche Mode's original songwriter Vince Clarke liberated poodle-haired Martin L. Gore's own bondage isn't hard to write. And Depeche Mode went one better: while singer Marc Almond and keyboardist David Ball never troubled the American Top 40 again after "Tainted Love," the Mode's fan base swelled into a veritable KISS Army chanting "Domination's the name of the game" while Dave Gahan thrust his crotch at them.
The hilarious overstatement of their heterosexuality explained part of Depeche's international appeal; as Poison and Motley Crüe understood, their appropriation of leather, eye shadow and nipples made the girls go boom. Soft Cell, by contrast, were not pin-ups. In publicity photos Almond looked gawky, malnourished, his decadence pieced bit by bit from hand-me-downs and thrift stores.
In the Auto Tune era, Almond's raw vocal would have gotten an engineer fired.
Although plenty of pop stars have played The Pronoun Game, few suffused it with intimations of dissolution as insistently as Soft Cell. Listeners didn't need proof of Almond's homosexual experiences: his vowel-heavy, unsteady vibrato told us what we'd already guessed. Ball's keyboard presets – he never met a whoosh or crunch he didn't like – were a match. But in the AIDS era Soft Cell's material was, like bathhouses and poppers, louche at best. After all, a Soft Cell lyric in 1989 would have imagined Jordan Knight tying Joey McIntire up while Donnie Wahlberg has his way with a police baton.
But as the smack of Margaret Thatcher's firm government stung harder and Bowieism crested, polymorphous synth duos like Soft Cell seized the day: five consecutive top five singles, one of which hit Number One and is playing on an '80s station near you. Even so, they had the aura of a happy accident. Synthesizers got cheaper; according to Almond's memoir, he and Ball's first EP Mutant Moments cost a couple grand. An A&R man thought a fey singer smearing cat food on himself onstage was a future star. Daniel Miller, who also produced Depeche Mode, hooked them up with Phonogram, but it didn't matter. Soft Cell's first single "Memorabilia" went nowhere. Given a final shot to presumably recoup the cat food rider, Phonogram hastily released their demo of a Gloria Jones song called "Tainted Love," for which Almond's guide vocal was the first and only recorded.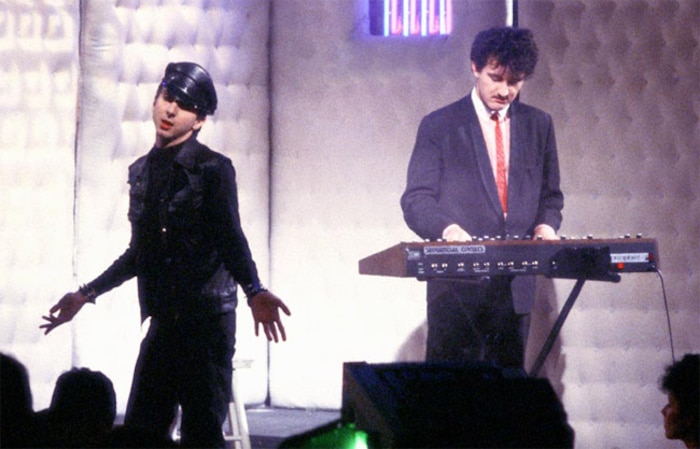 In the Auto Tune era, Almond's raw vocal would have gotten an engineer fired, its uncertain relationship with pitch matching his leering, insistent stresses. Bryan Ferry was never this epicene. You didn't need to know a word about Almond's life to guess the gender of the object to whom he gave "all a boy can give you." Even the Yanks allowed themselves a one-off flirtation: for 13 years it held the record for longest chart span in the United States.
Relistening after a few years' distance, I can understand why it wowed the public. In its sparseness lay its strength. From synth lines that blip like submarines miles below the ocean surface to mournful block chords, Ball's keyboard work acts as if budget constraints were a myth. Only Suicide created landscapes this desiccated.
Its parent album Non-Stop Erotic Cabaret doesn't let up: tales of a sybarite whose adventures outpace his imagination and his sorrows surpass. The dollops of decadence The Presets would later tease and squeeze dissipate beside Almond's knack for confusing pose and feeling; for Almond, posing is feeling, as maladroit as he often comes across. At least he's funny about it. Ball's bass notes mock Almond in "Bedsitter" as Almond wonders why he's in his room hungover while friends are out partying. An oboe, as smooth as Astroglide, greases "Entertain Me"; when Almond squeals, "I'm as blank as can be!" he's a romantic faking the cynicism.
Things get ridiculous on "Sex Dwarf," boasting verses as hurdy-gurdy as Ball's organ in which said dwarf thinks it's nice to lure disco dollies to a life of vice. "Say Hello Wave Goodbye," a ballad as droll-moving as anything synthed up by Tennant-Lowe several years later, is Soft Cell at its best, with Ball gilding Almond's Scarlet Pimpernel vocal plumage with car horn bleats.
The erotic cabaret became non-stop with spectacular non-LP singles, two of which were recorded for the remix album Non-Stop Erotic Dancing and sailed into the British Top Five. The first, "Torch," is a Ball showcase: a sampled muted trumpet and sinister circus organ undergirds another scenario in which Almond's indifference to pronouns scrunches divisions between subject and object; an untutored vocal by the duo's drug dealer, the aptly named Cindy Ecstasy, is the aural equivalent of Liza Minnelli's green fingernails in Cabaret. Finally, "Memorabilia" deserves rediscovery as a lost proto-Chicago/mutant disco hybrid, as tablas and chirping synths encourage an absurd Almond lyric about key chains and snowstorms.
Drugs and success produced a viral case of Second Album Syndrome but to date no Behind The Music episode. To Soft Cell's credit, 1982's The Art of Falling Apart could have served as concept and product a year earlier. This iteration, however, has songs over the five-minute mark – a strain on Almond's larynx. The exception: "Numbers," a chilling account of promiscuity set to a Ball beat that squelches and squishes like body fluids; the disjunction between it and Almond's giddy finger-counting hints at the coming death disco (in 1982 AIDS-related deaths were just over 800 in America). A 10-minute Hendrix medley released as a 12-inch is the New Pop equivalent of Walter Murphy's "A Fifth of Beethoven." The laffs stopped altogether with 1984's hookless This Last Night in Sodom, which the boys could have titled The Evil Dead II.
"Memorabilia" deserves rediscovery as a lost proto-Chicago/mutant disco hybrid.
Exhausted, Soft Cell fissured in 1984. Almond, assembling a group called, of course, The Willing Sinners, released three solo albums that explored his affinities for electronically-spiked German cabaret. 1988's The Stars We Are generated a #1 British hit in the lush, yearning cover of "Something's Got a Hold of My Heart" with Gene Pitney. Almond even scored an unexpected Billboard Hot 100 entry with "Tears Run Rings," in which he sounds like that prince of perversion Billy Joel. Ball meanwhile popped up as a remixer and producer. The duo reunited for 2002's Cruelty Without Beauty, a spare, unthreatening collection for libertines entering their forties and swapping stories, with Ball aping Fisherspooner and Almond's vocals mixed front and center.
A half dozen solo albums later, Almond still can't pack stateside stadiums. Soft Cell seem destined to a life sentence of hearing "Tainted Love" played alongside Naked Eyes' "Always Something There to Remind Me," a Bacharach-David tune using a G-rated Ball-Almond approach. Blame marketing jitters for why American teens know little about Non-Stop Erotic Cabaret yet press The Queen Is Dead tight against their bosoms; a coy Morrissey made wittier copy than the out Almond. But queers and synthesizers aren't kryptonite anymore – let the revival start now.