2Pac and The Notorious B.I.G.: Rappers on Location
In this excerpt from their new book, 2pac vs. Biggie: An Illustrated History of Rap's Greatest Battle, Passion of the Weiss founder Jeff Weiss and former Pitchfork contributor Evan McGarvey explain how each rapper perfectly embodied the region they came to represent.
2pac: Victory Is Merely a Matter of Making it to the Golden Land
Jeff Weiss

Picture Pac rolling. The jangled clatter of public transit substituted by the sumptuous glide of 500 Benzes. Midnight Greyhound shambles replaced with first-class flights and bittersweet Cristal. There were 18 changes of residence during Tupac's first decade, as he rotated among Manhattan and the outer boroughs. His formative memories were molded by a dirty blur of claustrophobic tenements and empty refrigerators.
There were subsequent relocations and reimaginations in Baltimore, the Bay Area and Los Angeles. He even kept a home in Atlanta, long before it became a third capital of the hip hop industry. With the exception of his exile at Clinton Correctional Facility, the only constant was constant motion.
I hated myself. I was really a nerd.
The legend, though, started to metastasize in Northern California. Tupac's stable respite at the Baltimore School for the Arts was shattered when his mother was evicted, forcing Shakur and his younger sister, Sekyiwa, to leave Maryland for Marin City, just north of San Francisco. According to lore, a 17 year-old Tupac boarded the cross-country bus with just five dollars in his pocket and four chicken wings. In "the jungle," he fell into the street life, soaking up game from pushers and pimps and criminals. Trapped between polarities, Tupac was dead broke, hustling and trying to forge a rap career, while simultaneously describing himself as the target for street gangs. He thought he was "weird for writing poetry.... I hated myself. I was really a nerd."
The reinvention began with Digital Underground. Through an introduction procured by his first manager and mentor, Leila Steinberg, 2Pac wound up in the studio during the mixing of the group's platinum debut, Sex Packets. Impressed with his raw talent and intensity, DU leader Gregory "Shock G" Jacobs inducted the teenager into the funkadelic circus.
Initially a backup dancer, Shakur's ability and persistence won him a place on "Same Song," a 1991 single from Digital Underground's This is an EP Release. Much like Biggie's introduction, "Party and Bullshit," it was a straightforward party-starter. But in only 16 bars ostensibly dedicated to groupies, 2Pac reveals his personal paradoxes: the struggle between staying true or giving into the indulgences of fame, his attraction to and repulsion from the fickle women who paid him no mind before he joined the biggest Bay Area rap group of the early '90s. The nice guy and the nerd were already starting to dissolve into the acidity of the outlaw immortal.
2Pacalypse Now rifles between traditional East Coast boom-bap and the Bay Bridge funk of Digital Underground. It operates as a nexus between the Afrocentric militancy of Public Enemy, Paris and X-Clan and the nihilistic pre-riot rage of N.W.A. 2Pac's geographic sensibilities existed in his mind. He couldn't claim to be Straight Outta Compton, but he understood that by articulating the mentality of ghetto life, he could touch anyone in duress.
Nothing better illustrated this idea than the decision to make "Brenda's Got a Baby" his first official single. Inspired by a story he saw in the newspaper, 2Pac wrote a harrowing requiem for a 12 year-old girl knocked up by her older molester cousin. After briefly abandoning the baby in a trash bin, she reconsiders and opts to raise the child by any means necessary. Since she can "barely spell her name," she attempts to sell crack, but gets robbed. Finally forced to sell sex, she winds up a lurid headline: "Prostitute found slain and Brenda's her name."
It could have happened in any hood, but the bedrock was the Bay, still aflame from the ravages of Reaganomics and the crack trade. Cokeland was its unofficial alias at the time. And 2Pac was careful to acknowledge his adopted hometown on "Rebel from the Underground": "I throw peace to the Bay / cause from the Jungle to Oaktown, they backin' me up all the way."
But no city was large enough to contain the totality of 2Pac's vision. The true target was the United States, and the gold-certified sales of 2Pacalypse Now – and its attendant controversies – threw the rebel into the machine. His raps were so siren-like that a Texan who shot a public trooper claimed that the album had made him do it. It was soon followed by a blistering condemnation from Vice-punchline Dan Quayle. Compounded by his black-Travis-Bickle turn as Bishop in 1992's Juice, 2Pac became a bull's-eye before he was old enough legally to cop Old E.
From 1992 until his incarceration in February 1995, 2Pac was everywhere. He was in Manhattan hanging out with known thugs like Jimmy Henchman and Haitian Jack and tabloid staples like Madonna and Mickey Rourke. Filming Above the Rim and Poetic Justice in Los Angeles. Brawling with the Hughes Brothers over the lead in Menace II Society. After Marin residents became agitated by his negative portrayal of the projects, he returned home to play the Marin City Festival in August of 1992. A fight broke out and a six-year-old boy was shot in the head by stray bullets. A vengeance-mad mob chased 2Pac and his entourage until police arrived to restore order. He only survived by hiding under a parked car. By the time he befriended Biggie the following year, 2Pac could already offer weary testament about "mo money, mo problems." (A fan of "Party and Bullshit," 2Pac introduced himself to Biggie after watching the latter rock an early show in Maryland.)
A guarded and betrayed 2Pac found his creative energies wandering back to his original coast on 1993's Strictly 4 My N.I.G.G.A.Z. Though Shock G and his partners produced "I Get Around" (2Pac's first top-20 hit), his sophomore album largely sought out brimstone East Coast beatmakers like Stretch of Live Squad and Special Ed. Recorded in Richmond, LA, and New York, Strictly 4 N.I.G.G..A.Z. is 2Pac's purist album: raw, rugged and with no frills. Its follow-up, 1994's Me Against the World, plays almost as a companion piece. Recorded back-to-back at studios on both coasts, World might be 2Pac's most balanced statement. It fuses the P-Funk bounce of the West with the shrapnel explosions of the post-Bomb Squad East Coast. There's even "Old School," where 2Pac celebrates the early years of New York rap and his own native connection. But mostly, the record bears witness to a time when 2Pac was at his most isolated. He awaited trial for sexual assault on the run; he's a world unto himself, bounded by his barbed-wire scowl and strychnine pen.
You can't ignore the sordid and alienated atmosphere that surrounded the recording of World. During Biggie and Pac's brief friendship, the former introduced 2pac to a vicious high-living breed of New York hustler. The most infamous was the Queens-bred Haitian Jack, a man so menacing that he intimidated convicted killers.
During the same period, 2Pac emerged as a folk hero in the South, a development galvanized by an incident in Atlanta in which he shot two white off-duty police officers who had allegedly been harassing an African-American motorist. Pleading self-defense, 2Pac beat the charges and cultivated a mythology as a black Bruce Wayne. But even before the Georgia shooting, 2Pac had always boasted an early affinity for the region at a time when much of the rap world kept an aloof distance. In a 1992 Source feature, he said his favorite album was The Geto Boys' Grip It! On That Other Level. Five years later, 2Pac showed further appreciation for the Houston group by rapping on "Smile," the only top 20 single from group member Scarface.
No city was large enough to contain the totality of 2Pac's vision. The true target was the United States.
Maybe it was inevitable that 2Pac's chameleonic nature found a final cradle in California, the last stand of manifest destiny, a place eternally ready to bleach its roots. After wooing him in jail, Suge Knight posted a $1.4 million bond and brought 2Pac home to Death Row's LA headquarters. After 11 months behind bars, 2Pac was ripe for reinvention and eager to cloak himself in blood red and wage war on his East Coast enemies. He'd spent extensive time in LA before, working on films and brokering a cease-fire between the Bloods and Crips. His lyrics had also frequently memorialized Latasha Harlins, an unarmed South Central teen who had been shot by a Korean storeowner for allegedly shoplifting.
With his number of enemies increasing exponentially with every song and confrontation, death hounded 2Pac with a menacing shade. He had become the gangsta rap embodiment of what Joan Didion described as the pioneer experience while crossing 19th century California:
"Each arriving traveler had been by definition, reborn in the wilderness, a new creature in no way the same as the man . . . who had left Independence or St. Joseph many months before: the very decision to set forth on the journey had been a kind of death, involving the total abandonment of all previous life."
In the land of transplants, 2Pac transformed himself into Makaveli, his own spaghetti Western antihero.
The circumstances of his murder, coupled with an unimpeachable string of classic songs, stamped him as an LA icon on par with Magic Johnson (from Michigan), Jack Nicholson (from New Jersey) and Axl Rose (from Mars). The local lyrical ties rest largely on two #1 singles: "California Love" and "To Live & Die in LA." The former was famously intended to be Dr. Dre's first single for his new Aftermath imprint, before Suge Knight heard it and allegedly forced him to hand it over to his new star. Its conception of California is as nuanced and effective as a Chamber of Commerce sizzle reel showing glistening ocean and golden sunshine to a Clevelander in the dead of December. Except that 2Pac's civic boosterism comes with an ominous caveat: "Caution, we collide with other crews."
His Death Row masterpieces, All Eyez on Me and The Don Killuminati: The 7 Day Theory, are pure gangsta music, invective as ammunition, syllables with enough artillery for decades. But even though 2Pac never stopped making music for the hood, he crossed over to the point where you will still hear "Ambitionz Az A Ridah" blaring out of the Beamers of Persian kids in Beverly Hills. At Coachella in 2012, a 2Pac hologram roared "Hail Mary" and unified a crowd young enough to have been conceived to a new cassette tape of 2Pacalypse Now. In Southern California, he has become Walt Disney for those down to ride.
If Biggie reflected the literary tradition of New York, 2Pac's vision of Los Angeles is blockbuster and cinematic.
If Biggie reflected the literary tradition of New York, 2Pac's vision of Los Angeles is blockbuster and cinematic. "To Live & Die in LA" offers a happy ending, a scripted antidote to the reputation for sunshine dystopia that LA had acquired in the wake of the Rodney King riots. The city is unified by its shared hustle, the desire to flock to the end of the earth in search of economic opportunity, and the possibility of eradicating the past.
2Pac understood how to flatter, shouting out Mexicans, Sunset Blvd., South Central, Crenshaw and MLK Blvd. on the weekends, mom and pop record stores, the local rap radio stations, and even A&Rs. But in a constantly mutating metropolis afflicted by an amnesia toward its real and imagined past, 2Pac understood that most would really only remember the hook's last words: "To Live & Die in LA, it's the place to be. You've got to be there to know it, everybody wanna see."
It's a pat on the back, the idea that the finish line was crossed at the city limits; victory was merely a matter of making it to the golden land. After all, every city needs something to play at parades.


The Notorious B.I.G.: One Thousand Places at Once
Evan McGarvey

New York is a city of landmarks compressed together: Chrysler Building, Empire State Building, Central Park, Grand Army Plaza, World's Fair Unisphere in Corona Park, Statue of Liberty, Union Square, Co-Op City, Bronx Botanical Gardens, Grand Central Station, Federal Hall, St. Patrick's Cathedral, Williamsburg Bridge, George Washington Bridge, Brooklyn Bridge.
And yet New York splinters into borough-specific regionalism. Christopher Wallace came of age during the years when Queens' Juice Crew and the Bronx's Boogie Down Productions waged their musical war over the true birthplace of hip hop. The Juice Crew's "The Bridge" begat Boogie Down's "South Bronx," which begat KRS-One's rise to hip hop superstardom. BDP and the Bronx won that genesis-centered debate, but the neighborhood anthems of the 1980s went beyond the so-called Bridge Wars.
Minor releases like the Divine Sounds' "Do Or Die Bed Stuy" in 1984 and 1989's "The Bush" from Special Ed planted flags for Brooklyn (see 2011's "Ten Great Neighborhood-Specific Brooklyn Rap Anthems" in the Village Voice for even more examples). These sectarian anthems made the pressure between block-by-block neighborhood and sprawling metropolis real.
By the time Biggie began recording music beneath Fulton Street in the early 1990s, there was already a mantle of responsibility for young New York MCs: Represent your neighborhood while simultaneously representing New York City. Biggie's strategy here is at the very core of his musical accomplishment and at the very core of what makes him a quintessential New York artist. He embodies the zeitgeist and mood of his city by creating a simultaneously public and private New York.
These contradicting impulses imbue his music with the specific/universal tension that all great art has to contain. Biggie created an eternal neighborhood chant – "Where Brooklyn at!?" in a 1993 freestyle you can find remixed and collected in his posthumous Born Again – and yet he recorded no borough-centric anthem. His thirst for material culture and balance of humor and horror seem completely Gothamite, and yet his most vivid song about being a New Yorker is about being a New Yorker appreciating life outside New York: "Goin' Back To Cali."
Biggie's thirst for material culture and balance of humor and horror seem completely Gothamite.
So, in the end, what makes Biggie so inexorably tied to New York? Biggie's and the city's obsessions are the same: work, compression, instruction, material culture and juxtaposition. To listen to a Biggie song is to engage in conversation with a real New Yorker: someone who will break up his lecture by pointing to a storefront or passerby, someone who offers splinters of history in the midst of his daily toil. Where, to me, 2pac is almost exclusively a lyrical MC, Biggie oscillates between narrative action and lyrical reflection in the same song. He's a New Yorker because he has to be in one thousand places at once.
"Everyday Struggle" from Ready to Die emblemizes this frantic compression. At first a lyrical reflection of rising in the crack game, Biggie slips in slivers of historical/geographic reference. The song opens generally: "I know how it feel to wake up fucked up / Pockets broke as hell, another rock to sell / People look at you like yous the user / Selling drugs to all the losers, mad buddha abuser." The link between dealer and user, the crushing grind of the drug trade – although not quite so general as to be hustler platitudes, these lines are hardly exact. However, that "people" in the third bar speaks to something bustling, something metropolitan. The "people" going about their business in Brooklyn would see Biggie's speaker selling on the corner. Hustlers in small towns have out-of-the-way corners and streets to themselves. In bustling Bed-Stuy? No such luck.
Then, in the second half of the first verse and the entirety of the second, Biggie begins to divulge more to the listener. You imagine him wrapping his arm around you, revealing perhaps a bit too much in his percussive rendering of detail. In that first verse, he tells us that his mother kicked him out once "I figured out that nic's went for twenty down south." This lone line supplies an explicit nod to his pre-Bad Boy stint as a dealer in North Carolina, in which, according to interviews, he could sell crack for four times the price he could in New York.
The center, the metropolis, provides the material product that the periphery, the comparative sticks of North Carolina, will pay top dollar for. Biggie, the New Yorker, has to go on a business trip to sell his wares. That verse ends with New York, if not the city proper, pulling him back, "Smokin' mad Newport's cause I'm due in court / for an assault that I caught in Bridgeport, New York." He has to specify "New York" after Bridgeport not just because it fills out the rhyme scheme, but because any real New Yorker would assume that Bridgeport refers to the poor former industrial town in Connecticut an hour's drive up 95.
The verse becomes more specific as it proceeds. The details become fixed to Biggie's work life. He begins talking about his daughter and his morning stress. He ends the verse by complaining about his job and all the places that aren't the big city. For anyone who is or has been a New Yorker, or even knows one, this verbal tactic should sound awfully familiar.
The second verse opens outside New York too. Here Biggie thrusts the listener immediately into a drug narrative:

I had the master plan, I'm in the caravan on the way to Maryland
With my man Two-Tecs to take over this projects
They call him Two-Tecs, he tote two tecs
And when he start to bust, he like to ask, "Who's next?"
I got my honey on the Amtrak with the crack
In the crack of her ass, two pounds of hash in the stash.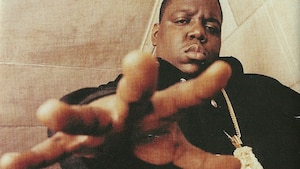 Biggie smashes two simultaneous stories together. He's leaving New York with an accomplice at the same time that his underling mules leave on the train. This is modern metropolitan action. Biggie enacts it by leaping immediately from the blurted line from the fictional Two-Tecs to the next slice of life, his specific details anchoring the imagined narratives. He stacks his images into a metropolitan verticality. There's never just one thing happening in a Biggie song; a great chain of events spirals up from every line and down from every image.
Biggie creates his New York through a cornucopia of small details. Like that list of New York landmarks that speak to the tourist, Biggie pulls the generalities of the hustler's life into diamond-cut relief through details that act as pivots between the narrative and the lyric. He lets the details compress narratives that could, in the hands of a less urgent MC, spiral into redundancy. Where 2pac lingers with figures – his mother, a former foe – and gives them entire songs in which he praises, rages and reflects, Biggie sketches a whole character in a line. He summons a cultural moment with a reference.
Biggie creates his New York through a cornucopia of small details.
What makes Biggie a New York artist at the most essential level is his sense of combination. It was impossible for him to record a one-note song: his love songs involve crime and loss; his crime songs involve benign childhood anecdotes; he would throw five micro-narratives into a song when a lesser artist would struggle to manage one.
In his brilliantly apocalyptic book on New York architecture, Delirious New York, Rem Koolhaas argues that the recursive grid structure of New York required builders to "develop a new system of formal values, to invest strategies for the distinction of one block from another.... The Grid defines a new balance between control and de-control in which the city can be at the same ordered and fluid, a metropolis of rigid chaos." I cannot invent a better metaphor for Biggie's own work. It exists on this grid of public reference and symbol. It thrives on the line between general sentiment (work is rough; parenting transforms) and surreal symbol (guys named Two-Tecs). Biggie's words evoke that grid that contains narrative sequence and lyric ornament, public spectacle and private ritual. His words are immigrants, remaking themselves against the churning forces of New York City.