From Disco to Disco: New York's Global Clubbing Influence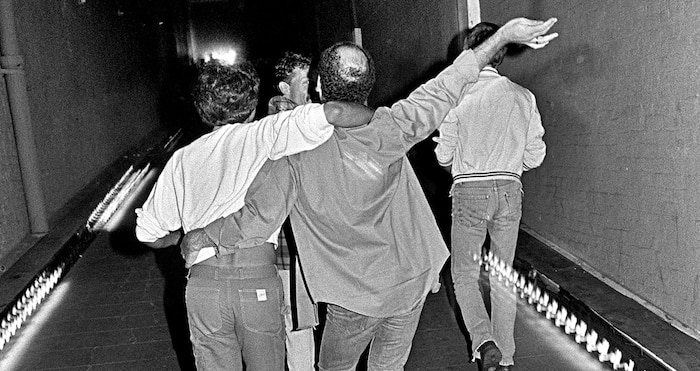 The case is harder to make today, but once upon a time New York hosted the most numerous and adventurous DJ-led party spaces in the world. Visitors testify they had never experienced anything like it prior to their trip to the city. Some even returned home with the dream of re-creating something of their own.
New York's influence can be traced back to the moment at the beginning of 1970 when David Mancuso hosted the first in a series of shimmering house parties that came to be known as the Loft. Around the same time, two entrepreneurs known as Seymour and Shelley took over a struggling discotheque called the Sanctuary and became the first nightclub proprietors to welcome gay dancers into a public venue.
Selecting records in relation to the energy of their multicultural and polysexual crowds, Mancuso and Sanctuary DJ Francis Grasso established the sonic and social potential of a contagious culture. Better Days, the Tenth Floor, the Gallery, Le Jardin, Flamingo, 12 West, SoHo Place, Galaxy 21 and Reade Street bolstered the word-of-mouth network. With the media barely aware of its existence, the city's dance scene remained resolutely subterranean – to most locals as well as tourists.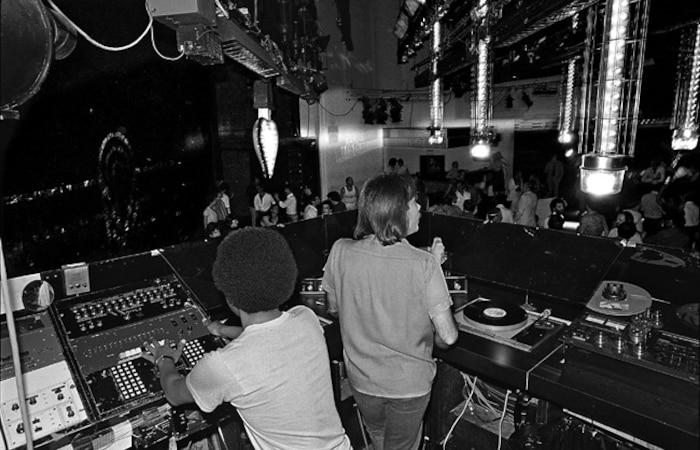 That began to change in the spring of 1977 when one-time restaurateurs Steve Rubell and Ian Schrager opened Studio 54 in Midtown Manhattan as a celebrity hangout. From the moment Bianca Jagger rode through the venue on the back of a white stallion, New York discotheque culture circulated as a global media story. It did so again in November when the release of the Brooklyn disco movie Saturday Night Fever carried the culture into its juggernaut phase.
With Laker Airways having recently launched Skytrain as the first long-haul, low-cost transatlantic airline, it became much more likely that disco would travel via the firsthand experience of dancefloor immersion as well as vinyl, tape and print-media distribution. The industry-oriented Disco Forum, first staged in New York in 1976 and held annually, helped potential nightclub operators meet lighting and sound operators. The hermetic culture of disco was all set to spread.
Responsible for installing the sound systems at Studio 54 as well as the Paradise Garage, a Loft-style private party located in a gargantuan parking garage on King Street, bass innovator Richard Long vacuumed up a significant portion of the technical work. The engineer described Studio 54 as his "best calling card" in an interview with Billboard, yet he also made a point of taking clients with a purist bent (including the future owners of the Zanzibar in New Jersey) to the Garage, an evolving sonic laboratory and the ultimate showcase for his work.
Dancers might not have known it, but the state-of-the-art technology that drew them to the floor originated in New York.
By the end of 1979, Long had installed some 300 systems around the world, most of them in Europe and South America. "Believe it or not, he was even contacted by an interested party in Iran," Dance Music reported in early 1980. International dancers might not have known it, but the state-of-the-art technology that drew them to the floor originated in New York.
Already home to the Northern Soul scene, the north of England became an emerging hub for New York-style disco when the Warehouse in Leeds and Wigan Pier in Wigan opened during 1979. "The Wigan Pier was fitted out by a company called Bacchus," notes DJ Greg Wilson, who started to play at the venue in 1980. "The people who owned it were going to do a normal club installation, but they got persuaded to do something New York-style. It was actually advertised as an American-style disco. The logo of the club was an American flag with a frog underneath it."
When Wilson went to work at Legend in Manchester in the summer of 1981, the transatlantic connection struck him again. "Legend was a step further than the Pier," he adds, referring to a system that channeled the high end through the ceiling, the mid-range around the dancefloor and the sub-bass from the floor. "They even had a sound sweep. You could send the sound in a circular motion around the floor. At the time there wasn't a sound system to compare. There were never any specific clubs mentioned, but NYC was undoubtedly the influence."
Studio 54 became the first New York discotheque to inspire an international replica when a version of the venue opened in Madrid, Spain, in 1980, with Studio selector Richie Kaczor as its DJ. (Rubell and Schrager had gone to jail earlier that year for tax evasion.) But the more compelling exchange continued to unfold in the north of England when the Manchester band New Order, formed from Joy Division after lead singer Ian Curtis committed suicide, went on a muted tour of the United States in the autumn of 1980 with their manager Rob Gretton, and Tony Wilson of Factory Records.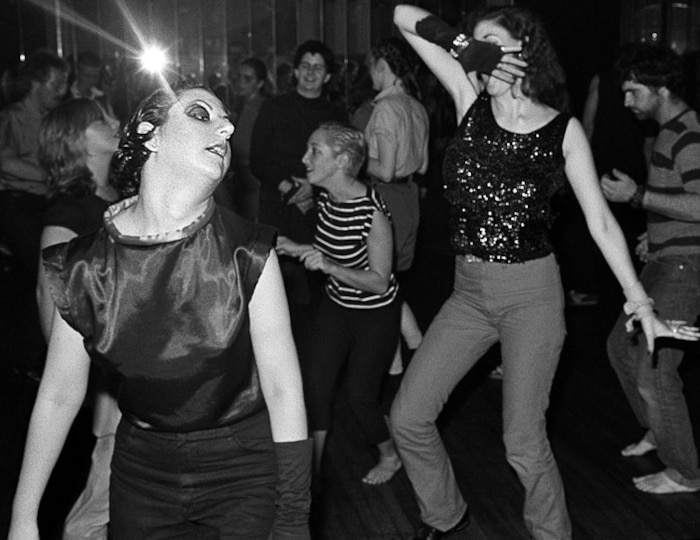 Stopping off in New York, the band opened for A Certain Ratio at Hurrah, the first New York venue to blend DJing with live music. During their stay they also went to the Paradise Garage and Danceteria, another venue that mixed DJing with bands. They returned to Manchester with the dream of opening a Manhattan-style venue where eclectic crowds could come together to dance to diverse sounds.
In part because it reminded them of the post-industrial milieu they had just witnessed in downtown New York, Gretton, Tony Wilson and New Order settled on a former yacht warehouse on Whitworth Street, agreed to call their venue the Haçienda, and advertised that DJ Hewan Clarke would play "the latest American imports." "Tony Wilson said they had seen the Paradise Garage and they wanted that concept in the Haçienda," recalls Clarke.
The Haçienda was something different... We were so ahead of our time – people were like, "What the fuck is this?"
The live schedule featured the likes of Grandmaster Flash and the Furious Five along with local bands, many of them signed to Factory. The combination echoed the kind of culture clash that was already being stirred up in New York, and when Danceteria moved from 37th Street to 21st Street, Danceteria bookings manager Ruth Polsky, who had booked New Order to play at Hurrah before showing them around the city, started to pay biannual visits to the Haçienda in order to check out new talent that she could fly over to the States.
The first year, though, was a struggle. "The Haçienda was something different and the old school was opposed to any change, even though the old school existed in dingy clubs which had carpets that stuck to your feet," recalls Quando Quango member Mike Pickering, who scheduled bands and DJs for the Manchester club. "We were so ahead of our time – people were like, 'What the fuck is this?' There was nothing in the country like it."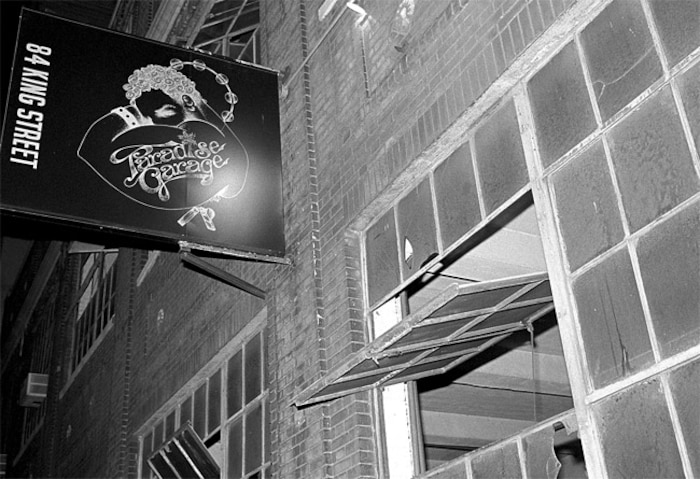 Pickering's determination to integrate New York party culture into the Haçienda intensified when Quando Quango appeared as the warm-up act for New Order at the Paradise Garage in the summer of 1983. "It was mind-blowing for someone like me," notes Pickering, who also visited Danceteria, the Funhouse, the Loft and the Roxy during his stay. "At the Garage I used to stand in the middle of the floor and think it was heaven." At one point Gretton turned to Pickering and declared, "This is it. This is what we've got to do. This is what our club should be like."
Danceteria also left an impression. "[DJ Mark] Kamins could play everything, and Danceteria was also a meeting place for creative people," adds Pickering, who brought in Greg Wilson to DJ before launching a new Friday slot called Nude in November 1984.
 Although Clarke and Wilson had put in the legwork that encouraged black dancers to try out a venue that grew out of the indie scene, Pickering took on Friday night DJing duties, believing that he was in the best position to conjure a New York mix for the Haçienda floor.
Within a handful of weeks numbers had surged, he recalls, with the floor evenly divided between black and white dancers. When house music began to flow out of Chicago during 1985, Pickering integrated the sound into his sets and even co-produced an early UK house track, "Carino" by T-Coy. The hope of reproducing a New York-oriented dancefloor had been achieved.
Yet the influx of ecstasy during the spring of 1988 and the Ibiza-influenced summer that followed disturbed the Haçienda's carefully calibrated New York equilibrium and persuaded a significant proportion of the black crowd to move on. "I regretted the fact that once you'd come down off the E everything was pure house," argues Pickering. "I could tell, even in 1989, that that wasn't a good thing and that what we were doing before was much more precious, because we were playing a wider range of music. By 1989 we were slaves to the beat." For a while London looked primarily to Chicago and Ibiza for dance inspiration, but shifted its gaze toward New York when Justin Berkmann opened the Ministry of Sound in September 1991.
A disillusioned wine trader who arrived in New York in 1986 (his father having sent him there in order to find himself), Berkmann danced at the Paradise Garage until the venue's lease expired in September 1987. "When the Garage closed it just left such an enormous hole in everyone's life," recalls Berkmann. "New York got pretty depressing pretty quickly. By February 1988 I was back in London." Introduced to James Palumbo and Humphrey Waterhouse, Berkmann proposed they develop a nightclub drink, which they rejected, and then a Garage-style venue, which they agreed to fund.
Berkmann cemented the Garage
 connection by inviting the venue's to
temic DJ Larry Levan to play at the 
Ministry of Sound three weeks into its 
run.
After an exhaustive search for an appropriate site, Berkmann settled on a parking garage located in Elephant & Castle, an economically deprived area of southeast London, and negotiated a 24-hour, no-alcohol license for the venue, which meant it would match the Paradise Garage's juice-bar status. Seeking to match the Garage's celebrated sound system too, he hired Austin Derrick – who worked with Kenny Powers, a member of Richard Long Associates – to install the venue's sound system. Only the introduction of a VIP area stood as a direct affront to the King Street setup. "The concept was about 80% Garage and then the other 20% would have been a bit of Area and a tiny bit Nell's," adds Berkmann.
Berkmann cemented the Garage
 connection by inviting the venue's to
temic DJ Larry Levan to play at the 
Ministry of Sound three weeks into its 
run. Victor Rosado, who had become
 close to Levan, stepped in after the
 Garage DJ missed his flight. Several
 more were missed before Levan finally 
landed the following Saturday with no
 records, having got into the habit of
 selling his vinyl to raise money to buy
 drugs. Jeremy Newall and DJ Harvey,
 along with Berkmann, cobbled together a collection and Levan played that
 night. "He was still the Larry we knew and had come to love, with all his flaws and also his genius way of transforming a room," Rosado remembers of the set. "He was very happy to see that what he had created wasn't in vain – that it had inspired someone to create the ideals and ideas of what a party should be like. He was very motivated to take London by storm by showcasing the Ministry of Sound as his new home away from home."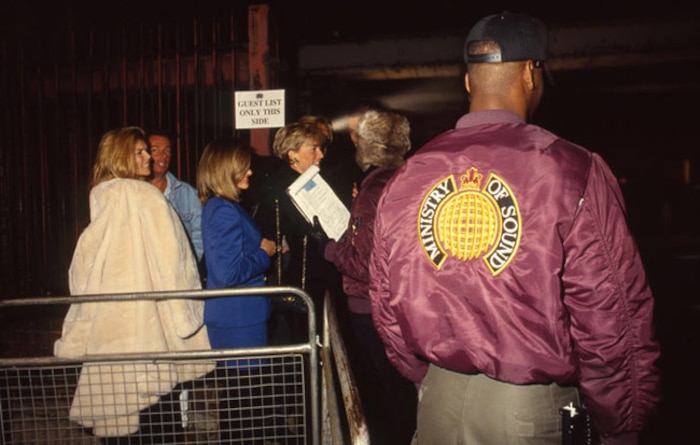 The development was symbolic. As a perfect storm of AIDS, gentrification, real estate inflation and the incremental city-led clampdown of the club scene made New York a less hospitable place for party culture, London became something of a new capital for clubbing. Ministry bolstered the case when it hired Zanzibar and Kiss FM DJ Tony Humphries to begin a residency in January 1993. But although Humphries looks back fondly on the opening months of his stay, in the end he felt underwhelmed by the venue's "revolving door of DJs," which made it hard to strike up an affinity with the crowd. DJ, producer and remixer François Kevorkian maintains that the venue "didn't understand that it's the crowd that makes the venue, not the furniture."
New York still exerts a profound, if smaller-scale, influence on global party culture.
New York still exerts a profound, if smaller-scale, influence on global party culture. David Mancuso started to build Loft-style parties in Japan and London when he became convinced that if he worked with overseas friends he could hold onto his house-party ethos outside of his home. Kevorkian launched his own long-running Deep Space night at Plastic People in London because nobody at home quite trusted his vision (the party eventually settled in at Cielo in NYC, where it still holds down Monday nights). Kevorkian, Joe Claussell and Danny Krivit started to travel the world with their legendary Body & Soul parties, building communities and hiring balloon machines wherever they went.
Cultivated in New York, the practice of bringing together diverse sounds and crowds in a single space for a night of dancing has grown to become one of the most compelling in global party culture. At times its international take-up has been successful. On other occasions the purity of its ethos has been hard to adapt. Either way, when they cross the Atlantic or head back through to the Pacific, New York's ripples of influence evoke a pioneering history that will never be matched.


A version of this article appeared in The Daily Note, a free daily newspaper distributed in New York during the 2013 Red Bull Music Academy. All photos except Ministry of Sound by Bill Bernstein from his upcoming book and photo exhibit in the UK, 2014.