In the world of sample-based music, few recordings have enjoyed so active an afterlife as the Dembow. A two-bar loop with unmistakably familiar kicks and snares, it underpins the vast majority of reggaeton tracks as an almost required sonic signpost. Thanks to crossover jams like Lorna's "Papi Chulo" and Daddy Yankee's "Gasolina," the Dembow has spread its distinctive boom-ch-boom-chick to glossy Latin pop, raw electro-chaabi in Egypt, transnational moombahton and Indonesian dangdut seksi, to name a few.
With such remarkable resonance and staggering frequency of appearance, the Dembow would seem to deserve a place alongside such well-worn loops as the Amen, the Triggerman and the Tamborzao. There are a few things, however, that make the Dembow an unusual member of the sample canon. For one, the recording most often identified as the origin of the sample is not actually the source of reggaeton's favorite loop. Not exactly anyway.
It's true that Shabba Ranks's anti-gay, anti-imperialist anthem "Dem Bow" may as well be patient zero for the infectious rhythm that still carries the song's name, but samples of the track accompanying Shabba rarely actually turn up in reggaeton. Jamaican studio duo Steely & Clevie deserve credit for the bouncy beat, but not as the creators of the sound recording that is reused so often.
The set of sounds most often identified as the Dembow is instead a version cooked up by Jamaican and Panamanian collaborators in the early '90s at Philip Smart's HC&F studio in Long Island. HC&F was the premier spot for producing dancehall hits at the time, Jamaica notwithstanding. A native Kingstonian who apprenticed under King Tubby, Smart moved to New York in the mid-'70s and launched HC&F in 1982 enlisting as house musicians such fellow expatriates as Dennis "The Menace" Thompson, the sole musician credited with "Dub Mix II," better known today as the Dembow riddim, or in Panama, the Pounda.
Initially crafted as an instrumental for Panamanian vocalist Nando Boom's "Ellos Benia," a close translation of Shabba's "Dem Bow," Thompson captured the rhythmic essence of Steely & Clevie's post-Poco riddim while adding some digital timbales and other touches for extra sabor at the prompting of Ramon "Pucho" Bustamante, the Panamanian manager of Nando Boom who helped engineer the reggae en español movement. The wordless version that would soon play backing track to hundreds of Puerto Rican rap parties was not actually released until two NYC-based Jamaican deejays, Bobo General and Smiley Wonder, recorded their own single over the riddim, "Pounder," with the dubbed-out instrumental as a quickly coveted B-side. ("A bad custom of the Jamaicans," Bustamante once told me.)
When instrumental CDs such as Pistas de Reggaeton Famosas include a "Dem Bow" track – and they always include at least one – the track labeled as such is nearly always based on the drums Dennis the Menace laid down for Nando Boom at HC&F. Do a search for "dembow loop" on YouTube or 4shared, and you'll hear the same echoes there too. By this point, the instrumental has been looped, compressed, remastered and reconstituted dozens of times over. But the lineage is audible, and it makes Dennis and company's Dembow one of a few recordings, like the Funky Drummer break, which has provided the basis for hundreds if not thousands of other tracks.
Dembow was such a staple source that the entire genre for a time, after being known as underground but before reggaeton, was simply called dembow.
The foundation for this single recording's remarkable resonance was most crucially fashioned in mid-'90s San Juan by proto-reggaeton pioneers like DJ Playero and DJ Negro. On their underground mixtapes, these Puerto Rican producers took a hip-hop hatchet to dancehall riddims, chopping up favorite drum loops, basslines and riffs to create dynamic, reference-laden collages of contemporary club beats for local rappers' double-time, flip-tongue, street-level lyrics. Over the course of Playero 38 or The Noise 6 one hears a constantly shifting bed of beats composed of signature samples from riddims like Bam Bam, Fever Pitch and the like. Dembow was such a staple source that the entire genre for a time, after being known as underground but before reggaeton, was simply called dembow.
When most people say Dembow, they refer to its rhythm more generally: boom-ch-boom-chick. So, for many listeners, all it takes is the snare to say "dembow." Around the turn of the millennium, the Dembow – and Puerto Rican reggae en español more generally – was transmuted and extended by DJ Blass. With the rise of Fruity Loops and other software, techno-inspired bleeps, presets and arpeggios could be sutured to Dembow snares for a killer club-ready concoction. Blass's mixtapes like Sandunguero and Reggaeton Sex changed the sound of what would soon be crowned reggaeton while maintaining important links to predecessors. Namely, by chopping well-worn loops into discrete kicks and snares, Blass could nod to the riddims that dancers, vocalists, and audiences had come to love while shaping the sounds into his own lean patterns. Blass's influential techniques carry forward into the productions of the duo who finally took reggaeton to the pop charts and the Anglo mainstream, Luny Tunes.
If you listen to the track Luny Tunes produced for their biggest hit, "Gasolina" – or most of their other pistas – you'll hear snare samples swap every four measures, embodying in their own subtle but audible manner the loop-switching practices of Playero's proto-reggaeton. Revising the Dembow as something more general, more flexible, and in its way, less Jamaican than it had been, Luny Tunes honored reggaeton's rhythmic and timbral heritage while opening it up to a new variety of textural, harmonic and melodic gestures, especially "pan-Latino" sounds. When Wisin y Yandel reprise Shabba's chorus for their club-friendly, bachata-steeped, Luny Tunes-produced update of "Dem Bow" in 2003, the phrase has little to do with imperialism or sexual orientation and everything to do with the backbone beat and criss-crossing snares that compel people to do the doggystyle dance so synonymous with the genre.
In the decade since reggaeton galloped into the mainstream, the Dembow has been Cubanized, Colombified, Peruvinated, watered-down, dressed-up and recomposed to fit a thousand new contexts. Recently, the rhythm – and to a lesser extent, the riddim – has even made inroads into the more frequently foursquare world of EDM via Dave Nada's moombahton, where Dembow comes full circle in a strange and surprising way. Nada famously invented moombahton by slowing down Dutch house tracks to please a house of reggaeton-loving teens.
Nada's wildly successful experiment introduced the Dembow to new listeners across the networked world, especially after producers like Rotterdam's Munchi heard ways to move beyond screwed house remixes and connect the burgeoning genre to its Puerto Rican cousins. Munchi was initially drawn to the genre because of his love of Dembow and reggaeton and the possibilities moombahton offered to revisit these irresistible rhythms: "The idea was so simple," Munchi wrote to me, describing moombahton as "THE chance for reggaeton to get out of its hole." Having nearly abandoned the stagnant genre, Munchi said that "it felt so good that I could make 'reggaeton' again."
No place today can lay stronger claim to bearing the Dembow flame than the Dominican Republic.
While no one would confuse Munchi's genre-busting work with reggaeton per se, no one can deny the genre's presence in his tracks either. This attitude – using dembow as just another reference among many – is one shared by plenty of others. Fade To Mind producer Rizzla, for instance, trawls 4shared and Hulkshare for Dembow tracks and samples but reports that, "Most of the time I use sampled individual drums and reconstruct a Dembow with variations I make myself." Similarly, Dubbel Dutch repurposes cherished dancehall loops without being parochial, which actually places him squarely in the reggaeton tradition: "One of my favorite 'Dembow' loops comes from the Fever Pitch riddim. That one keeps popping up at various speeds in a lot of my tracks. It manages to work flawlessly at just about any tempo, whether it's a Dutch bubbling track or an 80 bpm reggaeton beat, which is sort of a rare quality for any loop to have."
For Uproot Andy, who recently released Worldwide Ting, which he calls "an hour-long celebration of the Dembow in all kinds of contexts, some natural and some forced," even such tributes are necessarily mongrel in their make-up: "The opening track is a song I just made called the 'Worldwide Dembow' and it's sort of an homage to the Dembow rhythm, it samples Pablo Piddy, a Dominican dembow artist, saying 'si tu quiere dembow,' and the tune is basically a reimagining of Drum Song riddim (melodically), and Fever Pitch riddim (rhythmically), although it doesn't actually sample either of them, but pretty much picks apart the elements and recreates them with more synthetic sounds."
Uproot Andy's reference to Dominican dembow bring us full circle: No place today can lay stronger claim to bearing the Dembow flame than the Dominican Republic, where a rejuvenated version of San Juan's proto-reggaeton, in all its referential richness, manages to move kids on the streets (and YouTube) and, increasingly, to move into the pop sphere as well.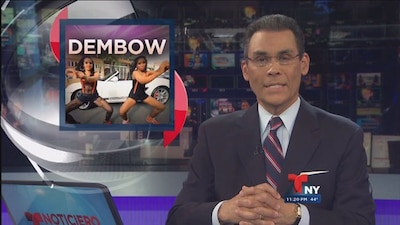 In the mixes of DJ Scuff and countrymen – or, say, just about anything in the Dominican dembow Soundcloud group – the Dembow (as such) is on constant, quicksilver rotation with chops and stabs from Bam Bam, Fever Pitch, Poco Man Jam and the like. But once again, enthralled as Dominican dembow may be with such well-worn samples, its restless producers also emulate the voracious and pliant approach of their mid-'90s muses, Playero and Negro. So a classic hip-hop break like Think, or even funk carioca's Tamborzao, might make it into the mix. But no matter how wide the circle of references, the name of the genre bears witness, at bottom, to the fact that Dominican dembow is built on a commitment to some relatively old riddims and some far older rhythms.
For Linton Kwesi Johnson, the UK-based dub poet, the same dancehall riddims so central to the Dembow variations were popular precisely because they can sound at once modern and traditional. "On one hand, this music is totally technological," he notes, "on the other the rhythms are far more Jamaican: they're drawn from Etu, Pocomania, Kumina – African-based religious cults who provide the rhythms used by Shabba Ranks or Buju Banton. So despite the extent of the technology being used, the music is becoming even rootsier, with a resonance even for quite old listeners, because it echoes back to what they first heard in rural Jamaica."
Uproot Andy offers a similar take: "If reggaeton took the rhythm and ran with it, Dominican dembow brings it strictly back to the roots."


A side-by-side comparison of the emergence of the Dembow loop
- First, Shabba Ranks' "Dem Bow," produced by Steely & Clevie.
- Then, Nando Boom's "Ellos Benia," produced by Dennis The Menace.
- Then, the instrumental of the Boom track, released as "Dub Mix II" on the B-side of "Pounder" by Bobo General & Sleepy Wonder.
- Then, a commonly circulating version of the Dembow riddim, audibly related to the Dennis The Menace instrumental, if a bit beefed up and boiled down.
- Finally, a return to "Dub Mix II" to hear how Dennis The Menace added subtle dub effects to his track – sounds which never turn up in reggaeton productions because of the way the loop circulates as a digital (re)sample rather than a vinyl B-side.