Funk Archaeology: Jingle Funk
There are record collectors… And then there are people like Egon from Now-Again. Egon – who was the general manager of the Stones Throw label for 11 glorious years – is one of those rare creatures scouring the entire globe for the choicest bits of obscure wax, from Turkish psych to Zambian soul. In this edition, Egon shares some of his favourite corporate-funded promo 7-inches from all over the world.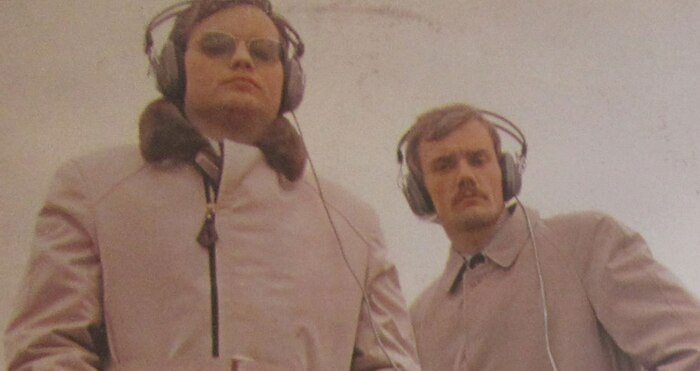 Cut Chemist and DJ Shadow's now-legendary, late '90s Brainfreeze shows popularized the idea of tapping into the funk behind corporate-funded promo 7-inches, but certain diggers had been searching out those types of records for years. I'll never forget the first time that I heard "The Basic," a goofy funk instrumental issued by the Dairy Farmers of Mississippi as a milk-pushing 7-inch single: a Memphis based, rave-throwing record collector by the name of Chad Weekly, also known as DJ Chase, whose "the Chase has gotta have it!" refrain will always remind me of the ransacked Beale Street-adjacent shops he favored, was prone to stumble upon oddities like, well, "The Basic" while I was content with pedestrian finds like Cold Grits' "It's Your Thing."
And that's just one example. Georges Sulmers, a record collecting mentor of mine closely associated with "Chairman" Jeff Mao in the mid-'90s, had dozens of these novelties in his seemingly endless 45 boxes in his Park Slope loft. Galt MacDermot's Melba Moore-sung promo for Contac cold medicine – "Cool It with Contac" – worked better without the crusty, '60s ad-man voiceover, but it was created to entice you to part with your bucks for some respite from "those hot summer colds" regardless. I came up with a term for these sorts of records: jingle funk.
I can't imagine playing that record for any reason other than to remind myself of that moment when the right DJ got the power to immediately make any of his choice wax expensive in record collecting's post-eBay era.
Cut and Shadow did make the search for jingle funk a bit harder: it wasn't long until the all-too-silly 7-11 "Slurp Slurp" promo 45 was selling for hundreds of dollars. I swapped for one myself. I'm glad I didn't pay for it: 14 years later, I can't imagine playing that record for any reason other than to remind myself of that landmark moment when the right DJ got the power to immediately make any of his choice wax expensive in record collecting's post-eBay era.
That said, I am glad that I found that record, and I'm glad I heard "The Basic" and I'm glad that I was a part of the Brainfreeze follow-up Product Placement shows, as that time around I got to hear the likes of The Poets' "Fun Buggy," a bona-fide psych funk banger that just happened to be issued by Scotland's Barrs Soft Drink Corporation to promote their Strike Cola brand. And I bought every jingle funk record I could find, from an Ex-Lax 7-inch on a Bell Studios promo label at a Gulfport, Mississipi record store to the records listed below.
The Poets' "Fun Buggy" was a bona-fide psych funk banger that just happened to be issued by Scotland's Barrs Soft Drink Corporation to promote their Strike Cola brand.
I should probably clarify that not every record listed here is a funk record created for the advertisement of a specific product. Indeed, some of these records are psychedelic and some are simply promotional exercises funded by corporations – big and small – attempting to cash in on something groovy, in the same way that modern corporations stir up the artistic pot with promises of easy money for the right sound. Of course, they sometimes create a hit in the process. (Seriously, did Phoenix's "1901" make the Cadillac commercial, or was it the other way around?)
Maybe these weren't jingles by definition, but Dee Edwards' "Why Can't There Be Love" was first intended to be a commercial hit and, though it flopped on the original GM 45 issue, it was resurrected 40 years later as the backdrop of a very successful Adidas advertisement. So, I make the argument that the minds behind these five selections – from the days before music supervisors were more important to a recording artist's career than A&Rs – were ahead of their time. And they created some damn fine music to boot.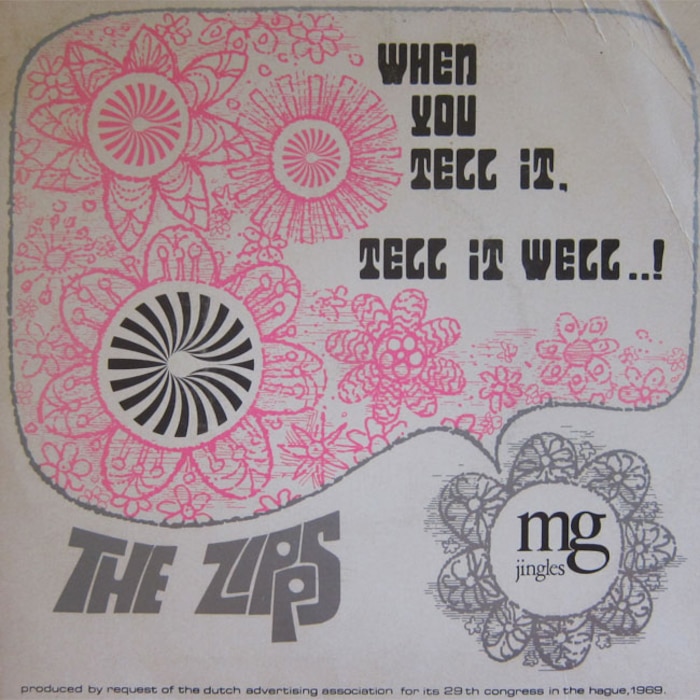 The Zipps - "When You Tell It. Tell It Well..!" (From the 7-inch single, MG Jingles, 1969)
I originally heard this song in the form of a reissue released in 1988 and given away to the first 500 visitors of that year's Utrecht Record Fair. There was scant information on the picture sleeve, but I soon found out the story behind this Dutch psychedelic-cum-freak-beat novelty and, a few years later (and thanks to a connection made by this column, no less!), I scored an original copy of the MG Jingles issue of this, the last Zipps release.
This combo was formed in Holland in the mid-'60s, and they recorded a series of 7-inches on small labels like Op-Art and Relax. According to a long-abandoned Angelfire site – the only source of detailed information on the band available in English – in 1968, original band members John Noce Santoro (drums) and Philip Elzerman (vocals and guitar) recruited two members of another Dutch band, Blues Incorporated (Dick Visschers on rhythm and lead guitars and Ruud van Seventer on bass) to record "When You Tell It, Tell It Well..!" As noted on the record's picture sleeve, it was commissioned, and presumably given away to attendees at, the 29th Congress of the Dutch Advertising Society. It was written by MG Jingles' Marian de Garriga, who was ordered to, according to the record's original liner notes:


"…make it trendy, and that was it, no looking over her shoulder – just the creative enlightenment of a very loose rein. The example couldn't have been better suited to Marian's philosophy on selling sounds. In turn, she wrote words and theme and passed them over to the interpretive abilities of others. 'I usually write music to other people's words,' she says, 'so it was wonderful to be so extravagant.' Result: 'When You Tell It....' sung free and easy by the Zipps pop group, and plugging that vital product that Marian (and all of us) hope to sell well: communication."


The B-side, a series of actual MG-sanctioned jingles, fares far less well; it's full of campy examples of late '60s Dutch advertising tied together by "When You Tell It, Tell It Well..!"'s opening drum rolls.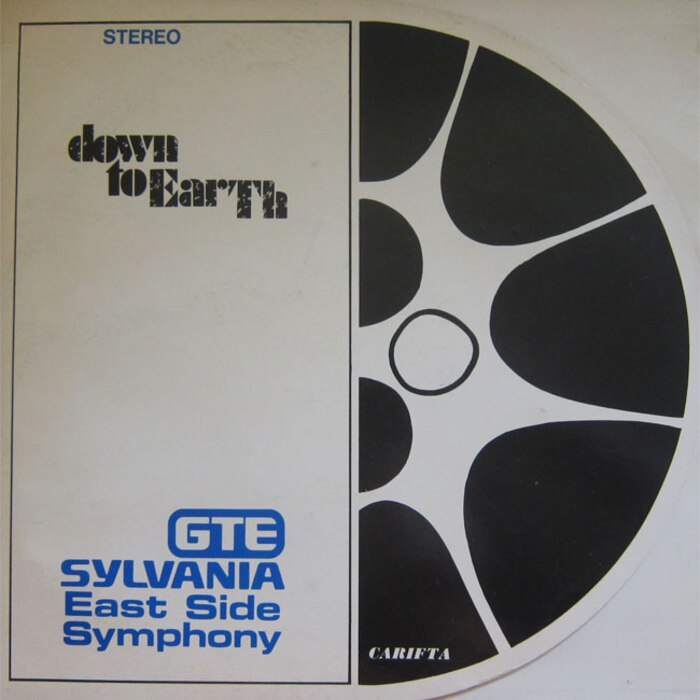 GTE Sylvania East Side Symphony - "Black Man's Cry" (From Down To Earth, Sylvania, circa 1973)
Fela Kuti's music, and that of his organization (notably the powerful drummer Tony Allen) inspired musicians across the global village. I recall a conversation he had with David Matthews, James Brown's arranger and musical director in the late '60s and early '70s. Matthews, remembering the first trip he took with James Brown's and his JBs band to Lagos, was clear in the distinct impression left by Fela's band as he viewed their performance at the notorious Surulere nightclub Afro-Spot. He said that he transcribed the rhythms as best he could, particularly noting Allen's drumming, so that upon his return to the States he could attempt to record the JBs in similar form. In America, Matthews recalled, he brought Bootsy Collins and his version of the JBs – then young, excited, psychedelic-funk musicians eager to experiment – into the studio to flesh out some of the ideas Fela had inspired. None of these songs have ever been released. But the influence of Fela on these musicians and others has been documented. Many covers and interpolations – both from Nigeria and elsewhere – exist to attest to his widespread influence in the early '70s.
Pockets of Fela's faithful existed in far-flung reaches as early as 1972. For reasons not all-to-clear, HMV/EMI pressed specific Fela 45s on its Parlophone subsidiary in Barbados beginning in 1970. Did these pressings reach Trinidad? Or was it the one-off influence of one of Fela's most popular "Western-marketed" albums, Fela Ransome Kuti and the Africa '70 With Ginger Baker Live!, that explains why Trinidad's Lever Brother's Gay Flamingoes Steel Band decided to cover a medley of "Egbe Mi O" and "Black Man's Cry" on their album Secrets of the Pan?
The Lever Brothers, and not Fela, were the influence on the Sylvania East Side Symphony – whose solitary album was released as a promo object for a Caribbean brand of the result of the merger of Sylvania Electronics and the General Telephone Brand: GTE Sylvania.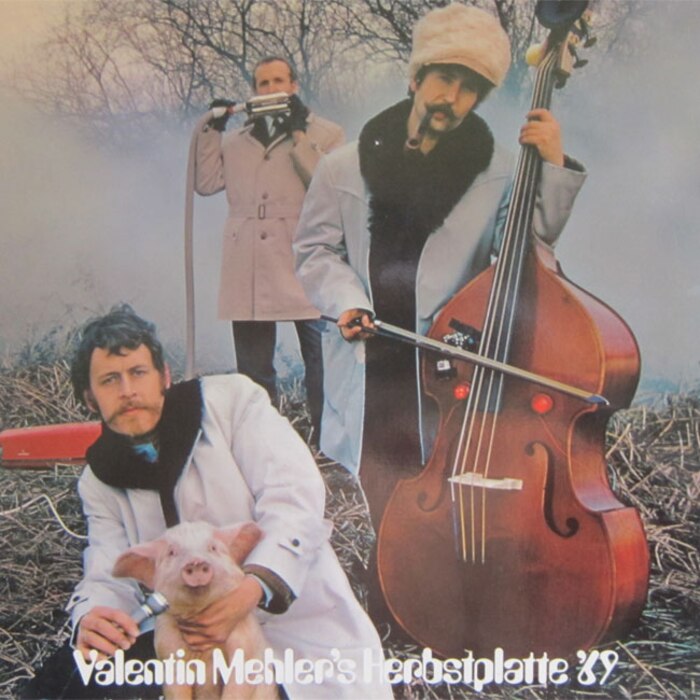 Klaus Doldinger - "Sitar Beat" (From Valentin Mehler's Herbstplatte '69, no label, 1969)
It's almost certain that German saxophonist Klaus Doldinger, most famous outside of Germany for the music he has continuously recorded and released since 1970 with his fusion band Passport, did little except set the stage for the recording of the all-too-short "Sitar Beat" for the soundtrack to the German spy flick Negresco. But in doing so, he created a fine record that was simultaneously issued as a single-sided LP to promote a collection by designer Valentim Mehler.
It's hard to believe that something as heavy as "Sitar Beat" could function as the backdrop to a runway show, as it hit wax at the heady time in Germany's rock scene that would come to be known as Krautrock, and all three musicians in the track's rhythm section were in the midst of a creative boom. The sitar-wielding guitarist Siegfried Schwab had just teamed up with Manfred Hübler and recorded the albums Psychedelic Dance Party and Sexadelic, music from which were used in Jess Franco's Vampyros Lesbos films. Drummer Wolfgang Paap and fuzz-bassist Lothar Meid were recruited by Christian Burchard for an early incarnation of the legendary Embryo, a band whose experiments in global psych funk would last into the early '80s and included lengthy expeditions in India and Pakistan. Schwab himself enjoyed a brief stint with the band.
Why Doldinger, who plays only percussion on this track, allowed these three maestros the freedom to create this masterpiece is up to conjecture, but fans of arcane fashion lore have him to thank for helping create possibly the most inspired piece of clothing-related musical memorabilia this side Jean Claude Vannier's videotaped performance of portions of his L'Enfant Assassin Des Mouches for Yves Saint Laurent's 1971 fall campaign. Sadly, Monsieur Saint Laurent never re-pressed Vannier's legendary album.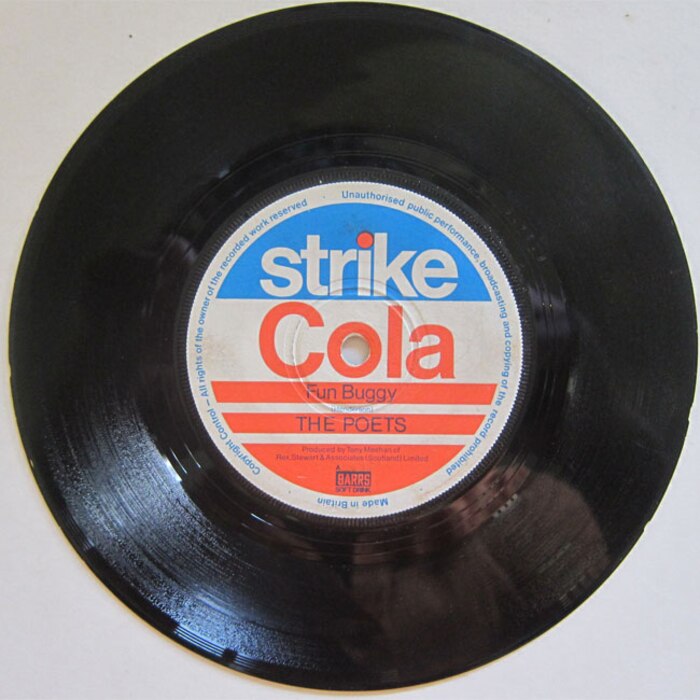 The Poets - "Fun Buggy" (From the 7" single, Strike Cola, circa 1970)
This great example of one-chord psych funk remains the top choice from DJ Shadow and Cut Chemist's Product Placement tour, and the best cola-related promo record I've ever heard (unsurprisingly, there are many). As if to drive home the "funk" portion of jingle funk, this Scottish freakbeat band – who managed to release seven singles, of which "Fun Buggy" was the last – stripped down all of their rock elements until "Fun Buggy" resembled something a James Brown-inspired combo would create.
You can just imagine the feedback that the Barrs Soft Drink execs fed these psych-era hipsters: "You know, lads, I think we could do away with the chord changes…. Really keep it simple and to the point you know…. Slow down the tempo, really make it groovy…. And add in one of those percussive breakdowns that James Brown does so well…. Overdub a bit of that 'chicken-scratch' guitar thing if you don't mind."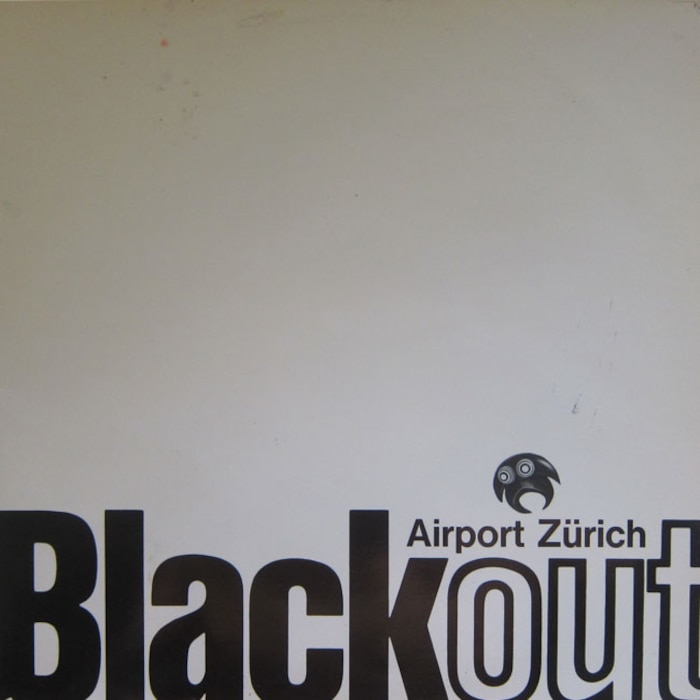 The Skorpyons - "Think About It" (From Airport Zurich Blackout, no label, circa 1975)
Was this complicated promo package – assembled as a gatefold LP, and packed with stickers and promo glossies for Swiss bands with colorful names like Big Town Set, Voices of Eden and Rattle Snake – for a nightclub or for the actual airport that ferries money-launderers the world over into this Alpine haven? Or some combination of the two? The real story is out there somewhere, but collectors of jingle funk search out this record regardless of its origins for a rare cover of Lyn Collins' "Think About It" by the Skorpyons of Jamaica.
While James Brown himself was the subject of many covers, his stable of stars didn't fare as well. Of his divas, Marva Whitney received the most tributes ("It's My Thing" can be heard as covered by bands as varied as Spain's The Presidents and Brazil's Cry Babies); Lyn Collins' solitary hit received a scarce few.