Todd Rundgren's Weird and Wonderful Album A Cappella
In a career full of left turns, this Todd Rundgren album – composed almost solely out of samples of his own voice – may be the strangest.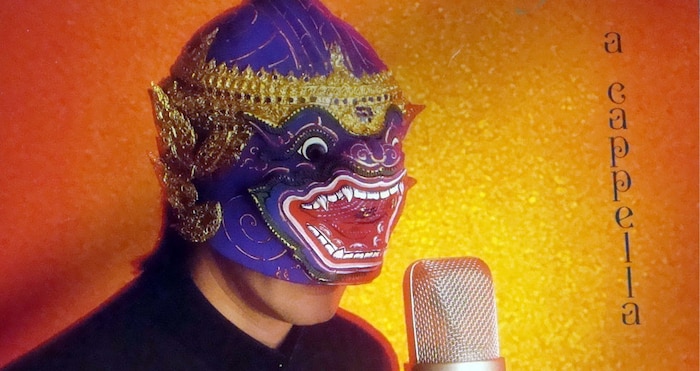 Todd Rundgren is a man who, quite frankly, doesn't seem to give a damn. Which is how an artist should be. He does whatever he feels like, making ultra-poppy tunes followed by odd time signatured guitar freakouts and sonically strange tone poems. Then he does the opposite of all of that.
On his almost two dozen albums, he's written some of the best pop songs of the 20th century, but only hit the American Top 10 once – the #5 charting "Hello It's Me," the first song he ever wrote. Several of his records feature him doing everything – playing all the instruments, writing, engineering, even directing the subsequent music videos. (He's also an adept computer programmer.) He's even produced numerous classic records like Bat Out Of Hell, Skylarking, and New York Dolls and scored one of the greatest American comedies of all time (Dumb and Dumber).
So why is Todd Rundgren so underrated? Probably because he never stood still. Case in point: After terminating his long time deal with Bearsville Records in 1984, Rundgren signed a peculiar contract with Warner Brothers. As he explained to Keyboard magazine in 1987: "It's basically a three album deal, but they have to put out every album I give them, and they can decide whether they consider it a deal album or an album outside of the deal. They know that if I have one album that's a big hit, the greatest likelihood is that I'm going to do the polar opposite on the next album … If I deliver an album that they think is commercial, then it goes on the contract and it's one less album I have to deliver. But if I deliver an album and they say, 'this is another one of your wacky experiments,' then they have to put it out anyway, and the 100,000 people who buy all my records will buy it anyway. Since Warner Bros. doesn't count it as part of the contract, they don't count it as having been advanced on, so I get paid from the first record sold … I might wind up making 20 records for Warner Bros. before we actually get the three that they actually want, but they'll all come out."
The genesis of this deal was A Cappella, an album that Bearsville Records kept on the shelf for a year before Rundgren brought it to Warner Bros. Why did Bearsville think it wasn't commercially viable? Except for a few handclaps, the entire record is made up of Rundgren's voice, albeit heavily processed, overdubbed and played through an Emulator, an early sampling device.
Released in 1981, the E-Mu Emulator could store a short sample of sound on a floppy disk system, then played on its attached keyboard, where one could change the notes and pitch just like any other keyboard. With the wide array of loop pedals and workstations in use today, this is beyond commonplace. But in 1982, this was a brand new way to make music. The painstaking process of splicing pieces of tape to create loops were (almost) a thing of the past. Artists as varied as Stevie Wonder, The Residents and Genesis used the Emulator almost immediately after its release, though nobody used it as uniquely and extensively as Todd Rundgren on A Cappella. (Oddly, on the video below, where Rundgren demonstrates his technique to Entertainment Tonight, he is using a Fairlight CMI – the Emulator's direct competition).
Opening with "Blue Orpheus," an intricate vocal harmony gives way to a thumping bassline and what sounds like a primitive drum machine, but is, in fact, Rundgren's voice. Heavily processed thuds lay the foundation for the song's backbeat, while wavy, reverb-laden background vocals come and go throughout. While the album's opener pushes the human voice to new places, "Johnee Jingo" ditches the effects to further emphasize its natural power along with the song's message. In his long career, The Wizard, The True Star has never penned an anti-war song as glorious or blistering. The tale of a merciless young character who lies about his age to join the military, the titular Johnee Jingo soon passes this heritage off to his "favorite son," beginning a long line of savage warmongering.
"I might wind up making 20 records for Warner Bros. before we actually get the three that they actually want..."
"The bottom line is that if you're going to use something that would seem as gimmicky as an a cappella record, you can't just rely on the voice gimmick," Rundgren told the Chicago Tribune in '85. "You have to make sure the (songs) would have sounded good even if you had used instruments." There's no better example here than A Cappella's emotional high point "Lost Horizon," written as a tribute to one of Rundgren's idols, Marvin Gaye, whose life tragically ended only a year prior at the hands of his father. Having grown up on the Motown sound and the music of Gaye, Rundgren laments never having the chance to sing with the man – "I've got so much to learn now / Lessons I've never had." (During the ensuing tour behind the record, Rundgren performed a medley of Marvin Gaye tunes alongside the song.)
Since it wouldn't be a Todd Rundgren record without at least one taste of pure sugary pop, "Something to Fall Back On" is the song that should have been a major hit. Instead, it's an overlooked pop classic. Again utilizing the Emulator and various studio effects to create a unique backdrop of "instruments," Rundgren proves why he's such a genius songwriting craftsmen. Tired of being a backup lover, Rundgren pens this ode to a would-be girlfriend to tell her that although he's sick of working part-time for her, she's too good to leave.
Finally released in 1985, Rundgren's cult fanbase made A Cappella a minor chart hit before the public quickly branded the record an oddity from an oddity. That year, Rundgren performed the songs live with an 11-person choir instead of a band as well as some old favorites like "Born To Synthesize" and "Can We Still Be Friends?"
In true Rundgrenian fashion, the follow up to this technological exercise was 1989's Nearly Human, an album recorded completely live in the studio by a band barred from doing any overdubs. Basically, he did the exact opposite. A few years after, he released No World Order, an interactive album which allowed listeners to completely remix the songs via the short-lived Phillips CD-i platform. Yet again, the opposite. If anyone is looking for a clear statement from all this shuffling back and forth between new inventions and old formulas, you're likely out of luck. Whether one gets it or not, Todd Rundgren is going to do what he wants. Thankfully.