Big Shot On The East Coast: The History of the Zoo York Mixtape
The funny thing about New York City skateboard company Zoo York is that it almost never happened at all. Rodney Smith, Eli Gesner and Adam Schatz started the business in 1993 after Smith's original company, SHUT, underwent a costly legal battle over trademark infringement and was forced to close down.
Four years later? Zoo York had established itself as the first major East Coast skateboard company, thanks to the successful incorporation of graffiti and hip hop culture in their designs. Released in 1997, The Zoo York Mixtape represents the crew at its finest. One of the most important documents from that period, it's an hour-long video containing skate footage from team members like Harold Hunter, Peter Bici and Jeff Pang and freestyle footage of Busta Rhymes, Fat Joe, Ghostface Killah and Method Man. With Zoo York celebrating their 20th anniversary this month, we decided to take a look back at how it all came to be.
In the early '90s, there were no NYC-based skateboarding companies — let alone any companies attempting to represent the entire East Coast. "We had that NYC tough guy skater/graffiti writer thing going on, which was way different from anything in California," Gesner, 42, explains over the phone. California companies like Powell and Santa Cruz looked to the punk scene for inspiration, but growing up in Manhattan in the '80s, Gesner was into hip hop. Friends with a small group of graffiti artists and breakdancers, he began competing in skateboarding contests as a teenager. Meanwhile, he built up a reputation as a talented artist and graffiti writer. Gesner's first design job came when Rodney Smith asked him to design the original logo for SHUT.
Years later, the two reunited to form Zoo York while Gesner was working at Phat Farm. After crashing on Gesner's couch for a few months in the wake of SHUT's demise, Smith came up with the idea for a brand that would represent the gritty new street skating style taking over NYC. Along with their third partner, Adam Schatz, they were able to get the company off the ground by utilizing Phat Farm's copy machine after hours.
Some were from a broken home. Some were misguided youth. It was the epitome of skateboarding being able to give you some direction and something to do.
"The focal point for skateboarding in the '80s was Washington Square Park," Gesner remembers. "Just hanging out there skating, you got to be around all the b-boys who were breakdancing and rapping, all the skinheads, the rastas, the potheads, the DJs and the hot girls." But by the mid-'90s, a diverse group of young skaters had emerged as the new pioneers of New York City skateboarding. With Zoo York representing the changing of the guard, the owners felt the need to shine a light on these new skaters through their first full-length video.
In the summer of 1995, R.B. Umali, an NYU film student and close friend of Zoo York skater Anthony Correa, was brought in to film what would become The Zoo York Mixtape. A freshly transplanted Houston native, Umali, 35, describes the experience as an unforgettable introduction to the city.
Not long after relocating, he began following skaters like Correa, Hunter, Bici and Pang to various spots in Brooklyn and Manhattan. Mostly skating for fun and for the sense of community, this new wave of skaters carried on largely unconcerned with sponsorship and publicity. With the industry spotlight focused on California, East Coast skaters consistently felt left out. "There were a bunch of guys that didn't get the breaks and there was this 'nobody cares about us' attitude," Smith, 45, explains. "Some were from a broken home. Some were misguided youth. It was the epitome of skateboarding being able to give you some direction and something to do."
At the core of the group was Harold Hunter, whose colorful persona looms large throughout The Zoo York Mixtape. One of the few black skaters in the crew, Hunter grew up in the Campos Plaza housing projects on Manhattan's Lower East Side and stayed close with Smith after joining the SHUT team in the '80s. He remembers Hunter as magnanimous and diplomatic, particularly towards skaters from other cities and outlying neighborhoods. "He was taking these wealthy kids from the Upper West Side and Upper East Side and hanging out with them and inviting them to his house in the projects," Smith recalls fondly. "They would've never been exposed to that had it not been for Harold."
One of our kids lived in Far Rockaway and he had to skate home from the last train because kids would have killed him.
For every Harold Hunter, Smith cites numerous stories of kids being discouraged from skateboarding by their families and peers. The friends and family section of The Zoo York Mixtape was originally created for skaters who were averse to being filmed: "We had all sorts that would get in touch with skating, but then shied away by it not fitting their true lifestyle. If they had to perform, they couldn't do it because there were too many eyes on them." The section later expanded to include skaters from other states and proxy members of the crew like veteran Keith Hufnagel and KIDS star Justin Pierce.
Umali says that while filming the video, the crew would often consist of as many as 30 skaters. "Back in the day, no one had cell phones and they'd just link up however they could. We could meet at Supreme and start with six or seven skaters and then we'd go to the [Brooklyn] Banks and there'd be another six or seven. Then we'd go to the next spot and we'd be like 20 deep," he explains.
Whereas Hunter skates with a sloppy yet endearing style in the video, Jeff Pang stands out as one of the cleanest and most technical. Aside from Pang and Hunter, New York skaters like Robbie Gangemi, Danny Supa and Peter Bici also made a name for themselves through The Zoo York Mixtape. The aggressive street skating exhibited in the video had been unseen (on a larger scale) up to this point. Skaters from around the world were finally able to get a sense of NYC skateboarding and how the city's weather and terrain made the skaters quite different from their West Coast counterparts.
Now a marketing rep at DC Shoes, Pang refers to the '90s as the "glory days of New York City skateboarding," explaining that the city was "relatively untapped." There have been vast changes to the landscape of the city. Umali blames architects and security upgrades after 9/11. A number of spots featured in the video, most notably the Brooklyn Banks, have all but disappeared.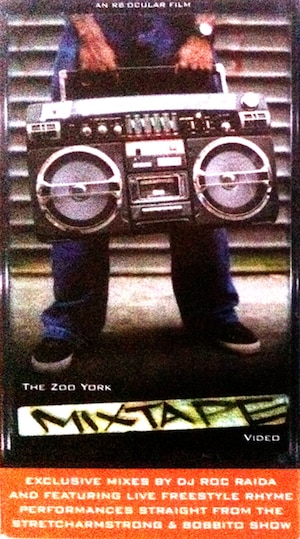 A year into filming, Gesner had the idea to combine the skate footage with freestyle videos he'd filmed in-studio at the legendary Stretch Armstrong and Bobbito Show. A former club promoter, Gesner had strong ties in the music industry. (He was responsible for giving DJs like Moby and Clark Kent their first gigs at Mars nightclub in the early '90s.) After hiring Armstrong to play at Mars, Gesner began filming rappers like Ghostface Killah, Busta Rhymes, Diamond D and Fat Joe at Armstrong's radio show.
As Umali's filming for the video came to an end, Gesner reached out to DJ Roc Raida from The X-Ecutioners to record a scratch sequence as an introduction to tie the video together. Roc Raida came up with the idea on the spot, using records he deemed appropriate for the concept, including Ultramagnetic MCs' "Poppa Large," from which the line "Big shot on the East Coast!" is sampled. Though he passed away in 2009, Roc Raida's legendary scratches live on through this dazzling montage.
After several months of editing, The Zoo York Mixtape premiered at the New York Underground Film Festival in March of 1997, but the larger impact wouldn't be felt until a few months later when it was distributed to skateshops across the country. Schatz says that upon its release, the video sold tens of thousands of copies, but he and the other owners were hesitant to order more because of the unlicensed music in the freestyle portions. He cites the same reasoning for not releasing it on DVD.
The skaters bypassed the door at the hottest clubs and helped to build the now famous mini-ramp inside The Tunnel nightclub.
The three owners were initially excited about the final product, though, and rightly so. The Zoo York Mixtape put them on the map. For the next decade, Zoo York reigned alongside Element as one of the top-selling skateboard companies in the world. The featured skaters, meanwhile, were treated like celebrities. They may not have had as much money as the rappers they partied with, but Hunter, Pang and Bici were just as integral to the culture at the time, bypassing the door at the hottest clubs and helping to build the now famous mini-ramp inside The Tunnel nightclub.
Zoo York was bought out by Marc Ecko in 2001 and expanded into department stores like Macy's and later, JCPenney and Sears. The original owners maintained some creative control until 2005, when Marc Ecko fell into debt and was purchased by a major distributor called Iconix. To help celebrate the company's official 20th anniversary, Zoo York's original owners are attempting to regain some input as brand ambassadors.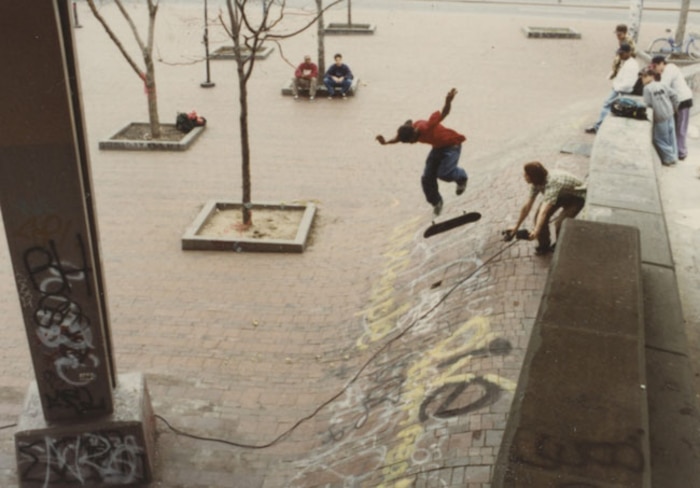 In 2006, Gesner, Smith and Schatz relaunched SHUT Skateboards. It's taken some time to regain the momentum they acquired with Zoo York, but the SHUT brand and their flagship store on Manhattan's Lower East Side are now flourishing. Upon entering, you'll notice graffiti-covered decks and photos of Harold Hunter adorning the walls. Hunter passed away from a drug-related heart attack in 2006 at age 31. Smith says that Hunter just wasn't able to shake his bad habits as he aged.
Hunter's comical, larger-than-life persona stands out as the centerpiece of The Zoo York Mixtape. Umali says his favorite part is when Hunter throws his hands up and yells out, "Oh my god! I never landed that trick in my life." While many point towards the marriage of skateboarding and hip hop as The Mixtape's most important aspect, Hunter's part also served as a groundbreaking moment for black and Hispanic skaters around the world.
Oh my god! I never landed that trick in my life!
"The Internet makes it much easier for kids who might not come from that typical background," Smith explains. "So if your parents are confused, boom, right there. You can find Harold on YouTube." Hunter's legacy has been immortalized through the Harold Hunter Foundation, a non-profit designed to use skateboarding as a community outreach tool for inner-city youth, and the "Legends Never Die" Run for Harold Hunter, which takes off across the Brooklyn Bridge every summer.
Looking back, Umali says he's surprised at how many people still compliment him on the video and ask him for DVD copies, while Gesner is happy it's found a second life on the Internet, admitting there was a time when he thought no one would even see it. He explains that he and the other owners didn't benefit financially from the project, but it had an irreplaceable promotional value. "I'm just thankful I was there to capture it," he says. "You just have to have a sensitivity to not take for granted what you're experiencing. Nowadays no one does that because they can just take an Instagram."