Funk Archaeology: "Beau Dollar" Bowman
There are record collectors… And then there are people like Egon from Now-Again. Egon – who was the general manager of the Stones Throw label for 11 glorious years – is one of those rare creatures scouring the entire globe for the choicest bits of obscure wax, from Turkish psych to Zambian soul. In this edition, Egon remembers a largely forgotten James Brown drummer, "Beau Dollar" Bowman.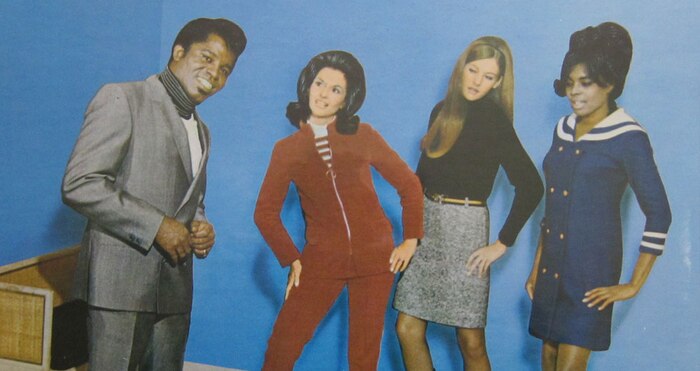 Nearly a half-century ago, two James Brown songs, propelled by two different drummers, hit the pop charts. "Cold Sweat," recorded in May 1967, was the bigger hit of the two: it reached #1 on the R&B charts and #7 on the pop charts. Whether you attribute its success to the Brown Band's overall percussiveness, "Sweat"'s modal vamp, bandleader Alfred "Pee Wee" Ellis' instructions or Brown's vision, one thing is undeniable: when Brown asked "Can we give the drummer [Clyde Stubblefield] some?" The world responded with a resounding, "Yes!"
Just three examples of groups paying tribute: Miami's Frank Williams foregoes the "I Feel Good"-influenced soul that he'd been releasing with the likes of guitarist/vocalist Little Beaver on his labels Lloyd and Octavia and founds the Saadia imprint with his own retelling of this soon-to-be classic; Mexico's El Klan sees their "Sweat" exported to Sweden; Nigerian bandleader Sir Victor Olaiya releases an album full of James Brown covers, and his "Sweat" funk/highlife medley is the highpoint. This is certainly one of the most influential songs – funk or otherwise – of the latter 20th Century.
Bowman's metronomic groove didn't change when Brown explained to his band that he wanted "everyone to lay out but the drummer."
The second, "I Can't Stand Myself When You Touch Me," recorded in October 1967, is a different beast altogether. Its groove surely owes a debt to Stubblefield's "Sweat" rhythm, but gone are his swinging eighth note hi-hats, replaced by William Hargis "Beau Dollar" Bowman's lockstep quarter notes, bashed onto a slightly askew hi-hat. Bowman avoids the "one" – the first beat of a measure, all important to James Brown's establishment of funk – in the second half of each two bar phrase and builds up to the one's return with 16th note bass drum interplay, and what rhythm researcher Alan Slutsky called "two accented snare drum attacks." Brown "gave" Stubblefield four uninterrupted bars in "Cold Sweat" and the drummer was able to showboat. In contrast, Bowman's metronomic groove doesn't change when Brown explains to his band that he wants "everyone to lay out but the drummer." Brown, notifying Bowman of his task the same way that he would soon instruct Stubblefield on "Funky Drummer," seemed to know when he needed to keep a drummer under a tense bridle.
Had Bowman only recorded "Can't Stand Myself," his place amongst Brown's elite cadre of funk drummers would have been earned, and his enduring presence assured. While no one can say definitively who invented the style, Jim Payne, author of Give The Drummers Some, calls Bowman's groove "the Quarter Note High Hat style – quarters on the high hat and everything else beneath it: a difficult thing to do, by the way." Its influence grew. To follow the timeline from 1967 onwards is complicated, but to my ears it goes something like this: Bowman hears Stubblefield's "Cold Sweat" and ponies up a response when Brown crashes his band's – the all-white The Dapps – recording session for an improvised vocal performance. "Can't Stand Myself" hits, so Stubblefield ups the ante in late 1968 with Marva Whitney's "What Do I Have to You to Prove My Love to You," before slowing the groove down for "In the Middle." He then takes the beat to its zenith in mid-1969 with Brown's "Mother Popcorn."
Across the Atlantic, Can's Jaki Liebezeit hears the groove and, in 1971, records the thunderous "Halleluwah," released on the German rock ensemble's magnum opus Tago Mago. In 1977, someone as removed from James Brown's funk as the Sex Pistols' Johnny Rotten tells UK radio DJ Tommy Vance to play "Halleluwah" "…so the records can speak for themselves," adding that Can "has the most amazing drummer I've ever heard, he just keeps the beat." It's taken ten years, and we've gone from funk to punk, but we've returned to Beau Dollar and that beat first recorded on "Can't Stand Myself."
Bowman recorded a series of sessions during Brown's tenure at King, both uncredited (Brown's "I'm Shook," Hank Ballard's "How You Gonna Get Respect"), falsely credited (The Dapps' "Bringing Up the Guitar") and emblazoned with his stage name Beau Dollar (more on those below). Bowman passed away in Florida in 2011 at the age of 69 and, to my knowledge, no one interviewed him about his contributions to the annals of funk drumming. According to those close to him, in his later years he went simply by "Bill" and shied away from discussions regarding his brief, but important role in helping fuel a rhythmic revolution.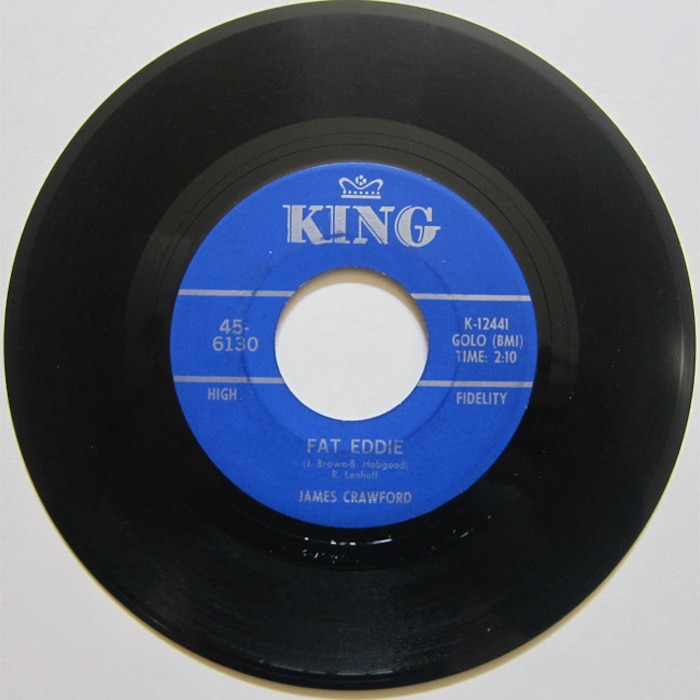 James Crawford - "Fat Eddie"
This instrumental isn't credited to The Dapps. Yet their loose groove is unmistakable.
Prior to recording "I Can't Stand Myself" Bowman and his group The Dapps were plucked out of Cincinnati's Inner Circle nightclub and posted at King to record a series of sessions for James Brown Productions. This instrumental, recorded a month prior to "I Can't Stand Myself" isn't credited to The Dapps. Yet their loose groove is unmistakable: James Brown discographer Alan Leeds confirmed that "Fat Eddie" features Bowman on drums; the song's title references Dapps guitarist Eddie Setzer. This is decent funk – and certainly a vehicle for the amazing bassist Tim Drummond, who would go on to become the first white musician in Brown's touring band – and it offers a Beau Dollar drum solo (edited on the single's release; an unedited version was later issued on the James Brown album I Remember Little Willie John and a Few Nice Things). A short while later, in January of 1968, the first Dapps single was released. Confusingly, "Bringing Up the Guitar" featured the Brown Band, with Stubblefield on drums.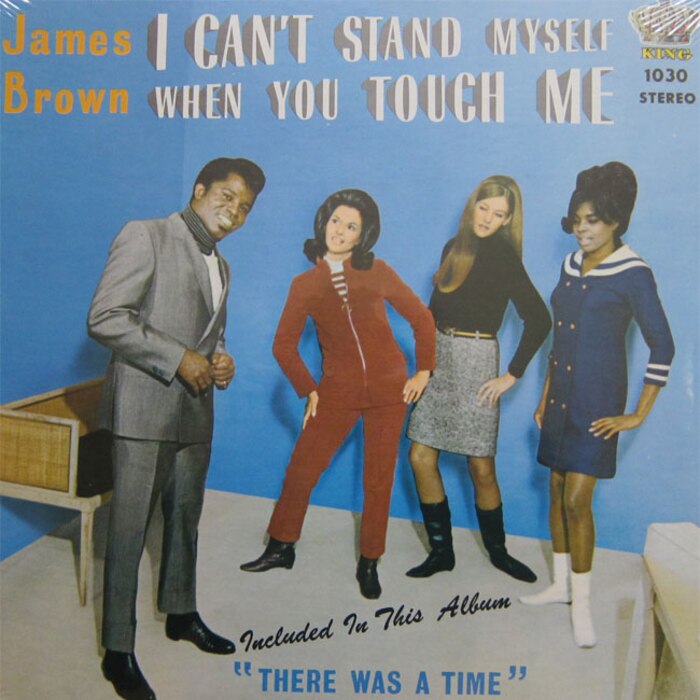 James Brown - "I Can't Stand Myself When You Touch Me"
The definitive version of this song was first issued on the 1996 anthology Foundations of Funk. But it was Leeds' annotation of this song on 1991's Star Time box set that announced to the world that The Dapps backed Brown on this track. "The Dapps were a good bar band. I'm hesitant to say a great bar band. They had the JB aesthetic – you don't fuck up – but I always had the impression that there's a band like this in every town: a good cover band, that doesn't have enough personality to stick out," Leeds now reflects. "But just the fact that the rhythm section cut 'Can't Stand Myself' allows them their place in history: that's James Brown's ability to walk into a session, manage a groove, and turn it into a hit single." It seems to me it was The Dapps' ability to transcend the fluffy funk they'd previously released and offer something so compelling, despite the glaring absence of the Brown Band horns.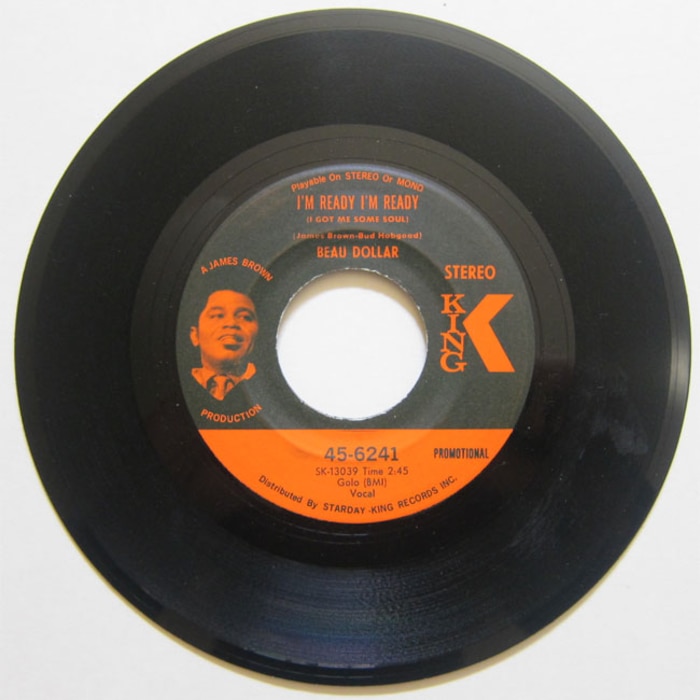 Beau Dollar - "I'm Ready, I'm Ready (I Got Me Some Soul)"
It seems as if Brown was playing up the novelty of this white, funk drumming, soul singer catching on to the Godfather's gospel.
With this single, the first released under Bowman's stage name, in mid-1969, Beau Dollar came into his own. A distorted guitar and marching band brass blasts back Bowman as he recounts his history as a bandleader and vocalist. Yes, he sung rockabilly, and of course he sung some rock 'n' roll (both true; he served in the early '60s with guitarist Lonnie Mack): but he just couldn't get the feeling until he started to sing him some soul. Well, of course, you'd have to say that with your blue-eyed soul record debuting on James Brown's post-"Say It Loud, I'm Black And I'm Proud" King imprint. Given this and the even more curious "(I Wanna Go) Where the Soul Trees Grow," it seems as if Brown was playing up the novelty of this white, funk drumming, soul singer catching on to the Godfather's gospel – and leaving everything else behind.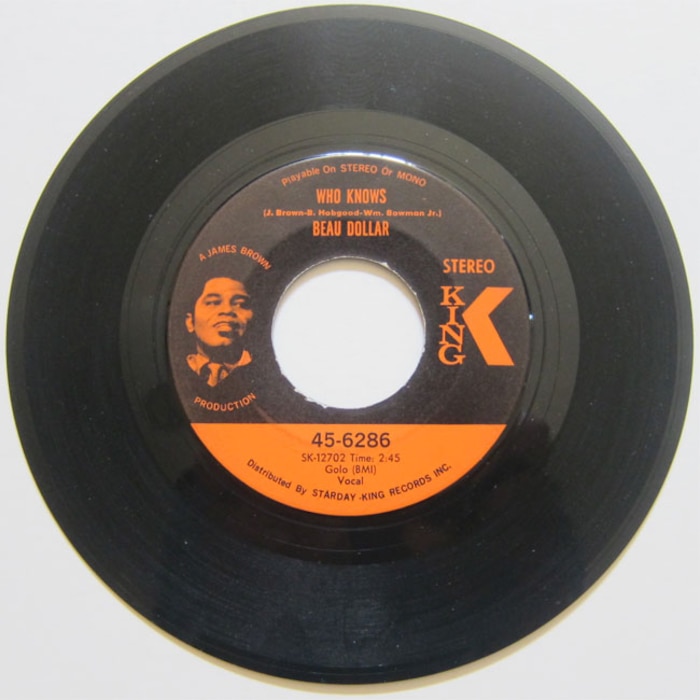 Beau Dollar - "Who Knows"
Rediscovered when Soul II Soul sampled it for "Jazzie's Groove," this instrumental has since been canonized as an ensemble funk masterwork.
James Brown's Cincinnati go-to guy Bud Hobgood produced a series of live sessions featuring Bowman and The Dapps at the Inner Circle. They were supposed to yield an album for James Brown Productions of "99% covers," according to Leeds. The album never saw release, not even as a test press or acetate as many James Brown-related one-offs from the time did, and the tapes are now lost. What songs it might have contained make for a funk fan's dream; it's just as likely it featured the syrupy Arthur Prysock number "(I Wanna Go) Where The Soul Trees Grow" as it did "Who Knows," the B-side to that David Matthews' arranged 45. Rediscovered when Soul II Soul sampled "Who Knows" for "Jazzie's Groove" in the late '80s, this instrumental has since been canonized as an ensemble funk masterwork.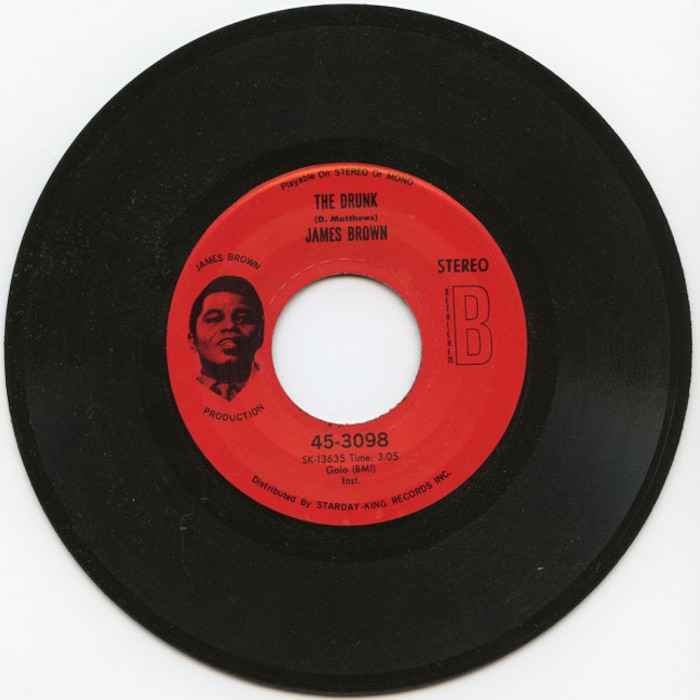 James Brown - "The Drunk"
This single was his heaviest, and a fitting swan song.
Recorded one year after "Mother Popcorn," in May 1970, "The Drunk" is supposedly Bowman's last recording for King. Since Stubblefield and the rest of Brown's classic '60s band (with the exception of drummer John "Jabo" Starks) had either left Brown's employ or been fired by this point, Leeds postulates that Bowman, the only drummer in Cincinnati that could have pulled off this beat, played on this David Matthews-penned instrumental. Matthews' overall assessment of Bowman is clearly illustrated on this single: "Beau's shit was really happening. He was the best white funk drummer in Cincinnati. And at that time I was a be-bopper, not a historian of funk, but I could tell the difference. When he got the groove going it was very heavy." This single was his heaviest, and a fitting swan song.