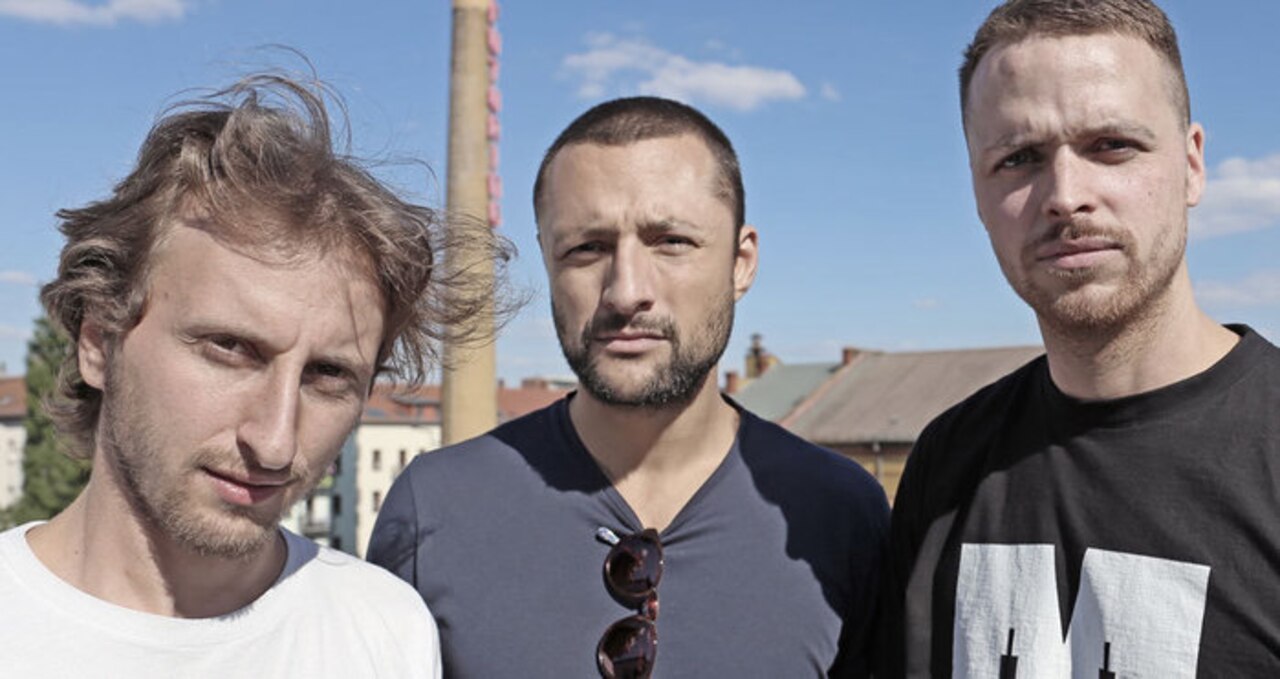 Berlin Techno Roundtable: Henning Baer, Ryan Elliott, Lucy
It's no secret that Berlin is the beating heart of the global techno scene. It's home to a hugely diverse group of local artists, and endless stream of visitors eager to immerse themselves in the culture, and many of the world's most highly-regarded clubs. Henning Baer, Ryan Elliott and Lucy are fixtures in Berlin's techno community – even though none of them were born in the German capital. Baer co-founded Grounded Theory, a multi-faceted project that's both a party series and a booking agency, and releases tracks on K209, a label he runs with Milton Bradley. The Detroit-born Elliott is a resident at Berghain, a prolific remixer, is one half of Spectral Sound's A&R team, and releases productions on Ostgut Ton. In addition to being an accomplished DJ, producer, and performer, Lucy founded the label Stroboscopic Artefacts, which deals in dark, driving techno and experimental electronica alike.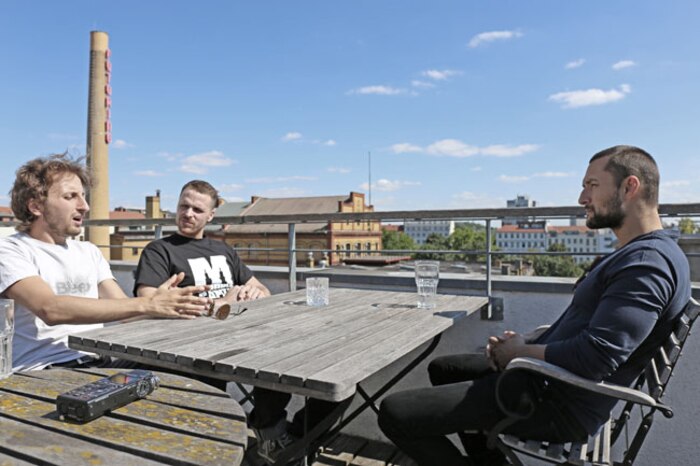 Berlin has been a magnet for DJs, internationally, for quite some time. What brought each of you here?
Ryan Elliott
I first played in Berlin in 2004 I think, and I remember when I first came here that the city felt similar to Detroit. I don't know if it was the unkempt boulevards or what, but I felt at home. So, I kinda kept that with me, and I would come back every once in awhile to play, and when it was time for me to decide what I wanted to do career-wise – whether to stay in Detroit or try to be a DJ – the logical choice for me was Berlin. It needed to be somewhere in Europe, but London is way too expensive, so it was really the only logical choice.
This is very important to me, to be contributors, not parasites.
Lucy
I moved here about 2008. But I have to say that for me, in the beginning, it wasn't music-dictated. I was still very much into my university career, studying linguistics, cognitive science and stuff like this. When I moved here, I was mainly attracted by the metropole in general, not just the music scene. Before opening my own record label, I was not that techno-focused. I was really jumping around, doing different things. I was coming from Paris, which is a very interesting place, but everything is much more difficult. In Paris, I started getting into the artistic community quite deeply, and started having these ideas of building up something where more people could come to together to say something. At the beginning it was not even a record label in my mind. I thought maybe I needed to move to make this real, to someplace where it can be easier, where the city is more "arms open." When I moved to Berlin, after a couple of months, I realized it was about the record label, really, and that's what I did with Stroboscopic. I took one year of arranging stuff and thinking about how and who and the basic approach, and that's how it started for me.
You felt there was more of a community here, or that it was easier to build one?
Lucy
Yeah, exactly. Berlin is like all interesting metropoles – you know, it was London before this, and New York before that, and Paris back at the beginning of the [last] century. This kind of situation is kind of split. On one side you have the big community, everyone influencing each other, speaking to each other. On the other hand, it's still a metropole with a solipsistic feeling. You feel like you're in the middle of a huge crowd, but you're very much alone, actually. This dynamic is what makes metropoles interesting. It allows you to be in contact with the scene and not just be like a shark stealing a piece of it. This is very important to me, to be contributors, not parasites. In general, not just about music.
Henning Baer
I moved in 2004. I was born near Frankfurt am Main, in West Germany. I think I was attracted to Berlin by what Lucy was talking about. You can actually come here and do your thing. You can be under the radar and work on what you want to do. I quite quickly got into the scene because I had friends here, and they were going out. I felt quite comfortable being anonymous in this huge city.
Lucy
Being anonymous means being sincere sometimes, you know what I mean? You have a secured mask around you, so you can say whatever you wish.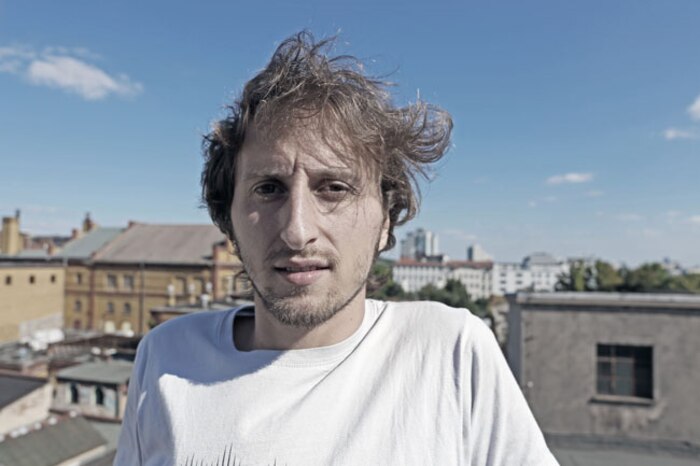 I want to pick up on something Lucy mentioned, this idea of being part of a community and making a contribution. How do each of you feel that you contribute to the scene here?
Ryan Elliott
Hopefully I've been able to offer a few pretty good DJ sets and productions. I'm an avid record buyer, so I keep the machine going with that.
Henning Baer
It's also part of feeding the scene, right? Buying the records, taking something, giving back. For me, when I was enjoying clubbing here – and I'm still enjoying it very much – at a certain point I felt I had taken so much that was time to give something back. I think that's very important for keeping a subculture going, it's about give and take. With the parties, I thought that could be a way to give back.
Once the Wall came down… There were lots of opportunities to do things. I think that mindset is still here.
Lucy
It's like a sense of a basic responsibility. In this city, in this special moment, many people have this sense of basic responsibility towards the scene. Like, in my case, with the label, what we try to tell to people is that things can be done in whatever way you wish, with a new kind of approach. Trying to do the newest shit doesn't matter, because art has always been a big recycling machine. What you can give that's new is to give a new approach, or be brave enough to try something yourself. If it works, other people will be, like, "Okay, this is also possible." When we started, I was in the lucky/unlucky situation where I had nothing to lose. No big names behind me, no one behind me pushing me or the label somewhere. It was really done step-by-step between a few friends at the beginning, and things got bigger and bigger. And it worked out. It's still possible in 2013, in cities like Berlin. It's not the only one in the world, I think, but at the moment it's focused on this.
Henning Baer
My question is always this: why is Berlin so interesting for the techno people? To be honest, sometimes I think it because you can party from Sunday to Monday.
Ryan Elliott
I think that's a big part of it.
Henning Baer
In many, many cases, I wonder why these people are here. Is it because they want to contribute to the scene, or is it just because you can spend hours and hours and hours clubbing? Of course, at the end, this is the main thing of dance music culture, but when it's only about raving, then the important part of putting something into the scene is missing. It's about balance. Of course, not everybody can start a label, or start DJing –
Lucy
The way the massification [of the techno scene] works doesn't imply that [their] input was not sincere, or have huge value. You can keep on giving those kinds of stimuli. The one million people that come here every weekend, that's their contribution.
Sometimes just being there can be a contribution.
Ryan Elliott
Even though it's been 20 years since the Wall's come down, I think that separation set up a structure for a lot of the clubs, and maybe the rules. I think that dynamic helped shape, even today, the scene here. Once the Wall came down, people that were in the West, lots of artists and creative people, came into the East because there were lots of empty buildings and lots of opportunities to do things. I think that mindset is still kind of here.
Lucy
I completely agree.
Henning Baer
What Ryan said is a fact. When the Wall came down, there were many empty spots, right? And people took the opportunity to do their thing. I don't know if there's already an English translation of the book that Felix Denk and Sven von Thülen wrote, Der Klang der Familie, but in my eyes, it's a manifesto about the early days of the Berlin scene. I think everybody who is into the scene or even just comes here to rave, should read this book. It gives you a very, very detailed impression of how it was at the beginning of the club scene and how all that stuff evolved, and then you can draw conclusions as to why things are now how they are.
You're all DJs, producers, label heads, party promoters, A&Rs, and more. How has living Berlin changed or opened up those lines of work for you?
Ryan Elliott
I'd never lived outside Detroit before I moved here. Even with the Internet, email and everything, there's still a lot to be said for bumping into someone at a café on the corner. Just being around and actually seeing people, talking to people, it means so much more than an email.
Lucy
It's an energy thing.
Ryan Elliott
We're artists. There's days you feel like making a record, there's days you don't. But Berlin has always been an inspiration for me. You just walk around, or you hear a really good set from someone that you didn't expect, or you hear a great record... that stuff inspires me, as an artist. Sometimes I would get that in Detroit, sometimes I wouldn't. Not as much as I do in Berlin. This city really, really inspires me.
Lucy
That's interesting what you say, because my mind works really in the opposite way. Often, the biggest inspiration I get is from very negative experiences. Like, if I hear something that I really don't like. Anyway, I totally understand. There are so many stimuli here that it works either way.
The infrastructure to have a creative life [in Berlin] makes it easier than other cities.
Henning Baer
Even if it's just a subconscious inspiration. I don't have these conscious inspirations that I see something and I'm like, "Yeah! Now I'll do this and that." It's also possible to be a sponge of subconscious impressions, and then you go to your lab or your decks whatever and just let it flow. I think Berlin offers you the possibility to just flow. To float around. Of course, at the end, we all have to pay bills.
But it's easier to pay them here.
Ryan Elliott
Right.
Henning Baer
Of course, the cost of living is also rising. Here, there's less pressure to perform this kind of... the pressure of the society is not that strong. In other cities, London, for example, Tokyo, New York, it is even harder to do what's close to your heart because there's a pile of invoices to pay. Here, maybe you work in a record store, or a café, or a bar. The infrastructure to have a creative life makes it easier than other cities. I think this is a part that attracts many people.
Do you find that the city pushes you to do more?
Henning Baer
For me, definitely. We're in the lucky situation that when you have a weekend that you can spend here, you can go to at least four or five parties where there are artists playing that you admire. The concentration of creative energy within this city pushes me to do better and better and better and better. For me. There is no objective better.
Ryan Elliott
I think "push" can be a negative term. I think it's motivation. I don't consider it a bad push.
Lucy
When I see a lot around me, I tend to rarify my output. I react like I need to step back. When I see that everything is going into a rush, I'm like, "Okay, I have my rhythm, my time." I want to respect that, otherwise I have like an automatic switch that says "stop" and I can be in the studio for ten hours and not one bar will come out. You always have booking agents, promotion people that will say, "We need something else!" And I'm like, "I need some time, bye." It's also a nice spontaneous way of filtering stuff. Sometimes you get so much into the rush and push and external motivation that you can easily lose the point of what is really your thing, what is necessary to you. That's why sometimes I tend to step back.
Henning Baer
Would it be different in another city?
All Berliners understand that artistic ability and creativity are a big part of what makes this city.
Lucy
Yeah, I think so. This is an experience I've had running a record label, dealing with newcomers, people that are completely unknown, coming from little villages. You talk to them and you'll say, "What's your favorite club?" "Berghain." "Have you been there?" "No." It's funny, but I'm not saying this ironically, that really fascinates me. That's fucking great. It reminds me of when I was 15 listening to the new Tricky album and I was like, "Fuck, that's the next step!" The record that helped me approach electronic music was Selected Ambient Works. When I heard it, I still remember the feeling. It's very close to these newcomers telling me their favorite club is Berghain. I try to keep this enthusiasm very precious to me. That's the one nucleus no one has to touch. If I lose this, I lose the point. For all of us, at some point, it was a choice to get into the music business. Even if it comes naturally, it is a choice. You have one lifestyle, or the other. And our lifestyle is actually very parallel to the "common world." There are a few touching points with "normal routine people," you know what I mean?
Henning Baer
I think techno and electronic music is a very strong industry. I think the mechanism and the structures of this industry are quite the same when you compare it to another industry. I think this part is very close to the rest of society. The "other side." This is why so many people can afford to live through it. I think Berlin has a pretty interesting landscape of labels, distribution companies, record stores...
Ryan Elliott
PR agencies.
Henning Baer
Clubs.
Lucy
I agree, but one thing you should be careful about is that you're talking about what's happening inside Berlin. When you step out of this very special place, there are not at all many people who can manage to live off this work.
Henning Baer
That is what I mean, that's what makes it quite unique. This is what attracts the people who made the decision to spend their lives, the rest of their lives, maybe, with techno or electronic music.
A lot of people just come, stay one year, out.
Lucy
At the same time, I think there is one delicate point in this system. The three people who are talking here, we're in a very lucky position where things are now very stable, probably long-term. We have a specific approach, we have a lot of experience. But, what I see working with other people, and I'm pretty sure you two do, too, in your own structures, most of the people who work – with millions of quotations marks – "below" you, they are just there for three months, six months, and then they pass away. I have a feeling that this has a lot to do, also, with the city. A lot of people just come, stay one year, out. It's like this a process that must be – we need to be responsible for this, and be careful with this, to not take too much advantage of it.
Henning Baer
The question is why they are here.
Lucy
For these people, often, it's an exotic experience. It's okay for one year, but then they go back to their normal lives. You know what I mean? That's what I meant when I said it's not that common. It can be common for six months, nine months, but then these people get... I don't know if it's tired, or bored. They have the need to get back to their normal cycle.
Perhaps it was never meant to be a permanent decision for them.
Lucy
Exactly. Exotic means something which you want to experience but you know that it's outside of you. It's not your thing to just dive into it, putting all the risk that you need to put to commit fully. It's a cool thing, even, because there's a lot of refreshing energies. But it can be a dangerous process.
Henning Baer
I see your point with the dangerous process. I think that sometimes there's too much water in the river. Everything is floating away. You think you can grab it, but it's gone.
Lucy
It is moving, like all industries. It's just here it's moving very fast.
Henning Baer
But are these people part of the industry, then, at the end? If they just come here and live for a year? I sometimes see mid-20s people working at a random job, and I'm like, "Yeah, I remember him from a club I've been to last weekend." I think they didn't try to be part of the industry. They come here to spend the summer, enjoy the city, but then they go back. And I think that's all right.
We've talked a lot about the quick changes of the industry, a lot of people that come and leave. Have you noticed the city change on a grander scale since you've been here?
Ryan Elliott
I've only been here four years, but there's a lot less illegal, underground warehouse parties. The clubbing scene has gotten a lot more professional. You've got certain pillars that are the clubs and that's kind of it. I think the city government had a lot to do with that. Even though it's not happening quickly, I think that the government – I'm not saying they're going anti-clubs, but it wouldn't surprise me if they started changing the rules on how long clubs are open. A lot of big cities over time have done that. New York, London. The cost of living is still, compared to London or New York, completely okay, but I've noticed it go up a bit. Old bars or buildings in my area have been torn down, there are new buildings going up. But I think that stuff is unavoidable in any city. It's a normal process.
Henning Baer
These are actually quite big changes.
Ryan Elliott
Yeah, even in the last four years. And if you talk to people who lived here in 2000, big differences. But, like I said, in any thriving city, that's unavoidable. Artists move in, they make an area cool, people buy the buildings, develop them, artists have to go somewhere else.
Lucy
It's not a new story. This happened already. London, New York before. It's always exactly the same mechanism. When you have the underground community creating something very interesting and cool, masses follow it, industries eat it.
Henning Baer
Of course, within time, things change. I think that the whole structure of the Berlin scene got more and more professional. You have so many incredibly good clubs here, and the landscape is actually very, very versatile. You have an interesting mixture of artists. I think it's a very wonderful time.
Ryan Elliott
I do, too.
Henning Baer
I remember the last years, it was just great. Enjoying the parties and raves, it was a beautiful time. But I question myself sometimes. What will be the next step? How will it be? Will Berghain close? What will happen?
The cost of living is still, compared to London or New York, completely okay, but I've noticed it go up a bit.
Every big club will have its time – E-Werk had its time, Tresor had its time. Berghain has been around for a decade now – do you see this as something that might change over the next few years?
Lucy
You named E-Werk and Tresor, but remember that Berghain came in exactly at the point where the industry was really structuring itself. So, I think it's not gonna be [as difficult] as it was for E-Werk and Tresor, when everything was much less structured. Now, when the industry starts to generate a lot of money, and the institutions know that, then the relationship between the institution and these kinds of clubs is much safer. For sure, it's gonna come a time, but I think it's gonna be more for artistic reasons. Berghain was really lucky, it came exactly at the right moment. The label, Ostgut, as well. It was like a perfect, big machine working in the best way, thanks to big-minded people who were working there. I see it as a very different situation than E-Werk or Tresor in the past.
Henning Baer
I remember the first time I walked up those stairs at Berghain and heard this rhythm, and remember going to Marcel Dettmann's sets, like, every time he played – they, in my eyes, brought techno back in a certain way, and put it back on the landscape. It was a very natural and organic dynamic that brought this club where it is. And I think also a very natural dynamic will end it. Maybe they decide next year, "Okay, it's done, we're done." Maybe! You never know. I think they're very emotional people behind it. It's not just about the money. I think they're very honest people. In a certain way, maybe the most honest people in the industry, maybe. They weren't giving a flying fuck about if the club was promoted somewhere. They were believing in the thing they were doing.
Lucy
And they cultivated their own resident DJs, which is something most clubs don't understand. The big value of Berghain is the residents.
Henning Baer
This is why people somewhere in Sicilia say, "Okay, my favorite club is Berghain." "Have you been there?" "No." Because it's so strong. Because the label is so strong, the artists are so strong. That's why it's the favorite club of so many people who have never been there. It's already there before you have been there.
Lucy
It's an idea before it's a place.
Ryan Elliott
And it doesn't disappoint either. Once you go, you never say, "Oh, that's not what I expected it to be."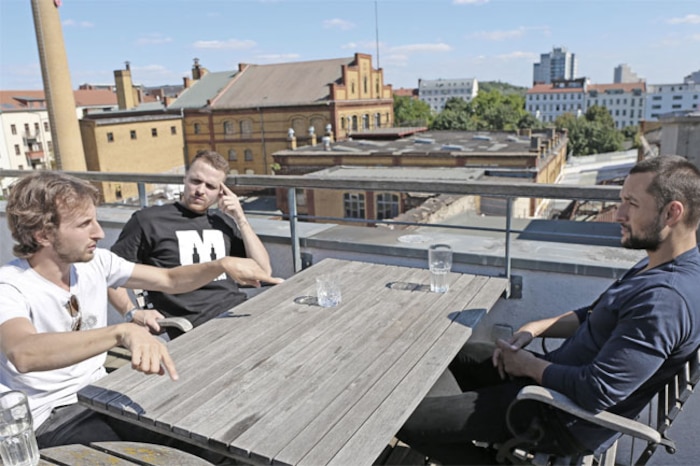 What about the other clubs in the city?
Ryan Elliott
We really have a lot of really cool clubs here. They're very, very different. I'm not talking about music, just talking about physical space. Weekend is a beautiful club for what it is, the physical space. Watergate is a really pretty club, I think. And then you have clubs like ://about blank that keep that squat feeling. It's rough. And I loved Horst. Horst isn't open anymore, but I thought that was a super unique club.
Henning Baer
I think, actually, the music we're talking about is very closely connected to the physical space where it's played. When I close my eyes and listen, or I see my music or music I appreciate in front of my eyes, it is definitely connected a certain shape of the room. These are two factors that have to work together. That is why Berghain is so attractive, but also other places. The terrace of Weekend in connection to certain type of music makes the whole picture.
Ryan Elliott
Or also Club der Visionaere. A little unique place like that.
Lucy
At the moment – and for awhile now – when I produce I try to really take care of the spaces. I'm replaying the stuff in certain places, and recording back on tapes to get this very realistic room sound or space sound or absence of echo. Electronic music and the ambience around that, it's so important.
Henning Baer
That's why I love convolution reverbs.
Lucy
Back during the Krautrock days they were saying, "We couldn't use English because it's another country. We didn't want to be nationalistic and use German. So what would we use? Space!" That's a sentence from the Faust guys. It's still very hugely connected, the sense of space with what we are doing music-wise.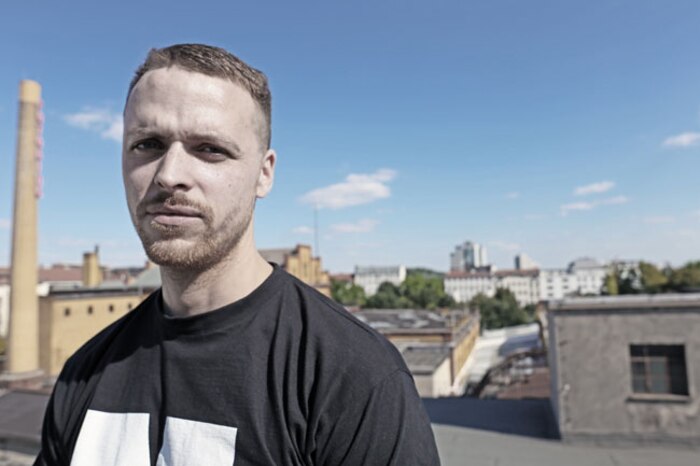 Henning, maybe you can talk about Stattbad a bit, since all of the Grounded Theory parties are there now.
Henning Baer
At the end of last year we moved to Stattbad, the same venue where Berlin Boiler Room takes place. It's an old, public bath. We're down in the basement because we think it fits better with the music we play, to the artists and music we present. It's definitely different to, let's say, Berghain. It has low ceilings.
Lucy
It has more of a labyrinth feeling, with all these small hallways.
Henning Baer
On the other side, it gives a very intimate and personal feeling. The crowd is very well-connected to the DJ. It gives a personal touch to it. It's in Wedding, and many people will be like, "Oh, Wedding...?" But you take the Ringbahn from Ostkreuz and it's, like, 15 minutes or something. And due to maybe rising rents and stuff people move to Wedding because it's even cheaper than Friedrichshain and Kreuzberg.
Lucy
Of course, way cheaper. I think Wedding is the new candidate to be the next Neukölln area. It's really low prices. A lot of people and artists are moving there.
Henning Baer
And when you stay within the Ringbahn, it's beautiful. We're very, very happy with the people who run the club. Super cool people, they do all kinds of art installations and exhibitions. We've had incredible nights there.
I'm not scared about the scene dying. I still see things moving with such speed and such power.
Do you think that adds to the vibe, getting people to travel out to Wedding for a night?
Henning Baer
I think so. Imagine you're in Friedrichshain, and you can easily start at Club der Visionaere for a drink, then you go to, maybe there's a good night at Arena Club, or, let's say, ://about blank for awhile, then you go to Berghain. I think when you decide to travel to Stattbad, then you commit yourself to go to the party, and you're a little bit cut off this club-hopping thing. But, I mean, it's still within 10, 15, 20 minutes ride. It's not a huge journey.
Lucy
This actually brings me to think of another point about the spaces where we do what we do, that really changed a lot in the time I've been living here. Now, except a few exceptions like Berghain, people are more and more going to a party or to see a DJ instead of going because of the club itself. This is something that, to my memory, was very different, even just four years ago.
Ryan Elliott
For sure. I think there are more venues and less clubs.
Lucy
Exactly. Venues, parties, groups of DJs, collectives. It's really far from what we do, but it's a very huge phenomenon what's happening with the Homopatik guys. These guys are having crazy, crazy, and very underground and super low-profile success. Which reminds me of the stories I hear now about OstGut when it opened. A lot of common points. There is always something boiling in a city like Berlin. I'm not scared about the scene dying, because I still see things moving with such speed and such power. I'm still very confident about Berlin.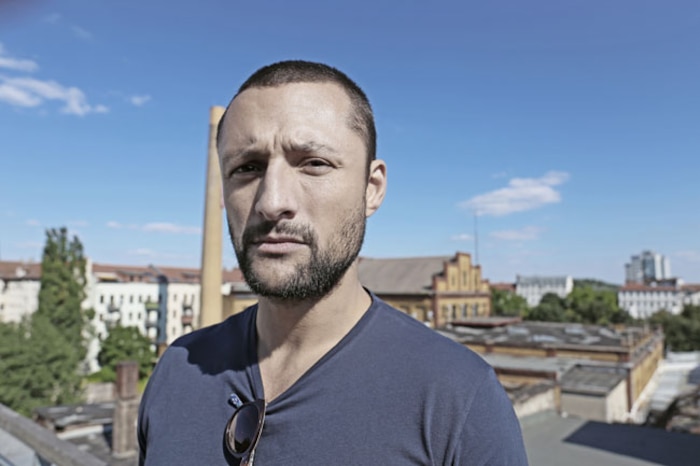 Ryan, in one of your interviews you mentioned liking to take a long walk or ride public transit before playing a gig to feel the heartbeat of the city. I'm wondering if each of you could try to sum up what you feel is Berlin's heartbeat, the soul or essence of the city.
Lucy
127 BPM.
Henning Baer
To me, the heartbeat of Berlin is the mixture. All these different people coming here, this melting pot feeling.
Ryan Elliott
I think Berlin is one of the only big cities that I've ever been to – we call ourselves the "creative people," and I don't want to call other people, politicians, businesspeople, uncreative. But those people actually respect and appreciate the creative people. I don't think New York's that way. I don't think London's that way. But I think that's very, very real and strong here. All Berliners understand that artistic ability and creativity are a big part of what makes this city. There's more of an appreciation, an awareness, and a tolerance for arts and a creative way of living here than I've seen anywhere else.


Photos: Ndilyo Nimindé