An Oral History of Electronic Music in East Germany
Between 1981 and 1989, about a dozen LPs of electronic music were released within the confines of the German Democratic Republic. Ranging in sound from cosmic GDR disco to Baltic Balearic, these quirky, dreamy and spacious tunes now seem almost far-fetched to have originated in a country with such impermeable borders. The GDR's electronic pioneers managed to flee their home – not in body but in mind, through the use of synthesizers, drum computers and samplers. Some of these tools were extraordinarily hard to obtain, and so only a select few specialists were actually able to practice their art and release their music in 1980s East Germany.
The records in question are far from canonical. They are a forgotten side-branch on electronic music's tree of evolution – but one that has grown its share of wonderful obscurities. Sprawling, psychedelic Kraut jams, synthesizer epics and heart-wrenching disco cuts exhibit an astonishing array of influences and inspirations – incredibly worldly in spite of their makers' confinement to a land in which electronic music was not tolerated by the state-owned record label.
The fall of the Wall has left its mark on each and every one of these pioneers – be it for better or for worse. Today all of them live in the outskirts of Berlin. Paying them a visit means manoeuvring through highway crossings, abandoned industrial complexes, allotment gardens and carefully trimmed hedges. This is a journey into the periphery.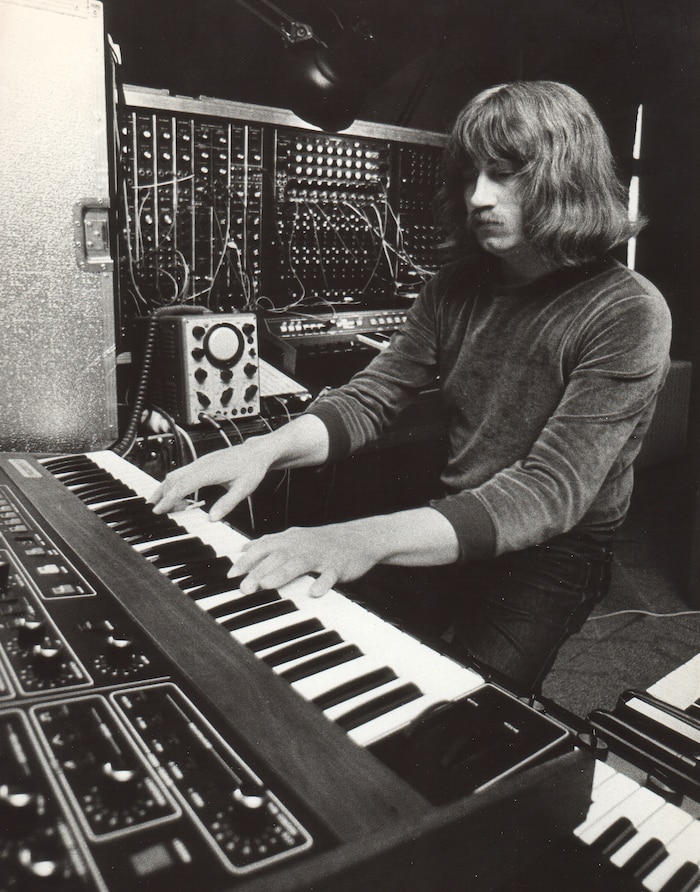 Reinhard Lakomy
Like everyone else, I used to secretly watch West German TV, and one day in the mid-'70s I saw Tangerine Dream in a TV show, playing in a castle in England. I'd never heard sounds or rhythms or sequences like that before. I was totally speechless! In 1980, Tangerine Dream then paved the way for electronic music in East Germany with their concert at the Palast der Republik. They even put on a laser show, an absolute novelty here. And no one here had ever experienced anything like their sound system before either. But that wasn't just new here but in the West, too. Overnight, that kind of music became incredibly popular.
Paule Fuchs (Pond)
Well, Tangerine Dream didn't have any lyrics, so the officials reckoned their music was unpolitical. I think that was one of the reasons why they were allowed to perform in East Germany. None of the officials felt there was any danger, which was also an advantage for me personally because I never had to make any statements or justify myself. Other bands had to put up with lots of official lecturing and change loads of their lyrics, but as an electronic band you were spared because there were no lyrics. Before that, we as Pond had played so-called bombastic rock: Emerson, Lake and Palmer; King Crimson; Yes; and so on. But everyone got tired of it after a couple of years. I once saw a picture of Klaus Schulze somewhere, of him sitting on the ground in his spacesuit with a helmet on, surrounded by masses of keyboards. I thought, "Wow, that's what we're gonna do!"
Frank Fehse (Key)
I wanted to make music without the need for a drummer, vocalist or guitarist. But not necessarily something like Pond or Lakomy. I guess you could call what we did with these electronic instruments "pop music." Outside the rehearsal room, live, we saw the audience really enjoyed it too, because it was very rhythmical and had phrases you could relate to, not just this dreamy, ambient, losing-yourself-in-sound sort of thing.
Jan Bilk (Servi)
Back then we were a church band. We always performed at church congregations at the weekend where we played meditative electronic music, and we also accompanied the service on Sunday mornings. So we had to play very quietly, without a drummer. Well, we didn't want little old grannies keeling over. For that reason, and also because at some point we lacked the energy to bother about lyrics, as of 1982 we started playing purely instrumental electronic music. At Christmas in 1984, I remember it well, we went to an Intershop and bought ourselves the Amiga version of [Jean Michel] Jarre's Equinoxe from the money we got out of the collection after the service.
Hans-Hasso-Stamer
What impressed me most was the technical side of the equipment. Fellow musicians I mentioned this to said: "Are you nuts? You need tons of equipment to make electronic music!" But I thought: In that case, start small. It doesn't have to sound like Equinoxe from day one. So I began with pop songs, but without any vocals.
Jan Bilk (Servi)
All the state combines in East Germany had to contribute to the production of consumer goods. Some pretty strange concoctions came out of that: for example, the mechanical engineers and machinery builders in Cottbus produced a synthesizer, the Tiracon V6. The only problem was that they always lacked various components, so they didn't have any chips for the synthesizer. But somehow they got hold of some from Robotron, who normally produced computers and portable radios, and had them sent to Cottbus.
Rainer Oleak
There wasn't really any equipment that was produced in East Germany and you could actually use. Sure, we had our own synthesizers, but it was pretty tedious working with them. Well, for live gigs you had to cart them from A to B, and they didn't like that at all. Something would invariably break. So you had to smuggle equipment into the country or get someone to smuggle it in for you. Everyone knew that, and everyone did it.
Paule Fuchs (Pond)
Getting hold of equipment was quite an ordeal. For a start, you had to earn loads of money to be able to afford stuff from the West. Then this money had to be "planed," exchanged into West German marks. That was prohibited, and if you got caught you ended up in prison. The exchange rate on the black market was usually 1:6 or 1:7, but sometimes you only got 1:10. On top of that, you also needed someone to bring the gear across the border. Most people charged a hell of a lot for that, so you'd end up paying up to 40,000 East German marks for a synthesizer. Just to put that into perspective: my mother earned 400 marks a month. It was totally out of proportion. But I made other sacrifices: I only had a single pair of jeans, the rest of my money all went into buying equipment.
Julius Krebs
Every East German musician was chasing after West German marks like the devil after souls. Not with the intention of buying a pair of jeans but to get hold of new gear. The next problem was getting it into the country. A member of one of my former bands was married to a Chinese woman. Her passport allowed her to travel to West Berlin whenever she wanted, and as a foreigner different customs regulations applied to her. Between the two of them, they imported masses of equipment into East Germany. He probably became a millionaire just from doing that.
Hans-Hasso Stamer
I once gave this guy – you'd probably call someone like that a dealer today – 13,000 East German marks and then didn't hear from him again for ages. Of course I was really worried the money was gone. In winter I was told to come to a certain place and he appeared with a Yamaha keyboard under his arm. It was hair-raising!
Jan Bilk (Servi)
We once had a gig in Bautzen, and when we got there, there was this really big cardboard box. Inside was a Moog Prodigy, brand new! We later found out that a Jesuit priest from Cologne had collected money in his parish and had sent this synthesizer over. It was like Christmas for us!
Franke Fehse (Key)
When you'd mastered the first hurdle, it got a lot easier. Because you could sell your old equipment to other musicians in East Germany who didn't have such good connections, and with the money you got from that, afford to buy something new. Once the wave was in motion, it was quite bearable, actually. That's how I managed to afford relatively modern gear from the West, and because I was so well equipped I often got jobs from radio stations as a studio musician. It was ironic: we could hardly get hold of such instruments, but musicians who had such equipment were very much in demand, even from state institutes.
Paule Fuchs (Pond)
Well, in East Germany it was simple – if I may exaggerate a bit: every village had its own club. And every weekend a different band would play, it cost three marks to get in, and that's how they got the kids off the street. The program was always very varied and people came no matter who was playing. Well, what else was there to do at weekends?
Everyone was immediately enthusiastic about our new electronic music programme, even the older churchgoers.
Rainer Oleak
The audience didn't care if it was electronic music or whatever. Music was music, and it didn't bother them who was playing that night. There wasn't a special scene for electronic music: everyone was pretty open-minded and just glad to hear something different for a change.
Julius Krebs
Since it was all regulated by the state, you could always be sure you'd get paid, which was excellent nurturing ground for sound experiments.
Paule Fuchs (Pond)
There weren't any drugs, none whatsoever, zilch, absolutely nothing. I was part of the music scene for a heck of a long time, but I don't know of a single incident involving drugs. Anyway, where should they have come from? All we had was alcohol.
Jan Bilk (Servi)
Everyone was immediately really enthusiastic about our new electronic music program, even the older churchgoers. And you can't get any better conditions than in a church. The audience is open-minded, responsive and grateful for everything that is offered to them. And, what's more: the location itself gets them to concentrate.
Julius Krebs
As far as I know I was the first person in East Germany to perform live on stage with a Commodore C64 and a 303. As a monitor for the C64, I used a Russian TV set. But these computers were terrible because they kept crashing. At one of my concerts, it crashed seven times! What could I do? I had to resort to playing something by hand while I rebooted the computer. The audience was fascinated because they could see that someone was really making an effort. They were thrilled and knew that the sounds were being computed at that very second.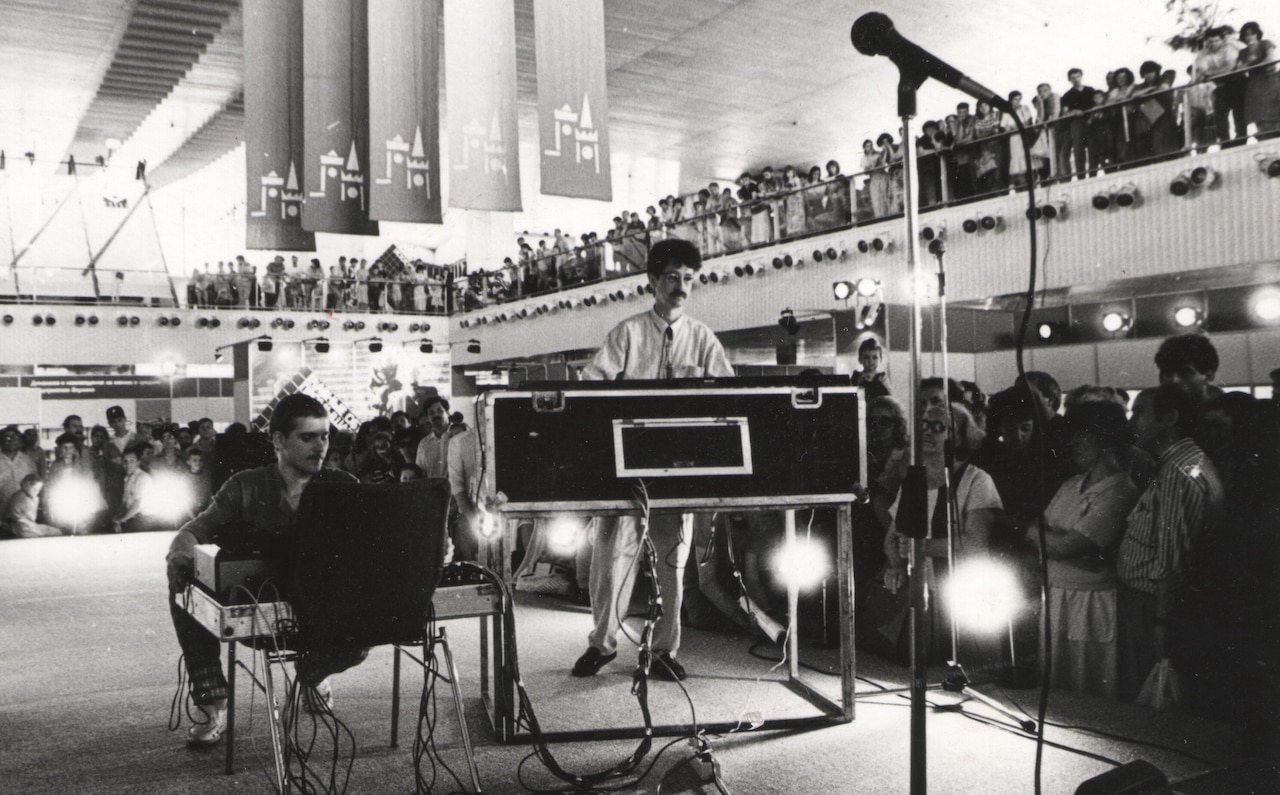 Jan Bilk (Servi)
Sometime around 1982, at a church concert we once put our C64 on the altar, plus an old Robotron TV set. Looking back, that was heresy, but we were so fascinated by the idea that it didn't occur to us at the time. The cursor moved along with the music, which we wanted everyone to see, so we put the TV set on the altar. But no one in the audience understood what we were doing.
Hans-Hasso Stamer
In the early days I still had an analogue sequencer and had to set each step on a turn-dial pot. I'd bring along a voltmeter and quickly reprogram my sequencer between each track. Just imagine!
Frank Fehse (Key)
We always thought about what sort of additional visuals we could offer. At the end of the '80s, at one of our concerts in the Palast der Republik, two guys came up front and started spinning around on the floor in front of our stage. We'd never seen anything like it before. It looked awesome! When the gig was over, we asked them if they'd perform with us. So we changed a few of our songs, and they'd breakdance to them. A rather unusual sight in East Germany in those days.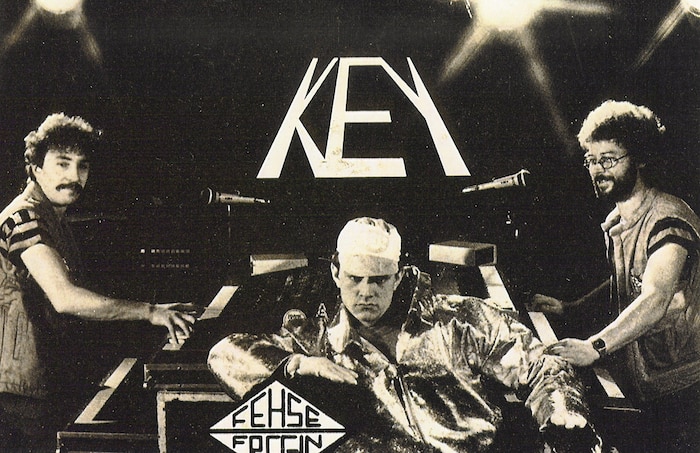 Paule Fuchs (Pond)
We always wore overalls on stage. Well, we had to offer the audience at least something. Before that we wore a kind of bathrobe made of silk, but that always looked so effeminate. What we really wanted was something like a spacesuit, like the one Klaus Schulze wore. My wife had a flight suit, so we had two copies made and that went down really well. But I kept getting fatter – and by the way, so did my rather slim colleague – and that meant we constantly had to have ever-wider inserts sewn into the sides so the suits still fitted.
Hans-Hasso Stamer
In the West, lots of electronic musicians just went about doing their own thing in home studios and never actually performed live. In East Germany it was different: if you didn't come from a music conservatory, you first had to play live for years on end to prove yourself and show that you were consistent before they let you make a record. An LP was like a knighthood.
One day we came up with the idea of bringing out our own record. A totally absurd idea, almost like saying: "I'm going to build my own rocket and fly to the moon."
Rainer Oleak
I got to know Lakomy in 1981. At that time he had just brought out an electronic record and was on good terms with the officials. Our record [Zeiten] was pretty experimental for its time. And thanks to Lakomy having so much influence, we got away with it. Let's face it: nobody gave a toss about sales figures in East Germany. Certainly not the record company. Lots of things didn't sell well for the simple reason that they were produced in such small quantities. And most musicians made a living from live performances.
Reinhard Lakomy
People always make out as if we were way behind the times in East Germany. But what one forgets is that we had really high expectations in East Germany when it came to culture. Anything that was published was checked right down to the very last detail, also with regard to the technical aspects. Well, if the truth be known, we simply didn't have enough material. There was always a shortage of something. In Gotha [the nationally owned printing factory where the covers for Amiga were printed] they'd scrape every last bit of red out of the corners, just to make sure they could add a bit more color.
Frank Fehse (Key)
Our record also featured two cover versions: one of Jan Hammer's "Crockett's Theme" and Harold Faltermeyer's "Axel F." I had suggested these to Amiga, and much to my surprise they agreed. After all, both songs were hits from the West. The guys from Amiga probably speculated the record would sell better if they included them.
Paule Fuchs (Pond)
With "Planetenwind" we suddenly became famous from one day to the next. They even played it on the radio, we were in some kind of charts, we performed on TV. I never claimed I was a great composer, but I'm hard-working. And I always say: success proves you're right. My song was played on East German radio stations or on TV every single day. Anyone who lived in East Germany at the time knows it.
Jan Bilk (Servi)
One day we came up with the idea of bringing out our own record. A totally absurd idea, almost like saying: "I'm going to build my own rocket and fly to the moon." But we were dead set on it. In Erfurt there was a place called "Arbeitsstelle für pastorale Medien" (Centre for Pastoral Media), run by the Catholic Church of East Germany. They had a very good mixing desk, two Studer tape recording machines and some effects equipment. That's where we recorded "Vertrauen." We then sold the cassettes at our concerts and other church events, and one day we got a letter from someone at Amiga: suddenly they wanted our music! We signed a contract with them, the first that a private production company had ever signed with the state-owned VEB Deutsche Schallplatten. We negotiated the price and it was as if we were capitalists. None of us knew how much one could charge, so we demanded a utopian sum – and a utopian sum is what we got.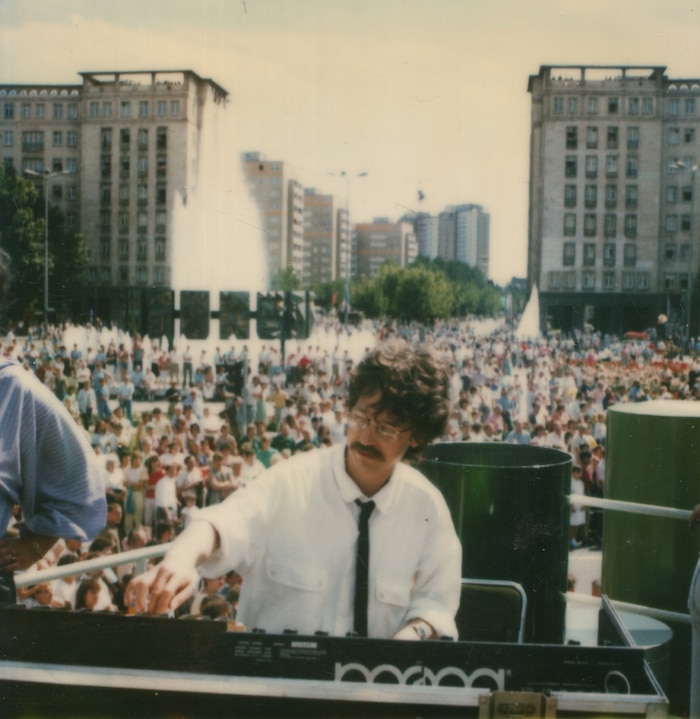 Reinhard Lakomy
German Reunification changed everything: anything that was of value here or once expensive became worthless, and our biographies were dismissed as slightly inferior. At the same time, everyone was so overjoyed about the abundance of electronic music that I felt it was no longer essential for me to continue. There was a glut of instruments with factory settings that allowed just about anyone to make music. Which was good and I was not the least bit sad about it. But I was looking for something unique, something not everyone could do. So this excursion had somehow come to an end.
Hans-Hasso Stamer
After German Reunification, everything disappeared in a kind of vortex. Either you had the energy to say, "Fine, that's the end of that, I'll just start again." Or you didn't have the energy. I'll be quite honest with you: I didn't have the energy. I went over to writing poetry and playing the piano.
Jan Bilk (Servi)
Church work had always been oppositional. We as a church band didn't actually experience any repression, everything seemed perfectly normal. But what is normal? We didn't have anything to compare it to, didn't know any different. We only noticed there was a wall somewhere that stopped you from going any further. It was like a thick fog that was ubiquitous. People don't die of fog, and fog doesn't really do you any harm, but fog reduces visibility. That had an effect on a major part of our lives. As far as I'm concerned, I'm glad it's all over.


Translation: Intro - Anthony Obst, Oral History - Carol Christine Stichel
Header image © PONDerosa Records