Interview: DonChristian on Le1f, the Mad Gestural Paintings of Eric Fischl and How an Architect Has Inspired His Next Mixtape
One look at his website will tell you that DonChristian's talents extend way beyond what can be heard on his debut mixtape The Wayfarer. Music takes up only one of multiple artistic categories on his CV, next to a gorgeous array of paintings, performance art and mural pieces. In fact his passion for rapping and producing only really started to develop in late 2012, when he moved to New York City and found his friends making inroads on the hip hop circuit.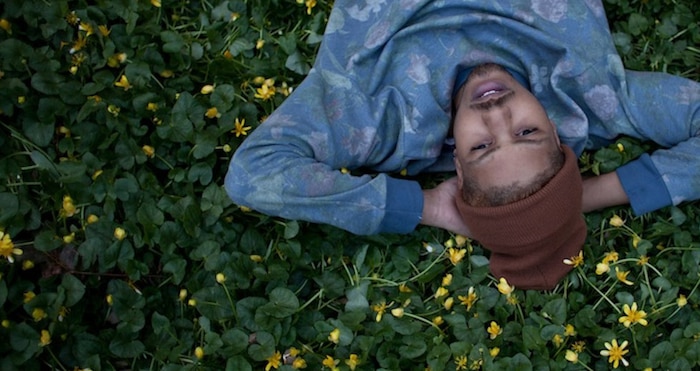 Aided by his connection with Le1f, whom he met while getting his degree in painting at Wesleyan University, DonChristian's first foray into the rap world made the rounds on the blogosphere earlier this year. The Philadelphia native's lush, personable cloud rap is far removed from any academic notions attached to a term like "art rap," and yet there is a certain romantic aesthetic that connects his music with his work as a painter. Before his new mixtape drops this December, we caught up with the promising multi-talent to find out more about his artistic endeavours.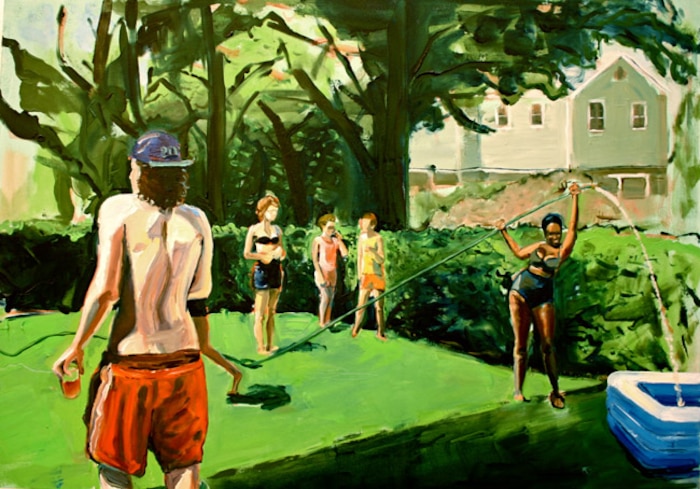 You went to school at Wesleyan and it seems like you met a lot of creative people there.
Yeah, I met Le1f there and Cybergiga and Sam Jones. We all started making music together at Wesleyan. I was already writing before that, but I really got into recording and producing when I moved to New York last year, where they had also migrated to.
You were active as an artist before that though. When did that start for you?
I love the way Eric Fischl paints – with mad gesture.
I was at school for painting and I did a thesis in painting. I'm still painting now, that's how I pay my bills actually. I paint murals for this non-profit in Brooklyn. They do murals all over the city. It seems harder to be a visual artist in New York than it is to make music. I'm just trying to pursue both, but music is really where my heart is right now.
How is it harder?
The scene just seems harder to break into. It's obviously a little vapid and I have my own notions of what kind of artist I wanna be in New York.
What kind of non-profit is it that you're painting murals for?
It's a really big organization called Groundswell. They're funded by the private sector and by the government. All the murals are social justice-oriented and you're working with underprivileged youth populations. So there's always a group of teens that are getting paid to paint with us. It's really dope. I'm really glad that I got into it.
It seems like the intersection between the art world and the hip hop world is particularly strong at the moment.
Yeah, I mean you can see it with these murals too, which grew out of the graffiti community and aimed to take that into a more artistic realm. There are lots of mural initiatives across the country. It's global, really. And artists all across the board are looking to add visual components to their music – art and music and video all wrapped up into a nice package.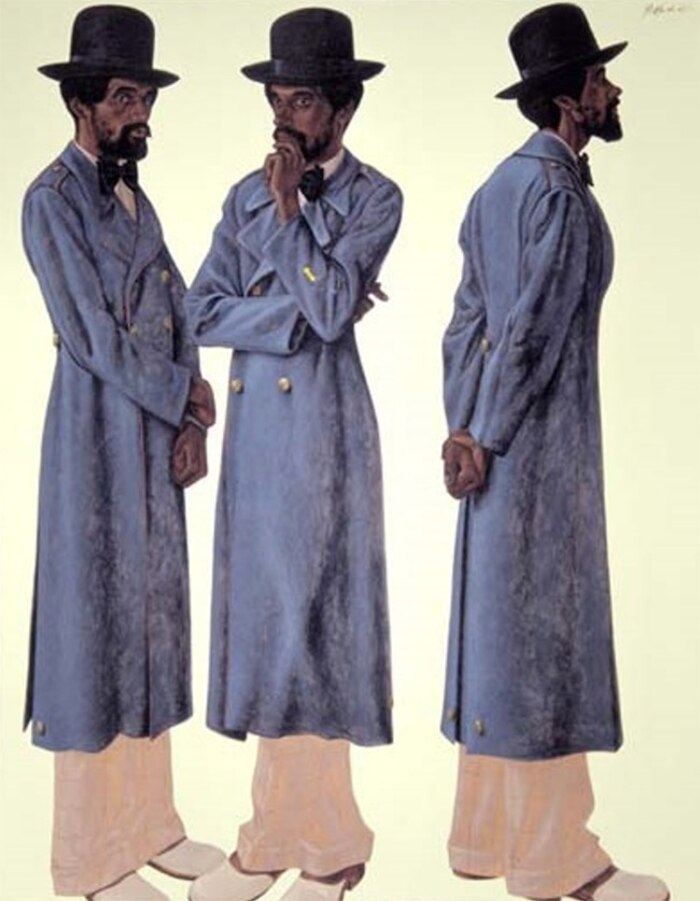 Who are some of your favorite artists?
There's Barkley Hendricks, who is a Philly native. He's actually the one who really inspired me to be a painter. He paints these massive portraits of blacks in the '70s – white fur, chocolate skin, cocaine, Marvin Gaye all come to mind. I was entranced when I first saw his work. Then there's Eric Fischl, whose paintings really moved me when I first started studying up. He'd paint these suburban figurative narratives that kinda sometimes felt collaged, like pre-Photoshop era. And the content tended to be weird and sexually ambiguous. Mostly though, I love the way he paints – with mad gesture. And then there's Jayson Musson, who is just really hilarious and I would like to hang out with him and talk shit.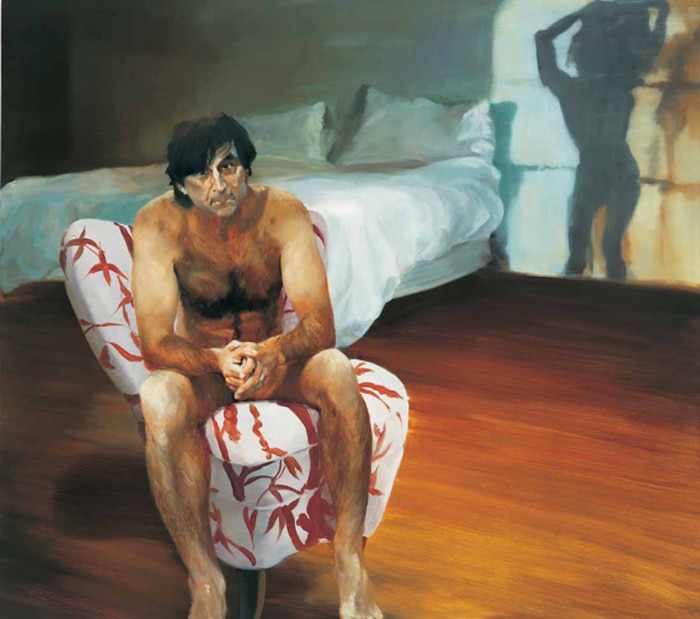 How did you develop your passion for the arts?
I grew up in a relatively creative household. My dad is a musician, he plays the congas and he's actually very good. My brother is a rapper too. He's actually 10 years older than me but he's been rapping locally for about 20 years now. So music has always been around. I guess I was kind of late to tap into it. But I've always been interested in art. I've been going to museums and painting and drawing since I was little. It's easy to do that in Philly 'cause it's really culturally vibrant. And it's small enough that you can see everything if you want to.
You have a nice website that showcases all the different things that you do. One of the things I stumbled across was the Early Box. I couldn't make much of it. Can you explain that a little?
Yeah, I imagine that's pretty cryptic. I was working with this artist, who was a professor of mine. Her name is Eiko Otake. She's a performance artist. She had me reading a bunch of Japanese literature, like post-atomic bomb theory and poetry. And I was really struck by some of the pieces I read and I ended up making this box/ performance piece inspired by some of that literature. It was a crematory box for my parents, who are still alive. I interviewed my mom on the phone and asked her all these questions about her imposing death. And then I made a box and recited this thing. I don't know, it was cool to talk to my parents about that 'cause I never really sat down and did that.
Another thing that struck me was obviously the "My Crew" video. It's truly a great piece. How did that come about?
I worked with my friends…
Your crew.
Yeah, exactly. My friend Sam Jones is a director. He's also from Wesleyan. He shot two of Le1f's videos too. He's incredibly talented. I came up with the concept. It was kind of a dream I had, actually. I told him about it and he was just super down to run with it. So he just asked a few of his friends and I asked a few of my friends to help out. It was very homegrown, you might say.
Looking at some of your paintings and listening to your music, I feel like there's some sort of common thread there. It's a lush vibe. Somewhere in between realist and romantic, quite dreamy. Is that something you think about, the way that your music and your paintings play off each other?
Well, the more I think about it and the more reception I get, I'm definitely seeing more of the connections. But I wasn't thinking along the way how these things really connect to one another. Which was the root to a lot of my anxiety as an artist, thinking that everything has to be very cohesive and it all has to make sense together. A lot of times things don't make sense, but it's nice that they do to some people.
Tell me about the Blues For Smoke exhibition with Le1f and Heems at the Whitney.
That was fun. There was a performance component added to that exhibition. So it was like a weekend concert series. Le1f and Mykki Blanco and Heems and all performed and I got to do that as well and I showed my paintings and Le1f did a performance piece with some installation art. It was really cool. It was huge to do, I was really honoured. It was nerve-wrecking but also very fun.
What does your career trajectory look like? Are you gonna focus on your music more now with the reception that you're getting or focus more on your bread-winning job as painter?
If only it were that bread-winning… [laughs] I mean it pays the bills. But I definitely am inspired right now and I already have some ideas on what I wanna do next, musically.
What would that be?
I'm putting out another tape called Renzo Piano. Inspired by the architect, Renzo Piano.
A rap mixtape inspired by an architect?
Yeah, I'm just inspired by him as an artist in general. And because his name sounds like a really smooth lounge singer or something. I don't know, it's a nice moniker or character to play with. Conceptually it's about space and movement, and creating an environment structurally and sonically… if that makes sense. I think it could be weird.