Don Drummond: Jamaica's Most Talented and Troubled Trombonist
David Katz remembers the mercurial and majestic Skatalites member who helped lay the foundation for reggae and dancehall
Without the exceptional creativity of trombonist Don Drummond, reggae as we know it simply would not exist. As the most musically innovative member of the Skatalites, Drummond was one of the most important architects of ska, a genre which helped to lay the foundation for reggae and dancehall. Playing behind every artist of note during those years, he also provided crucial input that helped along acts like Bob Marley and the Wailers. (Drummond was largely responsible for the musical arrangement of "Simmer Down," the initial Wailers outing that made such a dramatic impact.)
Indeed, it is fair to say that, during the early '60s, Drummond's mastery of the trombone was unparalleled. But Drummond also suffered repeated bouts of psychiatric disturbance, resulting in prolonged stays at Bellevue, Jamaica's sole mental hospital. Channelling his frustrations into music, which accounted for the sombre undercurrents of songs such as "Burning Torch" and "Green Island," Drummond was an incommunicative and troubled soul, his tendency to withdraw within himself making him one of Jamaican music's true enigmas.
Drummond tried a variety of instruments at Alpha, including trumpet, euphonium and French horn, before bandleader Reuben Delgado noticed his aptitude, and directed him to the trombone.
Drummond's father was entirely absent during his youth, and his mother worked as a domestic. So when Don began cutting class, he was sent to the Alpha Boys School, aged 9. The Catholic charitable institution for "wayward boys" was brutal, with students routinely beaten or locked into under-stairs cupboards for perceived wrongdoings. Drummond was schooled in various trades at Alpha, including gardening, tile-making and tailoring, but was unable to apply himself to anything other than music. "We don't go to school all day, like the average person, we go to school half-day, music half-day. Most that I know on trombone is what he taught me," explains Rico Rodriguez, who became Drummond's protégé at Alpha.
"In music, he was so gifted," adds schoolmate Lester Sterling, who would later join him in the Skatalites. "At Alpha, he was playing better than some of the guys who were playing two years before him." Drummond tried a variety of instruments at Alpha, including trumpet, euphonium and French horn, before bandleader Reuben Delgado noticed his aptitude, and directed him to the trombone. Drummond blossomed on the instrument to such an extent that he was placed with the Eric Deans Orchestra six weeks before his graduation in 1950.
Eric Deans' Orchestra was then the island's leading big-band ensemble, and Drummond made quite an impact before he was ejected from the group after Deans' girlfriend became infatuated with him. Drummond then joined Sonny Bradshaw's band, another high-calibre ensemble, and moonlighted with groups like Tony Brown's Orchestra, composed of former Alpha students. By July 1955, he was officially rated "Jamaica's number-one trombonist," and was already fronting his own All Stars, as well as a smaller quartet, both of which performed his original compositions. Drummond backed Sarah Vaughan in 1956 and did a guest spot with Dave Brubeck in 1959.
"It was a pleasure listening to Don solo. His execution was mild; he wasn't blaring, he was a very neat and first-class soloist."
But after pressure reached him, the trombonist landed in Bellevue for an extended period. By the early '60s, Jamaica's sound system proprietors had already begun recording local variants of rhythm and blues, initially for exclusive use on their sets, which kick-started the Jamaican music industry. The future Skatalites thus began interacting more closely with each other at Federal studio: saxophonists Roland Alphonso and Lester Sterling, trumpeter Johnny "Dizzy" Moore, drummer Lloyd Knibb, bassist Lloyd Brevett, guitarist Jah Jerry Haines, and pianist Jackie Mittoo became the house band harnessed by Clement "Sir Coxsone" Dodd (who would later found Studio One), along with the recently released Drummond.
As Dodd explained, "Don Drummond was of world standard, and it was a pleasure listening to Don solo. His execution was mild; he wasn't blaring, he was a very neat and first-class soloist. I was happy working with him, because I knew of him before he started recording for me, but he went in the asylum, and when he came out, he came by me, because at that time I was the leading sound system recording producer. He came to me because I was the new kid on the block, recording all the good artists, and I didn't have any doubt – I know he was a winner, so I signed him up on contract in 1961."
"That Man Is Back" was a swinging R&B tune that celebrated Drummond's return from Bellevue, and after featuring on Owen Gray's landmark ska "On the Beach," signature tune "Don Cosmic" was a spectacular early result from the partnership, a song so heavily steeped in melancholy that the trombone almost seems to weep, the discordant blasts at its ending revealing shades of torment. Perhaps inevitably, it was not long before Drummond was sent back to Bellevue, absenting him from the live scene until May 1962. As Dodd recalled, "When I started recording, he was there for about a year and a half, and then he went back in; he was acting up, so his mother had to put him back in the asylum."
"The MC said, 'Now we present Don Drummond!' and Drummond came right out, pull down the zip and just piss on them! Drummond was just something else."
Singer Clancy Eccles once told journalist Steve Barrow of the trombonist's then fragile emotional state: "While we were recording down by Federal, they was digging out that piece of land, and Don used to go over and pick up this pretty piece of clay and put it in his Ovaltine. Don Drummond never eat anything hot – everything cold, lot of fruits and so on. One day Roland and Johnny looked in the bottle, it was clay and all those things mixed together, and Drummond said, 'People are supposed to live in an atomic energy, you are supposed to build atoms inside of you' – that's why he ate the clay. For a madman, Drummond was extraordinary – I wouldn't call Drummond mad. There's another story of Don Drummond performing in Port Antonio, and the MC said, 'Now we present Don Drummond!' and Drummond just came right out, in a suit, and just pull down the zip and just piss on them! Drummond was just something else. Drummond never wear a shoe – always wear his felt hat, him look beautiful, but he's not wearing a shoe. He was like one of those American jazz musicians, just a different type of person."
Despite the stays in Bellevue, Drummond remained a leading light of ska, scoring thrilling instrumental hits for Studio One such as "Schooling the Duke," "Jet Stream" and "Reload." He also cut excellent material for Justin Yap's Top Deck label, including the highly emotive "Marcus Junior," "The Reburial" and "Confucius." Duke Reid got landmarks "Eastern Standard Time" and "Occupation." And when Dodd had the idea for a representative ska group, leading to the official formation of the Skatalites in August 1964, they brought ska to the attention of the outside world. But within a few months, Drummond's mercurial nature saw him increasingly absent. "When I went to Studio One, Don Drummond was still playing with the Skatalites," says Marcia Griffiths, "but you couldn't really rely on him."
A doomed romance proved his undoing. Drummond had become involved with Anita Mahfood, an exotic dancer of Lebanese extraction who went by the name of Margarita; the scion of a powerful but extremely dysfunctional family, Mahfood championed Rastafari during a time when followers of the faith were extremely ostracised, and she venerated Drummond for his unique creativity. Their relationship, however, was extremely volatile, especially because the heavily medicated Drummond disapproved of her near-naked dance routines.
On the morning of New Year's Day, 1965, Jamaica was rocked by the news that Don Drummond had murdered Margarita. He was derided as a madman and sent to Bellevue, where he remained extremely isolated until his death in May 1969, aged just 37. Official records stated "congestive heart failure," though some musical associates suggested foul play. Drummer Hugh Malcolm even disrupted Drummond's funeral to proclaim that his death resulted from assault. In any case, the murder signalled the break-up of the Skatalites and the end of ska, and since Drummond was essentially buried in an unmarked pauper's grave, it was the most ignoble of ends for such an exceptionally talented musician.
As the sub-title of Heather Augustyn's recently published biography suggests, Don Drummond bore genius and tragedy in equal measure, which perhaps accounts for the unique character of the music he left behind.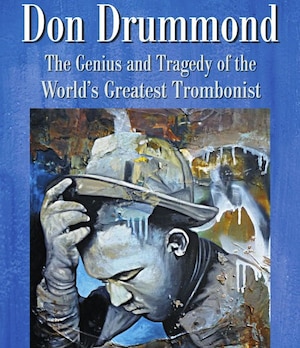 As David Katz writes, Heather Augustyn recently published a book about the life of Jamaican trombonist Don Drummond. We caught up with Heather via email earlier this month to find out more about Don Drummond: The Genius and Tragedy of the World's Greatest Trombonist.
What drew you to Drummond as a subject for a book originally?
First, I fell in love with his music. I love the haunting wail of his trombone as its minor chords slide above the layered rhythms of Lloyd Knibb's drums, the upbeat mixed with the soulful. It is his compositions that made me first appreciate him as an artist. But then when I heard about his life, and I think I first heard about it actually from Lloyd Brevett in 1996, that's what piqued my interest as a writer. I wanted to know why, of course, like everyone does. I wanted to really find out what made him do such a terrible thing and what could drive a man with such immense talent and beauty to such horrors. It was a combination of admiration and curiosity.
What was the most surprising thing that you learned in your research?
I think the life of Margarita, Anita Mahfood, was the most surprising. No one ever talks about her. She was equally as amazing as Don. She was an artist in her own right with passion for life. So it was fascinating for me to uncover this woman, this spirit, and put together the details of her life to understand how she played such a vital role in the acceptance of Rastafarian music in the mainstream clubs. We really owe her a debt of gratitude for her tenacity and it makes me wonder where reggae music would be without her. Also surprising was discovering the types of treatment that Don received, or was subjected to, at Bellevue and not surprising was that death resulted from such barbaric treatment.
How did you go about researching the book?
"I feel like Don Drummond is still a shadow, I just have more defined edges instead of blurs now."
I am a journalist and I work for a newspaper so by trade I interview. I interviewed dozens of people because I like to get a lot of primary sources in my work. I interviewed his fellow musicians, former Prime Minister P.J. Patterson who served as Don's defense attorney during his murder trial, forensic experts, the daughter of the senior medical officer at Bellevue who lived on the premises during the time of the murder and incarceration, current medical staff at Bellevue, members of Margarita's family including her brother and daughter, and many others. Then I combed through the Gleaner archives, which are plentiful. I also visited Kingston twice, went to the places where he lived, the police station, the court house, the hospital where he was born, the funeral home, the cemetery. I went to Alpha Boys School and combed through archives there, as well as in the National Archives. I tried to be as exhaustive as I could. It was a labor of love.
Did your feelings about Drummond change throughout the process of writing it?
Not really, strangely enough. I always admired him and his music and still do, although I have a deeper appreciation for it knowing the struggles he had. But because this story takes place 40 years ago and deals with such an elusive character, there is still mystery surrounding Drummond as there was when I started. I feel like he is still a shadow, I just have more defined edges instead of blurs now. It's a hard thing to admire and despise someone, but he was a creator and a destroyer and so my feelings are perhaps even more complicated now than they were before.