Lee Bannon on Learning to Like Hummus and GChatting With Oneohtrix Point Never
Lee Bannon's mind works faster than your average producer's. Somewhere around 160 BPM – at the moment – if you want to put a number on it. From industrial beat gymnastics to state-of-the-art boom bap, the Sacramento native has showcased a wild stylistic range over the past year, recently finding a comfortable home in jungle territories. Ninja Tune scooped up the prolific artist for his magnum opus, Alternate/Endings, which is due out in January. Anthony Obst caught up with the young producer to connect the dots of his sprawling oeuvre, which draws a line from collaborations with Joey Bada$$ to bonding over gear with Oneohtrix Point Never.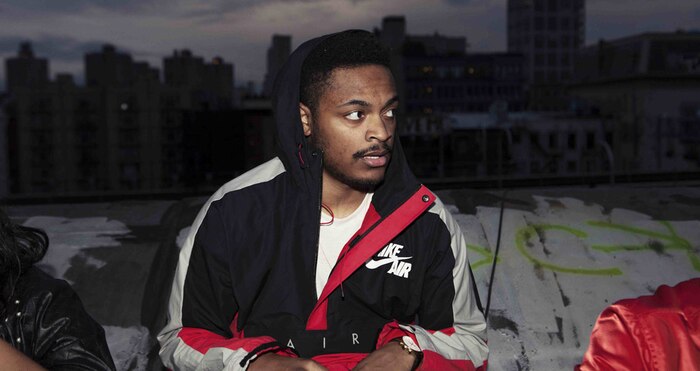 "I could do a whole album in one day, two days tops," Bannon affirms over a Skype call from his new-found home in New York City. The impression that he is indeed a lunatically fast worker manifests itself in the way Bannon jumps from one point in conversation to the next, oftentimes without so much as finishing a sentence. Bringing up his admiration for Madlib, Phil Collins, Fatboy Slim, DJ Earl, Massive Attack and Actress, it becomes clear that Bannon has gone across the board in his musical research for his new album. In all, Bannon recorded a total number of 130 tracks for Alternate/Endings, drawing from a much wider sound template than on previous efforts. A project like Summer Knights, where he tailored his production work to the needs of young Brooklyn rapper Joey Bada$$, is something that Bannon seems to have outgrown, at least for the moment.
"When I was 12 I didn't like hummus, but now I'm a fucking adult, I can enjoy it."
Laboring diligently on his Ninja Tune project for the past year while cranking out other releases left and right, Bannon has been gravitating towards a more jungle- and drum & bass-oriented approach. He attributes a major part of his interest in the breakneck fields of the BPM spectrum to the music of his hometown. "Sacramento has always been an area for a kind of weird sound, but drum & bass has been a staple there for a while. I remember that being played a lot by the older kids when I was in junior high." Bannon cites noise rappers Death Grips and drone priestess Chelsea Wolfe as examples of stylistic offshoots with comparable backgrounds. "If you listen to the people who are coming from Sac, you can tell how our music is actually pretty similar because of that. More similar than people think."
Leaving Sacramento behind in early 2012 to pursue making music in New York City brought the producer unto new paths. "I kind of fell in love with New York, with the pace that everybody works in. I've been hearing so many different new sounds, and as I've gotten older, I've become less shy [about] making what I want to make." Or, in other words, "When I was 12 I didn't like hummus, but now I'm a fucking adult, I can enjoy it."
On Alternate/Endings, Bannon wastes no time in getting to the point. Launching right into a frantic swirl of hardcore breaks, "Resorectah" is a feral beast on the loose. It shows Bannon's ability to create the illusion of being at odds with his own creations, taming them in their wildest moments. "NW/WB" picks up on the vocal drop of the previous cut, throwing anthemic synths into the mix, propelling the initial murkiness into hallowed grandiosity. Taking rhythmic cues from Squarepusher, textural inspiration from Burial and channeling the doomed mood of Goldie's Timeless, Alternate/Endings is a self-described "serious listen," abrasive and challenging by design. "I want it to be something you can listen to again and again, and hear something completely different on every listen."
"I wanted to knock down the walls of what everybody thought I was gonna sound like [with Place/Crusher]."
Bannon's Ninja Tune debut should come as little surprise to those who have been following his career thus far. In 2013 Bannon has had four projects bear his name and taken listeners by surprise each and every time. On Nevr/mind/the/darkness/of/it…, he drowned woozy R&B in a sea of course, gritty textures. For Chuck Strangers and Super Helpful Kwame, he laced the hip hop boom bap formula with a dreary twist. Caligula Theme Music 2.7.5. was all brash, low-slung dungeon rap beats. His 20-minute EP Place/Crusher, meanwhile, served as the effective precursor to Bannon's behemoth of an album. "I wanted to knock down the walls of what everybody thought I was gonna sound like," he emphasizes.
"Don't do the same thing twice." A piece of advice Bannon picked up through his regular Gchat conversations with Oneohtrix Point Never which he has clearly taken to heart. Throughout Alternate/Endings, Bannon dishes out ideas like jabs. Bannon and Lopatin shop at the same custom synth store in Brooklyn and have been exchanging gear tips over the last few months. Their shared ambition to mix and match varying elements in ever-mutating ways unites them. So does their impetus to transcend the aural realm, delving into the visual and the cinematic. "It's dance music but it's also something you'll hear on the Metal Gear Solid soundtrack."
Bannon thinks about music in visual terms. Describing the sound of Burial, to whom he was hipped via direct message by none other than Mary Anne Hobbs, Bannon says that "Burial provides a lot of room. He's like a giant room with a carpet and a chair in it. But the carpet and the chair look small because the room is so big."
Towards the end of our conversation, Bannon self-consciously reflects on his fast and furious ways. "I actually try not to do a lot of interviews because I just talk too much. I get kinda passionate about it. There's a lot of incomplete fractions of things and then I'll bounce back to it to complete it or something like that. The music is definitely like that. I can be thinking about six different things, while trying to execute one of them."
Photo credit: Josh Wehle