Rock Steady's Beginnings: An Introduction to Jamaican Music's Most Influential Genre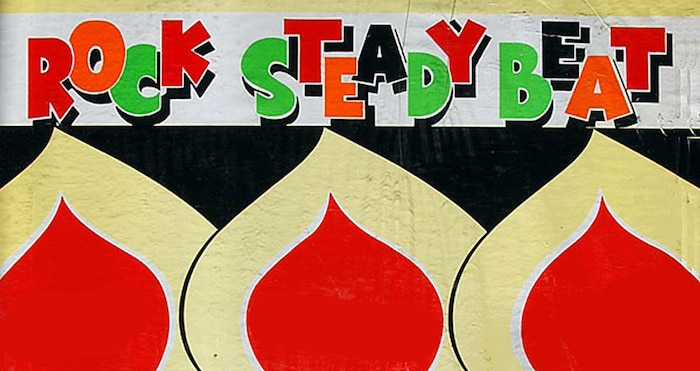 Forming the bridge between ska and reggae, rock steady is arguably the most influential of Jamaican music's many sub-genres. Although it lasted only a couple of years, rock steady yielded several of the island's most immortal rhythm tracks. It is also probably the most contested of reggae formats, the innovations behind its irresistible beat claimed by a range of practitioners.
Rock steady's innovative qualities are highly distinctive. First, it replaced the big band ska format with stripped-down studio ensembles that put the emphasis on the bass and drum, forever changing the focus of Jamaican music. Widespread use of electric bass came about during rock steady too, its upfront placement thanks partly to the advent of multi-track technology. Compare the frantic pumping of Lloyd Brevett of The Skatatlies, whose acoustic bass was often relegated to the background, with the smooth lines of Jackie Jackson in The Supersonics, and you can hear how rock steady made bass the carrier of the melody line – a constant of the subsequent reggae to follow.
Themes addressing social issues came to the fore in rock steady as well, due in part to the "rude boy" phenomenon then plaguing Jamaica, with disenfranchised street gang members that engaged in acts of wanton violence becoming the focus of many rock steady tunes. And although vocal harmony groups had been an important part of ska, they began to truly dominate in rock steady.
Perhaps most important of all, rock steady had an idiosyncratic beat. The sound that gradually replaced ska was a slower, less cluttered style whose rhythm stressed the third beat of every measure. With a prominent electric bass now playing a readily defined strolling pattern, a new dance style came up that featured shaking shoulders, snapping fingers and a rocking body line, grafted onto the dancers' stationary grid.
One of the biggest myths of rock steady is that its slow pace resulted from the "hot summer" of 1966.
One of the biggest myths of rock steady is that its slow pace resulted from the "hot summer" of 1966. But as is noted in Caribbean Currents, Jamaica's tropical climate does not allow for distinctions of summer and winter. Indeed, the island merely experiences rainy and dry seasons, meaning that the average daily temperature is generally only a few degrees cooler from December to February than during July and August.
As with ska, it is difficult to pinpoint the first bonafide rock steady recording. The rock steady dance craze seems to have arrived in earnest in late 1966, and it ruled Jamaica throughout 1967, although the dance may have been prevalent considerably earlier. As for the music, ska centred on rhythmic bursts provided by rhythm guitar or piano, as heard on Roy and Millie's "We'll Meet," or the metric blowing of brass instruments (particularly trombone), as in the Skatalites' "Confuscius"; in contrast, rock steady gained its demarcation from its unique drum beat, known as the "one-drop."
According to Caribbeats bandleader Bobby Aitken, a musical turning point came with Carl Dawkins' "Baby I Love You," a tale of disappointed romance with a proto-rock steady rhythm, put together by Aitken and harmonica player Charlie Organaire for producer Sir JJ. "We tired of the ska, so me and Charlie get together and say we're going to change this thing. They double up on the blues and bring in ska, but rock steady is a different thing: the guitar just 'bop…bop…bop,' and every two 'bop,' you drop the drum."
"Take It Easy" is said to have taken its leisurely pace because Hopeton Lewis had difficulty fitting his lyrics into the rapid pace of ska.
Hopeton Lewis's "Take It Easy," recorded at Ken Khouri's Federal studio with Lynn Taitt and the Jets, is most often identified as the first rock steady recording, though the equally relaxed "Sounds and Pressure" hit first, and recordings in a similar style by rival singers may have been made even earlier: Delroy Wilson's "Dancing Mood," Ken Boothe's "Train Is Coming" and The Rulers' "Don't Be a Rude Boy" were all in the top ten by October 1966, several weeks before "Sounds and Pressure." In any case, "Take It Easy" remains quintessential rock steady. It is said to have taken its leisurely pace because Lewis had difficulty fitting his lyrics into the rapid pace of ska.
"The first tune we do on the rock steady was with Hopeton Lewis, 'Take It Easy,'" confirms keyboardist and arranger Gladdy Anderson. "From there, the ska rhythm become slow. I was so glad, because the ska was beating me shoulder – whole heap of years playing this fast rhythm pain the shoulder. So when Hopeton Lewis come with that 'Take It Easy,' it give the hand a rest."
The bubbling of the guitar [in rock steady] comes from the steel drum. I try to imitate that.
The song's defining drumbeat was ultimately provided by Hugh Malcolm, identified as originator of the rock steady beat by many peers (though Caribbeats drummer Winston Grennan also claimed to have originated the style). "I was in Miami when they did the record," Malcolm explained. "I think it's Byron Lee's drummer [Esmond Jarrett] back it up, but Ken Khouri didn't like it, so he says, 'Let's keep the rhythm. When Malcolm comes, we'll make him dub the drums in.' Then I dubbed the rock steady drums in it and turned it into the real 'Take It Easy'."
"Sounds and Pressure" topped the Jamaican charts by December 1966, its volume of sales being so great at the year's end that Khouri placed an ad in the Gleaner praising local record vendors. "Take It Easy" reached the #1 position the following month.
Lynn Taitt, the bandleader and musical arranger of Lewis's Federal sessions – and of many of the best rock steady numbers recorded elsewhere – was a talented guitarist and steel-pan player from Trinidad who reached Jamaica in 1962 to back calypsonians at Jamaica's independence celebrations. Stranded in Jamaica when the promoter disappeared with the money, he became a ska session player, but truly flourished as a lead guitarist during rock steady. The distinctive picking lines Taitt played on "Take It Easy," and similarly melodious work on other rock steady gems, were inspired, he said, by the music he grew up with in Trinidad. "The bubbling of the guitar comes from the steel drum. I try to imitate that."
As "Take It Easy" vied for chart space with Alton Ellis' "I've Got a Date," Desmond Dekker's "007 (Shantytown)," The Wailers' "Bend Down Low" and Ken Boothe's "Train Is Coming," Taitt arranged another rock steady landmark in Roy Shirley's "Hold Them," which reached the #1 position in April. The peculiar rhythm of "Hold Them" also stemmed from Shirley's inability to adapt to ska; the inspiration behind the beat came from a Salvation Army band he saw parading on Orange Street.
The sound of rock steady was quickly taken to other shores: Prince Buster treated British and Belgian audiences to their first taste in the spring of 1967, with Lynn Taitt leading London-based band, The Bees. Clement Dodd arranged for Ken Boothe and Alton Ellis to tour Britain with the Soul Brothers that September, and Byron Lee brought a troupe of dancers to Toronto with his Dragonaires to introduce rock steady to Canada. But as the style solidified, Duke Reid's Treasure Isle stable became rock steady's leading proponent, reversing earlier disappointments in ska, when Reid was largely in the shadow of Dodd and Buster.
Treasure Isle, a "mini sky-scraper" located above Reid's liquor store at 33 Bond Street, had a wooden interior that lent added warmth, richness of tone and heightened audio definition to his rock steady productions. With The Supersonics behind such sterling harmony groups as The Melodians, The Paragons, The Techniques, The Silvertones and The Jamaicans, the resultant hit ballads meant that Treasure Isle would always be most readily associated with rock steady.
Although the new reggae sound that came storming in by September 1968 made rock steady seem passé, it would enjoy an extended revival in 1970, once U Roy began voicing raps over Reid's rock steady rhythms, giving them a second lease of life. Ever since, the form's rhythms have been perpetually recycled, garnering hits for Sugar Minott, Tenor Saw, Buju Banton, Sizzla, Taurrus Riley and countless others, as well as Blondie and Atomic Kitten (who both re-worked The Paragons' classic "The Tide Is High"). Not bad for a genre whose heyday lasted a mere two years.