Donny Hathaway: Tribute to a Man
Zaid Mudhaffer remembers one of soul music's greatest voices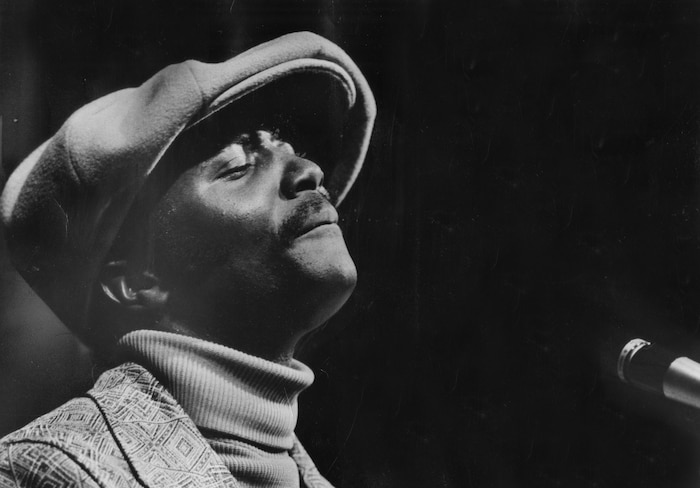 In a ruefully short life, singer, songwriter, arranger and pianist Donny Hathaway made one of the most timeless contributions to soul music, with three wonderful early '70s solo albums forming the backbone of a staggering body of work. Born in Chicago in 1945, Hathaway's musical roots were gospel, growing up singing and playing in church. Raised in St. Louis by his grandmother, his talent was plain from an early age: quoted in Ebony's April 1979 issue, Ruth Greene, a music teacher from his high school years, remembers a "musical genius well on his way."
His grandmother and step-grandfather were very devout believers... It bothered him that he couldn't just sit down and debate with them properly.
At 19, Hathaway won a scholarship to Howard University in Washington DC where he met Roberta Flack, a close collaborator throughout his career. He took a job playing piano, which led to a gig as a singer and pianist in Curtis Mayfield's The Mayfield Singers. He dropped out of Howard and relocated to Chicago as his gig with Curtis developed into a producer role at the Curtom imprint – after stints at both Chess and Stax – where he arranged material that went on to be part of The Impressions' mighty The Young Mods' Forgotten Story. While at Curtom he made his own recording debut, on a lusty duet with June Conquest, "I Thank You Baby."
Before long, saxophone colossus King Curtis took him to Ahmet Ertegun's Atlantic, who signed him as a solo artist in 1969. His music was full-bodied, a trenchant, resonant mix of gospel, jazz and R&B, deeply spirited and emotionally charged. His religious upbringing, however, was both good and bad: Donny's widow Eulaulah Hathaway explained to Echoes in 1999 that he was perennially torn between adhering to the traditions of his religious roots and the pull of popular secular music. "He thought about it a lot. His grandmother and step-grandfather were very devout believers... He so desperately wanted to talk to them about how he'd found out things about life that weren't as they'd said. It bothered him that he couldn't just sit down and debate with them properly."
The first single from his debut album Everything Is Everything in 1970, the rousing "The Ghetto," written with Leroy Hutson, a driving, percussive, electric piano-led jam which remains one of Hathaway's signature classics. On tracks such as "Magnificent Sanctuary Band," taken from Donny Hathaway, it was clear his huge talent had fostered interest in different approaches to writing. "When I think of music I think of music in totality – complete – from the lowest blues to the highest symphony," he said in an interview included on the 2004 CD These Songs for You, Live. "So what I'd like to do is to exemplify each style of as many periods as I can possibly do."
Featuring the sweetly infectious "Where Is the Love," a collection of duets Roberta Flack & Donny Hathaway was a hit both in the US and UK in 1972. The same year, under the supervision of Quincy Jones, Hathaway composed the soundtrack to Come Back Charleston Blue, a film based on a Chester Himes novel. Extension of a Man from 1973, with sleeve notes penned by Nikki Giovanni, is widely considered the finest of Hathaway's trio of solo records. The soaring, gutsy album centerpiece "Someday We'll All Be Free" became a black rights anthem; there's a stunning, impassioned take on Blood, Sweat & Tears' "I Love You More Than You'll Ever Know"; and a string and brass ensemble lift up and beyond the finale, the Leon Ware-penned "I Know It's You."
When I think of music I think of music in totality – complete – from the lowest blues to the highest symphony.
The gatefold of 1972's punchy Live album is adorned with gushing, awed praise. "Hathaway's voice glides as if it was airborne," marvels Rock. The Los Angeles Times called him "the best new singer to emerge from the 1970s." Even the Queen herself was a convert, Aretha Franklin proclaiming Hathaway "the baddest new sound on the scene." Still, this outpouring of acclaim did not encourage further material. the odd guest appearance aside, following the release of Extension of a Man he largely fell off the industry's radar, effectively exiling himself from the music business. His next album would be the posthumous Roberta Flack Featuring Donny Hathaway in 1980.
With the 2013 release of Never My Love: The Anthology it's clear Hathaway wasn't inactive during his long hiatus. Contained are thirteen unheard studio tracks, ranging from bare-bones sketches to fully realised songs. "Memory of Our Love" is a touching mid-tempo gem with Stevie Wonder in its DNA; "Let's Groove" from 1974 is a cheerful boogie-woogie runabout. Most startling is a twenty-minute symphony, "Zyxygy Concerto," an epic instrumental piece utilising a full orchestra which sweeps gracefully through moods and thematic shifts. Hathaway had been studying with Yusuf Lateef and attending orchestral conducting class, and was particularly inspired by Stravinsky's "History of a Soldier." "He uses the timpanis like a primitive person would use the timpanis," he explained in the interview from These Songs for You. "That was one of the things that Coltrane added to his music from studying people like Ravel who had written symphonies, who had exhausted music to the point of just writing chords that were atonal and didn't have any harmony at all – just colours, clusters."
In January 1979, the night after a studio session with Flack, Hathaway fell 15 floors to his death from the window of his New York hotel room. In his final years he had been plagued by depression and schizophrenia, which hospitalized him several times. Some pointed to an accident, that he had a habit of "preaching" from the window; others reckoned his mental health had deteriorated to the extent that suicide wouldn't have been beyond him. Either way, there is a disquieting sense that he was at a loss to appreciate his value as an artist, despite the plaudits. On "A Lot of Soul," a storming country song included on Never My Love, he sings "I was never great, only average," about as far from the truth as you could get.