Junior Murvin RIP
The death of Junior Murvin, who has succumbed to diabetes and hypertension at the age of 67, comes as a blow to all roots reggae fans. Best known for his anthem-like "Police and Thieves," which reached the British pop charts and inspired hit interpretations by both punk and pop practitioners, Murvin's mastery of falsetto couched the emotive power of his voice in a deceptively graceful delivery.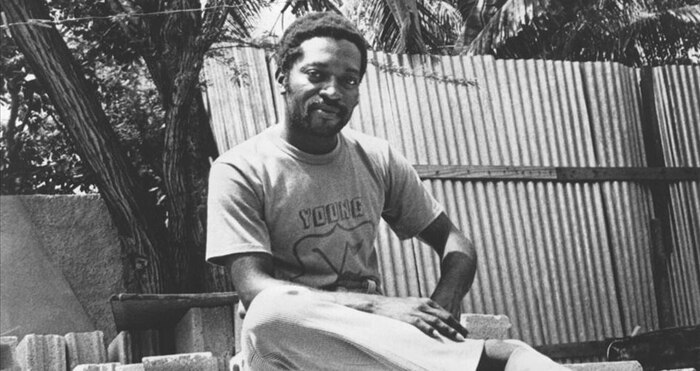 In fact, his vocal range was surprisingly broad, and he could tackle baritone with equal aplomb, but his strength in falsetto made his work instantly recognisable, deeming him Jamaica's answer to Curtis Mayfield. A fine songwriter whose original lyrics made good use of Jamaican proverbs and folk sayings, Murvin lived his life very much in keeping with the message of his music. Entirely un-phased by fame, and refusing to be bitter, despite the exploitative nature of the music industry, Murvin remained a humble man that was very much engaged with his community, living for most of his life in the same simple home.
By the age of six, neighbours were already commenting on his vocal abilities.
He was born Mervin Smith Junior in Swift River, a rural hamlet in the interior of the eastern parish of Portland, but moved the following week to the home of his great-grandmother in Port Antonio, a bustling coastal market town, since his father died when he was very young, and his mother migrated to England to pursue a nursing career. The focal point of his community in Port Antonio was the local Methodist church, where Murvin gained his first musical experience as the pipe-organ pumper, but he was too shy to join in the church choir.
Rhythm and blues, in contrast, emboldened him: by the age of six, neighbours were already commenting on his vocal abilities, giving him a few coins in exchange for impromptu renditions of hits by American singers such as Billy Eckstein and Louis Armstrong. In later years, he and his friends would gather at a house across the street from his, holding imitations of the local amateur talent contests, singing songs by Sam Cooke and Nat King Cole, as well as versions of songs by local hero, Wilfred "Jackie" Edwards.
Following the death of his great-grandmother, Murvin went to live with his grandmother in Glendevon, a down-at-heel district on the outskirts of Montego Bay. He trained as an automobile mechanic at Montego Bay Technical High School, but was encouraged to pursue singing after impacting at the Christmas morning concerts held at the Palladium Theatre by local singer Errol "ET" Webster. Then, once his aunt Agnes sent him a guitar from the USA, Murvin began writing noteworthy material, often while seated beneath a large tamarind tree in Glendevon. The first song he ever wrote was "Solomon," in which he warned a misbehaving girlfriend to get in line, adapting elements of the Bible story for his own purposes; Murvin said the inspiration for the song came directly after he smoked some weed.
When an elder Rastaman, known as Mr Sunny, told Murvin that veteran saxophonist Roland Alphonso was holding auditions at a nearby Rasta camp, up in the hills, Murvin went there to sing for Alphonso, who invited him to Kingston to audition at Beverley's Records. He thus passed an audition before Alphonso and singers Derrick Morgan and Desmond Dekker, but was summoned back to Montego Bay by his grandmother before he could record.
During the same era, at some point, he also auditioned at Studio One before Lee 'Scratch' Perry, performing a rendition of a Lloyd Price's "I've Got The Blues And The Blues Got Me," but the inevitable delays Murvin encountered trying to get recorded meant nothing came from the Studio One connection either, since he was still based in the countryside.
He returned to Kingston during the height of the rock steady era to stay for a longer period with an aunt at Greenwich Street in Trench Town, in the heart of the infamous west Kingston slum that was home to some of Jamaica's most impressive singers, many of which soon became his close friends: Bob Marley, Peter Tosh, Toots and the Maytals, Alton Ellis, Monty Morris, Stranger Cole, Ken Boothe and Leroy Sibbles of the Heptones were all making an impact on the local music scene then, and Murvin gained valuable pointers simply by being in their midst in Trench Town.
Taking the stage name Junior Soul (after Stranger Cole made an offhand remark, connoting his soulful delivery), he was given further guitar lessons by Jackson Jones, a musician based in nearby Jones Town, who brought Murvin into the recently formed Hippy Boys, with bassist Aston "Family Man" Barrett, his drumming brother Carlton, and fellow singer Max Romeo, but Murvin did not last long with the group, making his exit after only a handful of performances.
He then teamed up with singer-turned-producer Derrick Harriott, who decided to take a chance on "Solomon," but chose to voice it himself, rather than allowing Murvin to tackle the song, and scored a sizeable hit with it. Murvin later wrote "Tang Tang Festival" for Harriott and "Yaba Yah (Festival Song)" for Keith and Tex, both of which were entered in the 1968 Festival cong competition. But by then, Murvin had already recorded a number of his own rock steady songs. The first was probably the rude "Miss Cushie" for Sonia Pottinger, an innuendo-laden throwaway about a woman and her "pussy cat." More substantial was "Glendevon Special" (AKA "Chatty Chatty") for Harriott, another track decrying a girlfriend's bad behaviour.
Then, as the new reggae style came storming in, Murvin cut some storytelling ballads, with Harriott handling "Magic Touch" and a gritty song called "The Hustler," while Pottinger issued "Jennifer," and a between-the-lines epic called "Slipping." Then, after receiving an introduction from fellow singer Noel Brown, who would shortly be active in the Chosen Few, Murvin joined successful dance band, the Falcons, with Brown, Cynthia Richards and Dennis Brown, leading to an extended break from recording.
Murvin returned to Port Antonio in 1975 to front a new band called Young Experience, led by trumpeter Bobby Ellis, who was then also arranging Burning Spear's material. The band gained the approval of the socialist-leaning Prime Minister Michael Manley, leading to a tour of Cuba, and a performance at a birthday party held for Manley's wife Beverley. While with the band, Murvin cut "Wise Rasta Man," the first single to proclaim his belief in Rastafari, and another single called "Conversation," but when the band split, Murvin concentrated on songwriting once more, this time putting pen to paper at the ruins of a grandiose American banker's house, known as Folly.
Armed with some of his strongest material, which addressed the political and social upheavals that were then having such adverse effects on Jamaica, Murvin travelled to Lee Perry's Black Ark studio in May 1976, appearing there with an acoustic guitar and a large Afro. The hit potential of "Police And Thieves" immediately caught Perry's attention, and the wily producer soon added more lyrics of his own to make the song more dynamic, recording it with an ace set of session musicians that included drummer Sly Dunbar, bassist Boris Gardiner, guitarist Ernest Ranglin and keyboardists Keith Sterling and Joe Cooper, the latter an old friend of Murvin's from Port Antonio.
When issued on a single, it soon became the biggest-selling record in the country, and its overseas release, handled by Island Records in July, was perfectly timed, making the single the soundtrack to the disturbances of that year's Notting Hill Carnival, which saw over 60 arrests and dozens injured, with drawn-out battles taking places between police and revellers over several hours. The song soon spawned a popular cover version by reggae-loving punk group, The Clash, and even Boy George would adapt it years later. Ironically, the inclusion of the song on the soundtrack of Rockers, and on a re-issue of the Clash's first album that surfaced in 1979, brought a peak of popularity for the original in 1980, bringing Murvin onto Top of the Pops.
Murvin's 1977 debut album, named after the momentous single, was also highly critically acclaimed. Opening number "Roots Train" was a bright and optimistic blast saluting the potential of the roots reggae era, while "Tedious" called for unity in the increasingly divided island, and referenced Michael Manley's Rastafari orientation. A later 12-inch single, which covered the Impressions' "Closer Together," made full use of Murvin's broad vocal range, and pointed towards the projected follow-up LP.
Murvin did indeed begin a second album for Island at the Black Ark, working with a young group of musicians from Portland called the Axx of Jahpostles, but the album was never completed properly, ultimately falling victim to the dramatic breakdown suffered by Lee Perry at the end of the 1970s; the eerie song "Crossover," which later surfaced on a clandestine 12-inch, gave a sense of how great the album was likely to have been, had it been completed.
Discouraged, but not undaunted, Murvin went on to cut the impressive "Cool Out Son" for Joe Gibbs in 1980, relating a string of proverbs atop a rousing re-cut of the "Real Rock" rhythm, but did not record anything further, following a series of robberies that took place at Gibbs' studio. Instead, Murvin retreated to Port Antonio once more, where he performed three nights a week in the house band at the Dragon Bay Hotel, until the belated appeared of "Police and Thieves" in the UK pop charts brought him to London for a while.
Back in Jamaica, he teamed up with deejay-turned-producer Mikey Dread (another Portland native) for the underrated, "showcase"-style Bad Man Possee album, which achieved slim sales, despite being distributed in Britain by leading independent, Rough Trade. Mikey Dread's production style was well suited to Junior's vocals, as heard in the superb title track and numbers such as the defiant "Rebellion," but in some ways, the mix of roots reggae, dub and lover's rock that characterised Dread's DATC output was a bit too ahead of its time. Junior said he learned a lot from Mikey's 12-hour studio sessions, but sometimes grumbled that he'd earned very little financially from the disc.
Despite maintaining a high quality, subsequent albums also failed to achieve the impact they were due. At least the 1984 set Muggers in the Street, issued by Greensleeves Records and produced by leading dancehall impresario Henry "Junjo" Lawes, fared somewhat better than its predecessor. Tracks like "Judas and Jesus" were up there with his best, and even if the title track predictably tried to update the "Police and Thieves" theme, the whole thing was hallmarked by Junior's inimitable voice.
Murvin refused to bow to the slackness and gun-talk that then predominated, instead sticking to the proverbs and weighty messages that made up the bulk of his oeuvre.
King Jammy produced Apartheid in 1986, which mixed organic late roots tracks with purely digital numbers; the singer rose to the challenge of the new format admirably, with tracks like "Jack Slick" and the title track working well, but the dual format made the album feel a bit uneven. The 1988 album Signs and Wonders, released by New York-based produced Delroy Wright, was thoroughly in dancehall mode, but Murvin refused to bow to the slackness and gun-talk that then predominated, instead sticking to the proverbs and weighty messages that made up the bulk of his oeuvre.
The long hiatus that followed was unexpectedly curtailed when Murvin recorded the single "Wise Man" for the London-based independent Dubwise Productions in 1998, the song recorded by Murvin at a local venue in Portland; in 2007, the crew of the French label Makasound captured a solo acoustic performance by the singer in the front yard of guitarist Earl "Chinna" Smith's home, which they issued as part of their Inna De Yard series.
In his final years, Murvin continued to give sporadic performances outside Jamaica, but was more concerned at home with building schools for the local community in Portland. That such a modest, genuine and honest man should fall victim to such common health conditions makes his passing all the more tragic.