Interview: Andre Williams on "Shake a Tailfeather" and Detroit's Golden Age
Andre Williams is neither a great singer nor a great musician in the traditional sense, but he is undeniably a Great Character, an innovator with a smile on his face and a hard-on in his pants. In a career spanning nearly six decades, Williams has worn all kinds of musical hats – writer, singer, producer, arranger, talent scout – and made many hugely entertaining recordings along the way. Sure, he's never had a huge hit, but he's made more great records across the decades than many a more famous entertainer.
Born in Bessemer, Alabama, on November 1st, 1936, Williams spent his childhood divided between his sharecropper grandparents in Alabama and his steel worker father in Chicago. From an early age he was fending for himself and, having borrowed his older brother's birth certificate, he enrolled in the US Navy aged 14. Busted a year later (his brother got drafted, thus revealing the ruse) and given a dishonourable discharge, Williams landed in Detroit where he began singing doo-wop on street corners and winning talent contests.
The teenage Frank Zappa, Bootsy Collins and The Cramps' Lux Interior all dug his often sleazy, always funny style.
Signing to Jack and Devora Brown's Fortune Records, the Motor City's fledgling music label, in 1956 he immediately began cutting singles, both solo and with his Coasters-influenced vocal group The 5 Dollars. Fortune's studio setup was primitive even by the standards of the mid-1950s, but this only encouraged Williams to think creatively. Scoring his biggest success in 1957 with "Bacon Fat" – a juicy rhythm and blues groove over which Andre delivered a slangy rap – Williams followed with "Jailbait," one of the last big city rhythm and blues records released on 78 and one of the most outrageous and hilarious records ever cut. (The teenage Frank Zappa, Bootsy Collins and The Cramps' Lux Interior all dug his often sleazy, always funny style.)
Fortune never developed beyond a shoestring operation, so by 1961 Williams had gone to work for an ex-boxer he met in a barber's: Berry Gordy. Williams spent four very on-off years working for Motown. Initially hired as A&R, he wrote and produced for artists including The Contours, Mary Wells, The Temptations and Little Stevie Wonder. He even cut a 45 of his own, 1961's "Rosa Lee," for Motown's Miracle subsidiary. This single was seemingly pulled by Gordy not long after release and remains one of the rarest Motown 45s.
Never one to toe the line, Williams regularly butted heads with Gordy and got fired several times (booking the first Motortown Revue to start in snowed-under Buffalo in January being one, shooting a man who demanded to see Smokey Robinson backstage another). Williams freelanced for other labels, writing such classic hits as "Shake a Tailfeather" for The Dutones and "Twine Time" for Alvin Cash, before being signed to run Mercury Records' black music imprint Blue Thumb in 1965. Here he produced Sir Mack Rice's original recording of "Mustang Sally" and cut such solo classics as "Jivin' Around" and "Bassology."
By late 1966 Williams was back in Detroit and working for Berry Gordy's main rival, Ed Wingate's Ric-Tic. Williams produced The Dramatics and Edwin Starr and released his own lusty proto-funk 45s "You Got It, I Want It," Do It" and "Loose Juice." When Gordy bought out Wingate's Ric-Tic contracts, Williams set up his own label Sport, issuing 45s by The Dramatics and his own classic "Pearl Time." Williams wasn't cut out to be a label manager, though, and he eventually sold The Dramatics contract to his guitarist Don Davis who signed them to Stax and produced their massive late '60s and early '70s hits.
Williams headed back to Chicago and signed with Chess where his lascivious 45s "Cadillac Jack," "Humpin Bumpin and Thumpin'" and "The Stroke" all sold strongly. At the same time, Williams worked for Don Robey's label Duke. He produced hits for Bobby "Blue" Bland (including 1969's "Chains of Love") and issued his own recordings under a pseudonym for the Houston imprint – his instrumental version of "I Heard It Through the Grapevine" has a wild voodoo groove, while "Black Bull" is a brassy instrumental originally recorded to feature a Bobby Bland vocal. (Spanish reissue label Vampisoul compiled a superb double album Movin' On With Andre Williams: Greasy & Explicit Soul Movers 1956-1970 that gathers the best of this era's solo work.)
Problems with jailbait forced him to flee Houston for Los Angeles where Ike Turner, long an admirer ("Shake a Tailfeather" being a staple of the Ike & Tina revue) hired him to work at his studio. Williams worked on Ike & Tina's 1972 album Let Me Touch Your Mind, with Williams quickly falling prey to Ike's dark materials. Escaping Ike's grasp, Williams returned to Chicago, continued to issue the occasional 45 and, inevitably, produced several disco sessions (gathered on the Whip Your Booty CD) but by the end of the 1970s chronic cocaine addiction had reduced him to begging on the streets of Chicago.
By the end of the 1970s chronic cocaine addiction had reduced him to begging on the streets of Chicago.
AWOL across the 1980s, Williams finally kicked his crack addiction and was discovered living in a shelter by Billy Miller and Mirian Linna, the co-founders of Brooklyn reissue label Norton Records. The couple convinced Williams there was an audience for his music and he started playing Chicago's blues clubs then cut the Fat Back & Corn Liquor album for tiny indie label St George Records. In 1996 Norton issued the album as Greasy with a different tracklisting and packaging. This got Andre out of the blues clubs and onto the alt rock circuit.
Long championed by The Cramps (of whom Linna was the initial drummer), Williams was taken on tour by The Jon Spencer Blues Explosion and started recording with Spencer, The Dirtbombs, The Sadies and others. This means his recordings can be rushed and patchy, especially when backed by rock bands who can't even play a shuffle let alone swing. But when Williams gets it right, his new recordings are almost as good as his seminal '50s and '60s cuts. 1998 album Silky is a great slice of sleazy garage rock (produced by Mick Collins of The Gories) while 2001's Bait & Switch is a masterful return to his Detroit R&B roots with old pals like Rudy Ray Moore, The Mighty Hannibal, Ronnie Spector and Lonnie Youngblood.
Williams has built up a loyal European following, but alcoholism has almost killed him several times. The documentary Agile Mobile Hostile: One Year With Andre Williams tracks his 2007 European tour and provides a pretty shocking exempli gratia of how harsh life can be for an alcoholic pensioner performing one-nighters. More rehab brought forth a slice of pulp fiction, Sweets and Other Stories, and the albums have continued to pour forth. 2012 found him at his most prolific ever: The year began with Hoods & Shades, a polished album that found him reunited with Dennis Coffey, Funk Brother and Detroit guitarist extraordinaire, while producer Don Was dep'ed on bass. It was followed by Life (Alive), a rough and ready set that found Williams getting wryly political with "Blame It On Obama." Then, at the end of 2012, Night & Day, credited to Andre Williams & The Sadies, came out on Yep Roc. The sessions for this album began in 2008, but Williams' substance abuse problems meant things were postponed until 2010. It's Williams stretching out his country roots (as he had done with The Sadies previously on 1999's Red Dirt), while keeping things garage.
Williams remains elusive. In 2005 I wanted to interview Williams for a book, but he proved impossible to track down. Even this interview involved postponements when he didn't answer the phone. When we finally got to talk, though, he did not disappoint.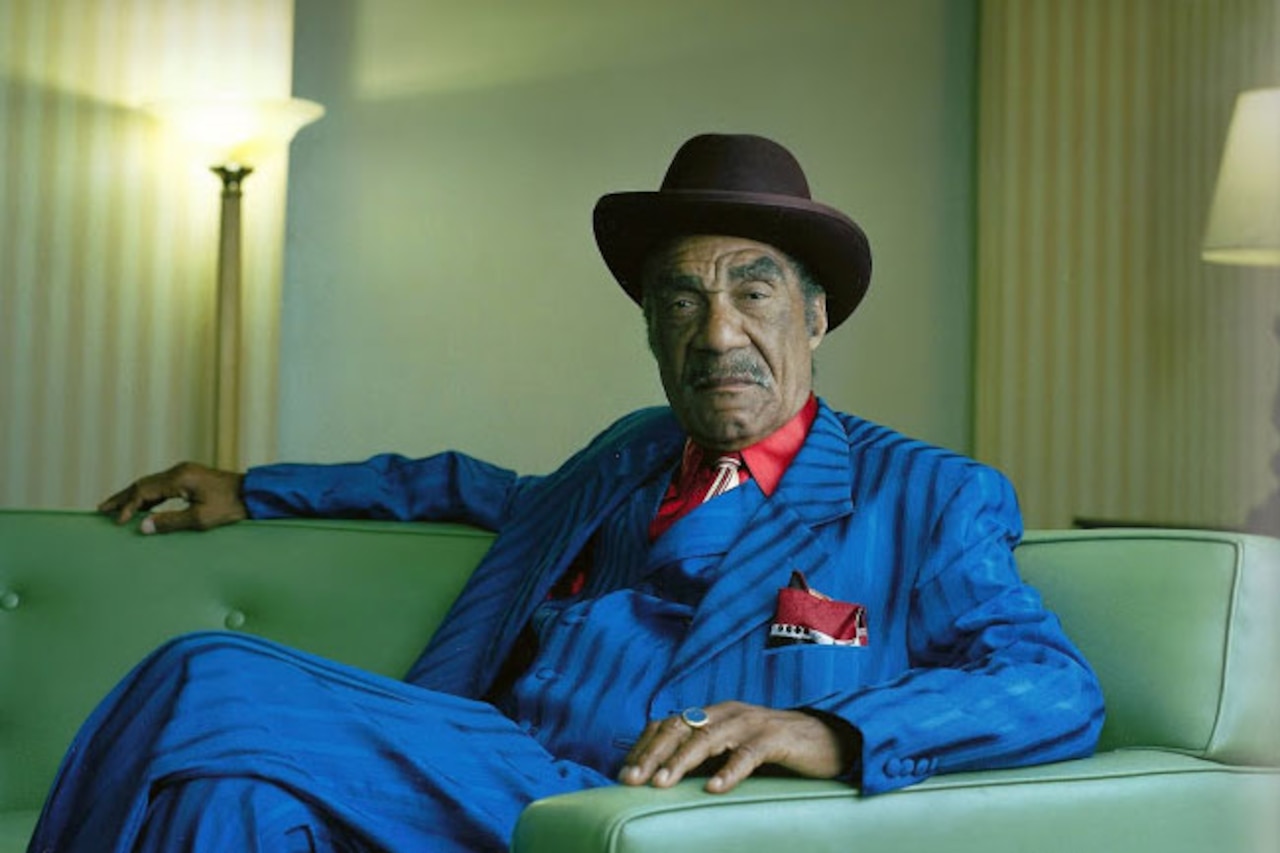 You keep writing new songs, issuing new albums – what keeps you creative?
I have to keep writing. My wife keeps me busy to stop from annoying her to death. I have to keep my art alive.
Let's talk about Hoods & Shades.
Every morning, soon as I wake, I open my blinds in the morning and the first thing I see is guys with hoods and shades. It's an epidemic. These are young guys but often they look in worse shape than me. I had to write a song about it.
Dennis Coffey plays on Hoods & Shades. I'm guessing you knew him when you were producing records in Detroit in the 1960s?
Dennis played on maybe 75% of the records I produced in Detroit. He's on the Sport and Motown recordings. He also played on the Edwin Starr cuts I produced for Ric-Tic. And The Dramatics. He was one of the first people we'd call. And he still plays great.
Your Fortune recordings are very raw and inventive. I'm aware the Browns set up a very basic studio in the back of their record shop. What was it like recording there?
We'd go out back of Fortune, smoke a reefer, drink a bottle of wine, and come up with a song... It took a genius to mix what we cut and Mrs Brown, she did it.
Well, at that time it wasn't considered so basic. It was considered a great studio, one of the best in Detroit. The record business back then hadn't grown so big. Things were simpler. Then artists and studios started developing and the back street studios started going out of use. With Fortune all we had was an elderly Jewish lady, a one-track Ampex recording machine and three RCA mics. And we made those great records on them! We cut everything live. When you only have one track you can't overdub. Whatever you got on the first take you couldn't remix. I did about thirty takes of "Bacon Fat" before I got what I wanted. Making a record was fun. We'd go out back of Fortune, smoke a reefer, drink a bottle of wine, and come up with a song. We'd keep doing it until we got it right. It took a genius to mix what we cut and Mrs Brown, she did it.
You cut one single for Miracle in 1961 that is now available on the Complete Motown Singles – any recollections on why Berry didn't let it out?
That single, as far as I know, never got a regular release. Berry was something of a dictator. People have been asking me about it for years.
You've outlived so many of the artists you worked with. Considering the crazy life you have lived, how is this possible?
I think I have to contribute my survival to his most high. He decided to leave me here to suffer.
As you worked with The Contours and other Motown acts, why did you not get them to record "Shake a Tailfeather"? You ended up cutting it with an obscure group, The Five Dutones, for a small Chicago label.
Berry turned it down. He didn't like it. I saw The Five Dutones and they were a fantastic show group so I figured I would get them to cut it. And it worked.
You wrote "Shake a Tailfeather," but the publishing is shared between you and Otha Hayes and Verlice Rice. What's that about?
At that time, in order to get a record released, you almost had to give up the song. So the president of the record company would put the names of their families on the song. Or of a DJ. You had to give up so much.
What inspired you to write "Shake a Tailfeather"?
Everything was good about Tina except Ike. And I let his bad habits get to me.
At the time the radio stations were very strict on lyrics or it couldn't get on. We'd go to dances and see girls shaking their asses and that inspired the song. But I knew that was not going to fly. Now, a chicken had a tail. And a chicken's tail has a feather in the ass. So I changed it from "shake your ass, baby" to "shake a tailfeather." And it flew!
There's lots of versions of "Shake a Tailfeather." Which one is your favourite?
Tina [Turner]'s version is the most profitable. [laughs] She owns that song. It really was part of her set.
You worked with Tina in the early '70s when Ike Turner employed you. What was she like to work with?
She is so charismatic. A fantastic lady. A great mother. A great writer. Everything was good about her except Ike. And I let his bad habits get to me. But she left him and exploded.
You arrived in Detroit after the navy discharged you in 1953. What was Detroit like back then?
At that time I would personally say Detroit was better than New York City. Everyone was driving these big, beautiful cars and working at the factories and the music was bustling. Now, when I go back to Detroit all the places I remembered are vacant lots. It's deserted.
Who did you like to go see perform in Detroit's clubs?
You're either a singer or a performer. I'm a performer.
Going to the clubs, my favourite was Cab Calloway. He is one of the reasons I got into showbiz. He was a hard working guy, not a great singer – and neither am I – who knew how to entertain and tell a story. See, you're either a singer or a performer. I'm a performer.
I'm guessing that as soon as "Bacon Fat" took off you began playing the chitlin' circuit. What was that like?
All of those chitlin' circuit clubs, I've done it. We'd go to Birmingham, Alabama, play the club and sleep in the car, take a shower in the YMCA, get back in the station wagon – a 1957 brown and white Plymouth, it never gave me no troubles, could take the bumps and the humps. Back then there weren't a lot of hotels for blacks and even if there were those gigs didn't pay so great. We travelled in that car a lot of miles. Slept in that car a lot.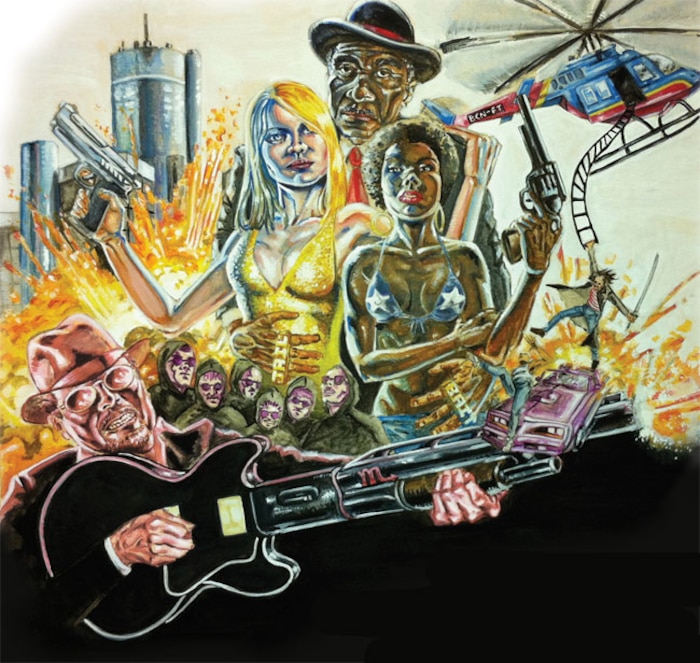 You worked at Chess during the last glory days of that label, both producing and cutting your own 45s. What were the Chess brothers like?
Leonard and Phil were two of the greatest guys in the world. They were dedicated to the music and helping black artists succeed. I think Leonard and Phil wanted me to produce for them, but I never gave up wanting to be an artist so every now and then I'd slip one out.
You also freelanced for Don Robey's Duke Records in Houston. What was that experience like?
It was a real strict environment. Don Robey was another Berry Gordy. It was his way or the highway. You certainly didn't have a whole lot of freedom there. I produce to glorify, to have fun, but I had to make sure Don liked it. The best thing in the world is to produce what you want. When I made a record it was a "kiss my ass" record.
I know you produced hits for Bobby "Blue" Bland. Did you also produce O.V. Wright?
Very few black entertainers get to the audience that Lux introduced me to.
Sure. He was very easy, very easy, to work with. All you had to do for O.V. was write an easy lyric with some religious context to it. The religious blues was what he sang – he came from deep in that gospel tradition and he was a nice guy. Maybe what I wrote for him wasn't typical of me as I try to write what I know about – sex, money and women.
And food?
And food! Sneak some of that in, sure.
We spoke of Dennis Coffey earlier – what about the rest of the Funk Brothers? I'm guessing you worked with them at Motown and as a freelance producer. How were they to work with?
Oh, amazing musicians. James Jamerson would come in and it was like he was on automatic. It was like going to the store with those guys – you knew you were going to get product. I never had to hustle with the Funk Brothers. Just put them together and they would go to work.
I first heard of you via The Cramps. Lux Interior had heard your records played by Cleveland DJ The Mad Daddy in the early '60s and he kept the faith. Did you ever meet him?
Lux, he was my inspiration, my foundation. He convinced me. "Don't quit, Andre. Don't quit. I love you." He gave me confidence. He was a very gifted man. A beautiful man. No fault in Lux. Lux was one of the main avenues that got me back in music. He spoke so well of me. Very few black entertainers get to the audience that Lux introduced me to.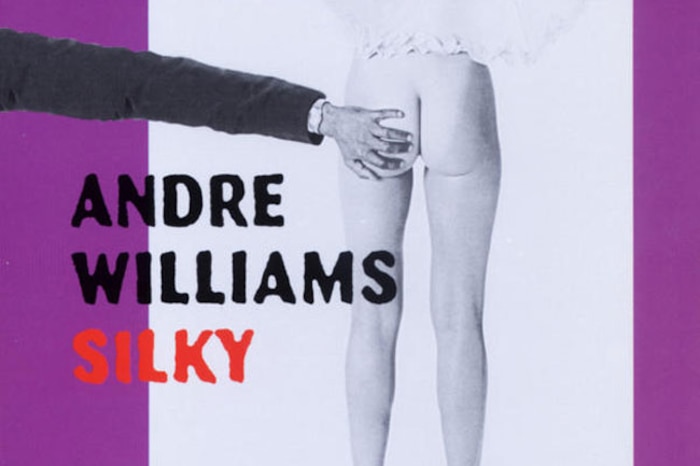 You get called "the Godfather of rap." Do you listen to it much?
No. Because when it comes on the radio I know what they're going to say. When I first did that thing of talking on my records, they thought I was an idiot. "Who's this guy who goes and talks on a record?" You have to be creative and that's what I was doing. I'm not trying to take credit for the rappers today but it's nothing new to me. I've been there. It's Andre Williams.
What about a favourite song you wrote?
[takes his time] Hmmm, that has to be "Shake a Tailfeather." Because it was sneaky. I beat the system. [laughs]
And a favourite album of yours?
That has to be Silky. That was when I made the transition. A memorable record at a memorable time. And I didn't drown.
Header image: Drew Reynolds