RIP Arthur Doyle, Freewheeling jazz saxophonist
Jon Dale remembers the enormous passion and energy of a free jazz saxophonist.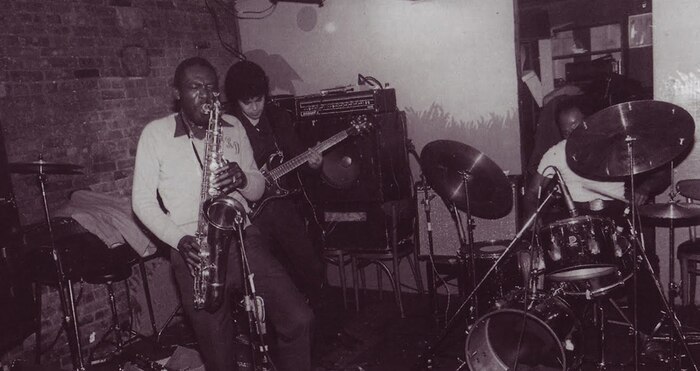 "Music to me [is] the universal language, the universal way of communicating." For Arthur Doyle, saxophonist, flautist and vocalist, who passed away on 25th January 2014, music was the life force, and Doyle's dedication to the music had him playing fast and free jazz for most of his life. "That was my first love," he once said to Patrick Marley, in an interview from Muckraker: "playing free and spontaneous."
"Music to me [is] the universal language, the universal way of communicating."
Born on 26th June, 1944, Doyle grew up in Birmingham, Alabama with his parents and four siblings. He studied music education at Nashville's Tennessee State University, and played in local R&B groups alongside local figures like Walter Miller (who was connected to the Sun Ra mothership), Louis Smith (who was playing with Horace Silver) and, perhaps most notably, backing the pre-Pips Gladys Knight.
After briefly returning to Birmingham, Doyle found his way to New York in 1967, landing pretty much in the centre of aesthetic and socio-cultural revolution. Doyle's background in R&B and gospel gave him a sanctified, fiercely expressive edge that echoed what Mayo Thompson would call the "activist relationship to ideas" of Albert Ayler, though when Doyle first met future collaborator Milford Graves, he was still playing be-bop. Gradually making the leap into free playing, he was invited to join Sun Ra & His Arkestra, an offer Doyle turned down, choosing both to continue with Graves, and to develop his unique conception of free jazz. As he told Dan Warburton, "I started working on my own particular style: Free jazz soul."
Doyle's first appearance on record was on Noah Howard's The Black Ark, a legendary 1972 free jazz side that, until its welcome reissue in 2007, was notoriously hard to find. Howard's take on free jazz allowed space for Doyle to stretch his bell to its limits, but to get a true, unfettered sense of what he could offer group playing, Milford Graves' 1976 album Bäbi sees Doyle blowing with the kind of unremitting fury that suggests that for some, the dream of the late '60s was still alive. In interviews Doyle repeatedly affirms how his music of this era was informed by the civil rights movement, by MLK, Malcolm X, the Black Panthers, the revolutionary fire of the time permanently imprinted on the brain, and in the very DNA of the music itself. This was also a very real presence in Doyle's psychological life: after 1972, the pressure of the times led him to the first in a series of nervous breakdowns.
In 1978, Doyle's first album as leader, Alabama Feeling, was released on fellow musician Charles Tyler's AK-BA label. It's a particularly staggering set of fearless group improvisation, surprising for some of the instrumental approaches, particularly with the electric bass. While in a jazz context, this often screams "fusion," Richard Williams's grunting attack on the instrument is unhooked from formal constraints, playing with all the unchecked rawness and limber physicality of Doyle's roaring, gutbucket sax, and the sea-sick whinnying of Charles Stephens' trombone. The way Doyle and Stephens move from splayed torrents of rapid-fire notes to long, drawn-out, revenant moans, gasping for air while tones intermingle and cross-cut in the air, makes for some of the most thrilling free playing of its time.
The late '70s and early '80s saw Doyle shuttling between Paris and New York; in Paris, he sat in with Alan Silva's Celestial Communication Orchestra, appearing on their Desert Mirage album, while in New York, Doyle had hooked up with No Wave man of mystery (and Ed Wood biographer) Rudolph Grey, who had first encountered Doyle on The Black Ark. Doyle's velocity and extremity sat perfectly within Grey's post-Red Transistor group, The Blue Humans, and the noxious clouds of noise and feedback strangled from Grey's guitar (the line-up was completed, at this stage, by Beaver Harris on drums). This trio would appear at the infamous 1982 Noise Fest, curated by Thurston Moore, though the only contemporaneous documentation of their music was "The Third Colour (Excerpt)", from the Noise Fest cassette. But problems landed Doyle in jail across much of the '80s; during his stint in prison, he would begin writing the several hundred songs that made up his personal "songbook."
If anything, the crudeness, the rudeness of the recordings posit these albums as exalted and exultant documents of deeply personal expression.
Returning to the USA in 1993, Doyle started playing and recording in earnest. His first clutch of recordings, such as More Alabama Feeling (Ecstatic Peace!, 1993), are among the final words in no-fi primitivism – bled directly to a portable cassette recorder, they're brutishly beautiful documents, the point at which his "free jazz soul music" really flourished. The Songwriter (Ecstatic Peace!, 1995) has Doyle recording in a local studio, with no notable increase in fidelity. But, fuck that: if anything, the crudeness, the rudeness of the recordings posit these albums as exalted and exultant documents of deeply personal expression. His many articulations of "Nature Boy," for example, are stunning, each one as chilling a reading of the Eden Ahbez original as Alex Chilton's, from the recording sessions for Big Star's Third/Sister Lovers. Where Chilton reduces the song's gentle message to the cries of a quivering self, naked and alone in the studio, Doyle takes the melody and slurs it again and again, teasing out its depths, sometimes slamming it into outer space on one of his wild extempo runs, other times keeping it small and intimate, just one voice and lonesome breaths in an everyday home.
Throughout the '90s, '00s and early '10s Doyle carved out a respectable niche. Never an obsessively documented figure, he tended to release one or two records a year on the few labels that really "got" what he was doing – in latter days, this was most likely Qbico. His conceptions would mutate and evolve: while he was still dedicated to solo playing, he also formed an "Electro-Acoustic Ensemble," and in 2007 released a CD, Bushman Yoga, by Arthur Doyle's Free Jazz Soul Orchestra. In recent times, he was also playing around with his New Quiet Screamers. Dedicated to freedom in sound, Doyle would hook up with other like-minded souls – a '90s tour of Japan had him matching up against Keiji Haino, Sabu Toyozumi, and Les Rallizes Denudes's Takashi Mizutani – but, to these ears, he always felt far too wild a character to settle into elder statesmanship.
At his greatest, Doyle was a pure energy source – a thousand shafts of light vaulting out from the breath-sax nexus.
Having said that, Doyle's "wildness" should not be confused with an inability to articulate his own visions. Reading up on Doyle for this piece, I repeatedly stumbled across crude journalistic shorthand that framed Doyle as some ultimate outsider, flinging around the high-school insults of "lunatic" and "berserker," ideas which reduce an advanced, highly idiosyncratic and hard-working conception of music in its personal totality, to the base ravings of a madman. Who wouldn't want to play loud, free and glorious, dissolving into the stream of your own music, moving from simple statements to complex articulations and then beyond? At his greatest, Doyle was a pure energy source – a thousand shafts of light vaulting out from the breath-sax nexus, and one great, pure and soulful voice, crying deep from the maw, its deceptive simplicity paradoxically singing out the complexity of life on this old earth. And now he's gone, and I don't think we'll see many like him again.