RIP Nonato Buzar, Brazilian Songwriter and Producer
David Katz highlights the work of an underrated Brazilian songwriter and producer.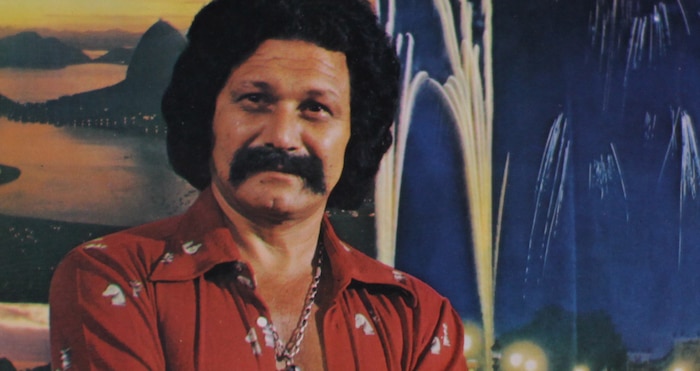 The inventive Brazilian singer, songwriter and record producer Nonato Buzar has died, aged 81, following a long illness. A multifaceted innovator whose unorthodox approach dramatically impacted the popular Brazilian styles of the 1960s and '70s, Buzar is probably best known outside of the country for spearheading the pilantragem genre, a rock and soul-influenced style that changed the course of Brazilian pop.
Raimundo Nonato Buzar was born on August 26, 1932, in the city of Itapeçuru Mirim, near São Luís do Marhanão, in Brazil's far northeast. Buzar once told me that his origins were Franco-Lebanese, since a paternal ancestor, with the surname Buzert, had left Lyon for Lebanon during France's extended campaign in the Levant, probably during the late 1800s; then, in 1920, his father travelled to Brazil to join the bourgeoning community of Lebanese shopkeepers that had settled in Marhanão.
When Nonato Buzar was 21 years old, he went to Rio to study engineering, but after obtaining his university degree in the subject, was obliged to serve in the Army Reserve for a period. He then began working in real estate, thinking it a sure-fire route to quick earnings. At the same time, he began frequenting the bars and nightclubs of the Beco das Garrafas in Copacabana, most notably Bottles and the Little Club, both strongholds of the emerging bossa nova movement. One fateful night in 1959, Buzar happened upon songwriter Milton Mendonça composing "Samba De Uma Nota So," which became a bossa nova landmark after Tom Jobim recorded it; determined to make his mark on the scene, Buzar began writing his own compositions, of which the first to be recorded was "Guerra A Bossa," an ironically mellow number sung by Paulo Silvino and arranged by Eumir Deodato.
As word of his talent spread, a few other singers took a gamble on his talent, but leading songwriter and producer Ronaldo Boscoli warned that – as a working-class pretender trying to improve his social status – Buzar was a bit out of touch with the bossa nova milieu, since most of the music described the intimacies of the Rio middle class that created it. Nevertheless, Buzar took inspiration from the counsel of poet and lyricist Paulinho Vitola, who advised him to always speak of love in his songs.
The way forward came in 1966, after a chance meeting with flamboyant actor and TV presenter Carlos Imperial, who had moved into record production at the start of the decade. Although Imperial's attempt to market Roberto Carlos as "the Prince of Bossa Nova" proved an abject failure, he was a well-connected man with a lot of unusual ideas about music production, making him a natural ally; impressed by Buzar's songwriting ability, he promised to make him the most successful composer in Rio.
Surprisingly, the breakthrough was swift: inspired by a tempting Pontiac convertible he'd seen for sale outside his apartment, Buzar wrote "O Carango," which Imperial recorded with Wilson Simonal. Its unusual arrangement, with Simonal's half-spoken, half-sung introduction, helped make it a sizeable hit. A Brazilian newspaper later reported that Buzar also wrote Simonal's hugely popular "Nem Vem Que Não Tem," but gave the rights to Imperial in return for the Pontiac in question. If so, the move cost him dearly, since Brigitte Bardot would soon score a huge hit with its French adaptation, "Tu Veux Ou Tu Veux Pas." In any case, the hits ultimately let to Buzar being installed as an in-house producer at Philips.
"Nem Vem Que Não Tem" was the anthem of the new style identified as pilantragem, an ambiguous term connoting an anti-establishment trickster or rogue. An offshoot of the electric samba joven, and not entirely unrelated to tropicália, the style had samba played in 4/4 time, augmented by rock and soul elements, often with handclaps and choral voices in the background, largely inspired by Chris Montez's lounge recordings with Herb Alpert. Buzar was soon identified as a vanguard of the movement after Sandra's orchestrated "Uni-du-ni-te" and Simonal's "Vesti Azul" topped the charts, the latter being a true classic of the genre, with dozens of subsequent cover versions. Buzar took things a step further in 1968 by forming a loose musical collective, the Turma De Pilantrem, their eponymous debut album reputedly selling 1.8 million copies.
That same year, after appearing at the International Song Festival contest in Rio, Buzar was asked by noted producer Andre Midani to record an album with Jimmy Cliff, who had appeared at the same competition, representing Jamaica. The result saw Jimmy tackling a pilantragem version of the traditional "Serenou," duetting with Regininha on an English language version of "Andança" as "The Lonely Walker" and transforming "Vesti Azul" into "She's Something Else," the poetic translations courtesy of Paul Anka and Sammy Cahn.
As the 1960s drew to a close, Buzar made an even bigger mark composing the theme songs for various soap operas, such as Irmãos Coragem and Vitória Vitória. His expert arrangement of the theme for Verão Vermelho, which builds to a climax as Elis Regina's wordless scat hints at the domestic tensions that will undoubtedly spill out of control on the screen, was later covered by Santana and the Fania All Stars. Buzar went on to provide the music for the ribald 1971 feature film O Donzelo, which included a fine snippet of incidental funk called "Tema de Perseguição."
The first album to credit Nonato Buzar as an artist was a self-titled disc, released in 1970 by RCA, and largely drawn from his soap opera themes. An MPB set called O Primeiro Retrato followed for Tapecar in 1972. But by then, he'd become a target, since his progressive political views clashed with those of Brazil's increasingly repressive military dictatorship. After being jailed for a third time, he reluctantly went into exile in France, where he would remain for the next five years. He soon found employment as the resident singer at a Brazilian restaurant and formed a group, O Pais Tropical, to back him. Buzar and the group recorded Via Paris for Vogue in 1975, which formed a springboard to nationwide success and concerts in Italy and Switzerland, despite being relatively unadventurous in form. He even played at Brigitte Bardot's 40th birthday party in St Tropez in 1974.
Buzar returned to Brazil in 1977, his subsequent album No Balanco Jovem De Nonato E Seu Conjunto displaying a strong funk influence and making good use of traditional Marhanese rhythms. However, he was largely inactive by the end of the decade. Indeed, he confessed that he only had two regrets in his life: the first was turning down an invitation to perform with Tom Jobim due to stage fright, the second was returning to Brazil when he enjoyed such grand popularity in France. With hundreds of songs to his name though – and many more recorded by other artists – his legacy is certainly assured.