Tabla: An Introduction
Rohan Krishnamurthy provides a guided tour of the Indian instrument and its finest practitioners.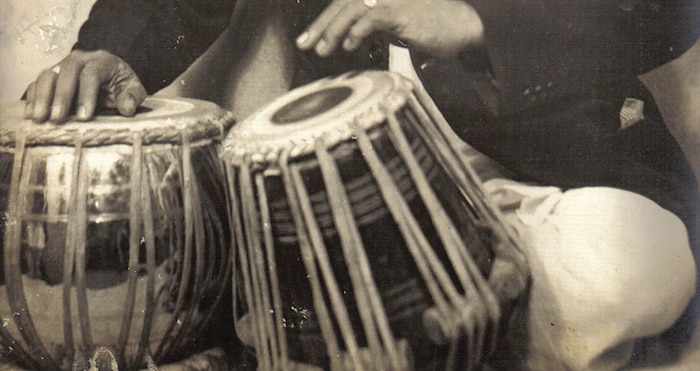 India's contribution to world culture is dizzying, and its musical traditions are no exception. There are two main forms of classical music in India: Carnatic, which originated in Southern India, and Hindustani, which originated in Northern India. The two styles of music share more in common than not, including foundational musical concepts of raga, or melodic modes, and tala, or rhythmic meters.
The tabla's a pair of drums that, as legend goes, were invented by chopping the mridangam in half and playing both ends vertically.
Indian rhythm is undeniably one of the most ancient, complex, and versatile. Two of the most popular drums in Indian music are the mridangam, and tabla. The former is mainly used in Carnatic music and is the older of the two, while the latter is mainly used in Hindustani music and is a more recent descendent of the mridangam. The mridangam's a two-sided, barrel-shaped drum that's played horizontally with the fingers and palms. The tabla's a pair of drums that, as legend goes, were invented by chopping the mridangam in half and playing both ends vertically.
Performed on the floor in a cross-legged position, the two tabla drums, called the bayan (left or bass head) and dayan (right or tonal head), can produce a wide spectrum of pitched and unpitched tones, and, in turn, rhythms and melodies. The pitched dimension of the tabla is made possible by an ingenious loading on the dayan consisting of dozens of layers of an iron oxide and starch mixture.
Each tone on the tabla has a name, such as na, din, ti, ta, and dha, which form an elaborate system of vocal percussion called bols. These syllables represent the myriad tones produced on the drums by means of crisp split finger taps, smooth palm slides, and combined strokes played on both heads simultaneously. When joined together, the syllables form a complete drum language and performance art, not unlike beatboxing, which can be used to communicate even the fastest and most complex rhythms.
In my many interactions with professional tabla players on and off stage, I know that even they cannot agree on a list of tabla greats.
Tabla players traditionally perform with melodic artists such as singers, instruments such as sitar, sarod, and santoor, and kathak dancers. In the 20th century, tabla solos and fusion collaborations led to the globalization of the instrument. You've likely heard the tabla in just about every style of music. So, who are the top tabla masters who have defined this revered tradition? Any list of great artists is destined to be woefully incomplete and controversial. In my many interactions with professional tabla players on and off stage, I know that even they cannot agree on a list of tabla greats. Nonetheless, the following artists, listed in no particular order, are just a few who have created an enduring legacy in the tabla world.
Although their gharanas or musical lineages might differ wildly, they share many traits in common: thousands of hours of ultra-disciplined riyaz or musical practice, lightning fast fingers, dizzying syncopations and cross rhythms, equal mastery in flowing improvisations and structured compositions, countless international performances, and genre-defying collaborations with artists from around the world. These aren't just drummers; they're cultural ambassadors of one of the greatest drumming traditions in the world.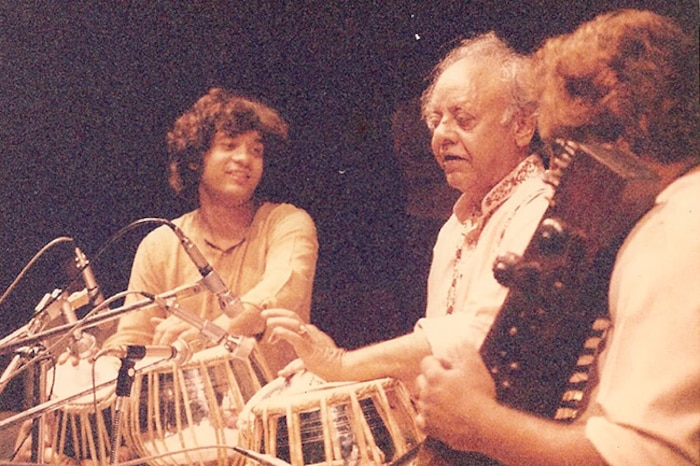 Alla Rakha became an international sensation via his performances with The Beatles and celebrity sitarist Pandit Ravi Shankar back in the '60s. An exponent of the Punjab gharana and also a talented singer and composer, his tours launched America's long-standing interest in Indian music. A performer at ease on stage, his legacy continues through his three sons, Zakir Hussain, Fazal Qureshi, and Taufiq Qureshi. He has many recordings available with Pandit Ravi Shankar, solos, duets, tabla trios with his sons, and a historic recording with renowned jazz drummer, Buddy Rich, entitled Rich a la Rakha.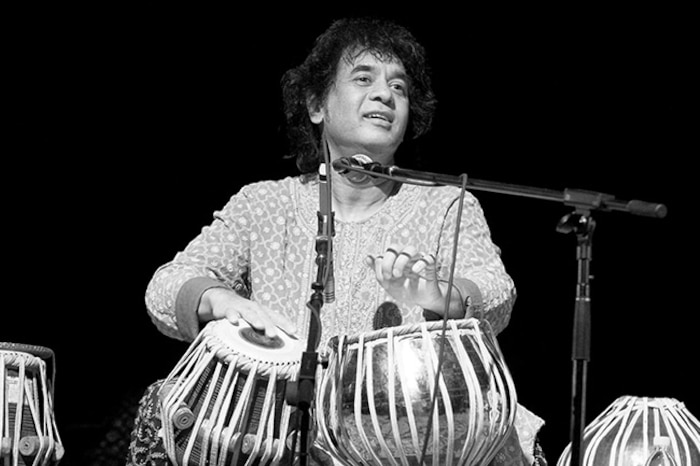 Zakir Hussain is arguably the most well-known tabla player today. Having performed duets with his father for many years, he later established himself as a master percussionist, composer, educator, and collaborator. His numerous collaborations with artists from all over the globe, including John McLaughlin's Shakti and Mickey Hart of the Grateful Dead, contributed to a new, hybrid style of tabla that rewrote its conventional rules of style, technique, and aesthetics. To his fans, Zakir's artistry borders on the superhuman. Great musical intros include his albums and live performances of "Masters of Percussion," and any number of online clips, including this one featuring Zakir in concert from 2012.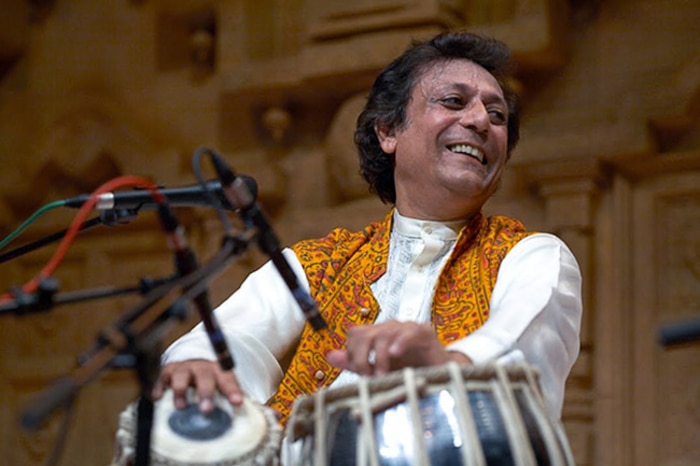 Like Zakir Hussain, Swapan Chaudhuri is based out of the Bay Area, which has been fertile ground for Indian music and dance since the '60s, and continues to be a major hub today. A torchbearer of the Lucknow gharana, he heads the tabla program at the Ali Akbar College of Music, a historic school of North Indian music and dance in the Bay, and is the director of the world music program at the California Institute of the Arts. Having taught dozens of students, Swapan has played a pivotal role in popularizing the tabla in the United States. He has many collaborative albums, including a few with sarod maestro Ustad Ali Akbar Khan, as well as amazing solos, such as the CD recording, The Majestic Tabla of Swapan Chaudhuri.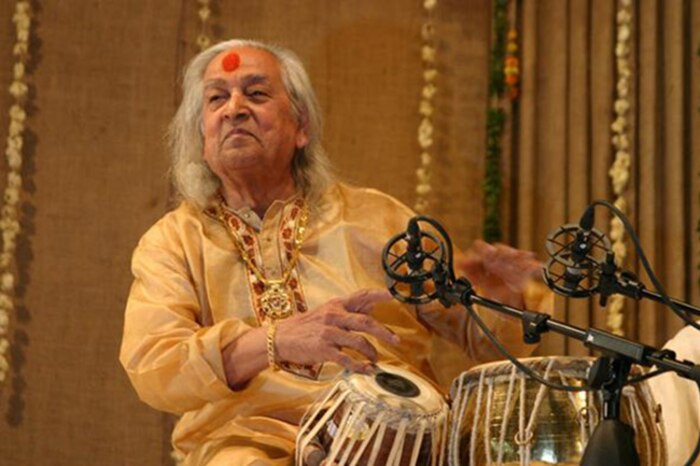 Honored with India's second highest civilian award, the Padma Vibhusan, Kishan Maharaj is one of the most celebrated tabla artists in recent times. He performed with the leading Hindustani artists of the 20th century and collaborated with a host of artists, including dazzling percussion duets with some of the biggest names in Carnatic percussion. Here's an impressive live performance with mridangam virtuoso, Umayalpuram Sivaraman, where you can hear the tabla and mridangam in action, side-by-side.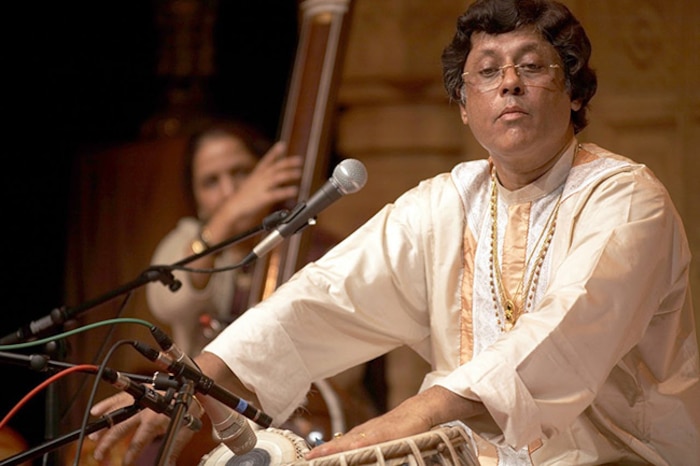 Anindo Chatterjee is another artist who's performed with the top tier of Hindustani music for several decades. He's known for his clarity of expression at even the fastest tempos. He features on many albums with preeminent Indian artists, as well solo recordings such as Anindo and His Tabla. Anindo now spends several months every year in New York City teaching students from around the world. In this video, he's joined by his son Anubrata as well as Sabir Khan on sarangi.
Dr. Rohan Krishnamurthy is an international Indian percussion performer and entrepreneur.

This feature is part of a week of articles guest curated by Stroboscopic Artefacts boss Lucy.
Says Lucy, "When I was still in Siena there was a jazz academy where I started studying percussion and drums. At some point the teacher sat down with these two strange percussions, tabla. I was hypnotized by the sound. There are thousands of years of culture and experience that go into the technique. Tabla is a real meeting point between percussion, in the strict sense, and melodic instruments. It's like an Indian piano, if you interpret the piano as a percussive instrument.
In Indian classical music, in general when you start playing your cycle, you need to choose a selection of sounds and, for the rest of your performance, you can't use any other sounds. This is similar to what I mean when I talk about archetypes and techno. If I want what I make to be perceived as techno, I want to play with those few elements that define what techno is and kind of deform them. The secret with techno and tabla is how – from that small set of sounds – you can build up a huge microcosm of things. It's endless."
To check out more of the features that Lucy picked out, check out his guest curator hub page.